We may earn money from the products/companies mentioned in this post. As an Amazon Associate I earn from qualifying purchases.
Whether you want to replace water with ginger juice in certain recipes, use it in Trim Healthy Good Girl Moonshine, or use it as a spice substitute in baking - making ginger juice at home is actually pretty easy!
Ginger is an essential aromatic ingredient used in many cuisines around the world. It is most popularly used for its juice, which can be juiced directly or extracted through juicers or blenders.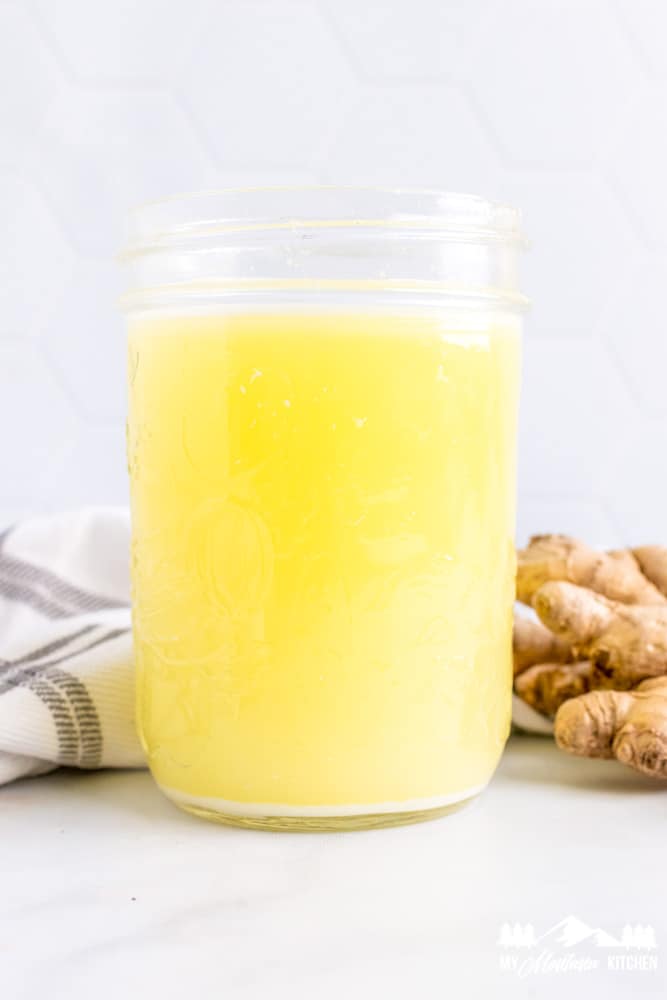 What does ginger taste like?
Ginger has a warm flavor which can be described as aromatic, spicy, woody, earthy, or peppery - depending on your preference.
Ginger is best known for its excellent ability to balance the flavors of other foods, enhancing their natural sweetness while simultaneously subduing bitterness or sharp flavors.
That's why ginger goes so well with apple cider vinegar in Good Girl Moonshine drinks!
When making ginger juice, it's best to use fresh ginger rather than old ginger.
Old ginger will make your ginger juice taste bitter and it will not yield as much juice as fresh ginger would.
How to Make Ginger Juice without a juicer
Ginger juice, ginger ale - whatever you call it, ginger is a tasty drink ingredient.
However, ginger drinks are often very high in sugar and often contain lots of other unhealthy ingredients too.
If you're trying to cut down on sugar or just want to try making your ginger drinks yourself then this article will show you how to make ginger juice without a juicer!
I like to use this homemade ginger juice for my Trim Healthy Mama Good Girl Moonshine drinks!
Watch how to make Ginger Juice
Watch my video below to see just how easy it is to make your own ginger juice at home (without a juicer)!
Do you need to wash the ginger root before juicing?
Ginger roots can be pretty dirty, so before blending the ginger you should always wash the root thoroughly.
If you don't clean the ginger properly, it may result in small pieces of dirt becoming trapped between the minuscule hairs on the surface of the ginger root.
Not only does this look unpleasant but can also cause ginger juice to taste slightly icky and dirty.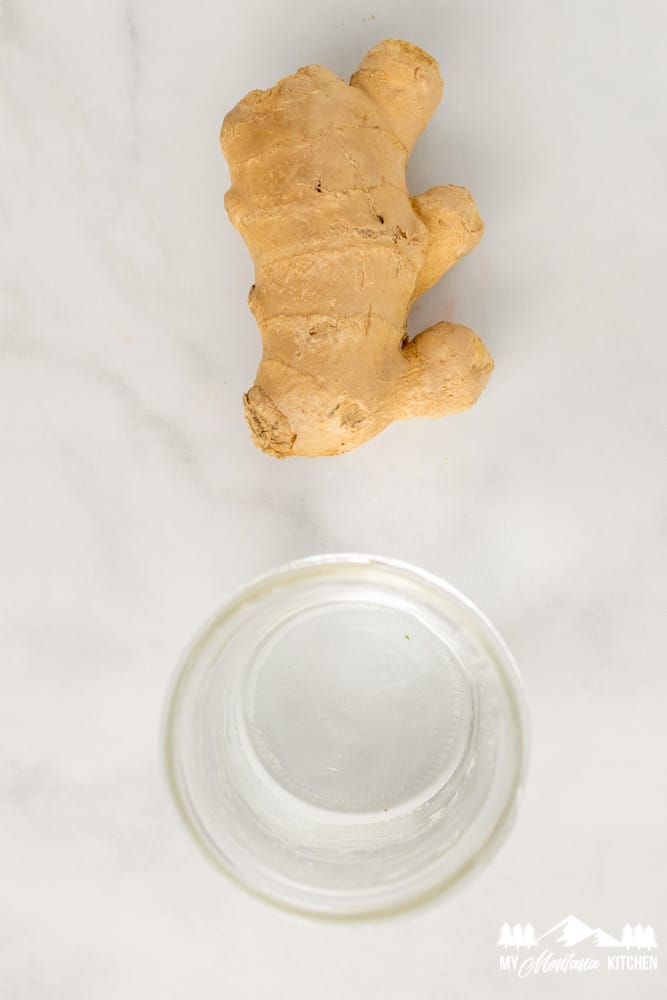 Learn ginger's top and bottom
Most ginger root is sold with one end of ginger looking thinner than the other end. This thin end is where ginger root originated from, making it ginger root's "top".
So when peeling ginger, hold this thin end with your dominant hand as ginger's "top" will make it easier for you to peel away the skin.
Ginger root is typically used for both its medicinal and culinary uses.
So ginger juice, (in this case, made by blending the ginger root) can be found in many kitchens around the world.
Is ginger a root?
Ginger is a root that grows underground, much like a carrot or potato.
The two main types of ginger are ginger root and stem ginger.
It's a plant from the Zingiberaceae family that grows in tropical climates such as Thailand, China, India, and Jamaica.
The flavor of ginger root is pungent and spicy due to its essential oil content.
In fact, ginger contains over 300 different chemical compounds!
These compounds aren't all used for flavoring though - many have medicinal purposes as well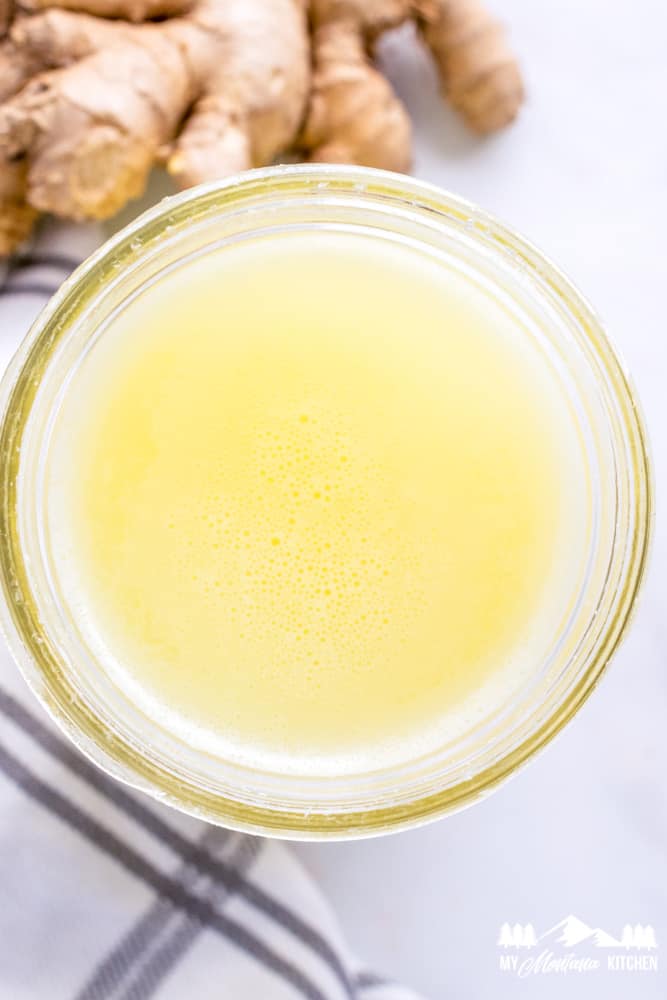 Benefits of Ginger Juice
You've probably enjoyed ginger in gingersnap cookies, ginger tea, and ginger ale (especially if you're unlucky enough to get motion sickness).
But ginger isn't just for eating!
Ginger is thought to have anti-inflammatory properties as well as being a natural pain reliever.
It's often used as ginger tea or ginger juice for fevers, nausea, and colds.
Some people even take ginger supplements to prevent motion sickness.
There are many benefits to drinking ginger juice, but may not all be immediately apparent.
Ginger contains an active compound known as gingerol, which has numerous health benefits including:
Lowering blood pressure
Treating nausea
Inflammation relief
Arthritis pain relief
And protecting against diabetes
Some people believe that ginger actually works better when consumed with a little bit of pepper to give it a little "kick".
It is believed ginger has an affinity with the taste buds on the tongue that perceive sweetness.
How to Juice Ginger
Juicing ginger root is as straightforward as juicing any other fruit or vegetable, provided you have the right equipment.
If you don't have a ginger juicer then no need to worry because you can use your blender to make ginger juice at home!
How to Make Ginger Juice with a blender
To ensure you extract as much ginger juice as possible, peel the ginger (or don't - see below) and cut it into smaller chunks so it fits down your juicer's chute or in your blender.
If you use a blender, cut the ginger into smaller pieces so they fit easily in the blender's pitcher.
Then simply add the water and blend until smooth!
After the ginger is juiced, strain it to remove the pulp, then store the juice in the refrigerator!
Do you have to peel ginger?
You do not HAVE to peel ginger - especially if you've purchased organic ginger.
And even if there's a little bit of skin left after peeling, it won't hurt you at all.
The skin can make your juice bitter, though, so you may still want to peel it (I usually do).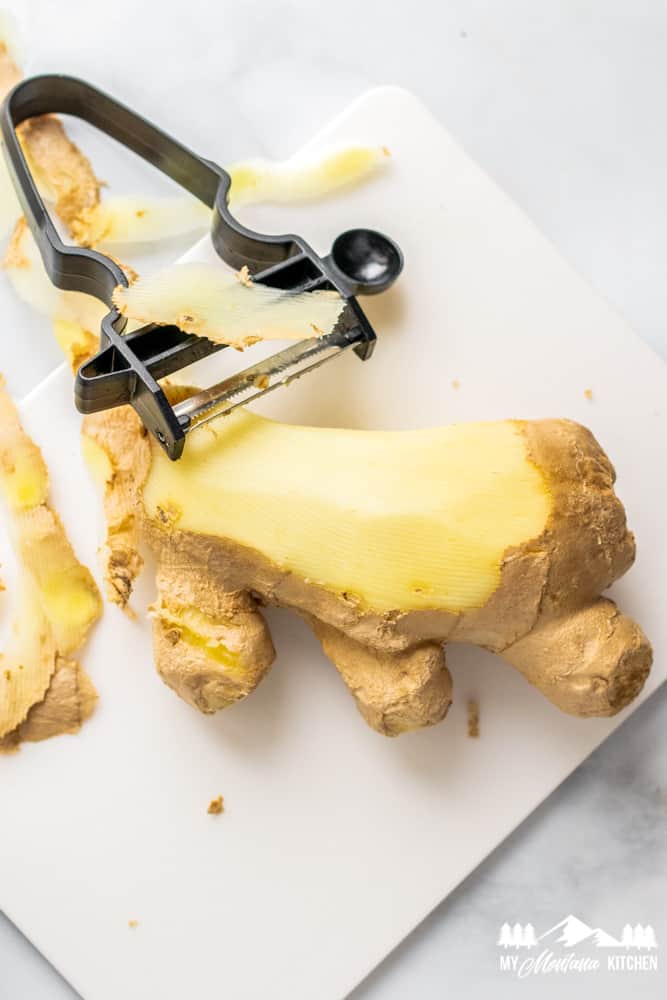 How to peel ginger easily
The skin of ginger root is very thin and the ginger often breaks when you peel it.
You can use a vegetable peeler as shown in the photo above, or you can use the easy method below!
With the ginger on its side, you can easily use a spoon to scrape off all of the fine brown skin from the outside of the root. There may be a little skin left, but that's ok!
How to Make Ginger Juice without a juicer or blender
It's easy to make your own ginger juice at home - even if you don't have a juicer OR a blender!
To make ginger juice without a blender, you'll need grated ginger, water, and a cheesecloth.
First, mix the water with the ginger until you have a paste. Then, pour this mixture into a cheesecloth over the bowl - ensure that the cloth is a double layer.
Finally, squeeze the ginger juice into a glass or jar using your hands or a spoon - be sure to press all of the ginger pulp against the cheesecloth to extract as much ginger juice as possible!
Repeat this process until you have enough ginger juice to meet your needs.
Depending on how many ginger roots you start with and how fresh they are, it should take between 2-4 roots' worth of ginger to produce enough juice for 1 cup of ginger juice.
You can either use about half a teaspoon of ginger powder in recipes that call for ginger juice, or replace water with ginger juice in recipes calling for water!
There's no reason not to spice things up a bit - after all, what doesn't taste better with ginger?
Why does my skin feel warmer after handling ginger?
The active compounds in ginger (gingerols, gingerdiols and shogaols) create a warming sensation in the mouth or skin when consumed.
This is caused by ginger's ability to act directly on the heat-sensing nerve cells (thermo-sensitive neurons) which control sensations of heat and cold.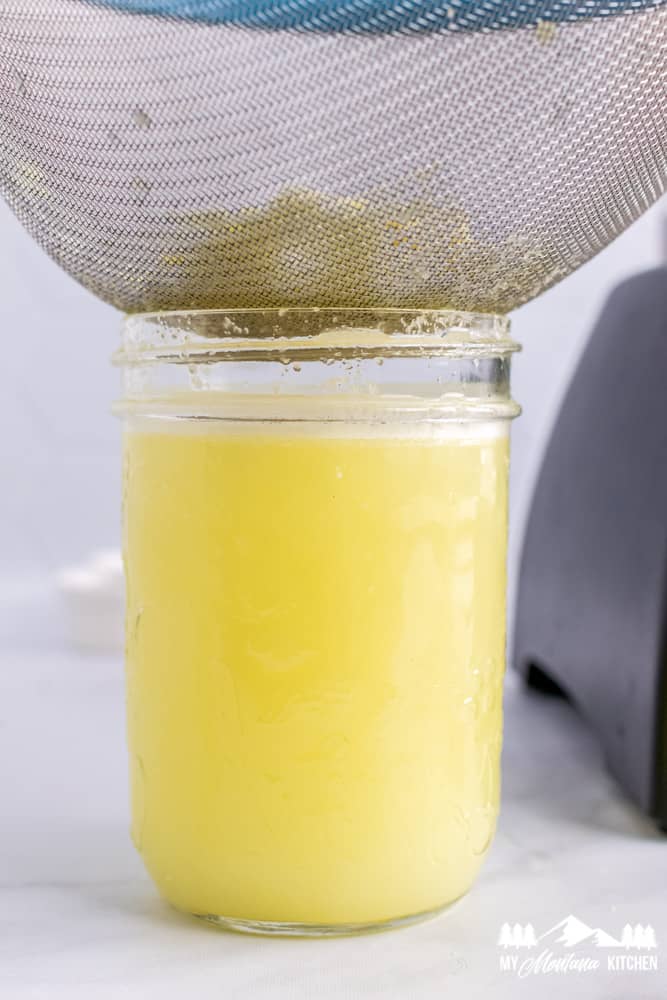 How long does ginger juice last?
Fresh ginger juice can be stored in the refrigerator for about 1 week.
You can also freeze the ginger juice in ice cube trays for later use!
Can I use the pulp left over after juicing ginger?
Yes! You can freeze the pulp and then when needed, steep the pulp in hot water to make a nice ginger tea.
How to use fresh ginger juice for Good Girl Moonshine
I like to add water to my fresh ginger juice to dilute it a bit.
Then when I'm ready to use my homemade ginger juice in Good Girl Moonshine, I just use 2 Tablespoons per quart!
You may like to try a few of my Good Girl Moonshine recipes!
Tropical Punch Good Girl Moonshine
Sparkling Black Cherry Good Girl Moonshine
Where to buy ginger juice
If you can't make your own ginger juice, it's available for sale at gourmet food stores or you can buy ginger juice on Amazon.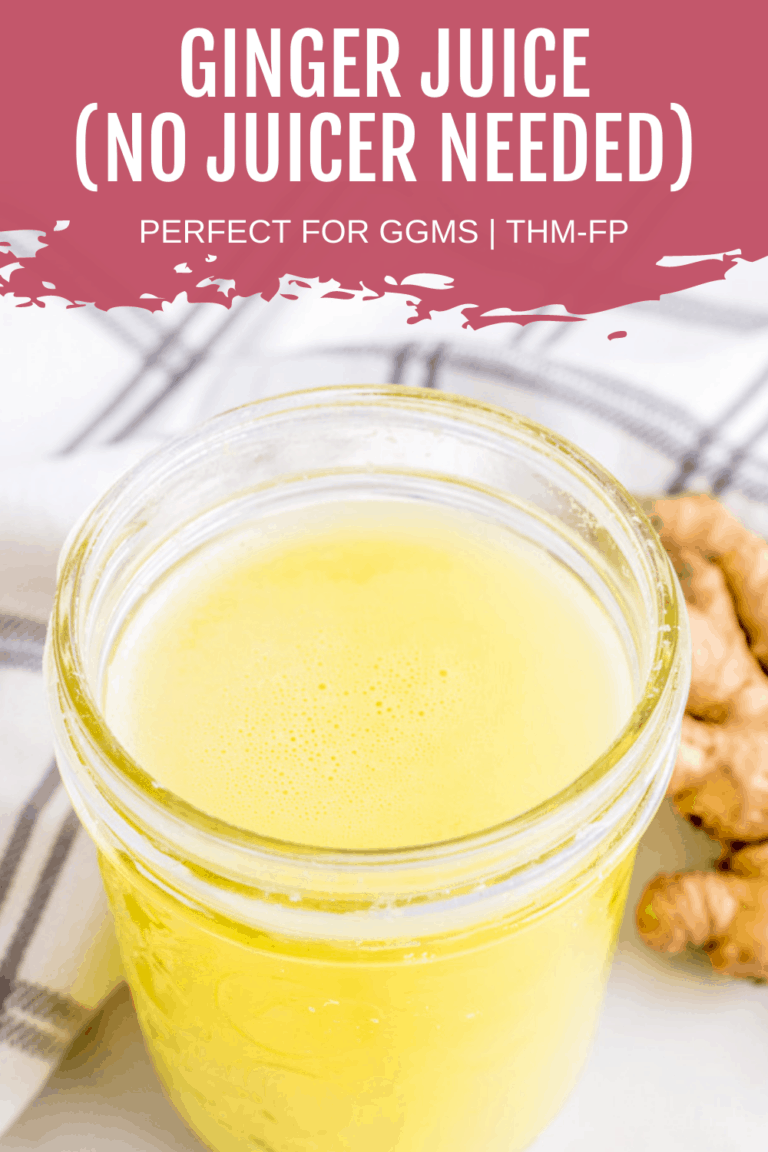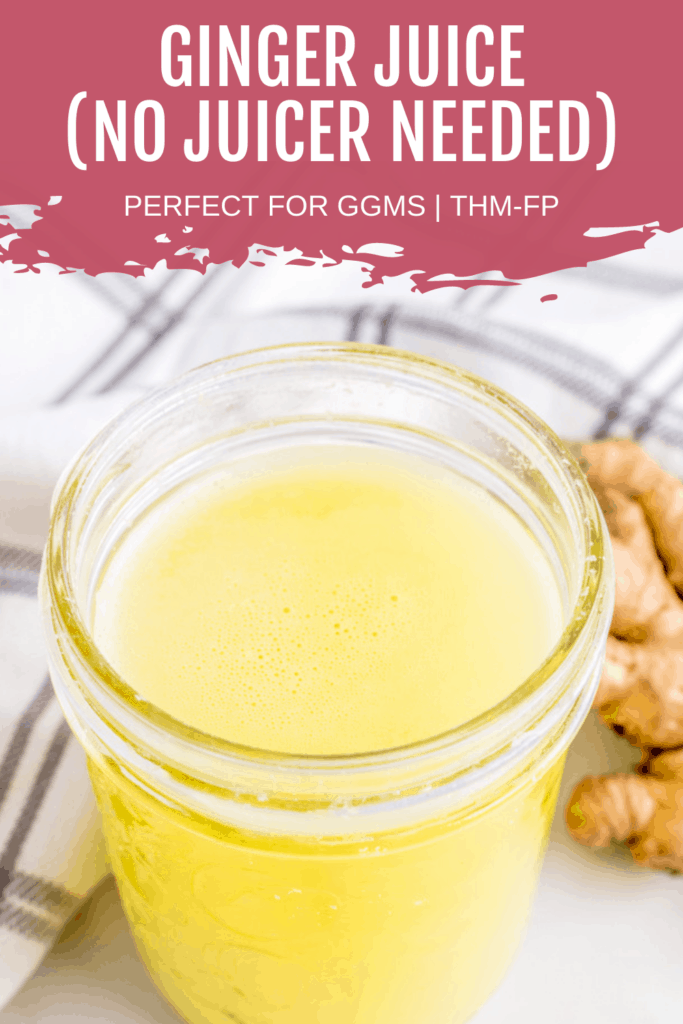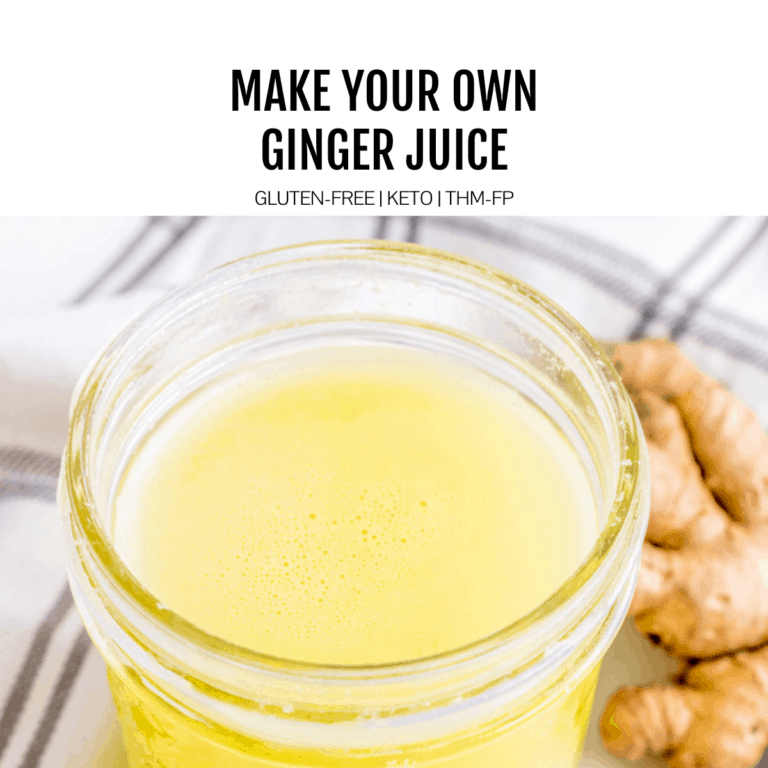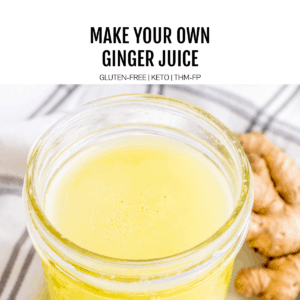 How to Make Ginger Juice without a Juicer
Making ginger juice is as simple as it gets. All you need are fresh ginger root and water! It's perfect for adding to Trim Healthy Mama Good Girl Moonshine, too! No juicer required!
Print
Pin
Rate
Ingredients
1

Ginger Root

about 2"x3"

2

Cups

Water
Instructions
Peel ginger root by scraping with a spoon, or using a vegetable peeler.

Cut ginger into chunks and add to your blender pitcher.

Add water and blend until smooth.

Strain the liquid and store the juice in the refrigerator.
Video
Notes
When I'm ready to use my homemade ginger juice in Good Girl Moonshine, I just use 2 Tablespoons of fresh ginger juice per quart!
Nutrition