We may earn money from the products/companies mentioned in this post. As an Amazon Associate I earn from qualifying purchases.
Who doesn't love starting their day with a bowl of chocolatey goodness? This Brownie Batter Chocolate Oatmeal is the perfect way to start your day. Creamy, rich, and sweet, you'll be sure to love this breakfast recipe.
(Because, who doesn't want to eat chocolate for breakfast?)
This recipe is low fat, healthy carb, sugar-free, dairy-free, and a Trim Healthy Mama E Fuel.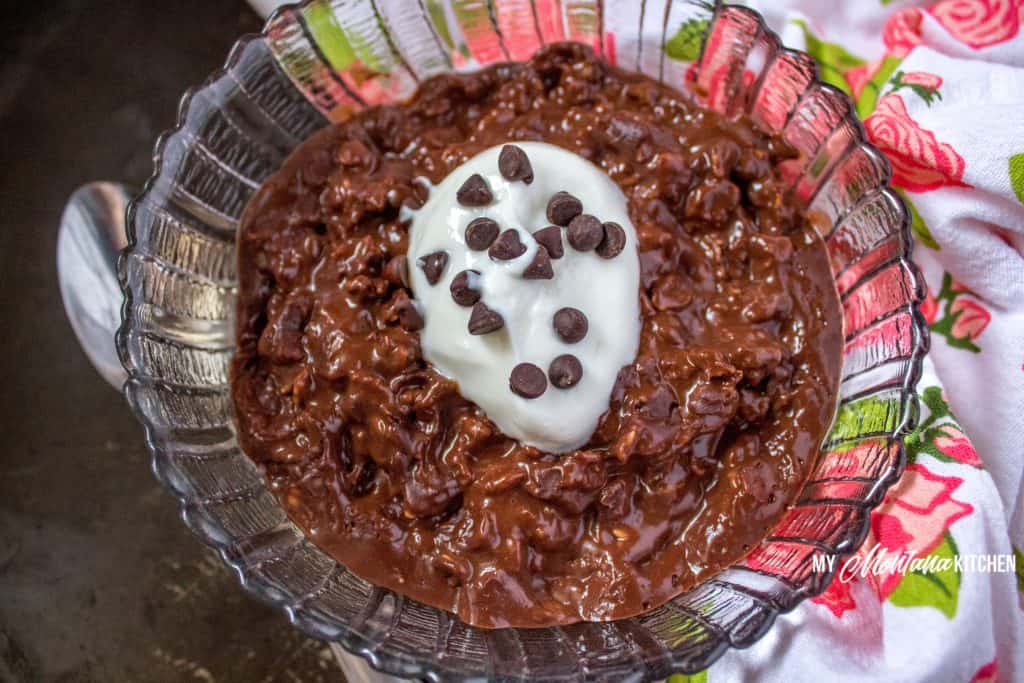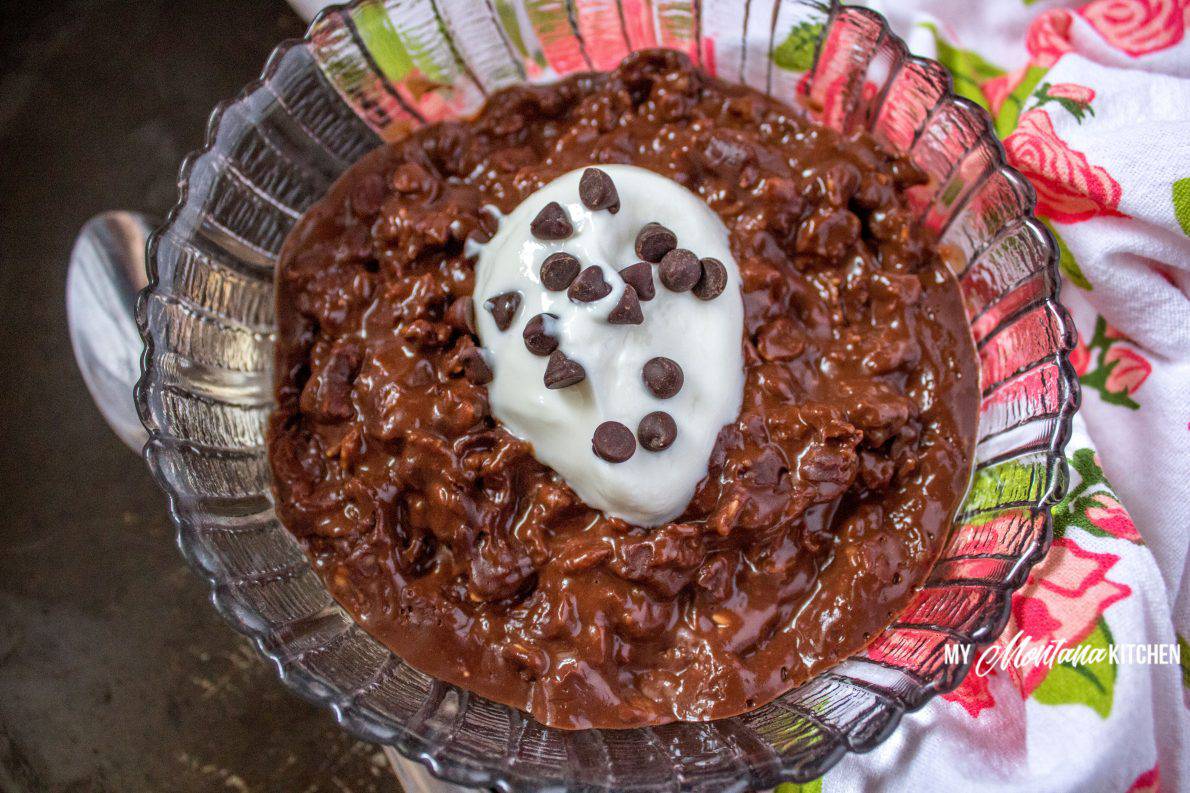 Brownie Oatmeal
This recipe is so easy to make – it takes less than 10 minutes! And it is made with just a few simple ingredients that you probably already have in your pantry.
Oats, milk (I use almond milk), cocoa powder, sweetener, salt, and vanilla extract. That's it!
If you want a little extra punch, you can add a scoop of protein powder or a handful of sugar-free chocolate chips. But even without those additions, this oatmeal is rich, creamy, and satisfying.
As for the comfort factor, this oatmeal will definitely hit the spot. It is warm and cozy and perfect for chilly mornings.
It also has a bit of a brownie batter flavor – thanks to the cocoa powder – which makes it feel indulgent and special.
But don't worry, there is no sugar crash after eating this oatmeal. It is a lower-glycemic recipe that uses healthy carbs to give you sustained energy all morning long.
Additional Favorite Toppings:
Sweetened Greek Yogurt
Fresh Berries
½ Banana, sliced (for additional natural sweetness)
Sugar-Free Lily's Chocolate Chips (keep to a teaspoon or two)
Grated 85% Dark Chocolate (keep to a minimal amount to avoid a Crossover)
Sugar-Free Maple Syrup
Peanut Butter Drizzle (made with peanut flour and water mixed together)
Nut Butter like Almond Butter (keep to a teaspoon to keep it in THM:E mode)
2 Teaspoons of Cacao Nibs
Chopped Nuts (keep to a teaspoon to stay in THM:E mode)
What kind of oats should I use for Brownie Oatmeal?
I used old-fashioned rolled oats, but you could also use quick oats (you may not need to cook them quite as long).
You could even use steel-cut oats, although the cooking time will be much longer. (You could also soak them overnight to reduce the cooking time.)
If you have a gluten allergy or intolerance, be sure to look for certified gluten-free oats.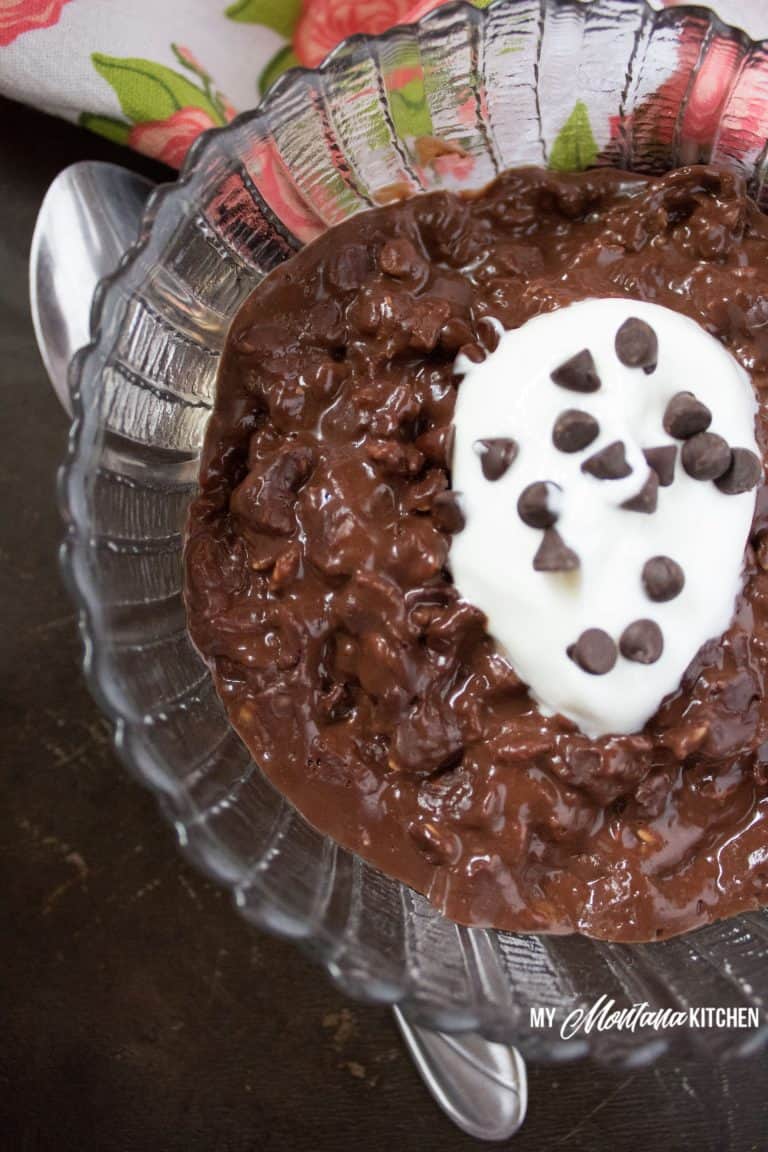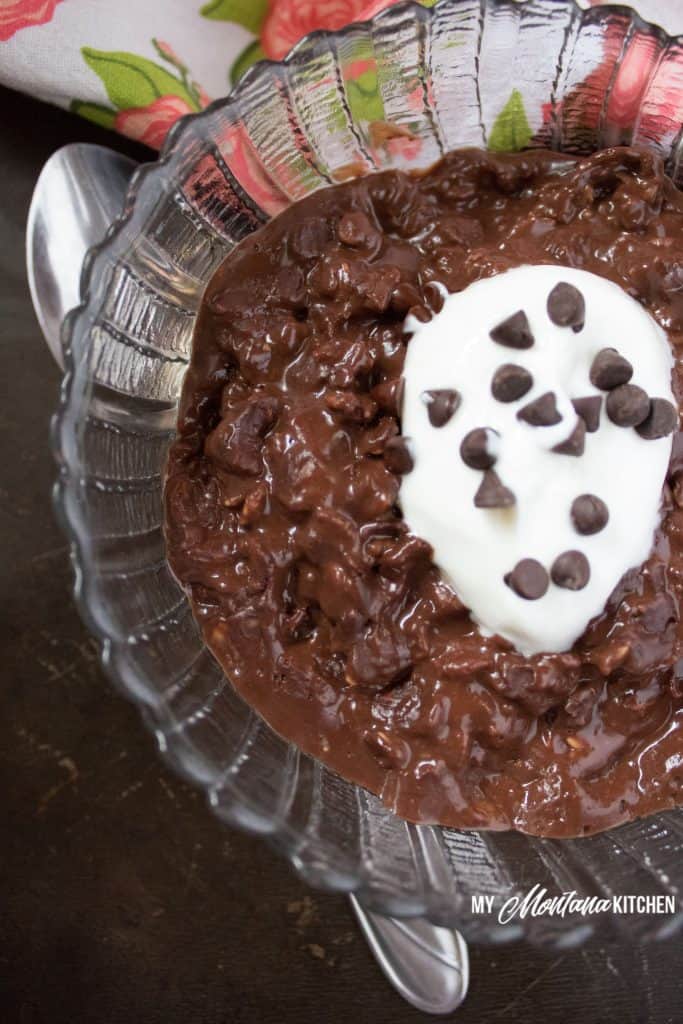 What kind of milk should I use for Brownie Oatmeal?
I used unsweetened almond milk in this recipe, but you could also use any unsweetened non-dairy milk you like.
Unsweetened cashew milk, coconut milk (the kind in the carton), or even sugar-free oat milk would all work great.
How do I sweeten Brownie Oatmeal?
I used Gentle Sweet, which is a powdered blend of xylitol, erythritol, and stevia. (You could also use my Homemade Gentle Sweet recipe!)
I know 2.5 Tablespoons of Gentle Sweet sounds like a lot – and yes, it probably is.
But I like my oatmeal sweeeeet, and if it supposed to taste like brownie batter it does need to be sweet.
If you don't like your oatmeal quite as sweet, feel free to decrease the sweetener. However, the bitterness of the cocoa powder does require a little extra sweetener.
You could also use my Sugar-Free Brown Sugar to sweeten the oatmeal with that perfect caramel brown sugar flavor!
If you prefer your brownie oatmeal naturally sweetened with fruit, you could add a little unsweetened applesauce or use half a mashed banana.
What type of cocoa powder do you use in Brownie Oatmeal?
I used regular unsweetened cocoa powder, but you could also use Dutch-processed cocoa powder.
Dutch-processed cocoa powder has been treated with an alkalizing agent, which gives it a darker color and a smoother flavor.
For an intense chocolate flavor, you could use Black Cocoa Powder (I think black cocoa powder makes things taste remarkably like Oreo's)!
Or if you want some additional health benefits, you could use cacao powder in place of cocoa powder!
Any type of cocoa powder will work great in this recipe!
Can I make Brownie Oatmeal as overnight oats?
Yes! This recipe would make great overnight oats - perfect for meal prep, too!
Simply combine all of the ingredients in a jar or container and store in the fridge overnight.
In the morning, give it a good stir and add your favorite toppings for a tasty breakfast with so much flavor you may think you're enjoying a fudgy brownie!
You could reheat it to serve warm or enjoy it cold straight out of the fridge!
The overnight oat jars should keep fresh for up to a week in the fridge.
Can I make Brownie Oatmeal as baked oatmeal?
Yes, I think you could make Brownie Baked Oatmeal, though I have not personally tried it yet!
To make baked oatmeal, I would suggest simply combining all of the ingredients in a small bowl, then pouring batter into a ramekin or baking dish and baking at 350 degrees F until cooked through - about 15-18 minutes.
You may want to add ¼ teaspoon of baking powder to help it rise a bit.
Serve with your favorite toppings for a fun and tasty baked oats breakfast that everyone will love!
**Please note that as written this is a single-serve recipe, so you will need to bake it in a very small dish. Also, I have not personally tried baking it - I've only made it on the stovetop.
More Delicious Breakfast Oatmeal Recipes:
Instant Pot Pumpkin Spice Oatmeal
My friend Jacinda has this awesome recipe for Chocolate Peanut Butter Cookie Oatmeal! Be sure to check out her recipe, too!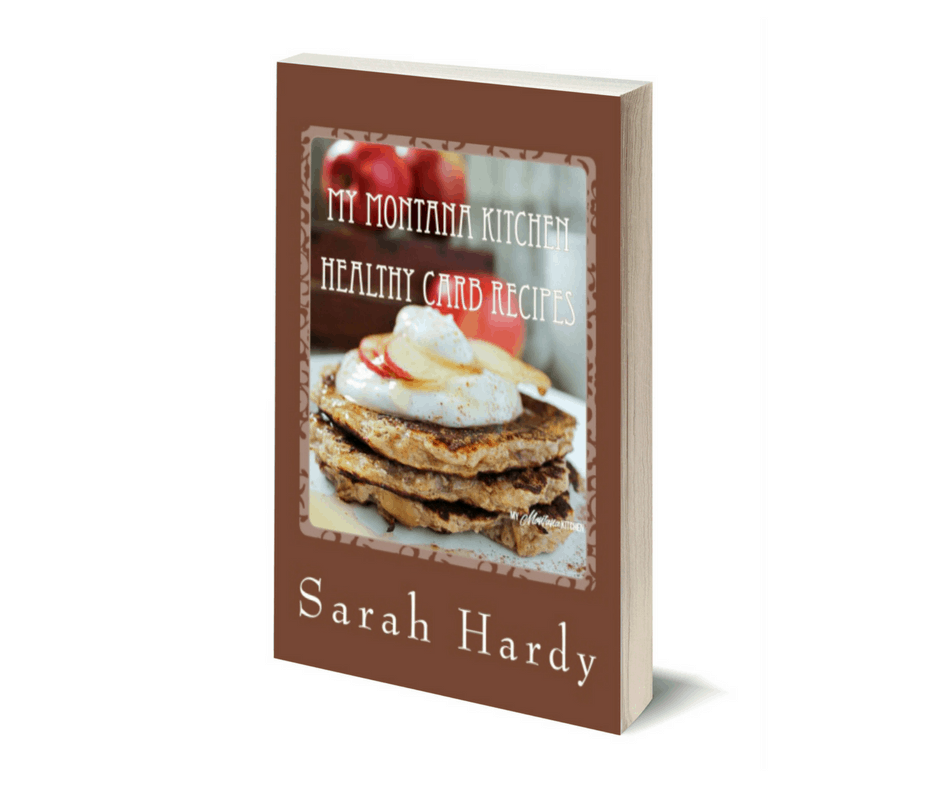 Have you seen my new Paperback cookbook, "15 Healthy Carb Recipes?" It is available on Amazon!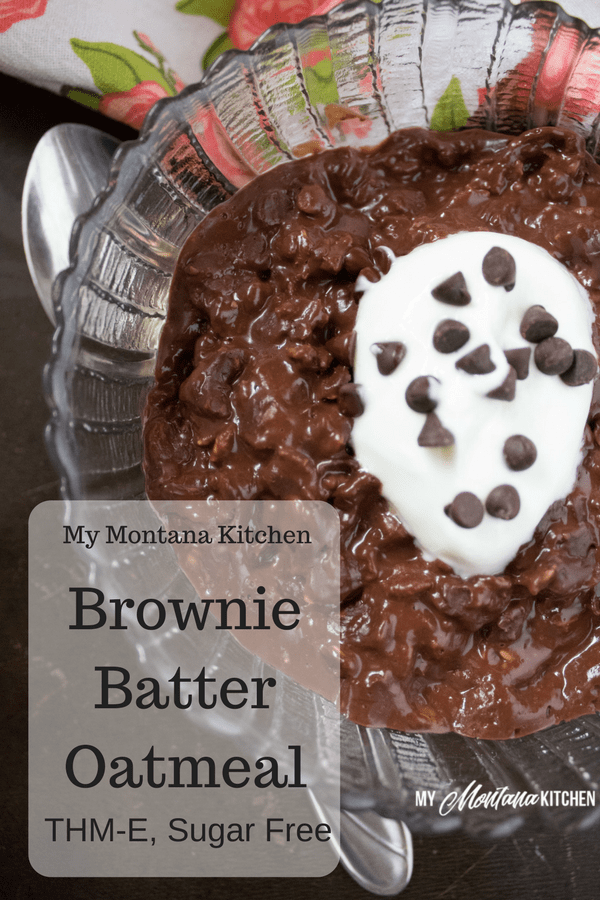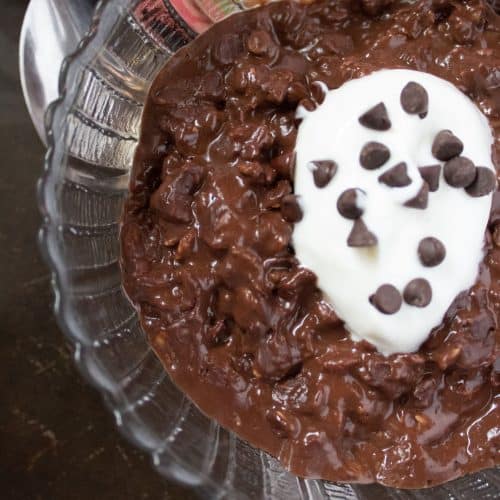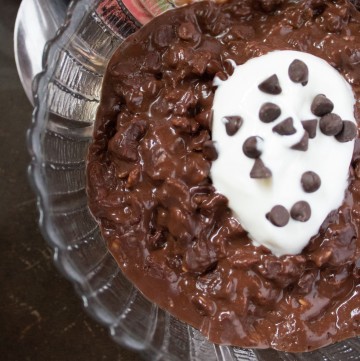 Brownie Batter Chocolate Oatmeal
Creamy, rich, sweet and satisfying, this Brownie Batter Chocolate Oatmeal will soon become a favorite. This recipe is low fat, healthy carb, sugar free, dairy free, and a Trim Healthy Mama E Fuel.
Print
Pin
Rate
Instructions
Add all the ingredients to a medium saucepan over medium heat.

Bring mixture to a boil, then reduce heat and simmer for 1-2 minutes, or until oatmeal begins to thicken.

Remove from heat and enjoy!
Nutrition
Serving:
1
Recipe
|
Calories:
227
kcal
|
Carbohydrates:
34
g
|
Protein:
8
g
|
Fiber:
8
g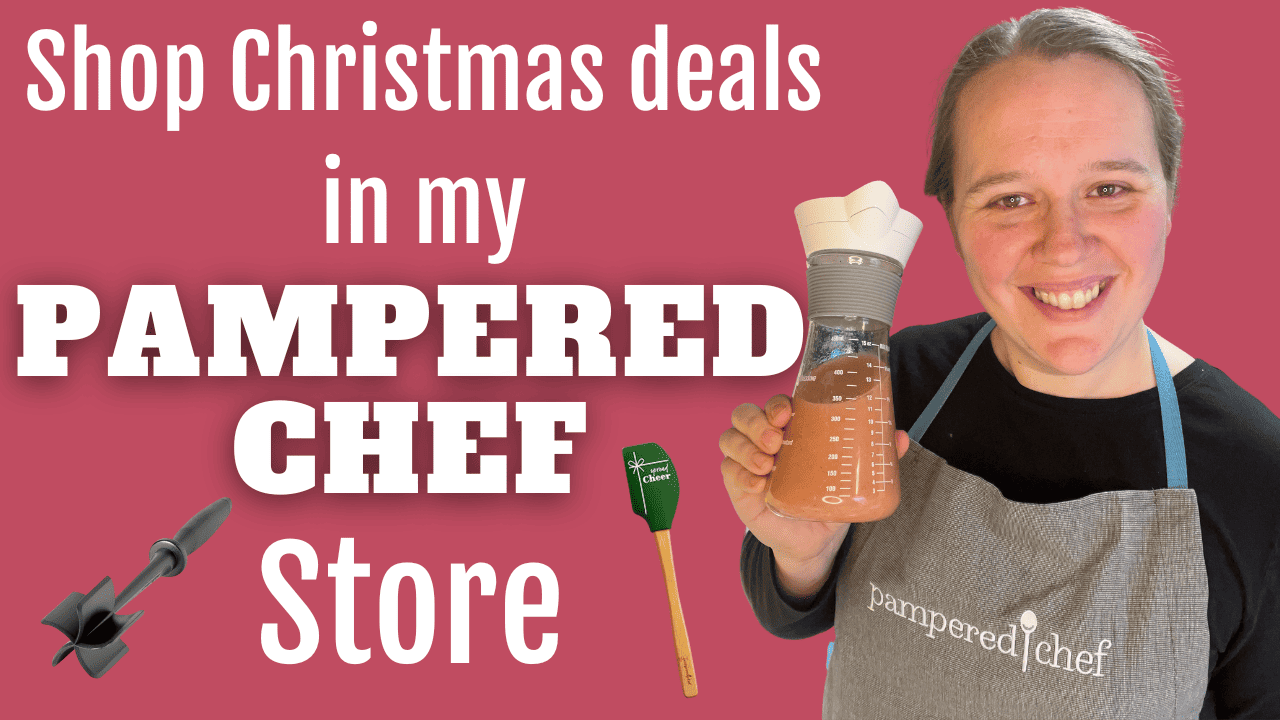 Reader Interactions