We may earn money from the products/companies mentioned in this post. As an Amazon Associate I earn from qualifying purchases.
Craving something with a little kick? Try this Buffalo chicken salad. Marinated Buffalo chicken that is then grilled and topped on a bed of spinach leaves and vegetables. Drizzle on a homemade salad dressing for the perfect low-carb THM-S dinner!
The perfect lunch or dinner you have been waiting for. A healthy salad that carries a punch to tickle your tastebuds.
Buffalo Chicken Salad
There is something about a salad that makes the perfect light dinner. The Buffalo-style marinade really ramps up the flavor of the chicken. 
Then drizzle over the Greek yogurt dressing and it helps tame down the spice a bit. Grab a fork and enjoy perfectly cook chicken, sliced veggies, and the delicious Greek yogurt dressing.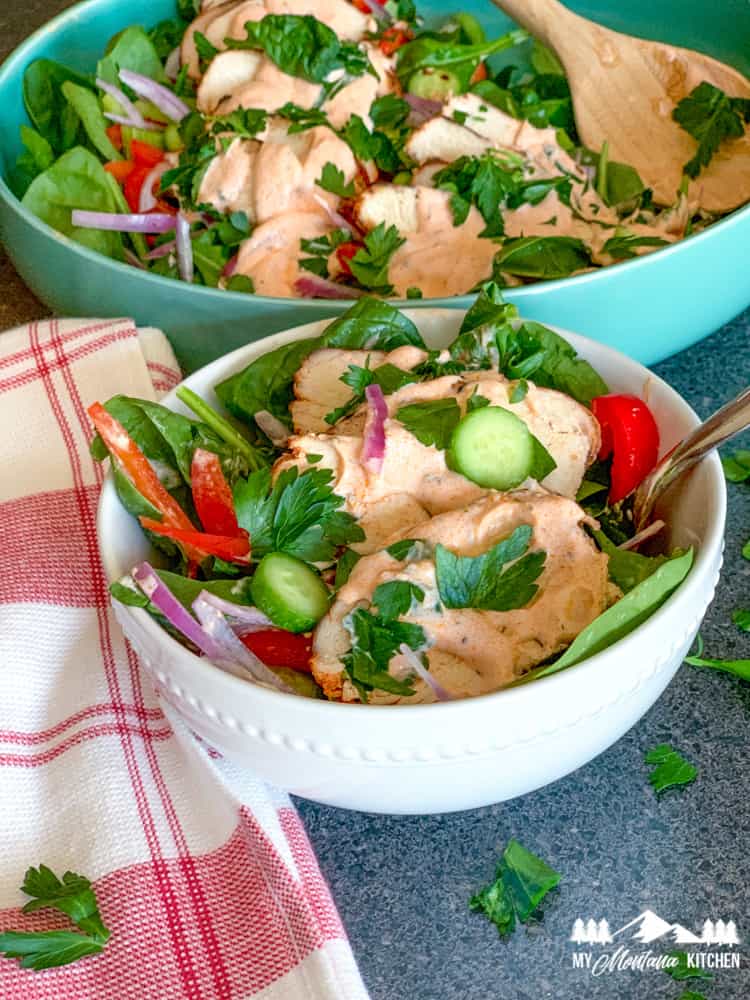 What To I Need to Make This Healthy Chicken Salad
Chicken
Hot sauce - we used Franks hot sauce
Gentle Sweet (or sweetener of choice)
Lime
Spices and Herbs
Olive oil
Spinach
Red pepper
Cucumber
Red onion
Greek Yogurt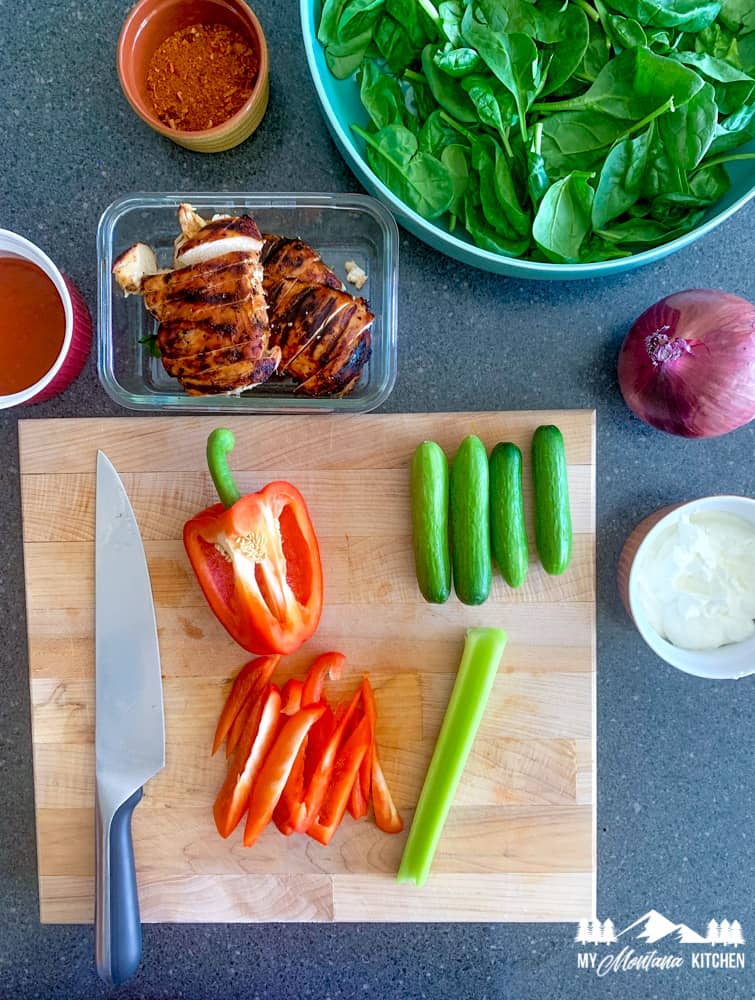 How to Make Buffalo Chicken Salad
The first thing you want to do is work on your buffalo marinade. Start by adding in the spices, lime juice, hot sauce, and sweetener. Mix until combined, and whisk in oil.
Toss your chicken breast into the marinade and allow it to marinate for 3-4 hours. Then toss your chicken on the grill and cook 5-7 minutes on each side, flipping over.
The chicken is done when it reaches 165 degrees internally. Remove from the grill and allow the chicken to rest. Then slice and top your salad.
For the salad itself, I like a bed of spinach and chopped vegetables.
Then you can whisk up a homemade buffalo dressing to drizzle over the chicken and salad.
Do I Have To Grill Chicken
If you do not have a grill or don't want to grill, go ahead and bake in the oven, or pan fry the chicken. It will of course change the flavor slightly but it will work just as good as grilling.
Or if you own an air fryer you can air fry the chicken as well.
Are spinach leaves good for you?
Spinach leaves are a great addition to this salad. I find that spinach leaves offer that distinct flavor and texture that sets this spinach buffalo chicken salad apart from others.
Spinach leaves are loaded with B vitamins, iron, calcium, folic acid, and more. You will find using spinach in your diet is a wonderful thing.
How to Wash Spinach Leaves The Best Way?
The best way to wash spinach leaves is to take a large bowl or fill up a clean sink with cold water and soak the leaves for a few minutes.
The dirt and any debris will sink to the bottom of the bowl. Then lift up the spinach leaves and run them through a salad spinner.
Do you eat spinach stems?
Spinach stems can be very tough and chewy to eat. You will find some prefer to remove the steps before serving it up.
If you want to remove the spinach steps, simple hold the leave and gently twist holding the stem. It will pull right off. You can freeze the stems and toss in casseroles, or soups for added flavor, or toss them.
Variations To Buffalo Chicken Spinach Salad
Swap spinach with another variety of greens. Whether it be a head of lettuce like romaine, etc.

Change up the toppings you use. You could add on some pepper jack cheese for added spice.
Use store-bought buffalo dressing instead of making your own if you would prefer.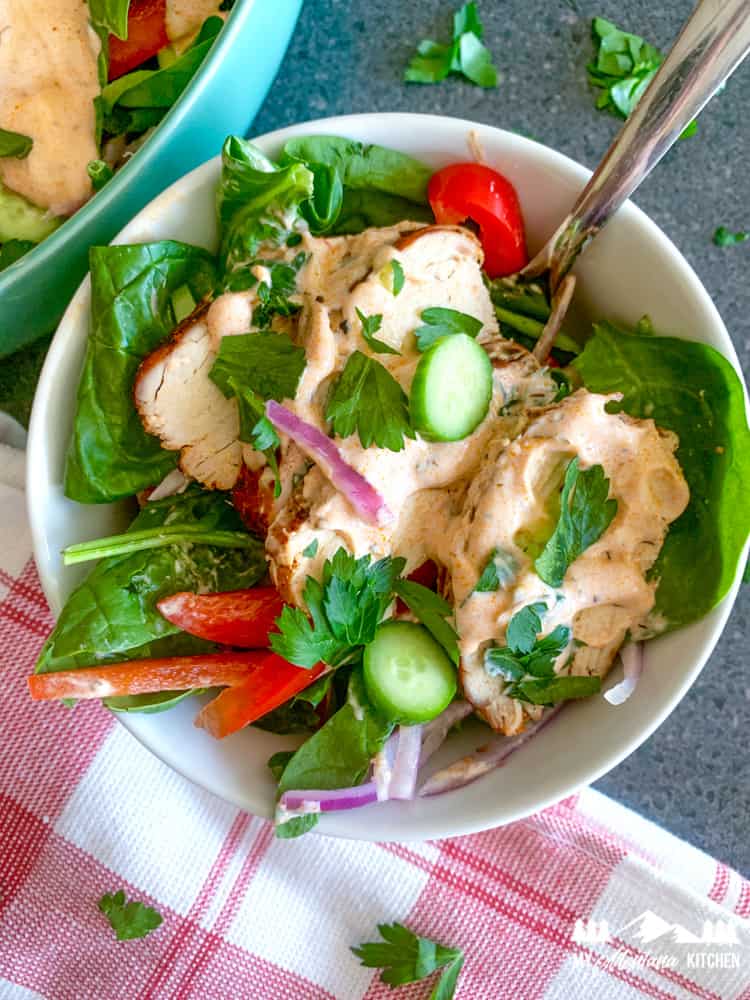 More Salad Recipes To Try
If you are a fan of salads, I have a handful more for you to try out. Check out these recipes below.
Chicken Blueberry Salad - This salad is delicious. The fresh blueberries next to the greens and chicken are incredible. The perfect amount of sweetness to the chicken.
Low Carb Chopped Salad - I love a good chopped salad, but they are not always carb friendly. Here is a version that is not only delicious but low carb as well.
Chicken Cobb Salad - If you are a fan of blue cheese dressing, give this chicken salad a try. It is loaded with tons of flavor.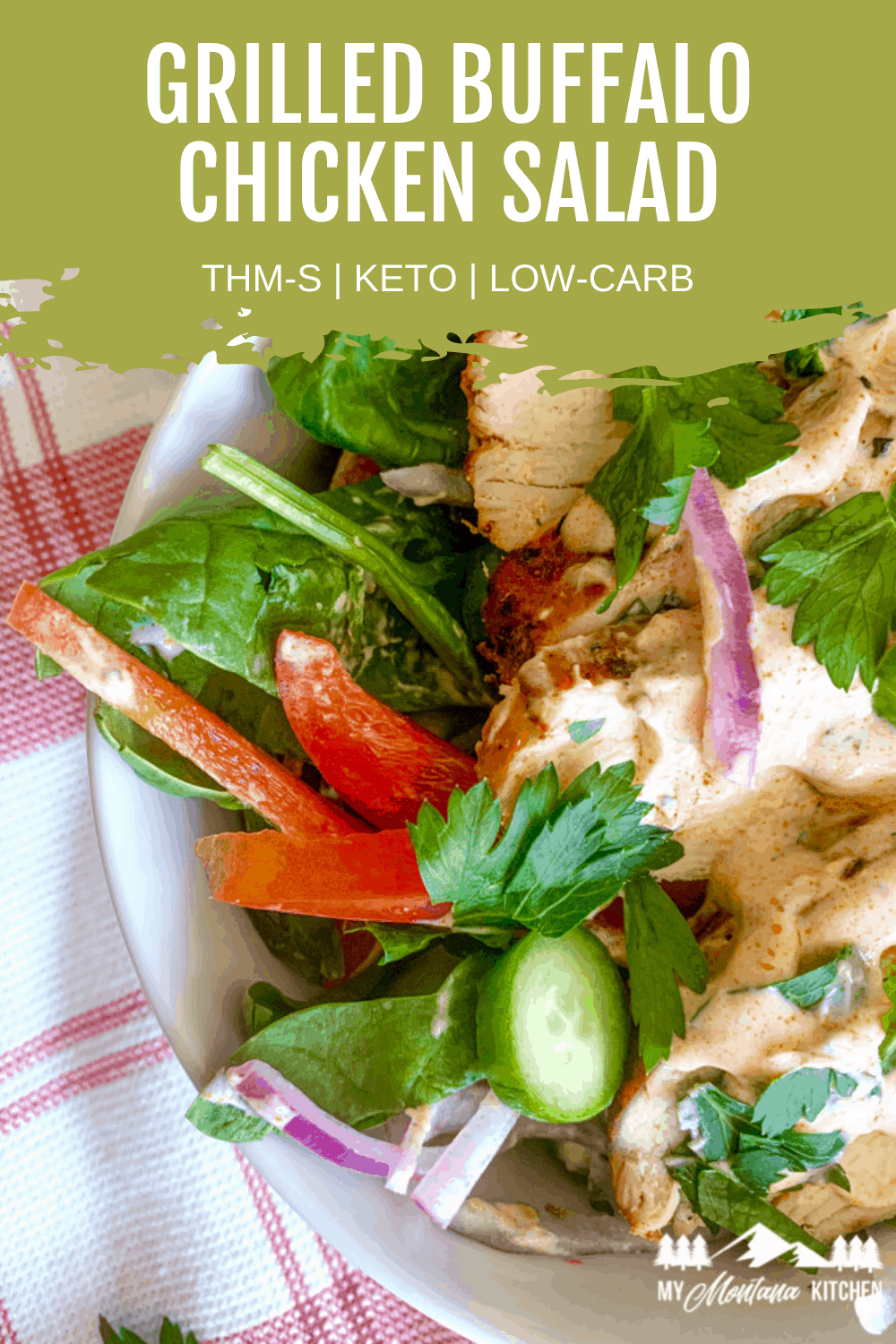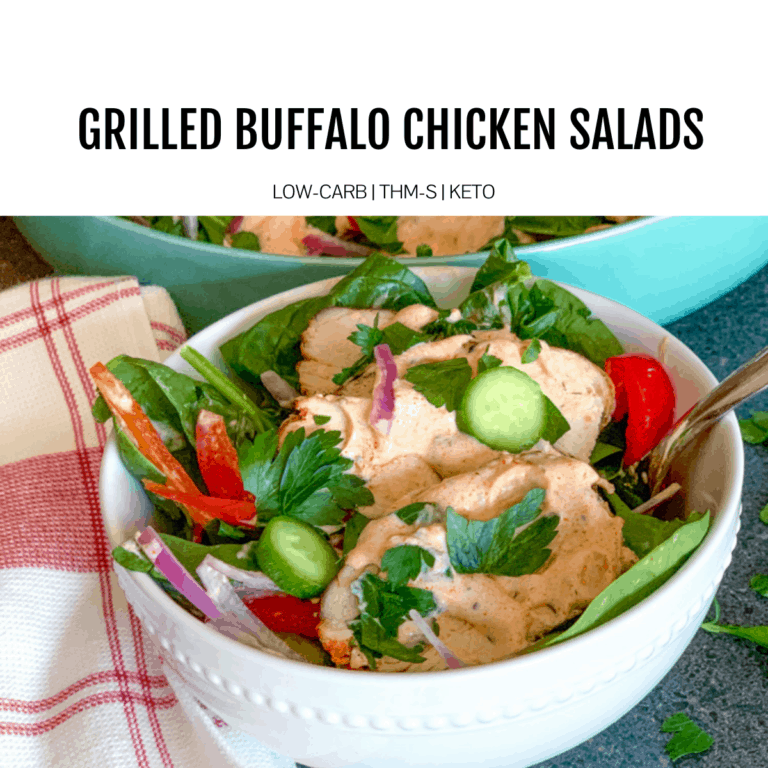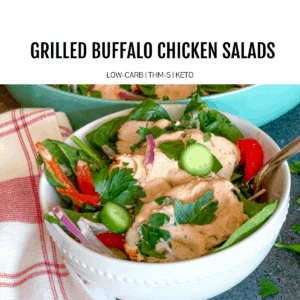 Grilled Buffalo Chicken Salad
Craving something with a little kick? Try my Buffalo chicken salad. Marinated Buffalo chicken that is then grilled and topped on a veg of spinach leaves and vegetables. Drizzle on a homemade salad dressing!
Print
Pin
Rate
Ingredients
For the salad:
One bag of fresh baby spinach leaves

One red bell pepper

sliced

One large cucumber or 4-5 mini cucumbers

sliced

Half of a small red onion

sliced thinly

1

Stalk of Celery

sliced

Parsley

for garnish
Instructions
In a small mixing bowl, combine the lime juice, honey, hot sauce and spices.

Whisk in the olive oil. Pour marinade into a Ziploc bag and add chicken breasts.

Marinate for 3-4 hours.

Preheat your grill.

Cook the chicken for 5-7 minutes, then flip the breasts over.

Grill for 5-7 minutes longer, or until a thermometer reads 165°.

Remove from the grill and let the chicken rest.

Once cooled, slice the chicken for topping the salad.

In a large bowl, combine the chopped vegetables. Layer the sliced chicken over the top. Mix the dressing ingredients and drizzle over the salad. Garnish with parsley to serve.
Notes
Most of the carbs are from the yogurt in the dressing. To lower the carbs to 10 grams per serving, use sour cream in place of the yogurt. (This also raises the calories to 413 per serving.)
Nutrition
Serving:
4
g
|
Calories:
354
kcal
|
Carbohydrates:
15
g
|
Protein:
43
g
|
Fat:
13
g
|
Fiber:
4
g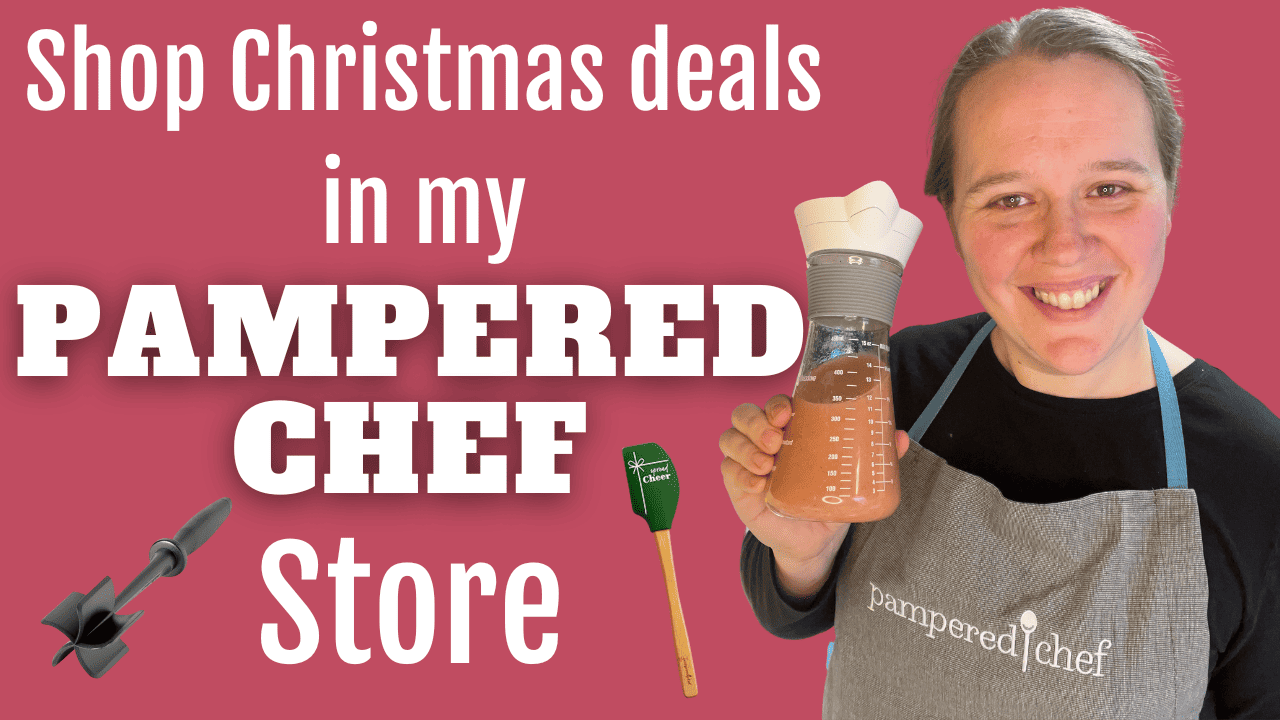 Reader Interactions