We may earn money from the products/companies mentioned in this post. As an Amazon Associate I earn from qualifying purchases.
This Sugar Free Pecan Pie uses a low carb condensed milk to replace the traditional corn syrup used in pecan pie.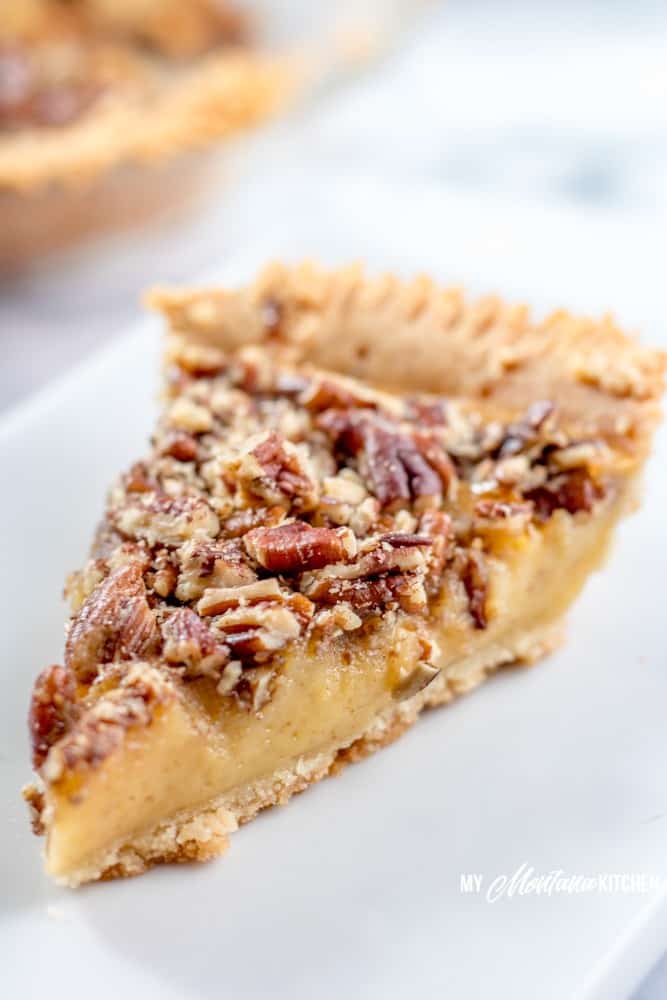 Sugar Free Pecan Pie
If I am completely honest, I am not a huge pie fan. I would much rather eat cake (like this Chocolate Coconut Cake) or cookies (like these Favorite Low Carb Chocolate Chip Cookies).
But if I had to choose a favorite pie, I do believe Pecan would be close to the top.
I have wanted to make a healthier version of Pecan Pie for a long time, but I never pursued it much because I wasn't sure how to get around the corn syrup used in a traditional pie.
But when pecan pie was mentioned in one of the THM FB groups this week, I thought I would go back and re-visit it.
A quick google search told me that to make pecan pie without corn syrup, you can use Sweetened Condensed Milk.
BAM! That is already covered with my 3 Ingredient Low Carb Sugar Free Sweetened Condensed Milk.
So I set to work, and accidentally "burnt" my Condensed Milk. (You can see my FB live here, where I discovered I had scorched it. Ha – of course I was live!)
However, that actually worked in my favor, because it lent a great caramel flavor to the condensed milk (perfect for pecan pie)!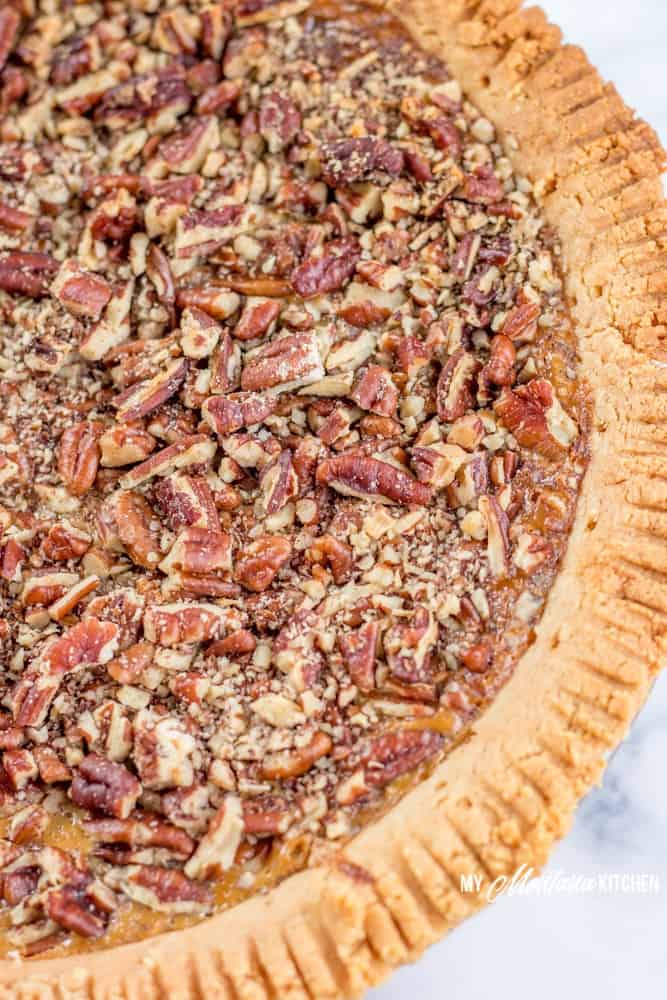 How to Make Low Carb Pie Crust
First of all, you will need to mix up the dough for a low carb pie crust. I do not have my own personal recipe for this, so you can use whichever low carb pie crust you like the best.
However, I would highly recommend using this Flaky Low Carb Pie Crust from Low Carb Maven. I used this recipe for my Sugar Free Pumpkin Pie, as well. It is my go-to low carb crust.
It tastes just the same as a traditional pie crust, and it is even flaky! (There are a few more involved steps, but it is worth it – just trust me!)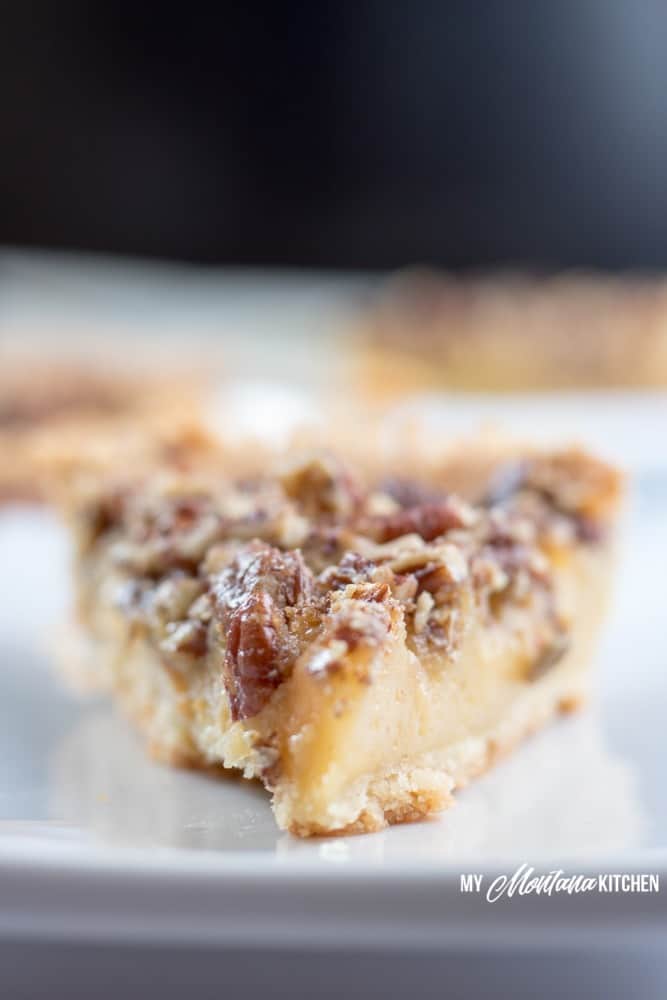 Ingredients Needed for Healthy Pecan Pie
Low Carb Pie Crust
Low Carb Sugar Free Sweetened Condensed Milk (this is homemade)
Melted Butter
Vanilla
Egg
Chopped Pecans
You probably already have the ingredients on hand to make this pecan pie, so let's take a look at exactly how to make it!
How to Make Pecan Pie with Condensed Milk
(Please see below for full ingredient list and instructions.)
While the pie crust is chilling, you can make the Sugar Free Sweetened Condensed Milk.
Simply pour the ingredients into a large frying pan, bring to a low boil, and simmer for 10-15 minutes until the mixture is reduced. It should be bubbly and slightly thickened. (You can see a how-to video here.)
The third step is to add all the remaining ingredients to the sweetened condensed milk. You'll need an egg, vanilla, and melted butter.
Mix them all together until they are combined. I want to try adding stevia-sweetened chocolate chips to this sometime, to make a Chocolate Pecan Pie. If you added them while the mixture is still warm, they would melt, of course.
I would let the condensed milk mixture cool completely, then add chocolate chips. This would give you a Chocolate Chunk Pecan Pie.
After you have placed the pie crust in the pie pan, you will need to par-bake it for 5 minutes. (This just means you partially bake it before you add the pie filling.)
Then pour in the pie filling mixture, and spread the chopped pecans on top. Bake the pie, then allow to cool completely.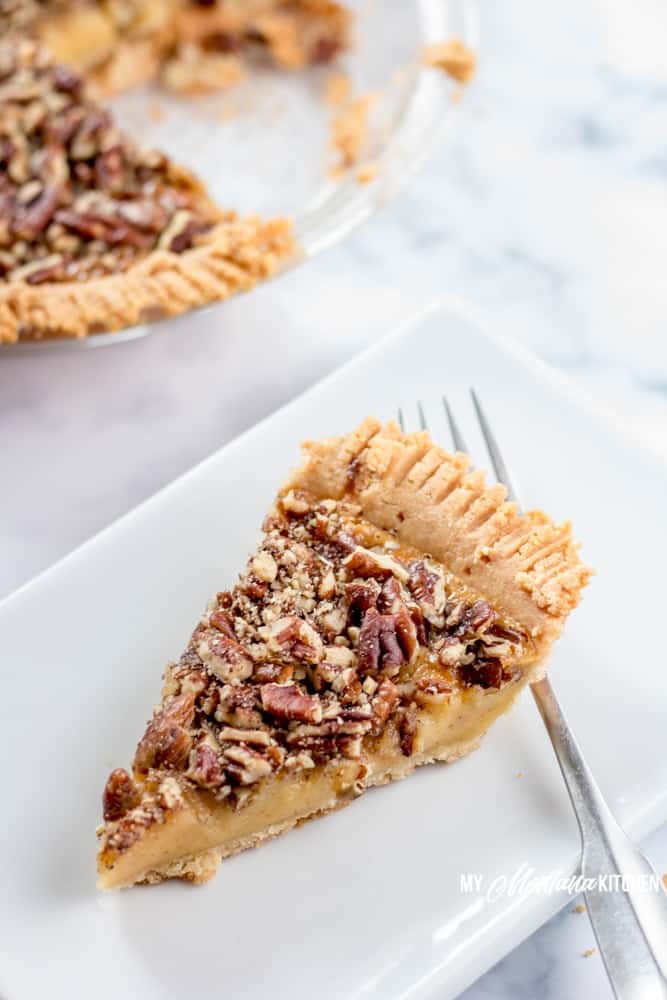 How to Eat Low Carb Pecan Pie
I ate a piece while the pie was still semi-warm, and it was good. But it didn't compare to the next morning, when I ate a piece out of the refrigerator! The condensed milk causes the pie filling to set up with a fudge-like texture, and it is AMAZING!
I enjoyed a piece this morning while sitting my Christmas tree with a cup of Collagen Coffee!
This low carb pecan pie is great on it's own, or when topped with homemade whipped cream, or this Low Carb Vanilla Ice Cream.
Seriously, there is no need to feel deprived! You can make a healthier version of almost anything!
If you want more recipe inspiration, weekly menus, grocery lists, exclusive video content, and an accountability community, then you will love the brand new My Montana Kitchen Table! (Click here to be the first to know when it goes live!)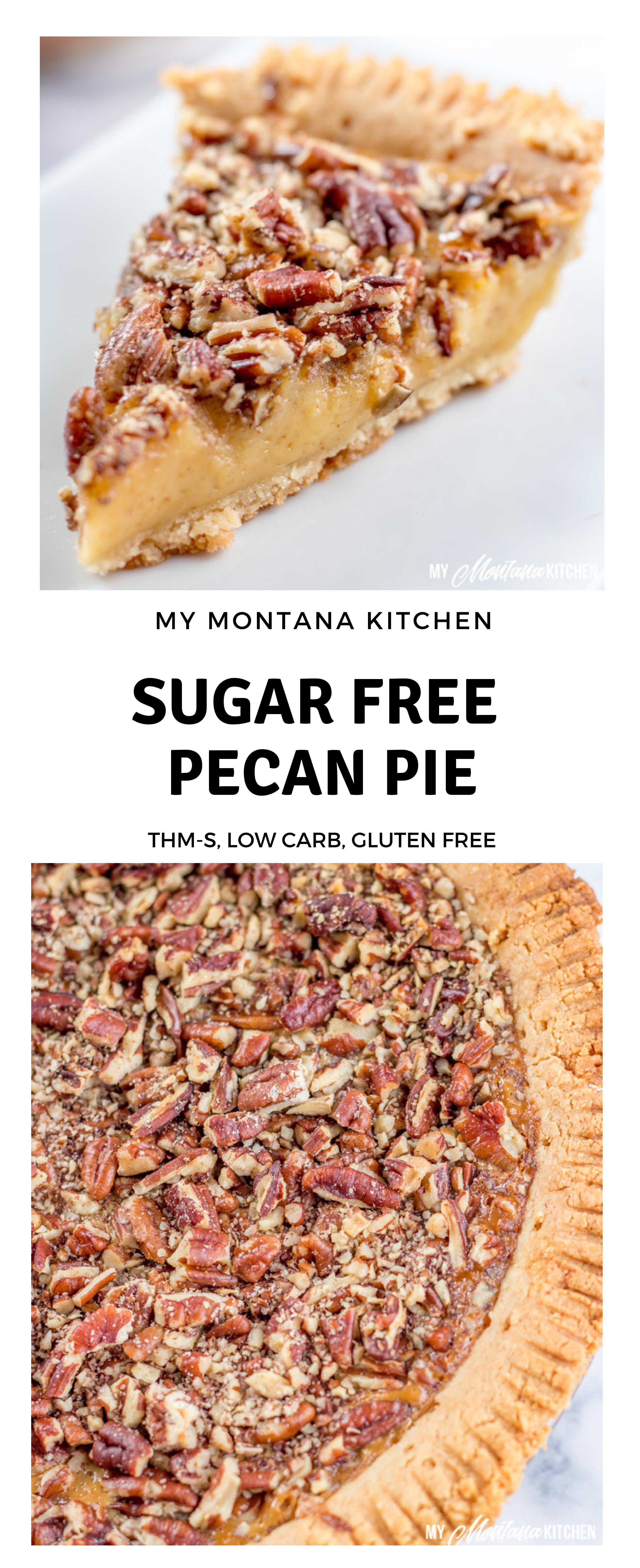 P.S. Make sure to enter my Flavored Collagen Giveaway on FB! Click here to see the post!
Yield: 8 Slices
Sugar Free Pecan Pie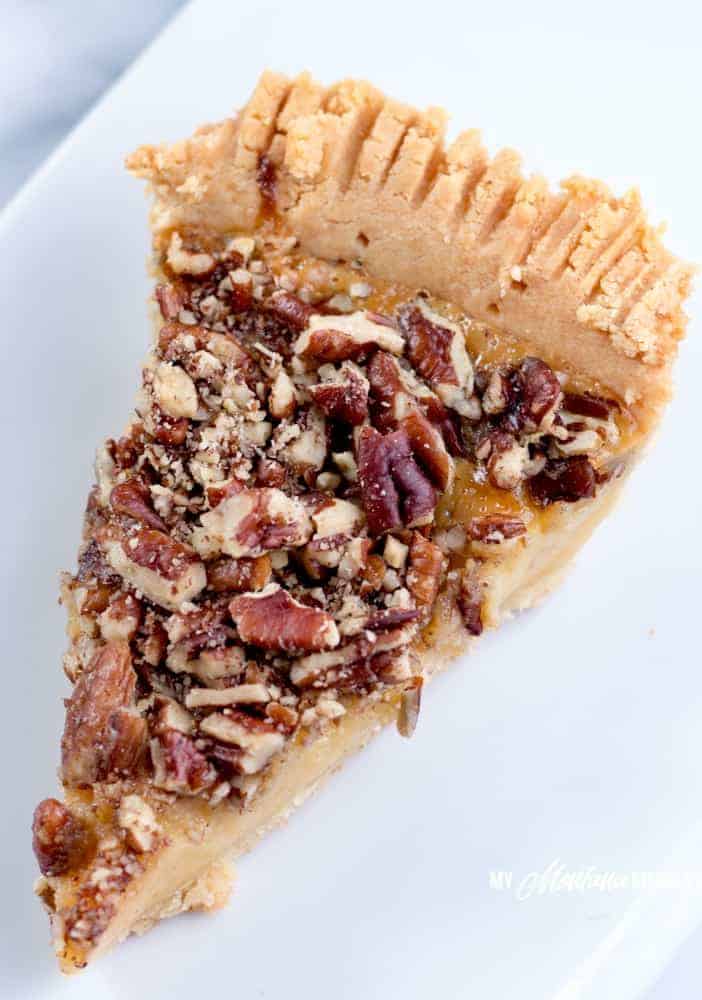 You're going to love the taste of this sugar free pecan pie!
Total Time
1 hour
10 minutes
Ingredients
2 Tablespoons Melted butter
1 Teaspoon vanilla extract
1 Egg
1 Cup chopped pecans
Instructions
Preheat oven to 350.
Prepare Pie Crust, prick with a fork, and bake for 5 minutes, then remove from the oven.
Prepare Sweetened Condensed Milk.
Add Melted Butter, Vanilla Extract, and Egg to the Condensed Milk mixture and stir well.
Pour into prepared pie crust.
Sprinkle Chopped Pecans over filling.
Bake for 40 minutes.
Allow to cool completely, then refrigerate.
Nutrition Information
Yield
8
Serving Size
1 Slice
Amount Per Serving
Calories

523
Total Fat

67g
Carbohydrates

10g
Net Carbohydrates

5g
Fiber

5g
Protein

7g