We may earn money from the products/companies mentioned in this post. As an Amazon Associate I earn from qualifying purchases.
Parmesan chicken is so versatile and perfect for kids, picky eaters, and anyone really! It's just as easy to make keto chicken parmesan casserole with healthy ingredients that will still please any palate.
This is one of the easiest chicken parmesan recipes. This chicken parmesan casserole dish is keto-friendly and will leave you with a full stomach. It's a low-carb dish that still has a ton of flavor.
There are only 5 ingredients needed for this Parmesan Chicken Casserole
Cooked Chicken
Marinara Sauce
Parmesan Cheese
Mozzarella Cheese
Almond Flour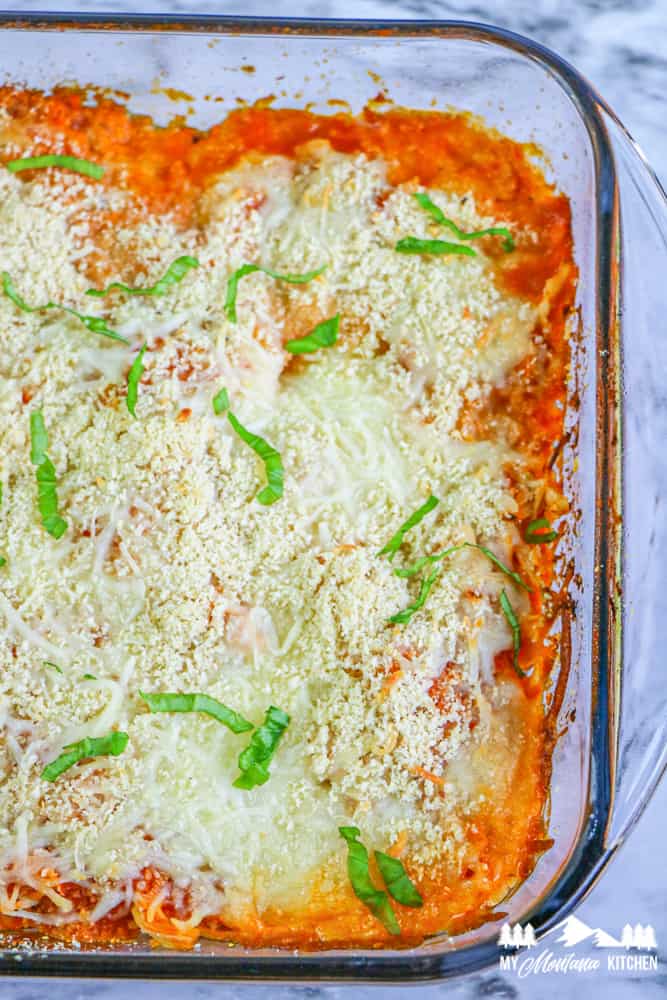 This easy keto casserole is low-carb and still has a ton of flavor. (This is also a Trim Healthy Mama S fuel.)
What is Chicken Parmesan?
Chicken Parmesan is an Italian dish, consisting of a breaded or battered fried chicken cutlet topped with tomato sauce and cheese.
The dish is thought to have originated with Italian immigrants, who replaced the eggplant in traditional eggplant parmesan with chicken.
The first appearance of this recipe was in the New York Herald Tribune in the 1950's.
What should you serve with chicken Parmesan casserole?
Normally when chicken is the main dish made in chicken parmesan, pasta is usually served with it.
But, if you are eating low carb, you might want to switch out the pasta for another healthy side dish.
Here are some great recipes to go with your chicken Parmesan that don't require pasta!
You will need 1/2 cup of chopped cauliflower and 2 cups chicken broth in a pot on medium heat until cooked.
Add in salt and pepper to taste.
This will give your chicken Parmesan casserole a great vegetable side dish!
Slice zucchini into spaghetti noodles for a chicken Parmesan casserole dish that is both healthy and delicious!
Just serve your chicken parm casserole right on top of the zucchini noodles!
Spinach not only has a great taste, but it is also very low in calories. One cup of spinach only has about 7 calories, so this will be a very low-calorie side dish to serve with your keto casserole.
You can sautee the spinach in a pan with butter for a few moments until it is wilted, or don't even bother cooking and eat it raw!
Cover your plate with a big bed of fresh spinach and serve your keto chicken parmesan casserole on top!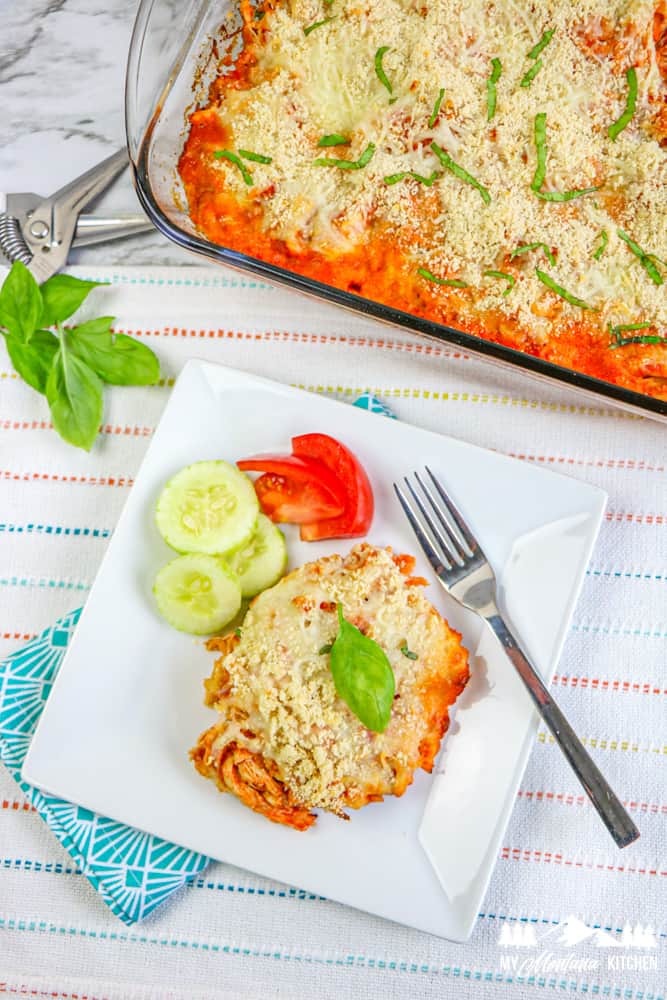 How do I make chicken parmesan crisp?
Parmesan chicken (and in this case, Parmesan Chicken Casserole) can be made crisp by adding about 1/4 cup of breadcrumbs to the mixture before spreading it on top of the casserole.
In this case, we are using almond flour to replicate the bread crumbs, since bread crumbs are not keto-friendly (or Trim Healthy Mama S friendly)!
Since we aren't battering and frying the chicken, all we need to do is sprinkle the almond flour on top of the dish.
Can you put uncooked chicken in a casserole?
Yes, you can, but you may have to adjust the baking time to ensure the chicken is fully cooked.
You'll want to cut the chicken into small, bite-sized pieces to ensure even cooking.
How long does parmesan chicken casserole last in the fridge?
In general, chicken Parmesan casserole can last for about 4-5 days in the refrigerator if stored properly (in an airtight container).
Should you cover a chicken casserole?
Yes, you should. If you are cooking chicken parmesan in a casserole dish, it's best to cover the chicken casserole with aluminum foil.
This will prevent the chicken from becoming dry.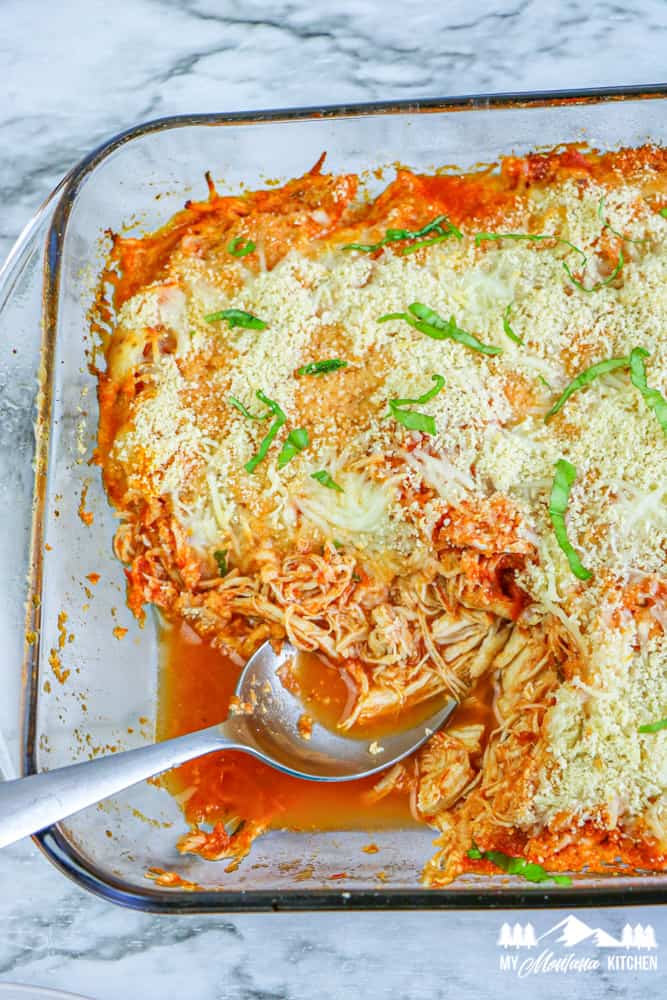 Easiest way to prepare chicken for low-carb chicken casseroles
Chicken casserole dishes may be prepared with canned chicken, leftover chicken, or chicken specially prepared for casseroles.
One of the simplest ways to prepare chicken for casseroles is to place chicken breasts in a baking pan with about 1 inch of water. The breast should be laying flat on its presented side then it will create a tender juicy chicken that can easily soak up sauces.
You can cover the pan with tinfoil and bake until the chicken reaches an internal temperature of 165 degrees Fahrenheit (75 degrees Celsius), which will take about 15 to 20 minutes per pound depending on the size of your chicken breasts.
The Instant Pot can also be a great way to cook your chicken for a casserole.
I add 1 cup of water and two frozen chicken breasts to my Instant Pot, season with salt and pepper, then cook on manual pressure for 25-30 minutes.
I do a quick release of the valve after the timer has ended.
After the chicken breasts have cooked, I shred them with my hand mixer.
Place the cooked chicken breasts in a mixing bowl and use your hand mixer (or stand mixer) to shred them.
They will turn to mush if you over-mix, so be careful not to OVER mix.
But 10-15 seconds of mixing seems to work well.
Can I use chicken thighs instead of chicken breast?
Yes. If you want to use chicken thighs just make sure that they are boneless and skinless as well as trimmed of excess fat.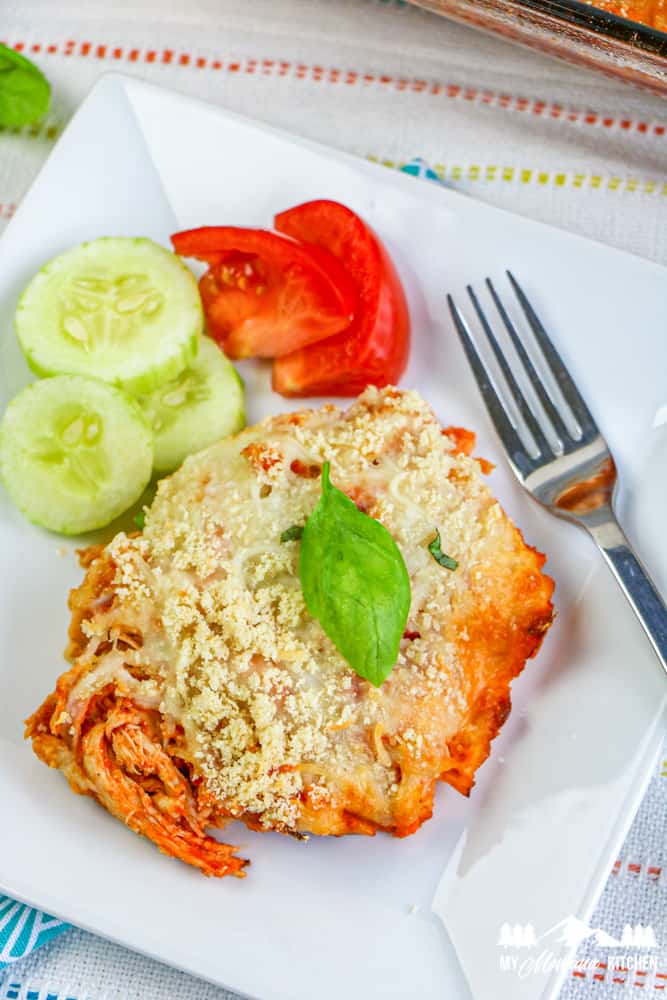 Variations of Keto Chicken Parmesan Casserole
For this recipe, you can opt for any flavor variation that you like.
Spaghetti sauce is a popular flavor variation for chicken parmesan casserole dishes.
I like to use the Raos brand Marinara sauce - it is delicious, and has no added sugars!
If you want to try your hand at making your own spaghetti sauce, you could try this Instant Pot Spaghetti Sauce recipe.
If you wanted to try something different, you could use low-carb Alfredo sauce in place of the red sauce!
Some vegetables that can be added to keto chicken parmesan casseroles are steamed broccoli, cauliflower, or zucchini.
You can also easily add spinach or kale!
These vegetables are great because they don't include many calories or carbs.
You can also add red or yellow onion to the dish, which will add a little more crunch and flavor.
(This is also a great way to use up leftover vegetables in your fridge!)
If you love chicken casseroles, you'll also want to try this Low Carb Chicken Fajita Casserole!
We hope you enjoy this recipe and find it easy to make. It is possible that your family members will be asking for seconds (or thirds) of this keto-friendly chicken casserole dish!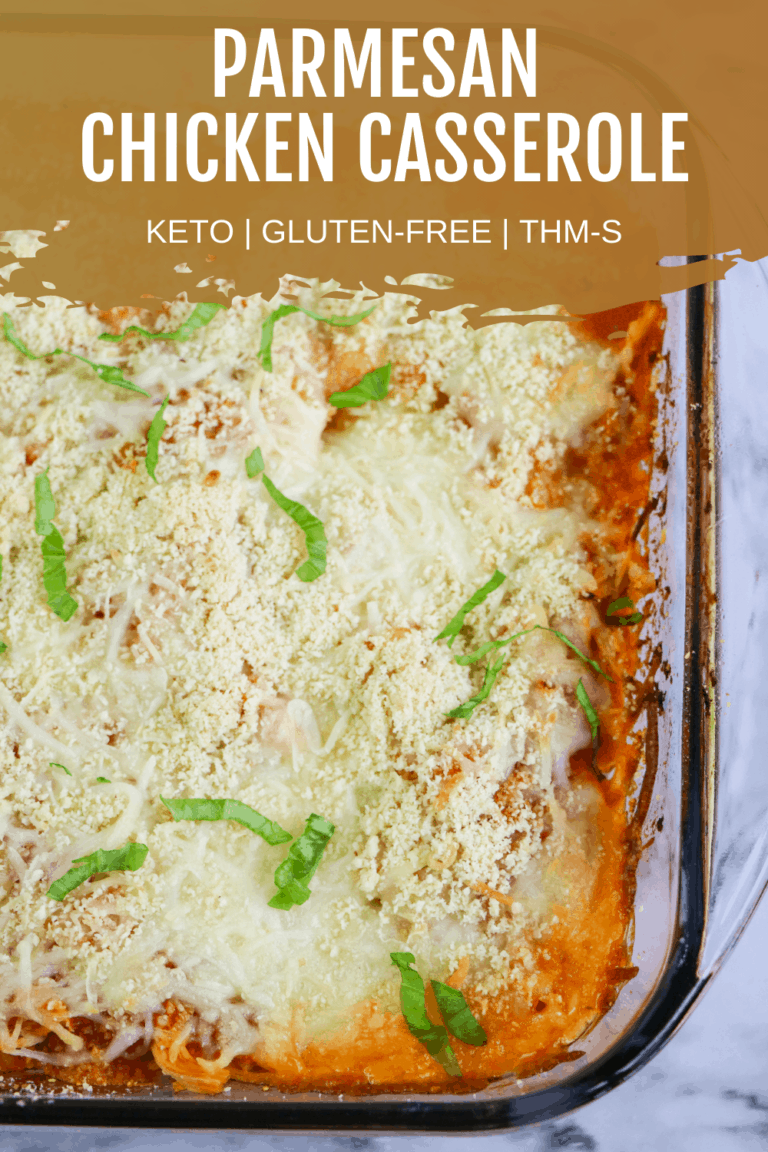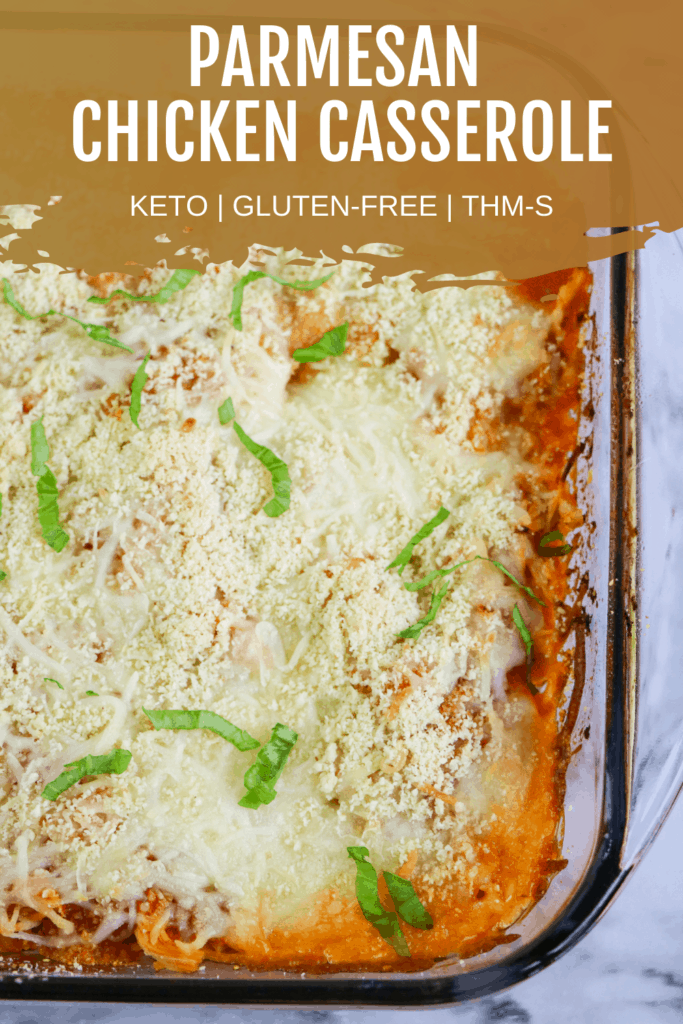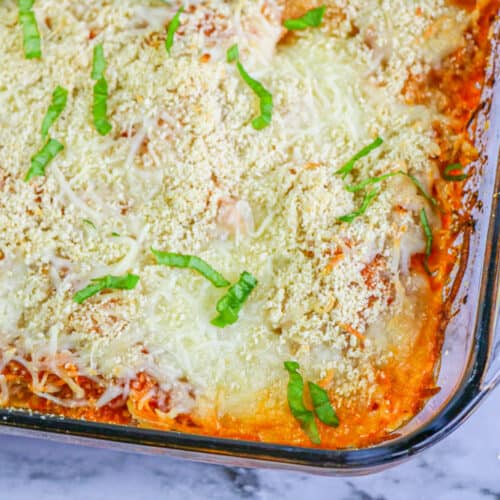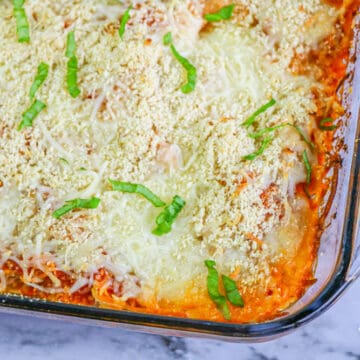 Parmesan Chicken Casserole
Easy to make with only 5 ingredients, this keto chicken parmesan casserole is a delicious twist on the classic Italian dish. It's kid-friendly, gluten-free, keto-friendly, and a family favorite!
Print
Pin
Rate
Instructions
Preheat the oven to 350 degrees.

Spray a 9x13 casserole dish with nonstick cooking spray.

In a large bowl, combine cooked chicken, half of the marinara sauce, 1 cup parmesan, and 1 cup mozzarella cheese (see notes below for alternative).

Spread mixture in the casserole dish.

Pour the remaining marinara over the top of the casserole.

Sprinkle the remaining mozzarella and parmesan over the marinara and then top with the almond flour.

Cover with foil and bake for 30 minutes or until the cheese is melted and bubbling.
Notes
You can substitute Trim Healthy Mama Baking Blend for the almond flour to top this Parmesan Casserole recipe.
You can sub 2 cups of shredded Italian blend cheese for the grated parmesan and shredded mozzarella.
Nutrition
Calories:
288
kcal
|
Carbohydrates:
5
g
|
Protein:
32
g
|
Fat:
15
g
|
Fiber:
1
g