We may earn money from the products/companies mentioned in this post. As an Amazon Associate I earn from qualifying purchases.
This low carb chicken fajita casserole is a flavorful, cheesy, protein packed meal the entire family will enjoy. It's an easy weeknight dinner that's low carb, gluten free, and perfect for keto and THM.

Everyone loves creamy, cheesy dinners. They're satisfying, decadent, and delicious. That's why low carb casseroles are a fantastic family dinner enjoyed by all - even those who aren't following a low carb or keto diet.
This low carb fajita casserole is about to become one of your family's favorite healthy chicken casserole recipes. With healthy veggies, protein packed chicken and dairy, and the melty decadence of cream cheese and melted monterey jack, even the kids will be begging for more.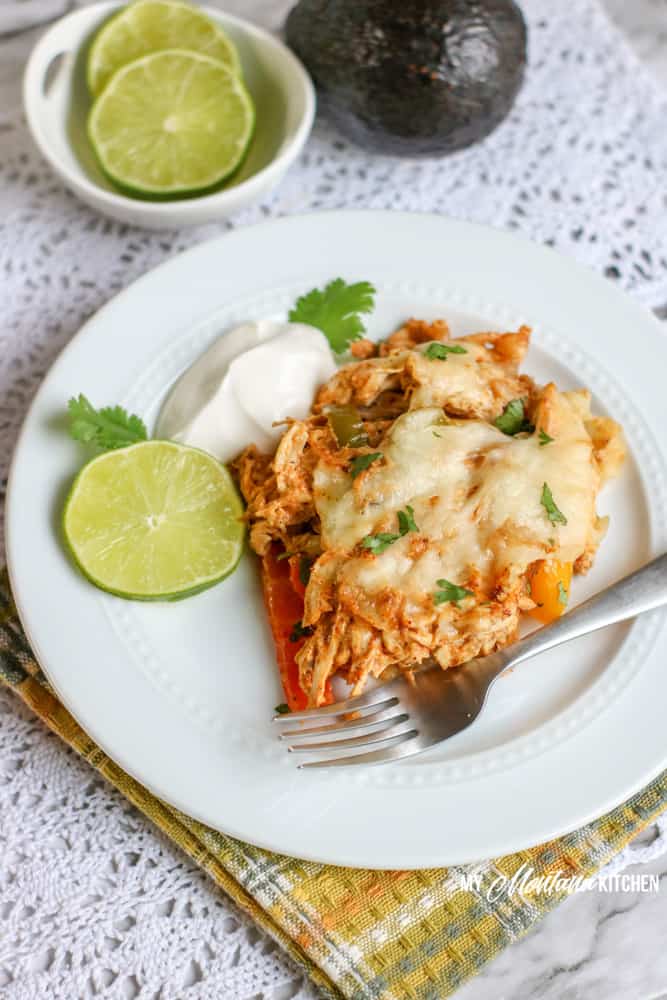 Ingredients For Low Carb Chicken Fajita Casserole
One of the best things about a simple casserole dinner is how few ingredients they need to come together. This one has only 7 ingredients and yet it's full of Tex-Mex taste.

Chicken breasts
Coconut oil, optional
Bell peppers
Onion
Cream cheese
Taco seasoning
Monterey jack cheese, shredded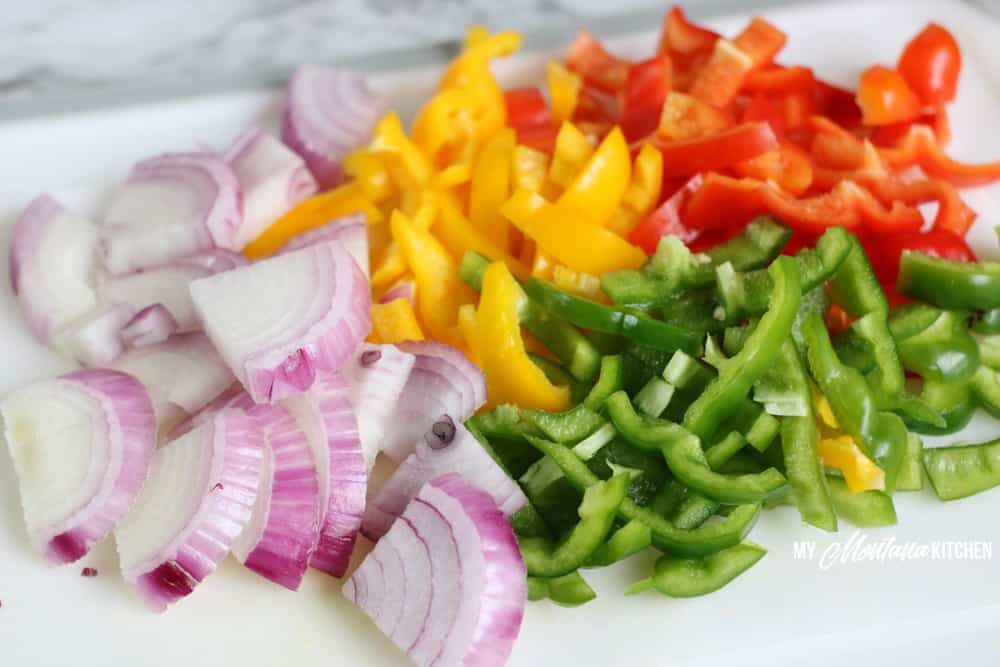 If you want to jazz up this recipe and make it more colorful, you can use a rainbow of bell peppers, instead of just the traditional green. Bell peppers bring color and a variety of flavor to your dish, as well as lots of Vitamin C and other nutrients.

You can also add some green chiles or jalapeños if you want to turn up the heat. Sprinkle them on top at the end, or bake them to make it even spicier. Other fun add ons would be black olives, diced avocado, or diced tomatoes.
How To Make Your Keto Chicken Fajita Casserole
This is a 2 dish dinner, which makes for very easy clean up.

In a skillet, saute your onions and peppers to soften them and release their flavor. Coat the skillet with your choice of oil.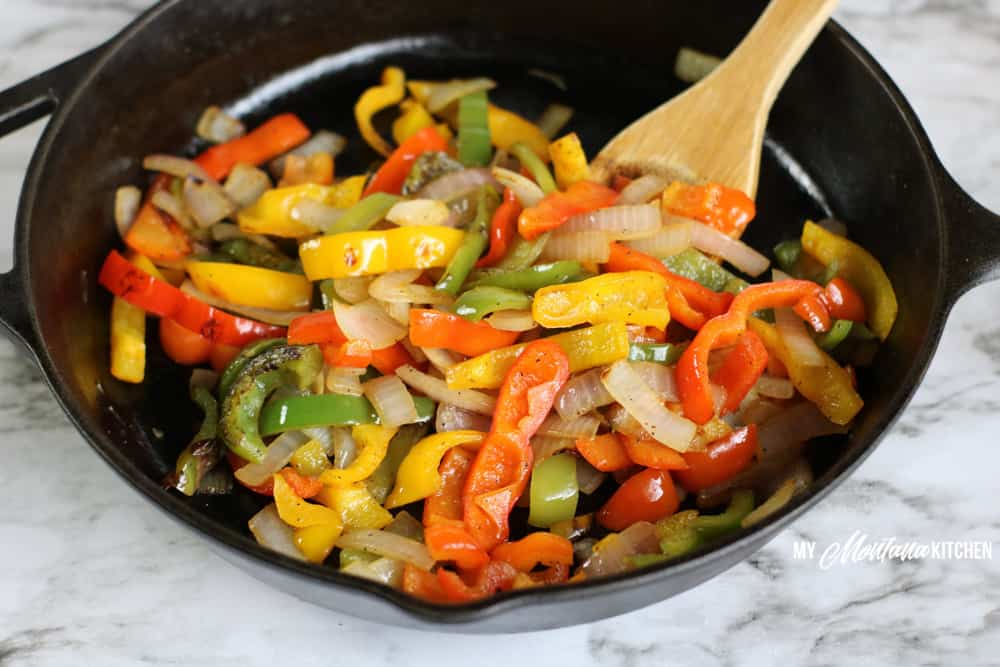 Once they are soft, remove the skillet from the heat.

Next, add your chicken, cream cheese, seasoning, and part of your shredded cheese. Combine the ingredients with the onions and peppers in the warm skillet.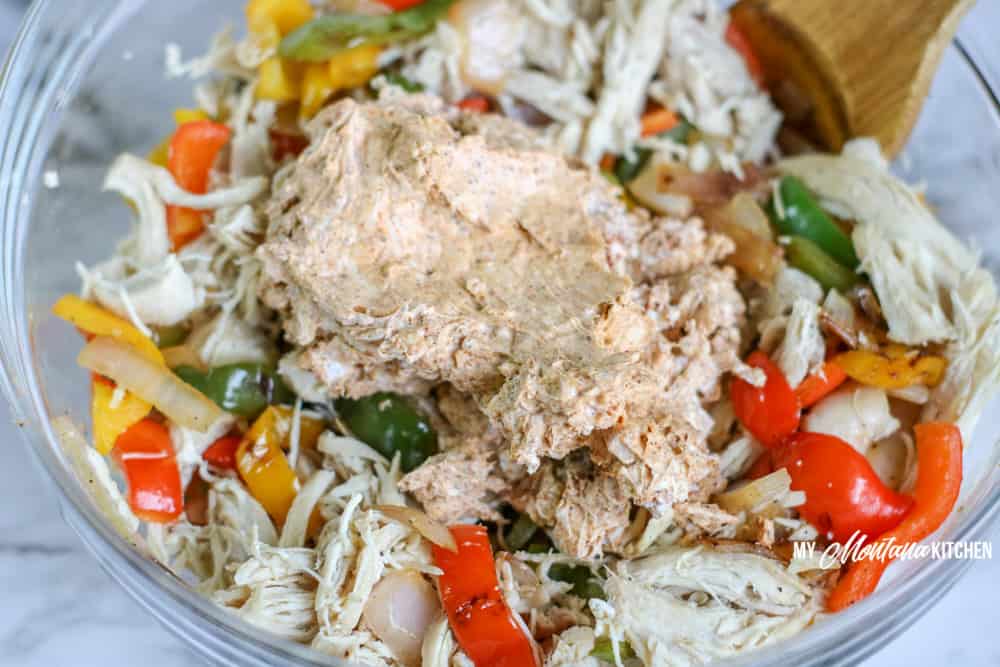 Once it's all creamy and melty, transfer it to a greased baking dish. Sprinkle the remaining cheese on top and bake until the cheese is bubbly, which will be 25-30 minutes.
How To Prep And Serve Your Easy Chicken Casserole
One of my time saving kitchen tricks is to make shredded chicken in batches and then keep it frozen and ready to pull out to use in our favorite healthy chicken recipes.

It's also easy to have bags of sliced onions and peppers in your freezer or prepped weekly in the fridge for easy grab-and-go cooking.
Make Ahead Fajita Casserole
You can assemble the casserole and serve when ready if you'd like, skipping the skillet step and using chunks of cream cheese.

The texture will be a little different, but you can do this to save time if you need to.

Simply leave off the shredded cheese on top so you can stir the ingredients together in the baking dish about 15 minutes into your cooking time to combine them, then add it for the last part of the baking.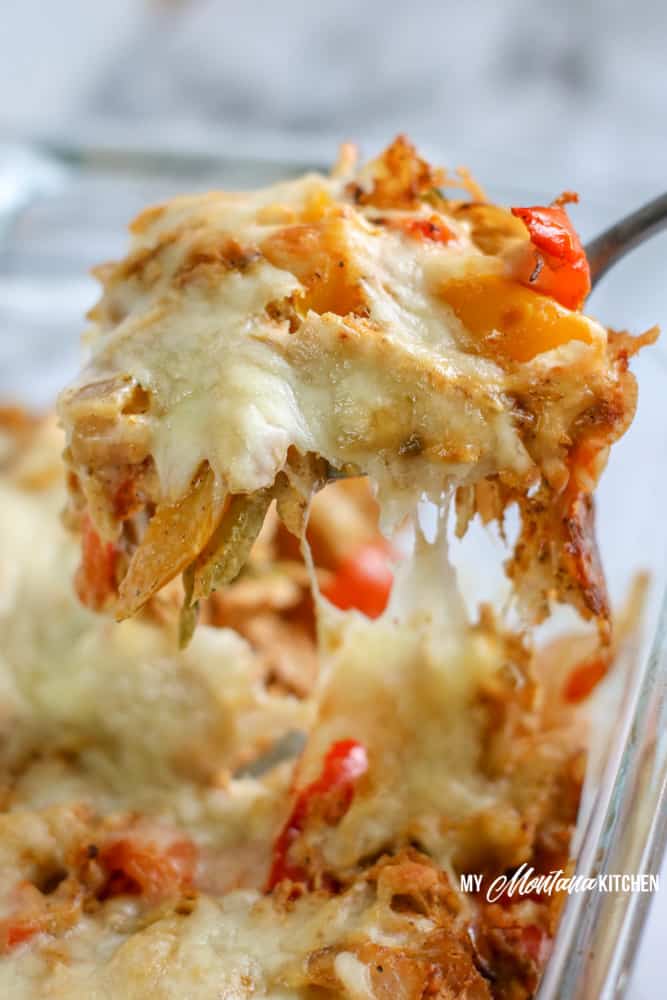 Making Chicken Fajita Casserole In The Crockpot
This could also be made in a crockpot - layer all the ingredients as you would to bake in the oven, then cook on low for 2-3 hours, depending on your slow cooker.

You could start it before picking up the kids from school and have it ready by dinner time! What a simple way to make dinner.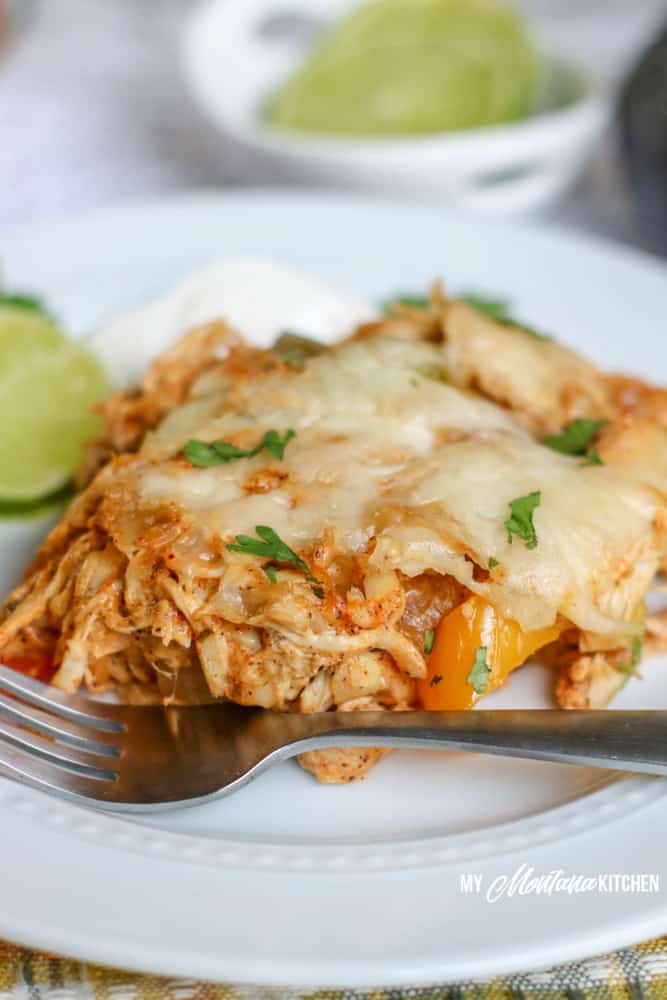 Serving Keto Fajita Casserole
You can serve this as is or pair it with your favorite side dish.

It's great with cilantro lime cauliflower rice for a fun south-of-the-border rice bowl.

You can also make southwest salad (and just leave off the chicken since it's in the casserole) for a side. (To keep the salad keto just omit the black bean/corn salsa.)

Low carb tortilla chips and avocado salsa also make for a great pairing.

It's delicious wrapped up in a low carb tortilla or served up in a lettuce boat, too. This is a very versatile recipe for dinner or made up to enjoy as tacos, burritos, or a salad topping for lunch all week long.
Reheating Leftovers
If you have leftovers of the casserole, they can be frozen or kept in an airtight container in the fridge for up to a week. When you reheat it, just sprinkle a couple of drops of water in the dish and loosely cover before microwaving to help the cheese get melty. Alternately, you can heat it back up in the oven.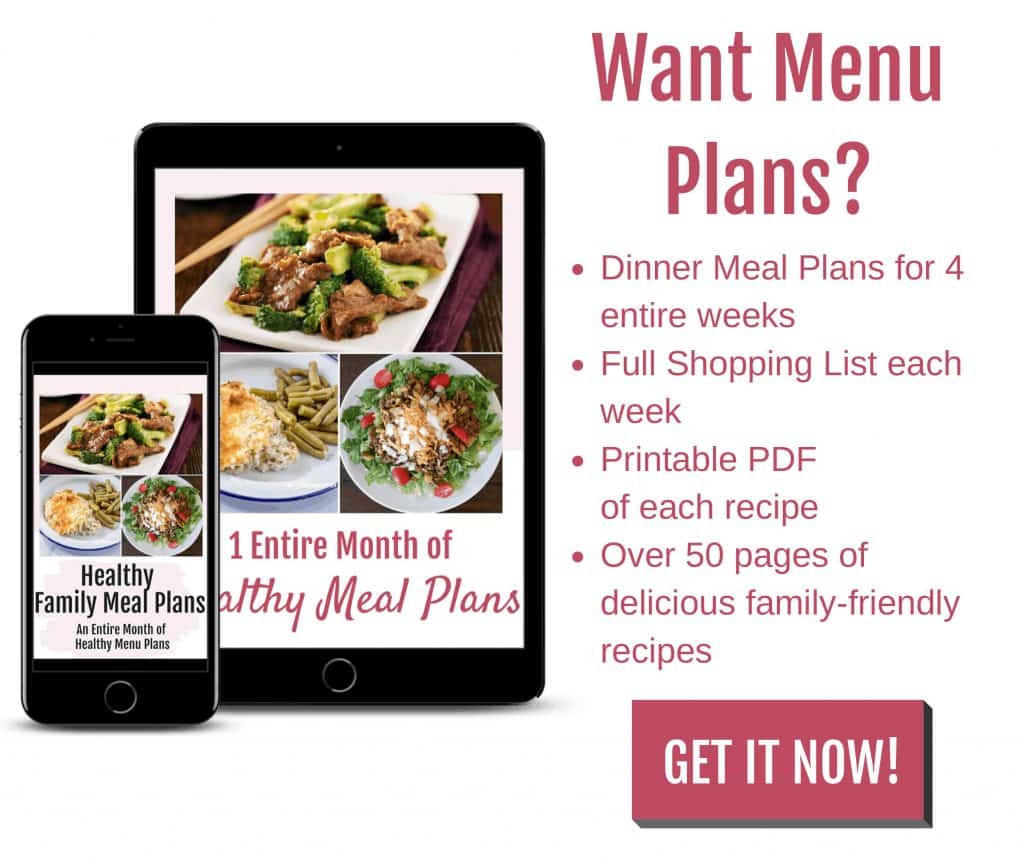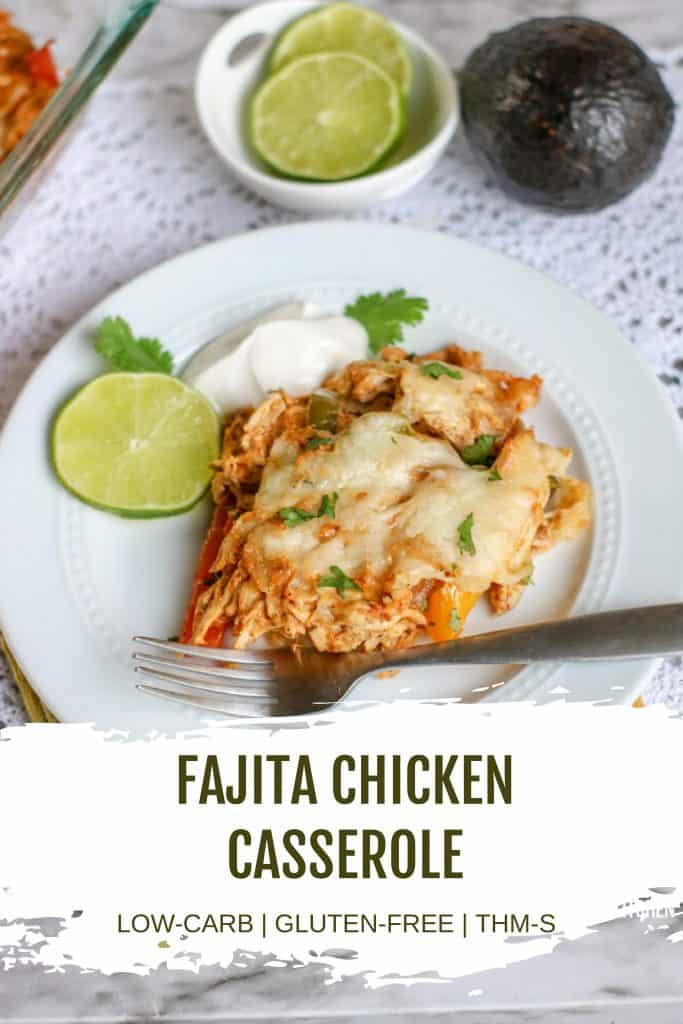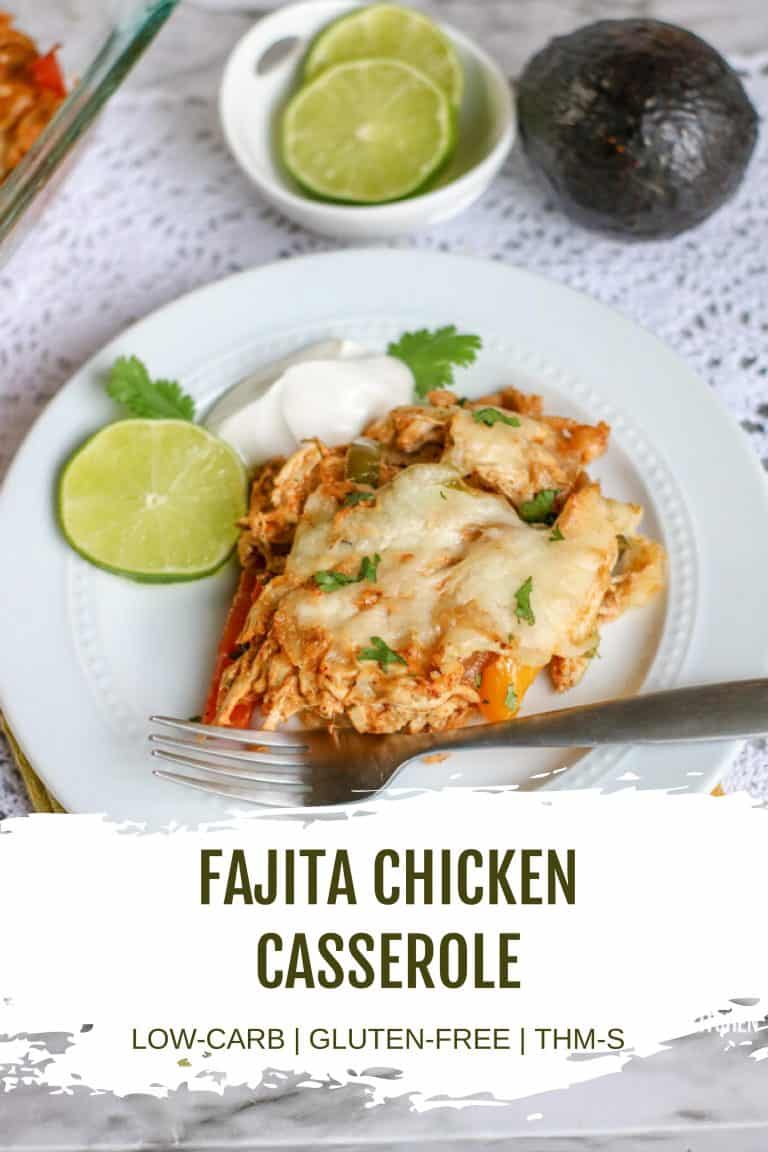 Yield: 12
Chicken Fajita Casserole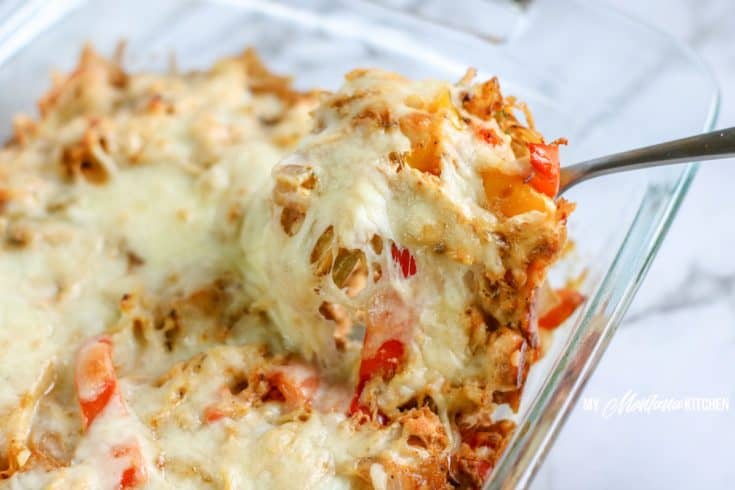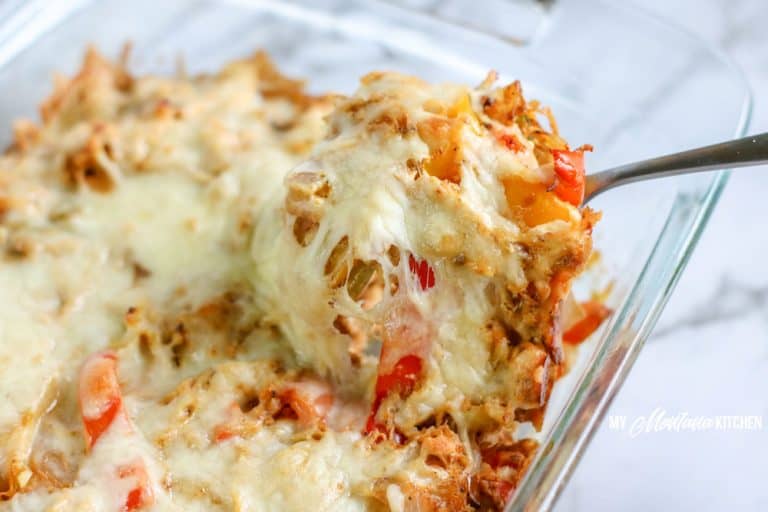 This low-carb chicken fajita casserole is a flavorful, cheesy, protein packed meal the entire family will enjoy. It's an easy weeknight dinner that's low-carb, gluten-free, and perfect for keto and THM. 
Ingredients
2 lbs. Chicken Breasts, cooked and shredded (about 3.5 - 4 cups)
2 Bell peppers, eeded and sliced
1 Large or 2 Small Onion, sliced
1 (8 ounce) Package Cream Cheese, softened
1 Tablespoon Taco Seasoning
2 Cups Shredded Monterey Jack Cheese
Instructions
Preheat oven to 350 degrees.
Prepare a 9x13 casserole dish with coconut oil cooking spray.
In a large skillet over medium-high heat, add coconut oil and swirl to coat.
Add onions and peppers to skillet, cooking over medium-high heat and stirring occasionally until softened. Remove from heat.
To the skillet, add shredded chicken, cream cheese, taco seasoning, and 1 cup cheese. Stir to combine.
Transfer to casserole dish.
Top casserole with remaining cheese.
Bake for 25 to 30 minutes or until cheese is melted and bubbling.
Nutrition Information
Yield
12
Serving Size
1/12 Recipe
Amount Per Serving
Calories

228
Total Fat

14g
Carbohydrates

4g
Fiber

1g
Protein

23g