We may earn money from the products/companies mentioned in this post. As an Amazon Associate I earn from qualifying purchases.
Monkfruit Sweetener, cream cheese, butter, chocolate chips, and more come together to make the ultimate keto fat bomb!
Cookie dough fat bombs are one of my absolute favorites. No baking required for this edible keto cookie dough that will satisfy your sweet tooth.
These cookie dough fat bombs are low carb, sugar free, and a Trim Healthy Mama S fuel!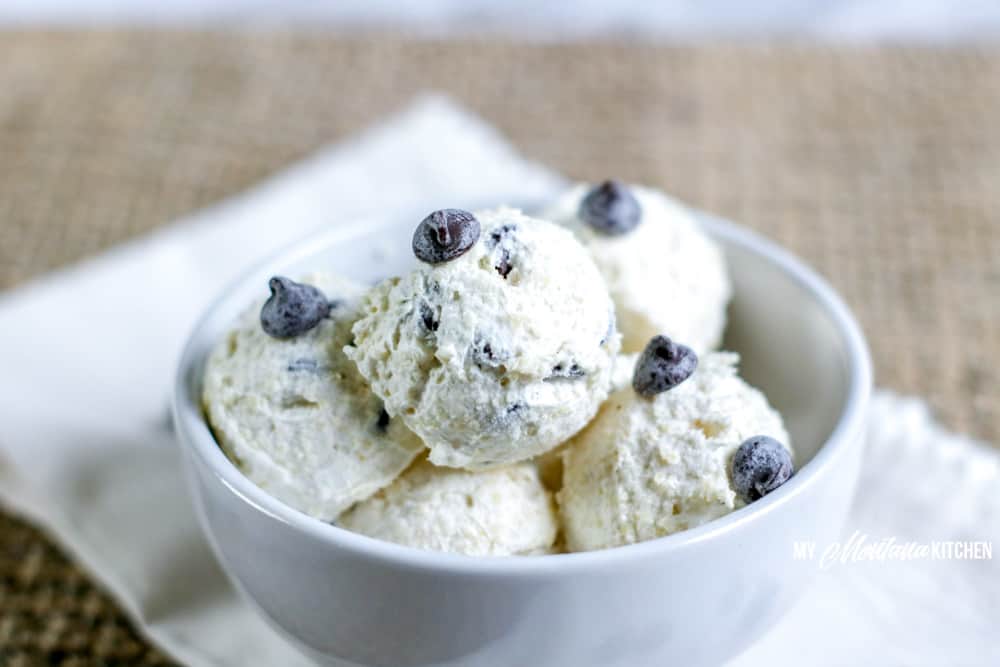 Cookie Dough Fat Bombs
A chocolate chip cookie dough fat bomb that will literally melt in your mouth.
This fat bomb is a pair of cream cheese and butter for the ultimate fat needed for a perfect fat bomb. The butter is a stable option that will help you whip up this recipe easily.
What Is A Fat Bomb
Fat bombs are a keto lovers' dream. They are a small but satisfying high fat snack. This is a great grab and go snack that will help ensure you get the fat you need in your diet.
You can make sweet or savory fat bombs, I prefer sweet. They are a great option to curb a sweet craving while being beneficial to your keto diet.
Can I Substitute Butter In Fat Bomb Recipe
Now, if you want to get rid of the butter in this keto fat bomb recipe you could easily substitute for coconut oil.
However, you will find coconut oil tends to break down easier in the recipe.
Or if you are looking for another style of fat bomb, try my lemon cheesecake fat bomb! It gives that sunny citrus flavor in every single bite.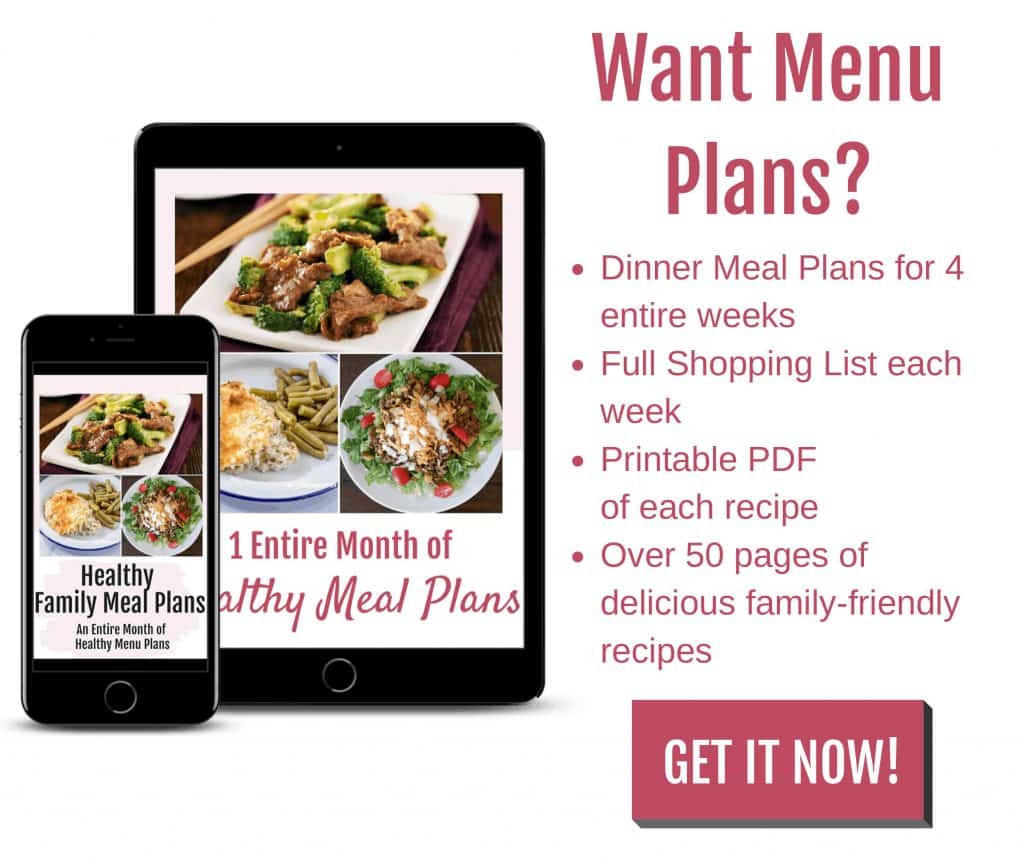 Keto Chocolate Chips
You might be wondering about what type of chocolate chips to use to ensure they are keto-friendly and truly sugar free.
You can reach for a sugar-free chocolate chip. You probably already know there are minimal options for you.
Here are some options for you to look for at your local grocery store or order online and have shipped to your home!
Choc Zero Keto Chocolate Chips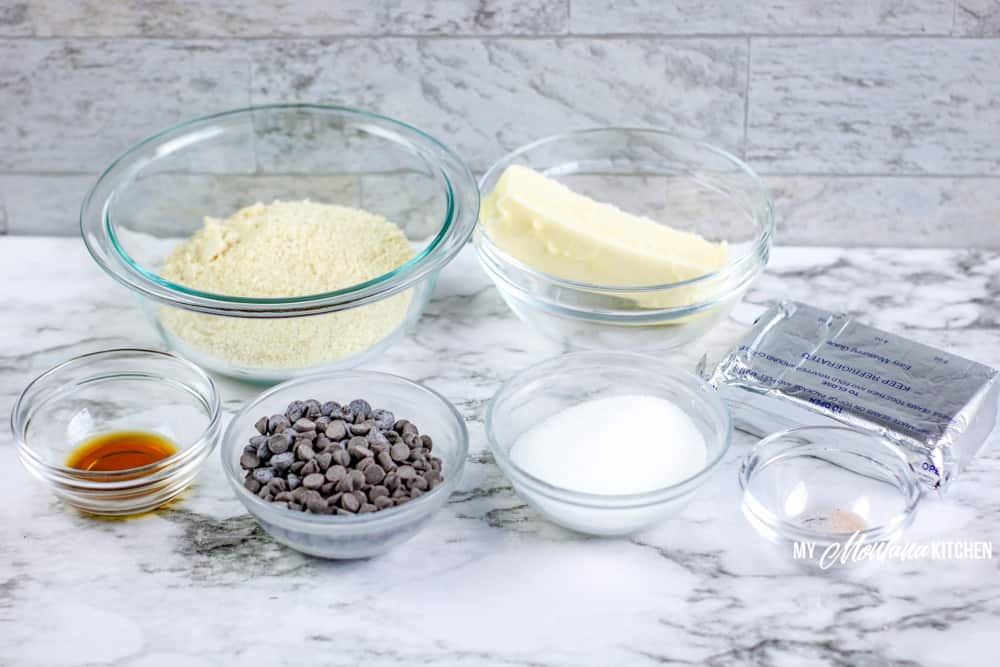 How To Make Cookie Dough Fat Bombs
Start by mixing your room temperature butter and cream cheese with a hand or stand mixer. You will want to cream it for around 2 minutes on medium speed.
Now pour in your sweetener and beat for another 5 minutes to really incorporate and mix in the sweetener.
Add in your almond flour, vanilla, and chocolate chips. Mix until combined.
With a scoop portion out your fat bombs with 1 tablespoon of mixture. Roll into balls and set on wax paper.
Toss the fat bombs in the freezer for an hour to help them set up a bit. Then store in the fridge or freezer.
Best Tips For Making Keto Fat Bombs
Room Temperature | Make sure to bring your ingredients to room temperature. Your butter and cream cheese will not blend well if they are pulled straight from the fridge.
Cookie Scoop | Another thing I recommend is using a cookie scoop for measuring how much you are using to make each fat bomb. Consider purchasing a 3-pack so you can have different sizes for each method of cooking you choose.
Mixer | I suggest investing in a hand mixer or stand mixer. It will give you a very smooth texture, which is what you want. Then when you mix in the almond flour you get that perfect cookie dough texture.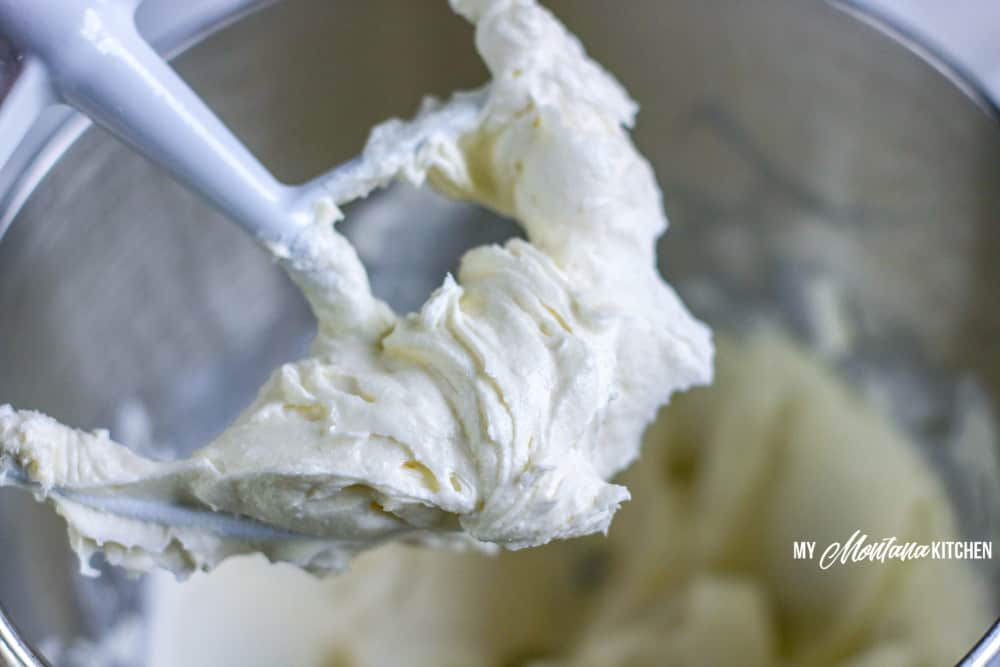 How To Store Chocolate Chip Cookie Dough Fat Bombs
You will need to store these chocolate chip cookie dough fat bombs in the fridge. Place in an airtight container and store them for around 7-10 days.
When you go to place your fat bombs in the container, if you are making layers, add a layer of wax paper in between so the fat bombs don't stick together.
Otherwise, you will get a bit of a clumped up mess if you don't do the wax paper layer.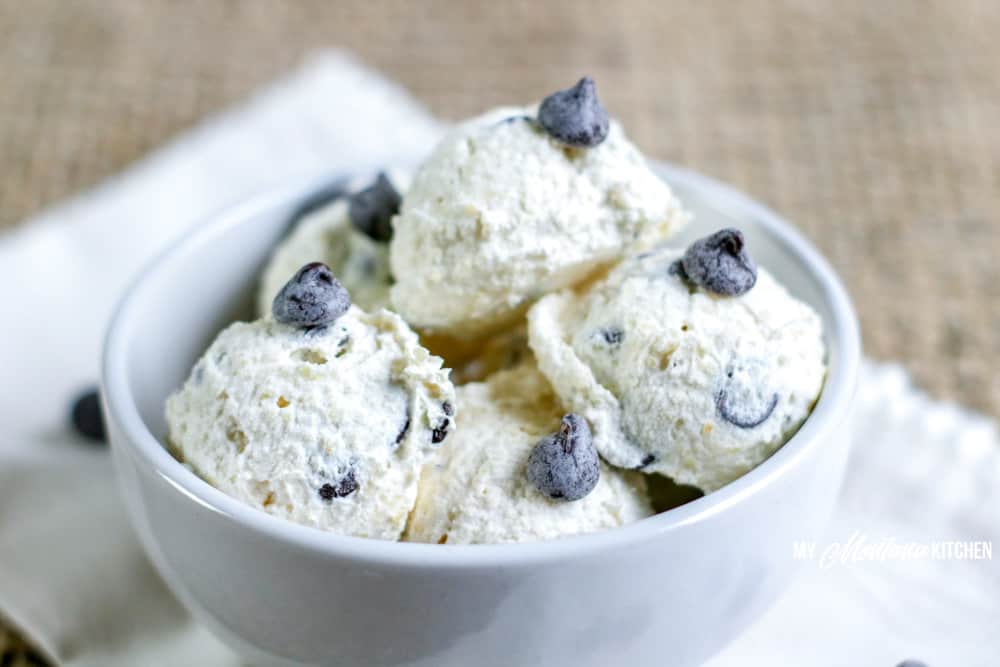 Freeze Keto Cookie Dough
Don't want to eat all your keto cookie dough at once? No problem, freeze for later! All you have to do is place the cookie dough bombs in an airtight freezer container.
Use the same method where you put a layer of wax paper between the layers to prevent sticking.
Then when you want a fat bomb you can just pull it from the freezer and allow it to thaw at room temperature for a little bit and then enjoy.
Here are more keto recipes
Edible Peanut Butter Cookie Dough
Savory Breakfast Sausage Cookies
Cookie Dough Fat Bombs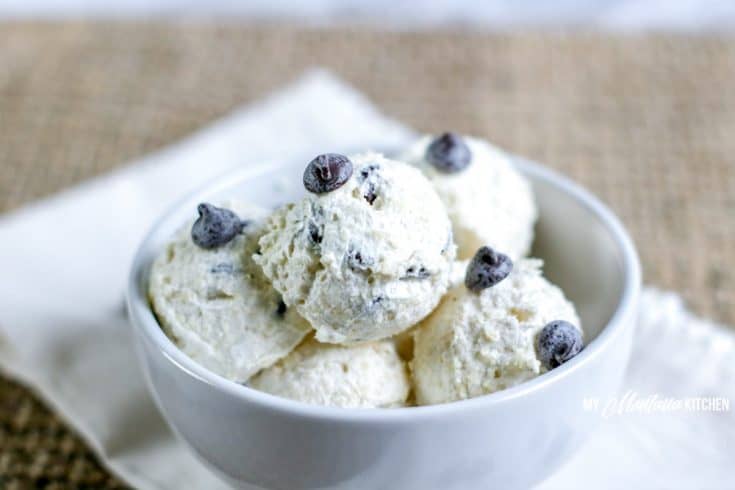 A chocolate chip cookie dough fat bomb that will literally melt in your mouth.
Instructions
With an electric mixer, beat together cream cheese and butter until combined, about 2 minutes.

Add the sweetener and continue beating until fluffy, about 5 minutes.

Beat in the vanilla, chocolate chips, and almond flour just until combined.

Prepare a baking sheet with waxed paper.

Using a small scoop, portion the fat bombs into approximately 1 tablespoon mounds and place on waxed paper.

Freeze the fat bombs for at least 1 hour. Then package the fat bombs in an airtight container between sheets of waxed paper. Store in the freezer for up to 3 months.
Notes
If not using almond flour, decrease the butter to 6 tablespoons