We may earn money from the products/companies mentioned in this post. As an Amazon Associate I earn from qualifying purchases.
A perfectly sweet cinnamon roll flavored pancake that is light, fluffy and filled with cinnamon flavor. This 8 ingredient Keto Cinnamon Roll Pancakes recipe is one of the best keto breakfast ideas to kickstart the day.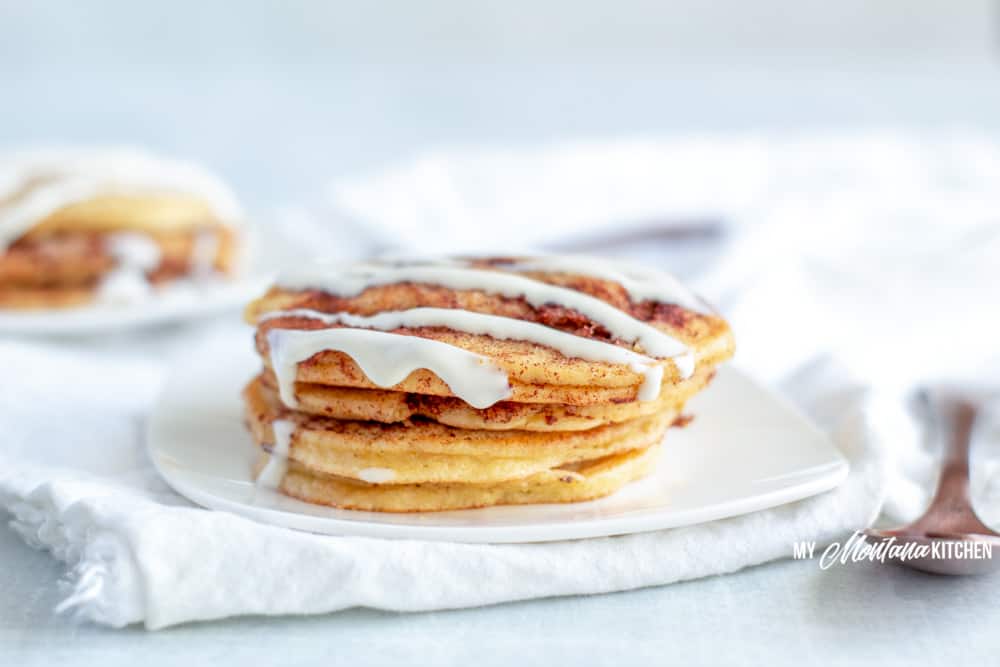 I love a good breakfast recipe, and this low carb cinnamon roll pancake is going to rock your mornings. (If you are stumped on breakfast ideas, try these 40 breakfast ideas!)
Or if you are the type that eats breakfast at night, more power to you! You can easily enjoy these for dinner!
Keto Cinnamon Roll Pancakes
Cinnamon roll pancakes are a homemade pancake that has the cinnamon swirl like you would get in a traditional cinnamon roll. It is the best of both worlds in my opinion.
Toppings For Keto Pancakes
For this recipe, you use a cream cheese frosting. It acts similar to the classic icing you get on a cinnamon roll, plus it's just delicious!
If you are not a fan of cream cheese, go ahead and reach for a sugar-free syrup or a dab of butter or eat plain.
Almond Flour Pancakes
Instead of using a coconut flour mix, these pancakes use straight almond flour.
I found that the almond flour gives the exact texture and flavor I wanted for these low carb pancakes. The cinnamon swirl was the perfect sweetness to these pancakes.
Now the one thing to note with almond flour is how well it mixes depends on the brand you use. So if you find your batter is too runny, add more flour (a teaspoon at a time) stirring to see if it reaches the consistency you want.
Or if you find that the batter is too thick then add a teaspoon of almond milk at a time to work the batter to the proper texture.
It is something you have to work with at times, to get the right texture. So just know it is okay to adjust your mixture a bit.
Variations to Keto Pancake Recipe
Add a teaspoon of vanilla for added flavor to the pancake batter.
If you want to add in coconut flour to mix, you just have to work at getting the batter to the right consistency.
Feel free to add in pumpkin spice or apple pie spice for a fun fall twist. Start with adding a teaspoon into the batter.
Are These Pancakes Sugar Free
I use Gentle Sweet as my sugar substitute in these pancakes. So yes, they are a sugar-free pancake recipe if you are looking for that.
I find that Gentle Sweet (or my Low Carb Powdered Sugar) does great at adding sweetness without being overpowering, as it is a mix of xylitol, erythritol, and stevia.
If you want to swap out the sweetener, go ahead just make sure to convert the measurement if it needs to be measured differently. All sweeteners convert differently to recipes.
If you want to drizzle with syrup, just reach for a sugar free option as well.
What Is The Serving Size On Cinnamon Roll Keto Pancakes
You will have a serving size of three pancakes. This recipe will make 9 pancakes. So make sure if you do a different size you convert the recipe to ensure you follow the serving size that is meant for this recipe.
Looking for More Low Breakfast Recipes
Pizza Omelette | This omelette is incredible. Tons of flavor and it is the perfect way to start your day with pizza in a guiltless way!
Low Carb Breakfast Pizza | Tender crust, eggs, loads of cheese and toppings. This is one incredible and satisfying way to kickstart the day.
How To Store Leftover Keto Cinnamon Roll Pancakes
You can store your leftover pancakes in the refrigerator for up to 4 days. I find these are best when served fresh, but feel free to prep some and use for a quick morning on the go.
You can reheat in the microwave or even in a skillet on the stove.
Bonus tip: If you add a cup of water next to the plate in the microwave it will help prevent your pancakes from being dry.
Or you can freeze these pancakes. Just allow the pancakes to fully cool and then place them in an airtight container.
I find placing parchment paper in between pancakes helps in preventing them from sticking. Then thaw in the fridge the night before you want to eat, or toss them in to reheat frozen!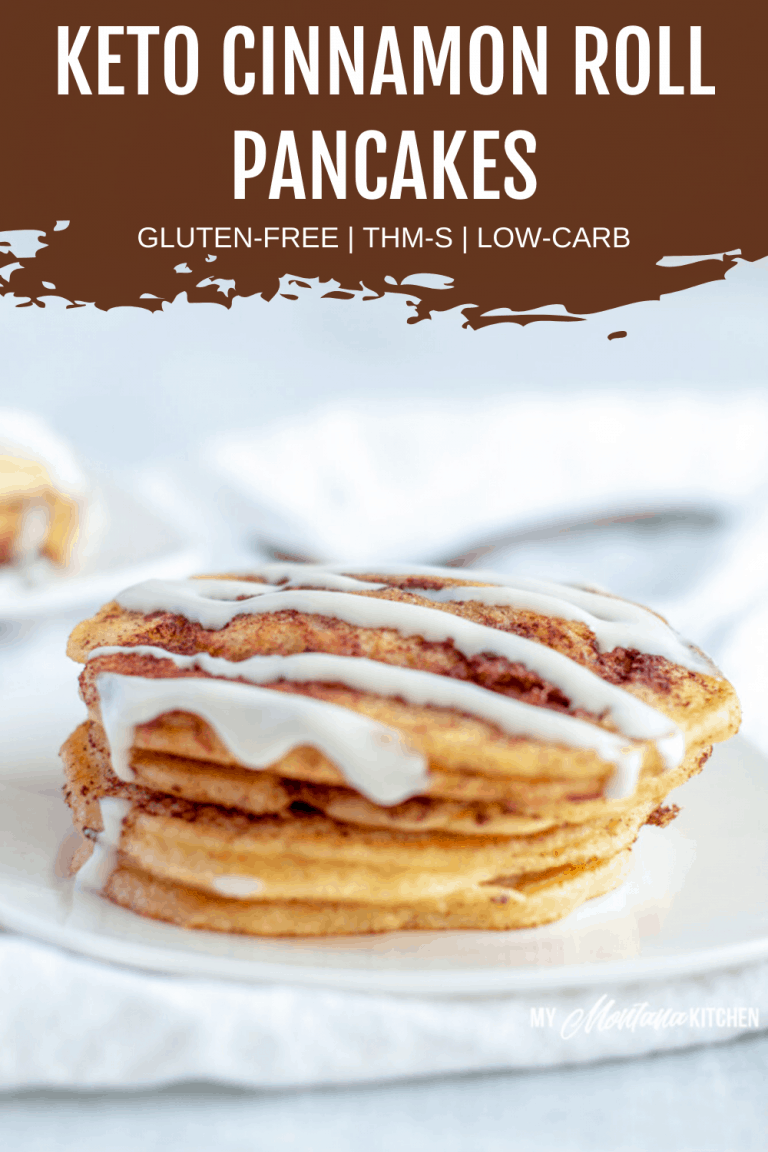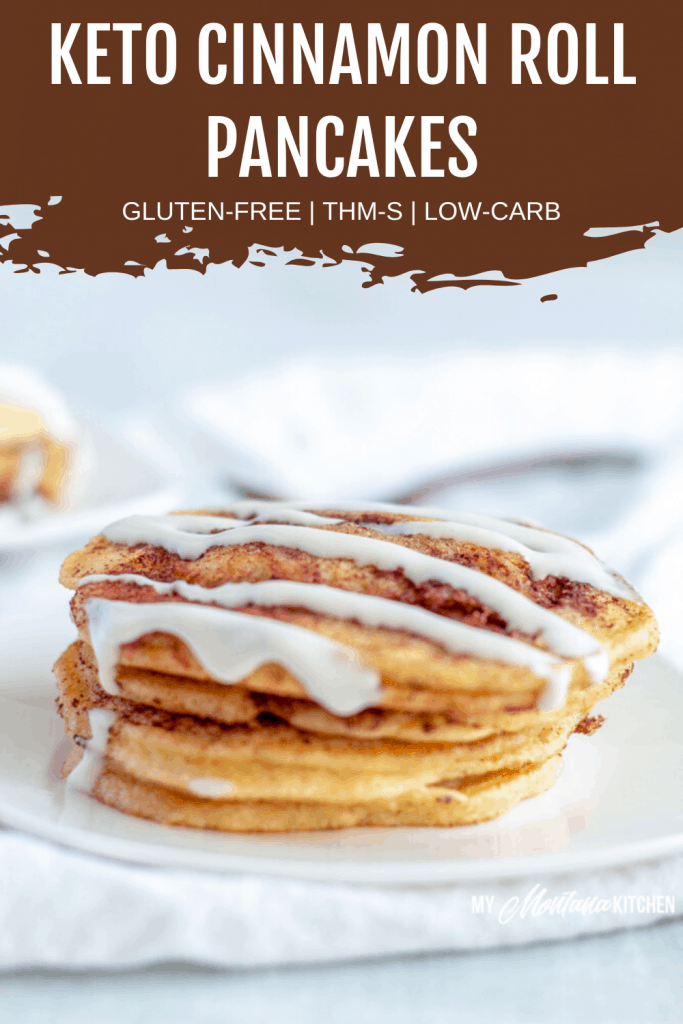 Yield: 3 Servings (9 pancakes)
Keto Cinnamon Roll Pancakes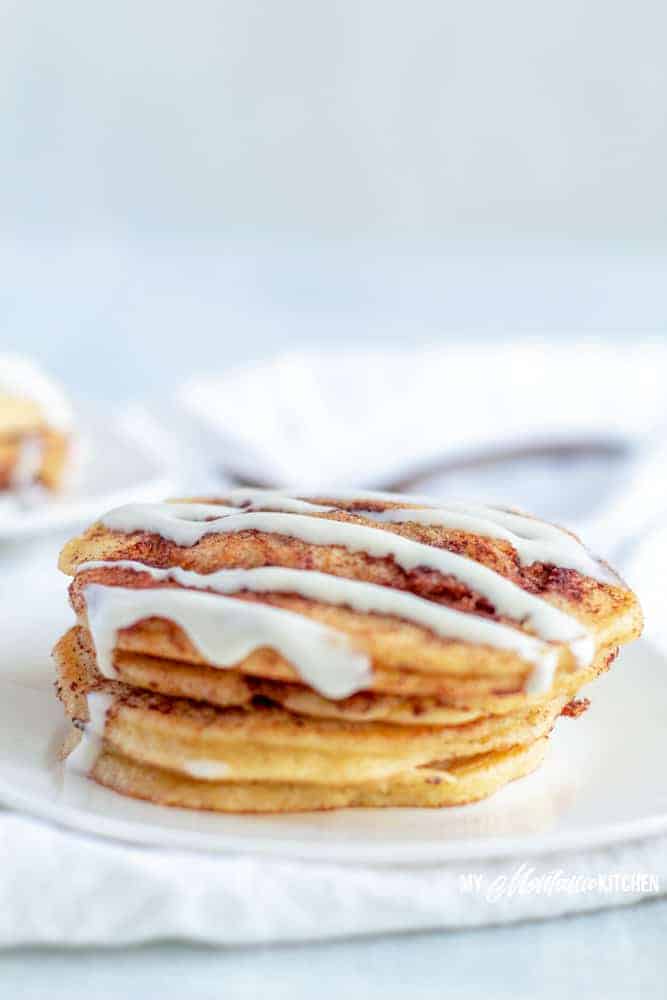 A perfectly sweet cinnamon roll flavored pancake that is light, fluffy and filled with cinnamon flavor. This 8 ingredient Keto Cinnamon Roll Pancakes recipe is one of the best keto breakfast ideas to kickstart the day.
Ingredients
Cinnamon topping
¼ cup Butter, Softened
Pancakes
1 Cup Almond Flour
1 teaspoon Baking Powder
4 Large Eggs
¼ Cup Unsweetened Almond Milk
Creamy Cream Cheese Topping
1 oz Cream Cheese Softened
3 tablespoon Unsweetened Almond Vanilla Milk
Instructions
Cinnamon Topping
1. Soften the butter until creamy with a fork. Once it is creamy, add Gentle Sweet and cinnamon and mix well - until there are not any clumps (you may add cinnamon depending on your taste.)
2. Once you have achieved a creamy consistency, add it to a piping bag or a Ziploc bag. With scissors, snip off a small corner, then leave in the fridge while you make the batter.
Pancakes
3. In a bowl add the dry ingredients (almond flour, baking powder, and Gentle Sweet). Whisk well to combine all the ingredients.
4. Add eggs and almond milk, continue whisking until you have a homogenous batter, let it sit for 3 minutes while you preheat the griddle or frying pan to medium heat.
5. Spray griddle or frying pan with oil, pour the batter with a ¼ measuring cup on the heated griddle or frying pan. Once these are almost ready to be turned (about 2 minutes and bubbles are forming on top) add the cinnamon roll frosting in a circular motion, leave for another 30 seconds, then flip your pancakes.
6. Leave that side only about 30 seconds and remove from the griddle. Keep warm while you make the creamy topping.
Important note: It is very important that you add the cinnamon topping once the pancakes are almost all the way cooked, that way when you flip them, they will be on the other side only a very short time to keep the butter from melting too much.
It is ok and normal for the topping to melt a little.
Creamy cream cheese topping
7. With whisk, whisk cream cheese until creamy (about one minute) add Gentle Sweet, then add almond milk a little at the time while you are whisking until you have a creamy and runny consistency.
8. Top pancakes with it and serve.
Recommended Products
As an Amazon Associate and member of other affiliate programs, I earn from qualifying purchases.
Nutrition Information
Yield
3 Servings (9 pancakes)
Serving Size
3 Pancakes
Amount Per Serving
Calories

346
Total Fat

31.7g
Carbohydrates

4.8g
Net Carbohydrates

2.5g
Fiber

2.3g
Protein

12.8g