We may earn money from the products/companies mentioned in this post. As an Amazon Associate I earn from qualifying purchases.
  Snickers Pie
Chocolate cookie crust with a  creamy cheesecake filling, topped with salty peanuts, chocolate and caramel sauce. All the flavors of a favorite candy bar in pie form. This recipe is sugar free, gluten free, low carb and a Trim Healthy Mama S Fuel.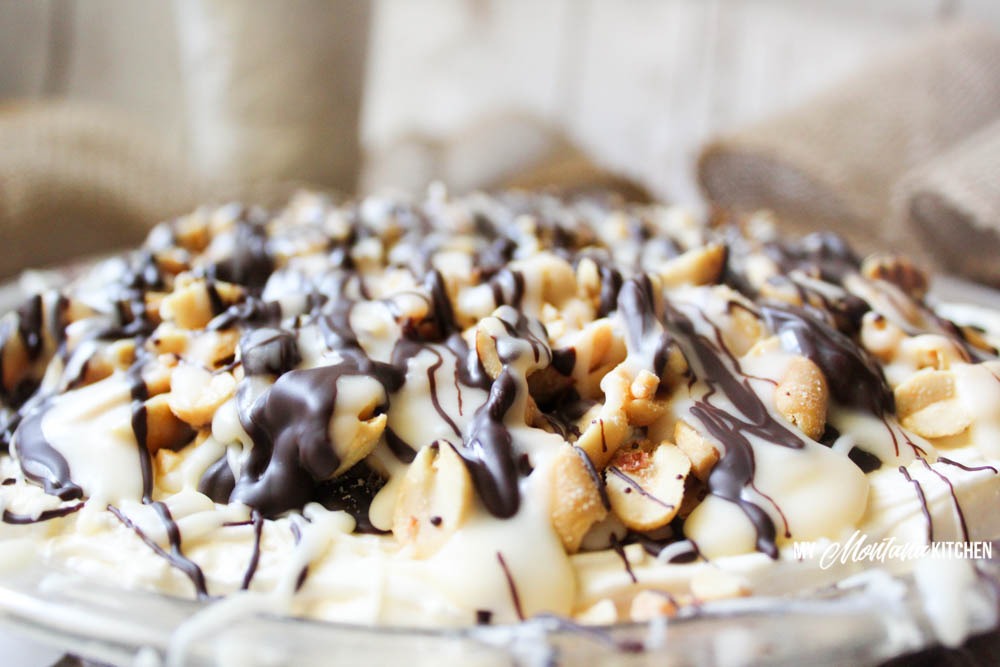 (This post may contain affiliate links, which provide me with a small compensation when you purchase your products through my links. Thank you for your support!)
Summer is in full swing, and it is the time of year when people do not want to even think about turning on their ovens! Now, where I live in Montana, it is still not very hot. Maybe close to 80 during the day, then in the 40's at night. It is beautiful weather! Are you jealous?
But even I am starting to think about recipes that do not require heating up my oven/kitchen. This snickers pie is such a recipe. No baking required! Well, I should qualify that statement. No BAKING required, but you do need to make the caramel on the stove-top. But that's close enough, right?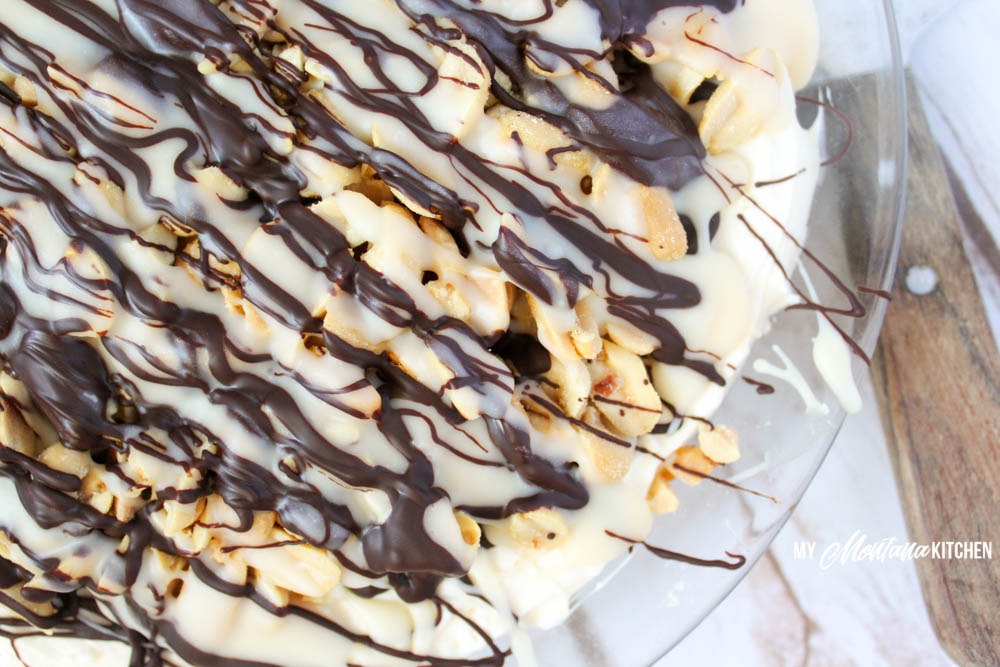 Snickers used to be my favorite candy bar. I still love nuts and caramel and chocolate together. My Cashew Snickers Bar recipe has been a big hit, and I figured it was time for another Snickers inspired dish!
Now confession time . . . I am NOT a pie maker. I can make all kinds of desserts, but I never perfected the pie! Something about the crust scares me to death. But this crust is no-bake - you only have to mix the ingredients together and press it into the pie pan. That is my kind of crust (oh, and did I mention it is chocolate?)!
I will admit, this pie is not the most beautiful when you slice it to serve. The caramel and chocolate form a kind of "shell" topping over the nuts, which causes it to break a little when sliced. But in my opinion, the taste is what is most important. (Am I right?) I'm fine with it looking a bit messy as long as the flavor rocks my tastebuds. However, it DOES slice better when it is frozen. My husband likes it frozen, like an ice cream pie!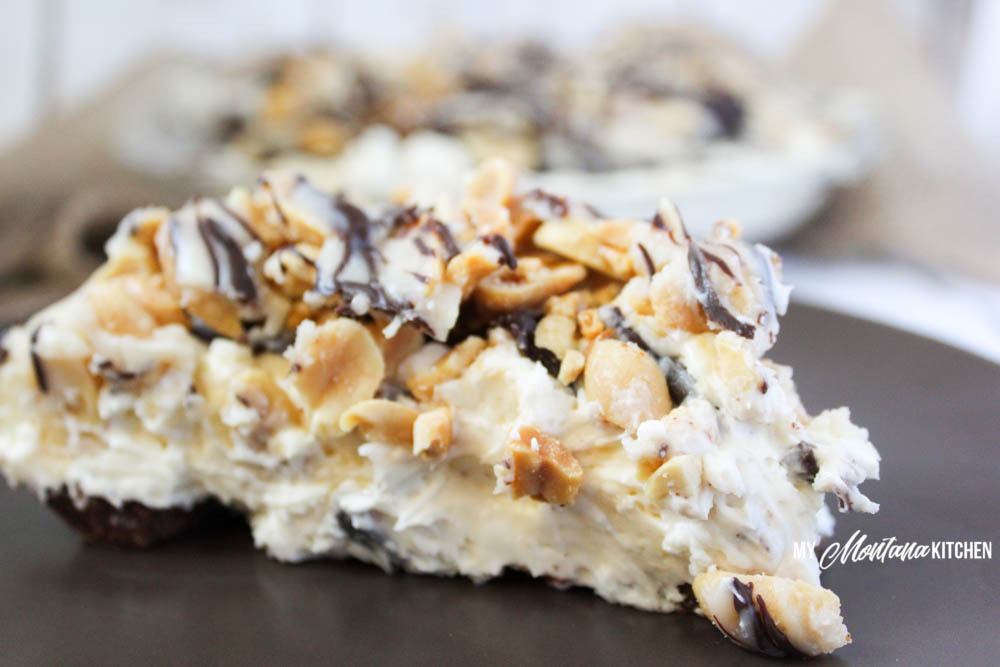 So, what do you need for this Low Carb Snickers Pie?
Crust
½ Cup Baking Blend
3 Tablespoons Cocoa Powder
1.5 Tablespoons Gentle Sweet
½ Cup Melted Butter
Filling
12 oz Softened Cream Cheese
1 cup Heavy Cream
¼ Cup Gentle Sweet
½ Teaspoon Caramel Extract
Caramel Sauce
4 Tablespoons Butter
4 Tablespoons Xylitol
1 Teaspoon Caramel Extract
Pinch of Mineral Salt
2 Tablespoons Heavy Whipping Cream
Chocolate Drizzle
¾ Cup Lily's Chocolate Chips
2 Teaspoons Coconut Oil (I use refined so there is no flavor)
Other Ingredients
1 Cup Chopped Peanuts
Be sure to sign up with your email address so you can receive all my new recipes delivered right to your inbox! (Look for the sign-up box at the very top of this page.) Also, be sure to follow me on Facebook, Pinterest, Instagram, and Twitter!
Have you seen my ebook? "My Top 10 Low Carb Dessert Recipes." Click the link to check it out!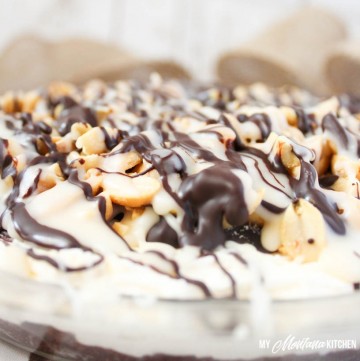 Ingredients
Crust

½

Cup

Baking Blend

3

Tablespoons

Cocoa Powder

1.5

Tablespoons

Gentle Sweet

½

Cup

Melted Butter

Filling

12

oz

Softened Cream Cheese

1

cup

Heavy Cream

¼

Cup

Gentle Sweet

½

Teaspoon

Caramel Extract

Caramel

4

Tablespoons

Butter

4

Tablespoons

Xylitol

1

Teaspoon

Caramel Extract

Pinch

of Mineral Salt

2

Tablespoons

Heavy Whipping Cream

Chocolate Drizzle

2

Teaspoons

Coconut Oil

I use refined so there is no flavor

1

Cup

Chopped Salted Peanuts
Instructions
Make Caramel

In a medium sauce pot, melt butter and xylitol together and stir until smooth and just boiling.

Turn heat down to low and simmer for 1 minute.

Add caramel extract, pinch of salt, and heavy whipping cream and stir well.

Set aside to cool and thicken (it will thicken, but it may take an hour or so).

Make Crust

Mix all crust ingredients together, then press into the bottom of a greased 9 inch pie pan.

Make Filling

In a large mixing bowl, beat softened cream cheese with caramel extract and Gentle Sweet until smooth and fluffy.

Add heavy whipping cream and beat until mixture is slightly stiff and fluffy.

Spread on prepared pie crust.

Make Chocolate Drizzle

In a small microwaveable container, melt Lily's Chocolate Chips and coconut oil.

Stir until smooth.

Assemble Pie

Drizzle a small amount of both caramel and chocolate over the pie filling.

Spread crushed peanuts over the top of the pie.

Drizzle remaining caramel and chocolate over the top of the peanuts.

Refrigerate or freeze until serving, and store leftovers in the refrigerator or freezer.

Slice pie into 10 servings.
Notes
If you do not have THM Baking Blend, you can use an equal mix of almond flour, coconut flour, and flax meal. If you do not have Gentle Sweet, check out this recipe, or use your own favorite powdered sweetener. If you do not have Lily's Chocolate Chips, you can use a chopped 85% dark chocolate bar. Nutrition Facts per Serving: Calories: 539 Fat: 50 Carbs: 30 Fiber: 8 Sugar Alcohols: 12 Net Carbs: 10 Protein: 9 If you want to lower the carb count further, you could slice the pie into 12 servings. It is very rich, so you only need a small piece.