We may earn money from the products/companies mentioned in this post. As an Amazon Associate I earn from qualifying purchases.
This keto donut recipe is the perfect way to make low carb donuts that are delicious!
Made with a blend of low carb flour (almond flour and coconut flour), these chocolate keto donuts are baked, not fried.
And they're topped with a rich chocolate glaze that makes them look and taste like the real thing!
Whoever says that keto donuts taste bland has obviously never made this low carb donut recipe!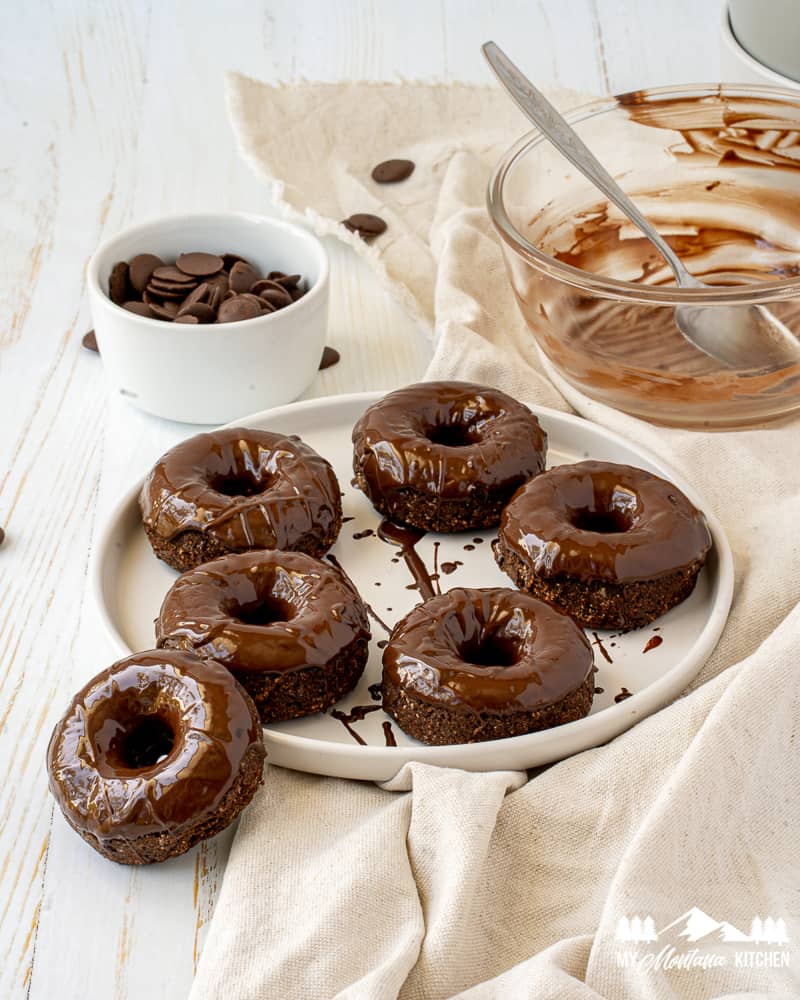 Gluten free doughnut recipe
If you're craving a gluten free and simple keto donut recipe, it doesn't get much better than this.
You can opt to make mini donuts, large donuts, or any size of gluten free donuts that you want!
The great part is that to make keto donuts, you just need a few simple ingredients like almond flour, coconut flour, cocoa powder, and a few others.
You can then easily change up the flavor of these easy keto donuts as long as you stick to low carb keto ingredients!
I use a donut pan to make this recipe, but a mini donut maker (or mini donut pan) could work great, also.
As long as you grease the pan or maker before adding in the donut batter, you should be good to go!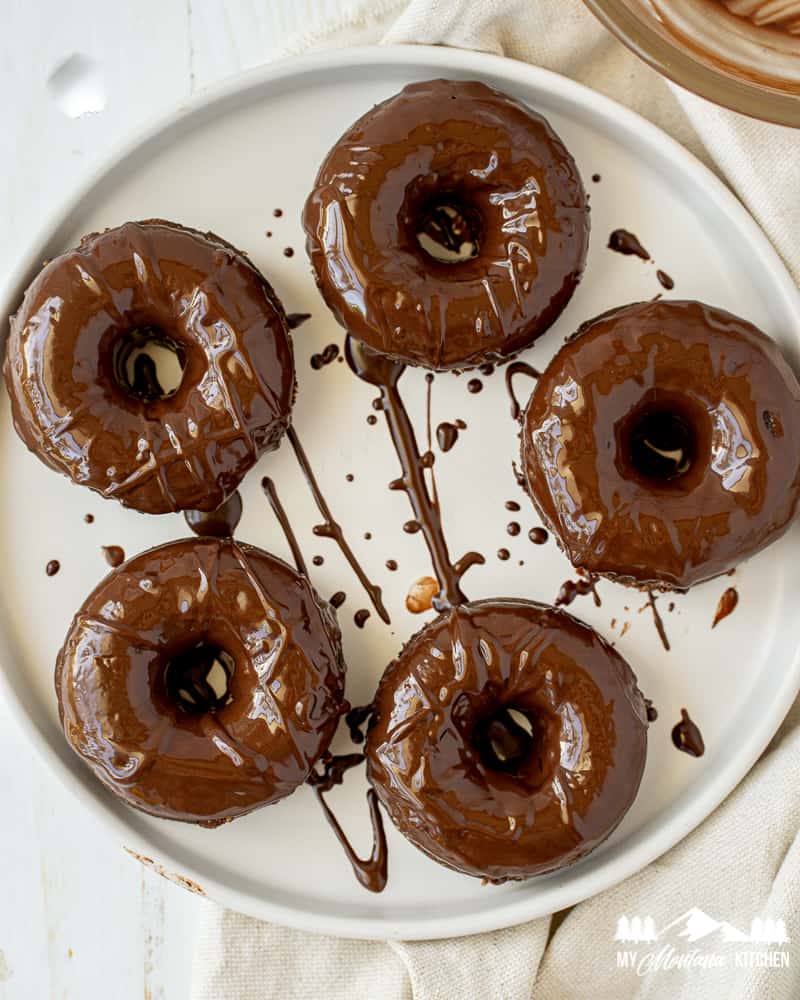 Making Keto Donuts
Once you realize how simple it is to make this keto donut recipe, you may find yourself making keto donuts all the time.
While you may not be able to enjoy a keto donut at Dunkin Donuts or Krispy Kreme, you can easily make your own sugar free donuts at home!
And there are a variety of flavors you can make, too!
Cinnamon donuts are fun to make during the fall months, as are apple cider donuts!
You can even add in a little bit of pumpkin pie spice when making these gluten free keto donuts and it really kicks up the flavor.
If you crave chocolate donuts melt some sugar free chocolate and drizzle that chocolate glaze on top. It's kind of like glazed keto donuts, but with the sweetness of chocolate instead!
Donut Pan Keto Donuts
As I mentioned earlier, you have many options when making this keto donut recipe.
Once you combine the almond flour, coconut flour, baking powder, unsweetened almond milk, and other simple ingredients, you'll then want to put the donut batter into a silicone donut pan or donut mold.
Using a silicone donut pan is one of the easiest ways to make keto donuts because it's easy to remove the cooled donut from the pan.
However, I know that to make the best keto donuts, you're going to want to use whatever you have on hand. Just be sure to spray with nonstick spray, and they should be fine.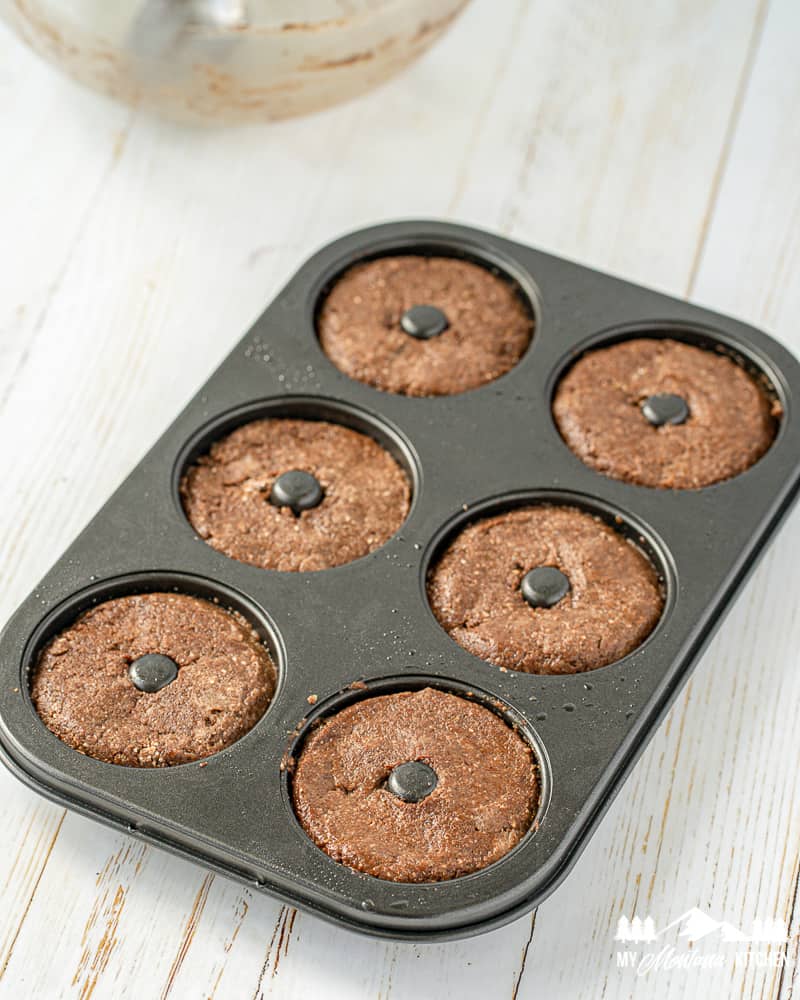 What can I use if I don't have donut molds?
Don't worry, you can still make these keto donuts without a donut pan! Don't let a little setback like not having a donut mold stop you from making one of my favorite keto breakfast recipes!
All that you need to do is take a cupcake pan and put a little bit of aluminum foil in the middle of each cup.
The foil should be round so wrap it around your finger. and then set it into the cup and hold it there while you pour the batter around it.
Leave it in there and bake. Once the keto donut recipe is done baking in the oven, you can then pull out the foil and you'll have a donut hole where it was!
How to remove donuts from the pan?
If you're using a donut pan, I find that the best way to remove keto donuts from the pan is to use a small spatula.
Run the spatula around each donut and then pop it out. You may need to wiggle it a bit, but they should come out pretty easily!
Should I let the donuts cool before I remove them from the pan?
I find that it's best to let the keto donuts cool for a few minutes before removing them from the pan.
This helps them to firm up a bit and makes it easier to remove them without breaking them.
How To Make Almond Flour Donuts
Donuts made with grain-free flours are great for making healthy donuts, and they're really quite simple to make.
For this recipe, we are using flax meal in place of eggs or a chia egg.
For optimal chewiness, mix the flax meal with the water and allow to sit for 5 minutes.
Once you gather up the ingredients, grab a mixing bowl and mix the ingredients in the order shown in the recipe card below.
Adding monk fruit sweetener (or your favorite sugar substitute) is the perfect way to keep the donut sugar free while adding a slightly sweet flavor.
For this particular recipe, we are going to use coconut oil instead of melted butter.
Make sure that you're using fresh baking powder so that the keto donuts have a nice fluffiness to them as well.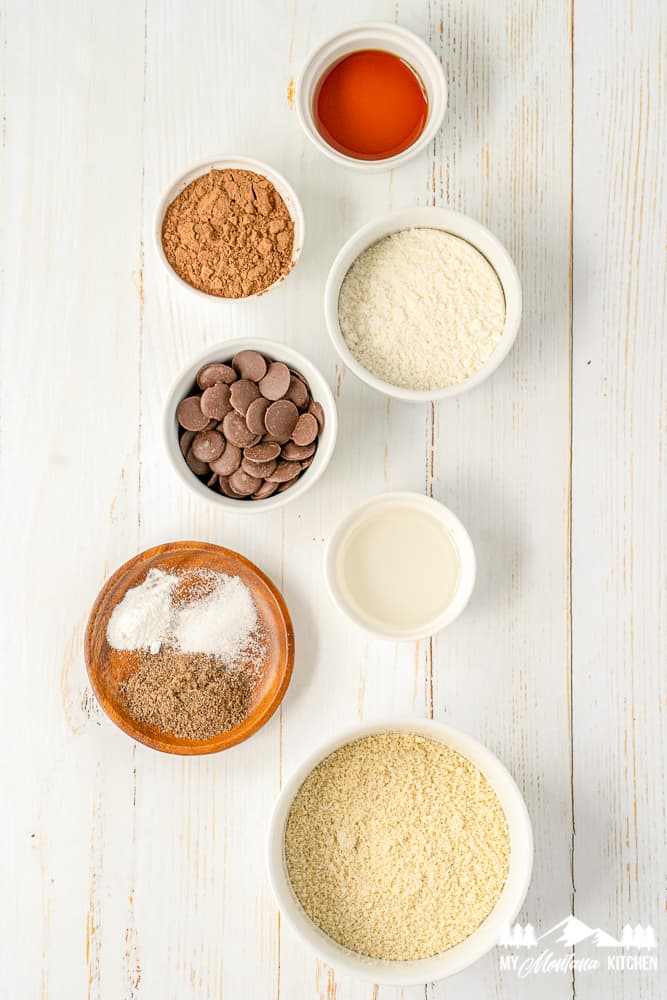 How do you keep homemade donuts soft?
Keeping your keto donuts recipe soft is key! The easiest way to keep your donuts soft and delicious is to store them in an airtight container.
These donuts don't have to be stored in the fridge, so room temperature is fine.
However, if you are going to keep them longer than a couple of days, I recommend keeping them in the refrigerator.
Can I freeze doughnuts?
Absolutely! You can freeze these keto doughnuts for later, which means that you'll get to enjoy these low carb donuts again at another time.
Wrap the donuts in plastic wrap and then store them in a freezer-safe bag.
This is double the protection to keep them from getting freezer-burnt.
What other flavors of donuts can I make?
There are so many flavors of donuts that you could make with this recipe!
To make the varients below, you'll want to omit the cocoa powder.
Some of my favorites include:
Lemon Donuts: Add the zest of 1 lemon to the batter for a tart and tangy flavor
Powdered Sugar: Sprinkle sugar-free confectioners sugar on top of the cooled donuts
Pumpkin Spice Donuts: Add 1 teaspoon of pumpkin spice to the batter
Cinnamon Sugar Coating: Add 1 teaspoon of cinnamon to the batter and roll the cooled donuts in a mixture of 1/4 cup sugar-free granulated sweetener and 1 teaspoon of cinnamon
Blueberry Donuts: Add 1/2 cup of fresh or frozen blueberries to the batter
Strawberry Donuts: Add 1/2 cup of fresh or frozen strawberries to the batter
Peanut Butter Donuts: Coat the donuts with a sauce made out of ½ natural peanut butter, 1 tbsp coconut oil, a little sweetener, and 1/3 tsp salt
A splash of coconut milk or coconut cream is a great way to make donuts that have a sweet flavor and fun texture, too.
You're going to love how these sugar free donuts taste!
They're the perfect way to have the texture of cake donuts while still enjoying a healthy treat.
This keto donut recipe proves that eating low carb donuts doesn't have to be anything but delicious!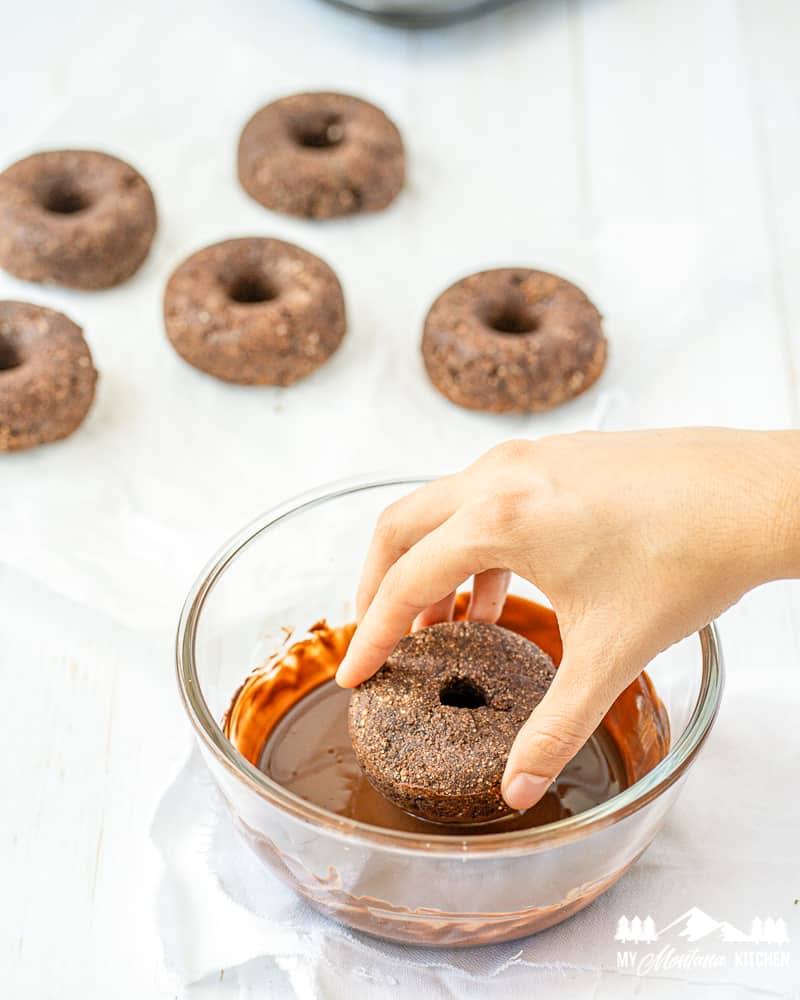 Glaze for keto donuts
The glaze for these chocolate keto donuts couldn't be any easier!
Simply melt sugar-free chocolate chips with a little bit of coconut oil for the perfect glaze!
You can either drizzle the glaze over the top of the cooled donuts or dip the tops of the donuts in the melted chocolate for more glaze.
More Breakfast Recipes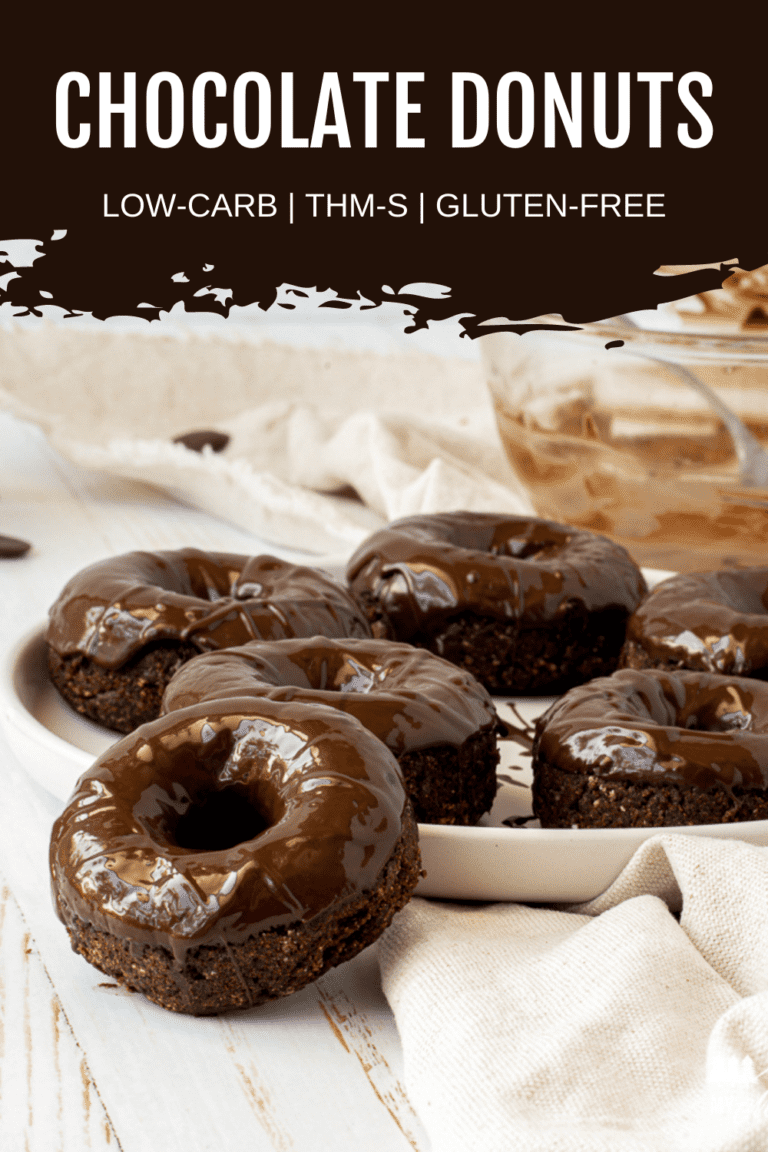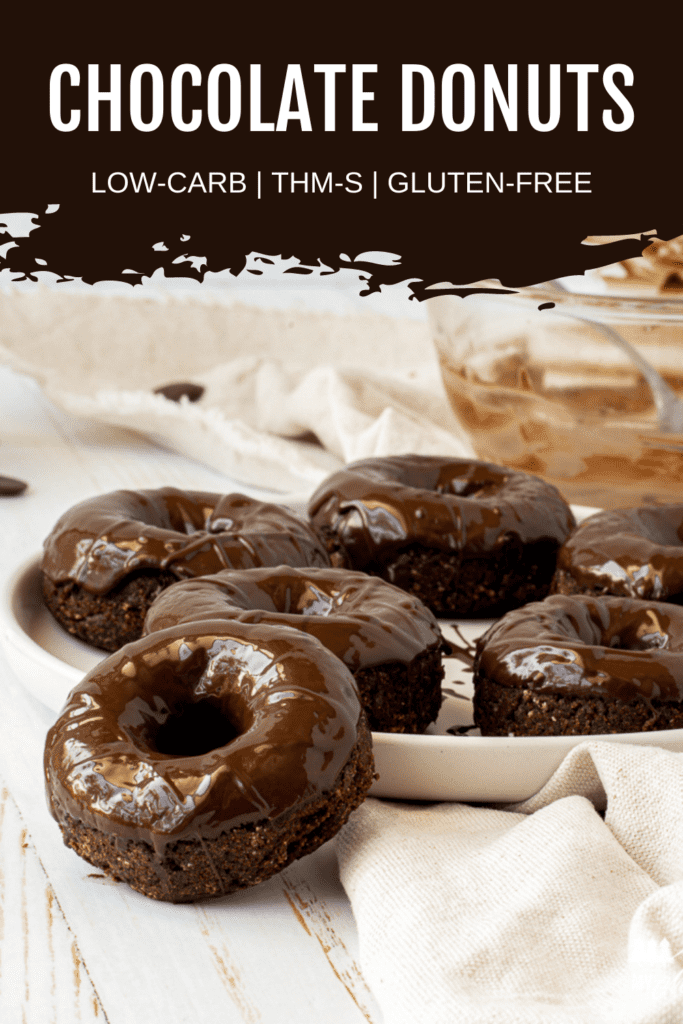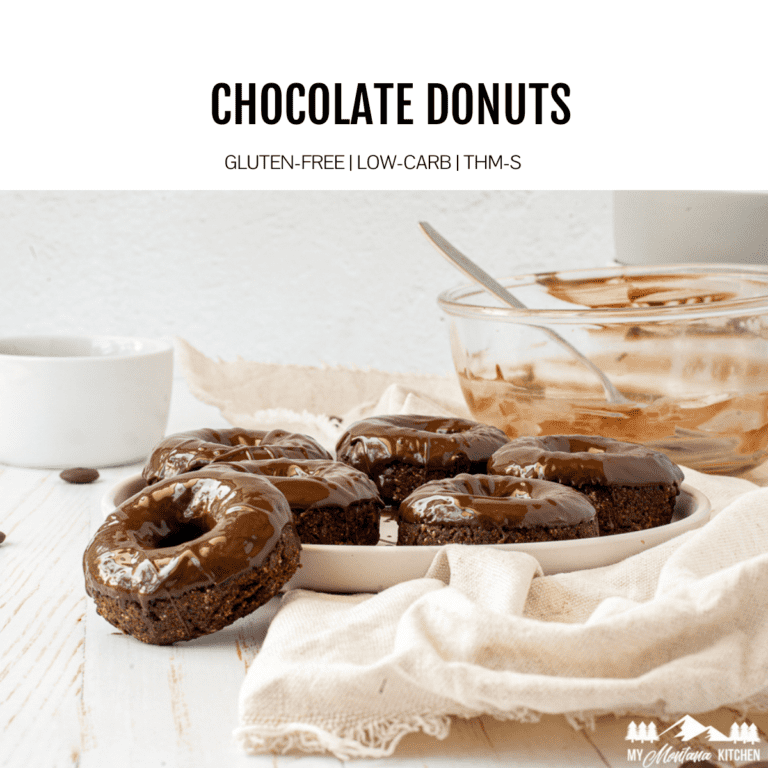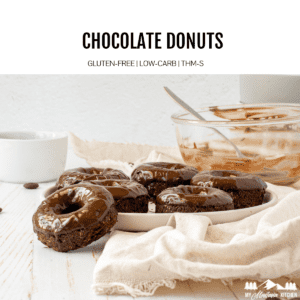 Almond Flour Chocolate Donuts
Almond Flour Chocolate Donuts
Print
Pin
Rate
Instructions
Preheat oven to 320 degrees Fahrenheit.

Mix the flaxseed with water and let it sit for 5 minutes. (This will bring moisture and a chewy consistency to the donuts.)

Add cocoa powder, almond milk, baking powder, monk fruit, melted coconut oil and vanilla extract. Stir to combine.

Add coconut flour and almond flour and stir again.

Spray a donut pan with cooking spray.

Place the donut batter into the molds. It will be quite sticky so use a wet spoon if needed. Fill them almost to the top, leaving a small space for them to grow.

Bake them for 15 minutes. They'll seem drier but still soft to the touch. Do not overbake them, as they continue to bake in the pan while they cool.

Let donuts cool completely and carefully remove them from the donut pan.

For the glaze, melt the chocolate with the coconut oil and coat half of each donut with it.
Notes
You can use 1/3 - 1/2 cup Gentle Sweet in place of the monk fruit if you wish.
Nutrition
Serving:
1
Donut
|
Calories:
233
kcal
|
Carbohydrates:
11
g
|
Protein:
4
g
|
Fat:
21
g
|
Fiber:
5
g