We may earn money from the products/companies mentioned in this post. As an Amazon Associate I earn from qualifying purchases.
This keto quiche recipe is a great way to start your day or serve up something delicious for brunch. Give this no-crust broccoli quiche a try the next time you're searching for a crustless version! (This recipe is also a great Trim Healthy Mama S fuel!)
I love using cheddar cheese in my crustless quiche, but it's such a simple recipe that you could honestly change up the cheese and still have a hit.
If you're eating low carb, keto, or just looking for a way to make an absolutely delicious meal, you really can't go wrong with this great recipe.
You'll undoubtedly want to make this delectable quiche at least once a month, and I believe it will soon become one of your favorite keto meals.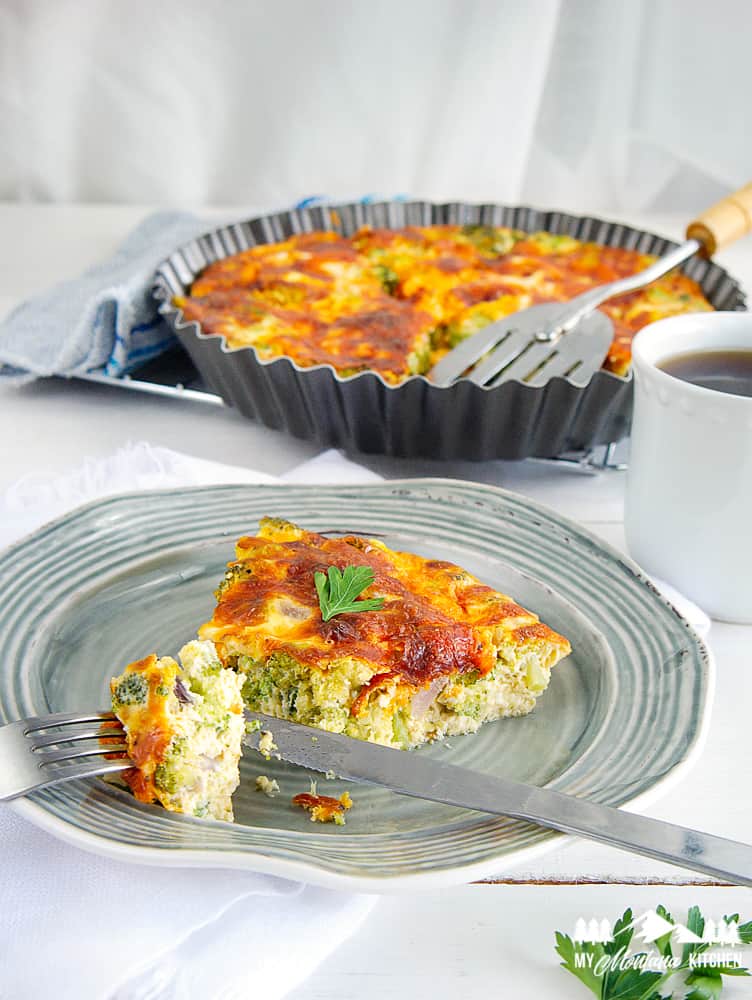 What is a quiche?
Most people will make homemade quiche for a satisfying breakfast or simple brunch. It's typically a breakfast cuisine but can honestly be eaten for breakfast or brunch.
It's made from an egg mixture plus a few fresh or frozen veggies and cheese.
Sometimes meat is included as well.
You can bake it in a pie plate or serve it in a casserole dish (or any other baking dish) - either option is totally fine and acceptable.
Most quiche recipes will have a pastry crust to them, but this crustless broccoli cheddar quiche recipe is different in that regard.
Can you use frozen or fresh broccoli for this crustless broccoli quiche?
For this simple gluten-free dish, you can honestly use either. I love the texture of fresh broccoli the most, but frozen works just fine.
However, if you use frozen broccoli, you may just want to try and use the frozen broccoli florets because the stems of the broccoli are hard and tough and may not be the best texture for this wonderful recipe.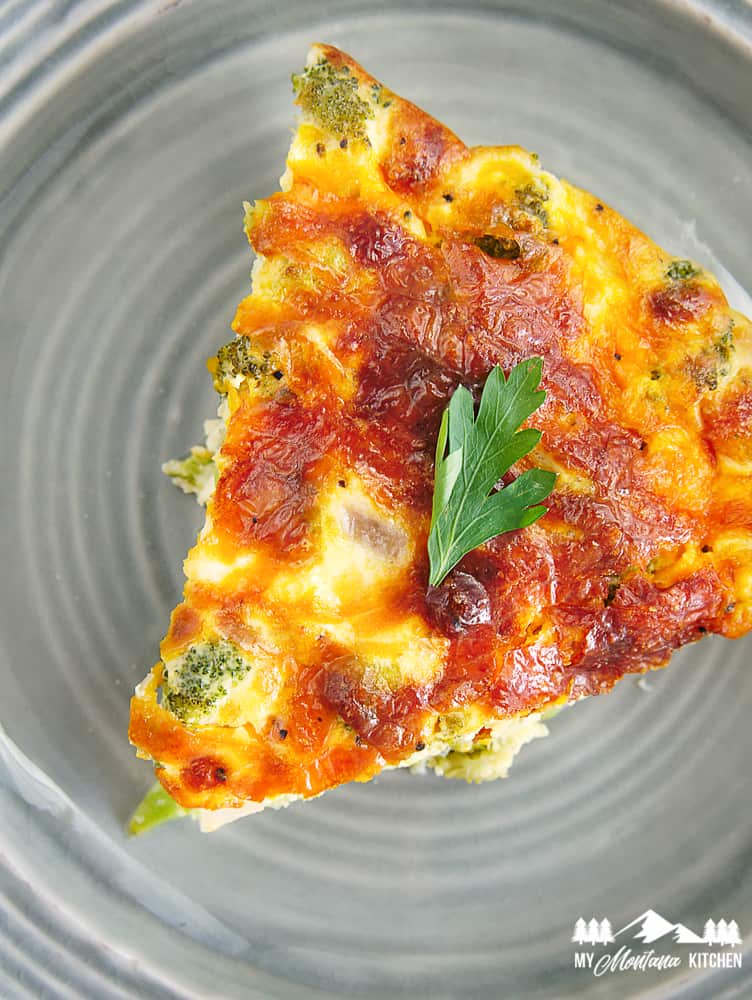 What are the main ingredients in the egg mixture of this broccoli cheddar quiche?
The egg mixture is mainly made up of whipped eggs, heavy cream, and half and half (I think you could also use almond milk). Those three ingredients are the star of the show and then there are additions that will be added slowly after that.
What is the benefit of making this quiche crustless broccoli recipe?
The reason that making a broccoli and cheese quiche without a crust is so popular is that it is a delicious breakfast that is low carb.
It's a way to enjoy a golden brown piece of cheddar cheese and broccoli quiche without the worry of eating carbs or gluten as well.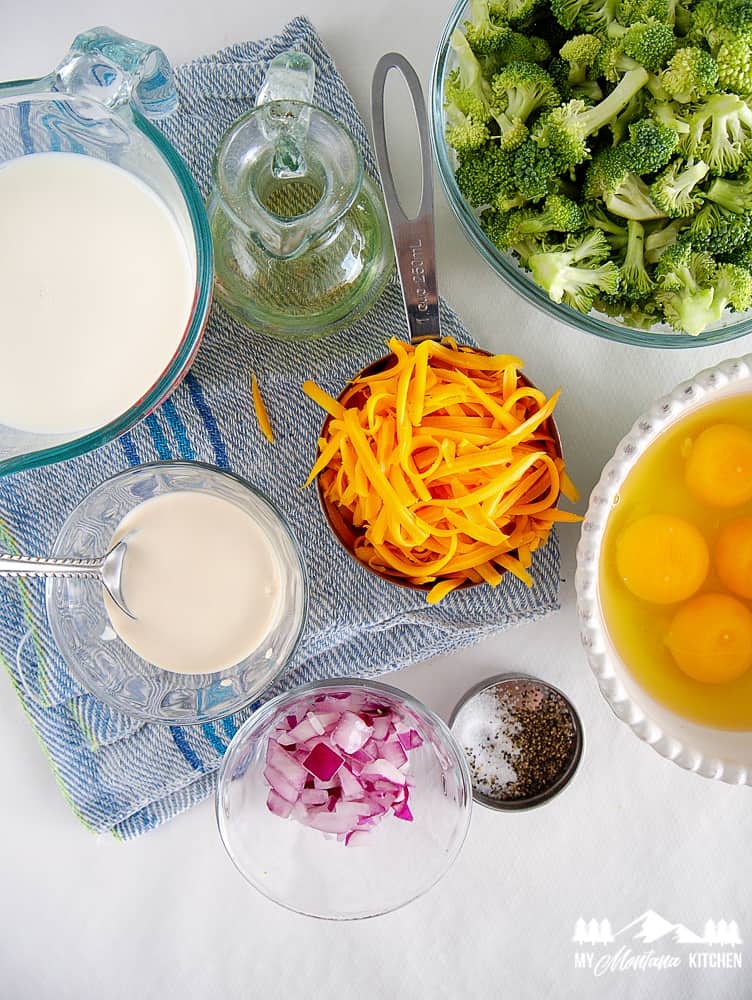 Variations for making this Crustless broccoli cheddar quiche
Different cheese: You could do a combination of different shredded cheese in this recipe such as Gruyere, Swiss, or even Feta.
Change up the veggies: You could also add in some chopped spinach, mushrooms, or green onions.
Use meat: If you want to make this dish a little more hearty, you could add in some diced ham, bacon, or sausage.
Spice it up: To give this recipe a little bit of a kick, you could add in some red pepper flakes, hot sauce, or even sriracha.
Make quiche as muffins: Another popular variation of this recipe is to make them into the best quiche muffins.
To do this, simply spray a muffin tin with cooking spray and then fill each cup about 3/4 full with the egg mixture.
You can then bake at 350 degrees for about 20-25 minutes or until golden brown.
These are perfect for on-the-go breakfasts or snacks and freeze really well too!
More greens: If you want to add even more greens to this recipe, you could do a baby spinach and mushroom quiche or even a kale and bacon quiche.
Spice variations: If you want to mix in garlic powder, onion powder, or even a bit of extra kosher salt, go for it! None of this increases the net carbs but does increase the flavor.
As you can see, there are so many different ways that you can change up this basic recipe to make it your own. I encourage you to experiment and find the perfect way to make this dish for your family.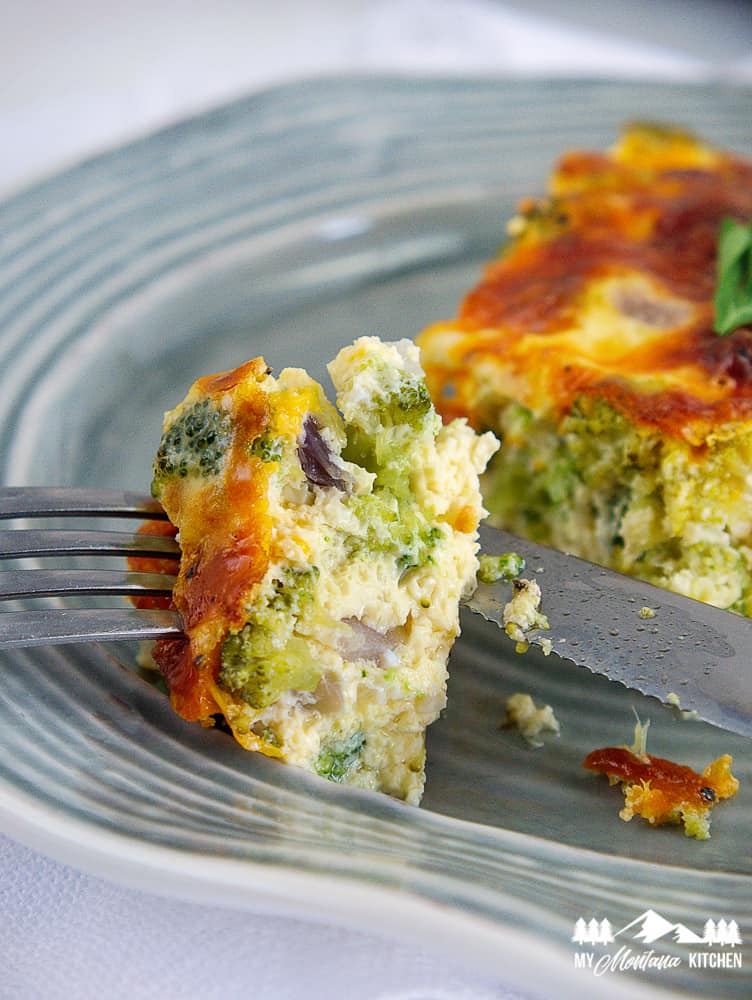 Can you freeze quiche?
Yes, you can freeze leftovers! Storing leftovers in the freezer is simple to do. Just let this keto-friendly quiche recipe cool down, and then store it in an airtight container that is freezer-friendly.
It should stay suitable for up to 3 months. You can then reheat it in the oven when it's time to serve. (this is perfect for meal prep!)
What other veggies can you add to the egg and cheddar cheese mixture?
This is why this quiche dish is so fantastic! You may also add extra chopped broccoli/frozen broccoli florets, or additional veggies, if desired. Onions are always a plus, as are mushrooms and power greens.
What side dishes pair well with this delicious breakfast?
If you want to have some other healthy recipes to pair with your quiche, you have options!
Adding a cup of Greek Yogurt (or this Homemade Triple Zero Yogurt) with fresh fruit is a great pairing option or you can also enjoy this with a keto iced coffee!
What are good toppings for quiche?
Whether you're enjoying a slice of broccoli and cheddar quiche or eating quiche muffins out of muffin tins, toppings are always a good idea.
Add some extra shredded cheddar on top, put a dollop of sour cream in the middle, and add some fresh cilantro or chives!
While this crustless broccoli quiche is without a crust, you can always add a pie crust to the recipe if you'd like - again, options are always great!
This broccoli quiche recipe is a delicious, easy-to-follow breakfast dish that is low in carbs and gluten-free. You can make this recipe with fresh or frozen broccoli, and it is perfect for meal prepping. This quiche also freezes well, so you can enjoy it later on.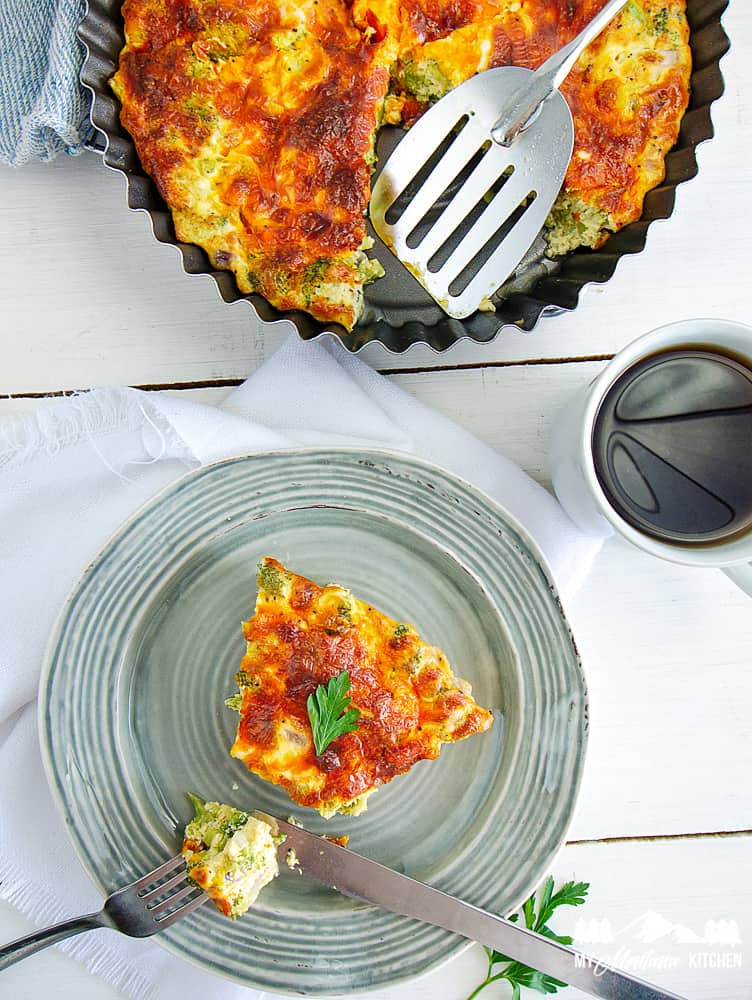 Other quiche flavors:
Southwest: Add in some diced green chiles, red onions, and cumin to the egg mixture. Top it with shredded cheese and diced avocado.
Ham and Swiss: Dice up some ham and add it to the egg mixture. Add in some shredded Swiss cheese, too. Top with fresh parsley.
Crab: If you have some canned crab meat, add it to the egg mixture. You can also add in some shredded Swiss cheese and old bay seasoning. Top with diced green onions.
Bacon and Cheddar: Chop up some bacon and add it to the egg mixture. Mix in some shredded cheddar cheese. Top with diced green onions.
Make sure to comment down below and let me know how you liked this recipe! And, if you have any other variations for making quiche, I would love to hear about them.
More low-carb breakfast recipes
Bacon & Eggs Cottage Casserole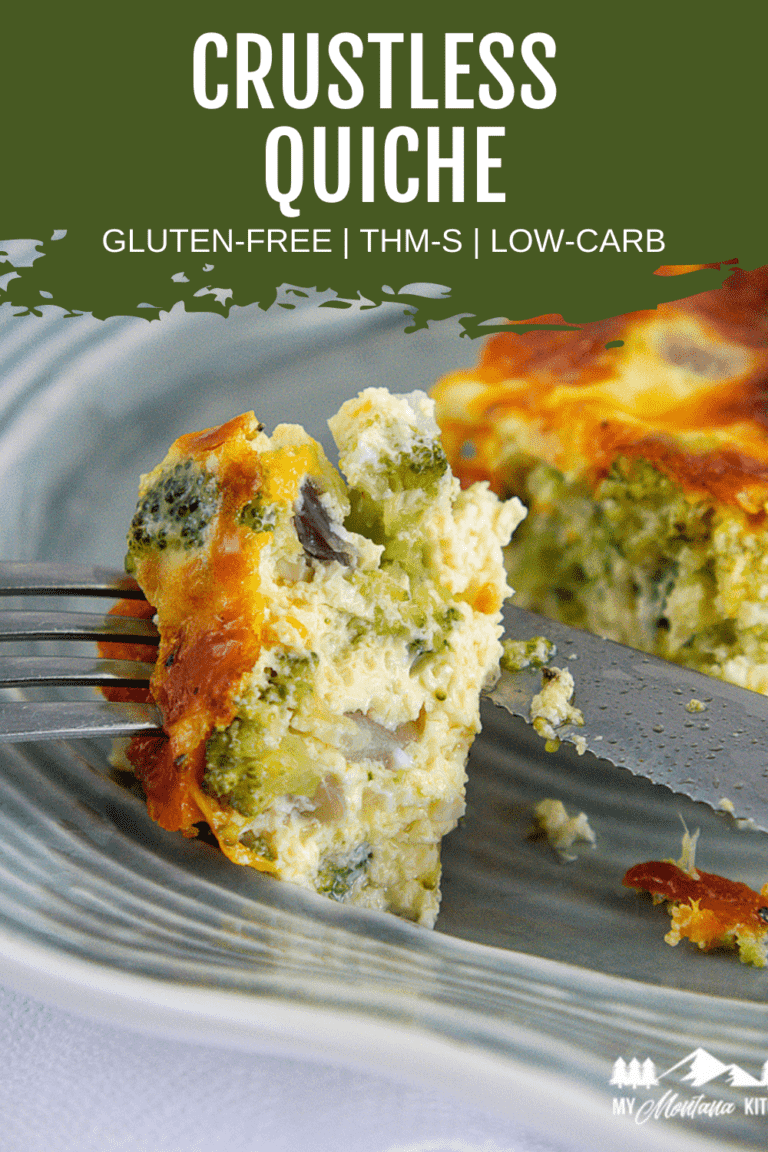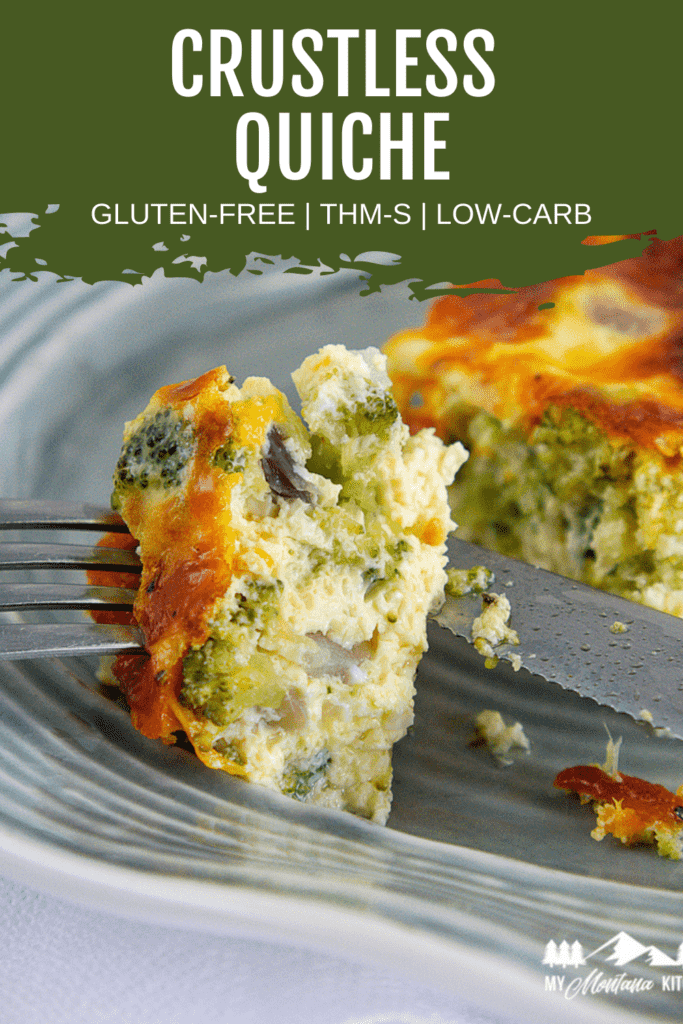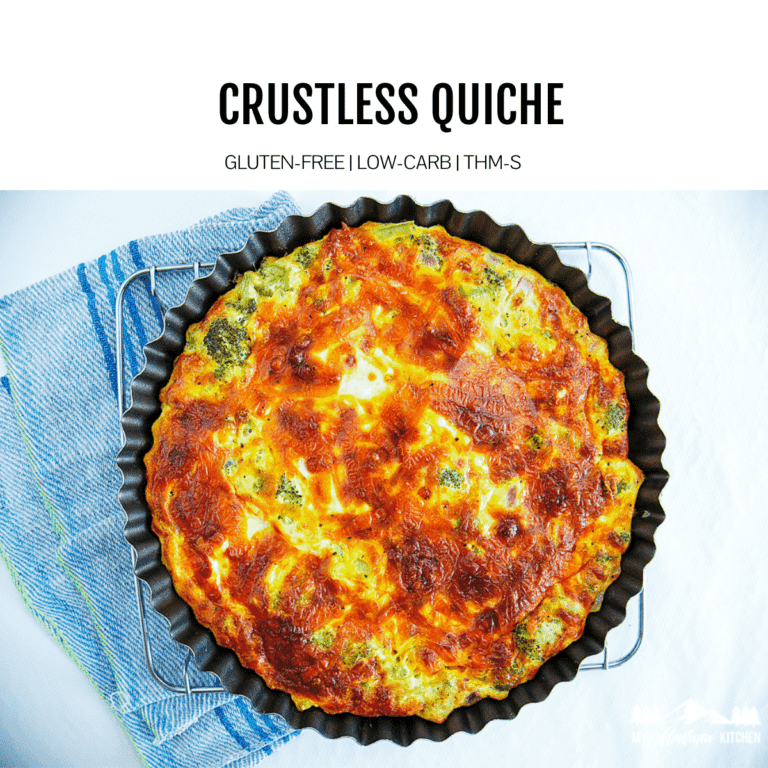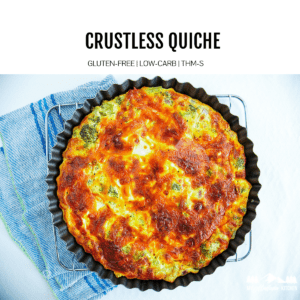 Ingredients
1

Tablespoon

Olive Oil

2

Tablespoons

Purple Onion

, chopped

3

Cups

Broccoli

, roughly into small pieces

6

Eggs

1/2

Teaspoon

Salt

adjust to taste

1/4

Teaspoon

Ground Black Pepper

adjust to taste

1/4

Cup

Heavy Whipping Cream

1

Cup

Half & Half

1

Cup

Cheddar Cheese
Instructions
Preheat the oven to 375℉ and spray a tart pan or pie pan with olive oil spray then set aside.

In a large pan melt the butter and saute the onion until soft, then add the broccoli and cook for a couple minutes until tender.

Remove from heat and add to the baking dish, making sure to create an even layer.

Set aside to cool.

In a large bowl whisk the eggs with the salt and black pepper until well combined.

Pour in the heavy cream and half & half and whisk until well combined, then mix in the cheese and stir until well combined.

Pour the egg mixture over the broccoli in the baking dish. Bake in center of oven for 35 to 40 minutes.

After the 35 minutes insert a toothpick or knife into the center of the quiche to test for doneness. When finished cooking, the eggs should be set and the top be browned.

IMPORTANT: If you don't want the top of the quiche to brown you should cover it lightly with aluminum foil once the eggs are mostly set, after about 25 minutes of baking.

Once cooked through, remove from oven an allow to cool for a few minutes before serving.

Serve as a breakfast, brunch or light lunch. Enjoy!
Notes
You can make this quiche ahead of time and reheat it for a few minutes in a warm oven. 
Nutrition
Serving:
1
Serving (1/6 of recipe)
|
Calories:
248
kcal
|
Carbohydrates:
6
g
|
Protein:
12
g
|
Fat:
20
g
|
Fiber:
1
g