We may earn money from the products/companies mentioned in this post. As an Amazon Associate I earn from qualifying purchases.
Sheet Pan Sausage Dinner
If you need a simple and tasty dinner that the whole family will enjoy, you're going to love our Chicken Apple Sausage Sheet Pan Dinner! It's a great recipe for an easy weeknight dinner or lazy weekend.
In just a few easy steps, you can have a wholesome and satisfying meal on the table in no time.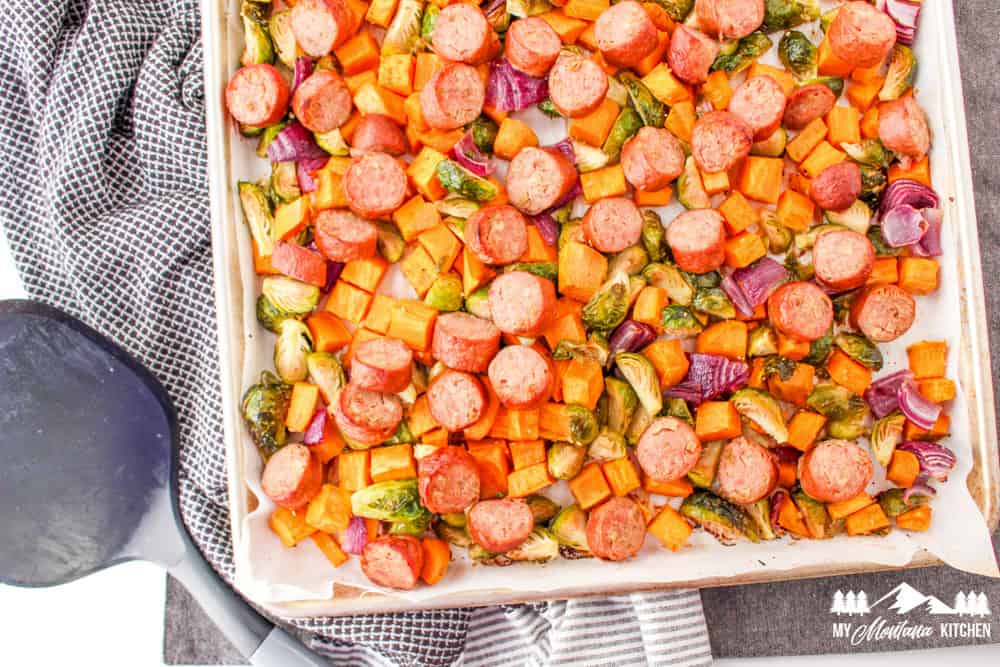 Why are sheet pan dinners popular?
They offer a convenient and fuss-free way to prepare a complete meal using minimal ingredients and equipment.
Here are a few reasons why sheet pan meals have become a go-to option for busy individuals and families:
Easy Preparation: Sheet pan meals are incredibly easy to prepare. With just one sheet pan, vegetables, meat (like sausage), salt, pepper, seasonings, and a little oil, you can create a flavorful and satisfying dinner.
Time-Saving: Rather than juggling multiple pots and pans on the stovetop, you can combine all the ingredients on a single sheet pan and let the oven do the work. You can attend to other activities while the meal cooks, saving you valuable time in the kitchen.
Versatility: Sheet pan meals offer endless possibilities for customization. You can experiment with different combinations of vegetables, proteins, and seasonings to suit your taste preferences and dietary needs.
Minimal Cleanup: One of the major advantages of sheet pan meals is the easy cleanup. By using parchment paper or aluminum foil to line the sheet pan, you can minimize the mess and make cleanup a breeze. Goodby dishes!
Healthy and Balanced: Sheet pan meals can be a nutritious and balanced option. By incorporating a variety of colorful vegetables and lean proteins like the chicken apple sausage in this recipe, you can create a well-rounded meal that provides essential nutrients.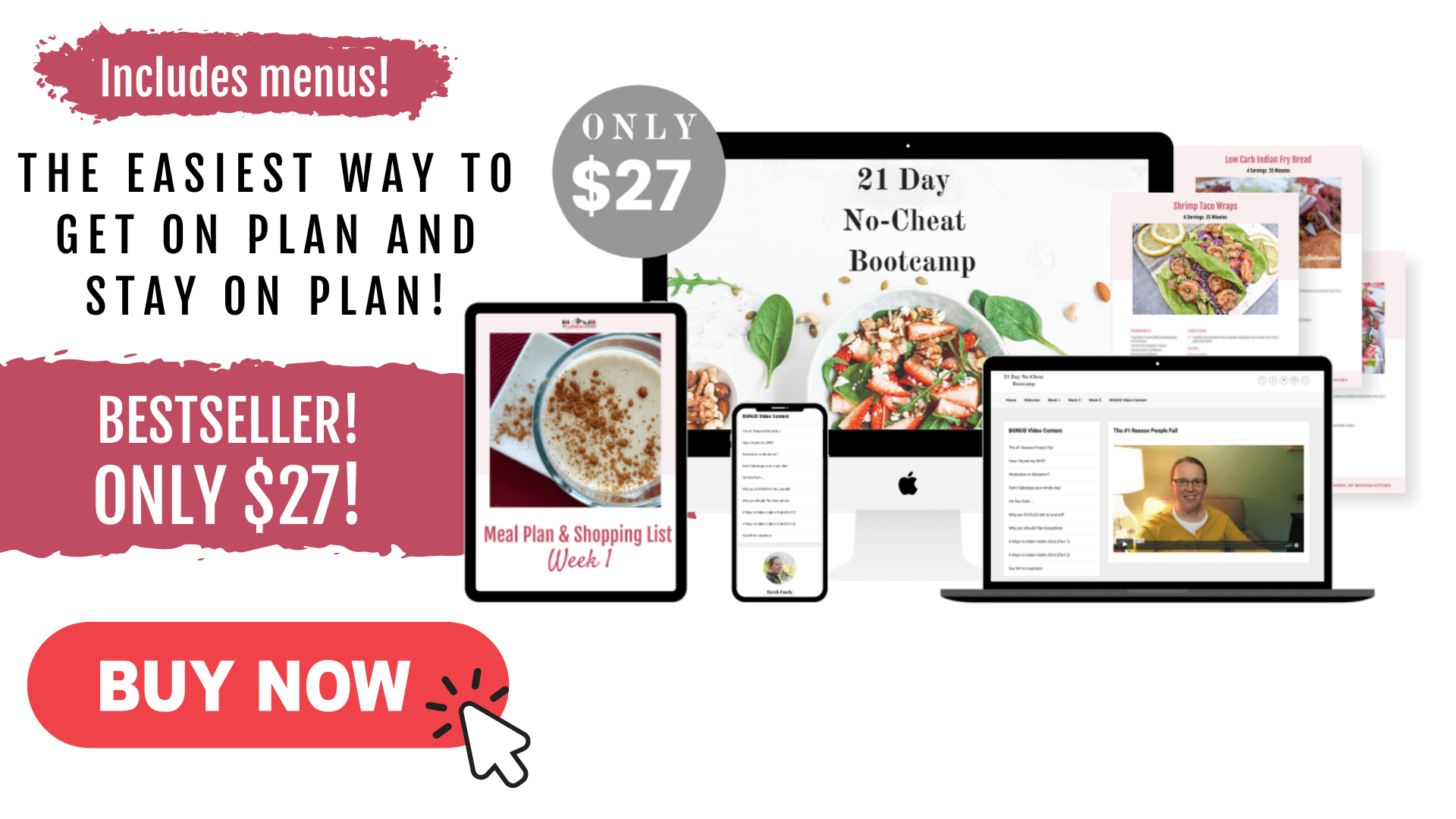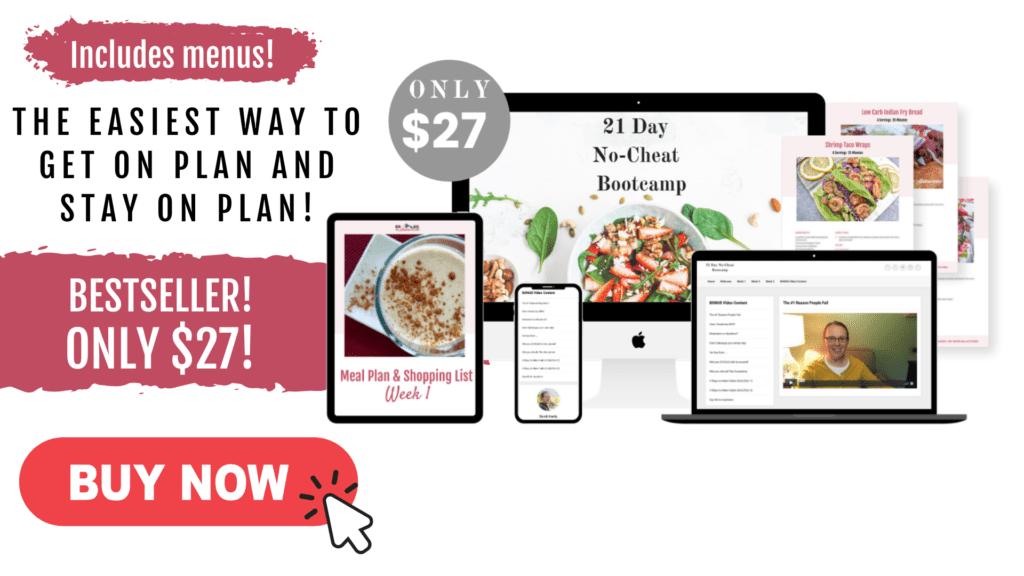 What Type of Sausage Should I Use for an easy sausage sheet pan dinner?
When it comes to making delicious Sheet Pan Sausage and Veggies, choosing the right type of sausage can make a big difference in flavor and texture.
While the recipe calls for chicken apple sausages, you might be wondering if other types of sausages would work as well, so let's explore some options!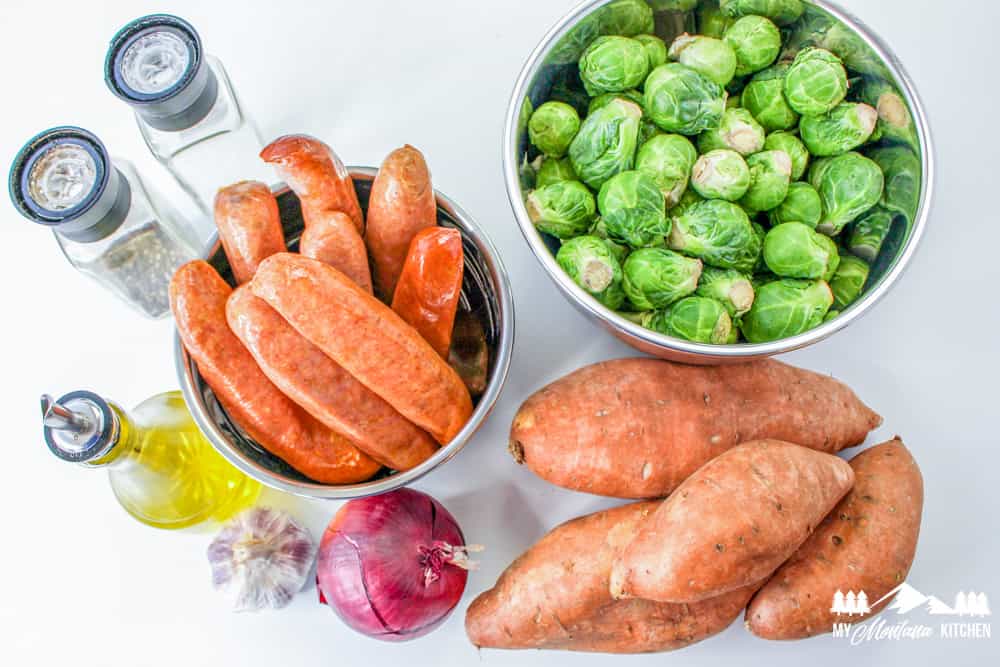 Chicken Sausage
If you are a Trim Healthy Mama, you'll want to use the recommended chicken sausage to keep the fat content low, since we are also using sweet potatoes (a healthy carb).
Look for a sausage with the least fat - ideally one with 7 grams or less per link. But honestly, it's hard to find them with less than 10 or 11 grams per link, so its probably best to just enjoy this meal as a Trim Healthy Mama Crossover! (Or you can make changes to the vegetables included and it will be a THM-S. See below for ideas.)
In a pinch, you could even use turkey sausage.
How to make this sheet pan dinner low-carb or THM-S
To make this sheet pan dinner low-carb or THM-S (Trim Healthy Mama S), you can make a few simple changes.
Here's how:
Swap sweet potatoes: Instead of sweet potatoes, try cauliflower or radishes. These veggies have fewer carbs but still taste delicious when roasted.
Instead of sweet potatoes, include broccoli, zucchini, or green beans in your sheet pan dinner. These vegetables are low in carbs and add color and flavor to your meal.
Kielbasa (Smoked Sausage)
This traditional Polish smoked sausage is known for its robust and smoky flavor. It pairs well with roasted vegetables and can add a rich and hearty element to your sheet pan dinner.
And yes, you could also use beef sausage.
Italian Sausage Links
Italian sausage brings a burst of robust flavors to your sheet pan dinner. With its blend of herbs and spices, this sausage would add a savory and slightly spicy kick to the dish.
(Keep in mind that most Italian sausages are raw, so you would need to pre-cook them first.)
Can I Use Fresh Sausage Instead of Pre-Cooked?
Definitely! To ensure even cooking, it is recommended to pre-cook them partially before adding them to the baking sheet.
You can do this by browning the sausages in a skillet over medium heat for a few minutes until they develop a nice sear on the outside.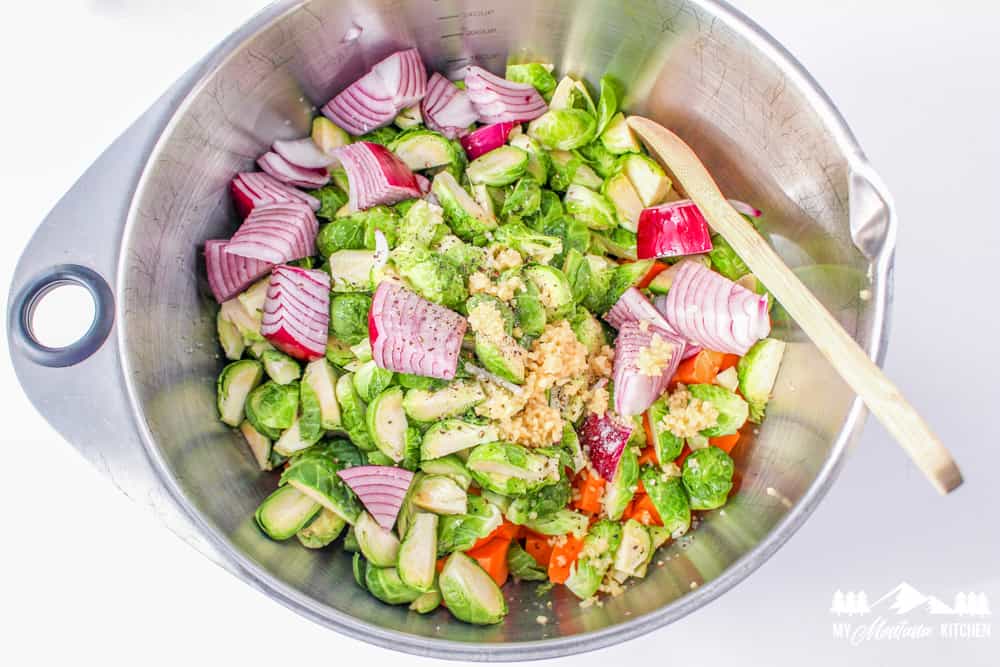 Can I Use Frozen Vegetables Instead of Fresh?
Using frozen veggies can be a convenient option if you don't have fresh veggies on hand.
While fresh vegetables are often preferred for their texture and flavor, frozen vegetables can still work well in this dish.
Keep in mind that frozen vegetables tend to release more moisture during cooking compared to fresh ones. This can affect the overall texture of the dish, resulting in slightly softer vegetables.
If you prefer a crisper texture, consider using fresh vegetables or adjust the cooking time accordingly.
What size sheet pan should you use?
Generally speaking, you will want to use a large baking sheet.
The size of your pan will depend on the quantity of ingredients you're using and how much space you want between them.
Here are a few things to consider:
Spacing and Air Circulation: It's important to ensure that there is enough space between the ingredients on the sheet pan. Overcrowding the pan can lead to uneven cooking and steaming instead of roasting. The ingredients should be arranged in a single layer with some space between them to allow hot air to circulate and promote browning.
Depth and Sides: Consider the depth of your sheet pan as well. A shallow sheet pan with low sides allows for better air circulation, resulting in crispier and evenly cooked ingredients. However, if you only have a deeper baking dish with higher sides, it can still work for this recipe. Just keep in mind that higher sides may trap more moisture and affect browning.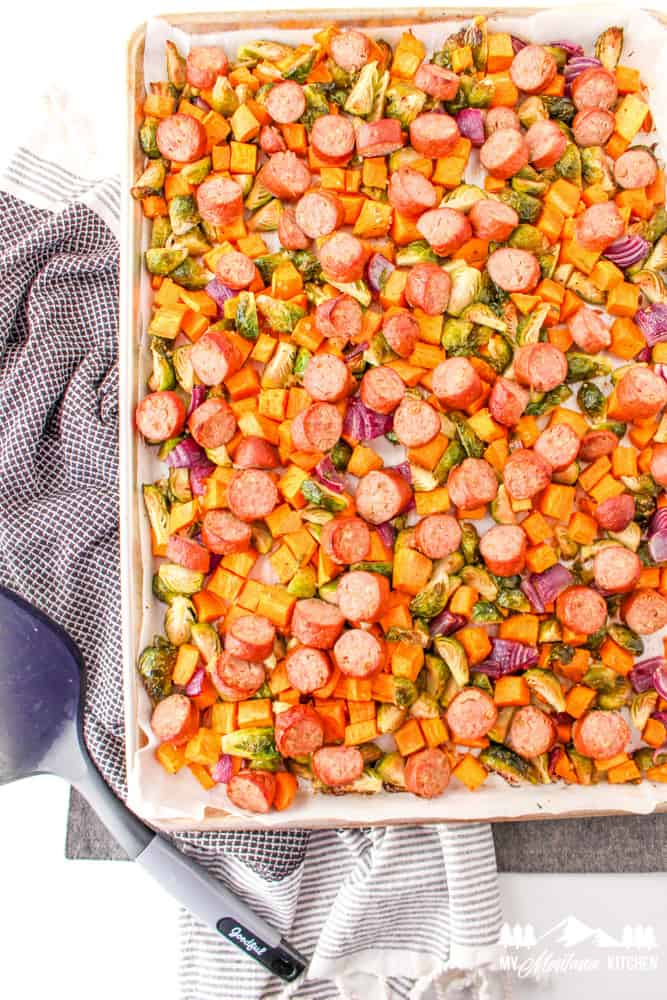 What temperature should you use for sheet pan dinners?
The general guideline for roasting sheet pan dinners, including sausage and veggies, is to preheat your oven to 400 degrees Fahrenheit (204 degrees Celsius).
This temperature allows for even cooking, browning, and caramelization of the ingredients.
What Other Vegetables Can I Use?
While the recipe may suggest specific vegetables like Brussels sprouts, sweet potatoes, and red onions, you can easily experiment with a variety of other vegetables to add diversity and flavors to your meal.
Here are some ideas for other vegetables you can use:
Bell Peppers: Add vibrant colors and a sweet crunch to your sheet pan dinner by including sliced bell peppers. Choose a mix of red peppers, yellow peppers, and green peppers for a visually appealing and flavorful combination.
Zucchini and Yellow Squash: These versatile and mild-flavored vegetables are great additions to your sheet pan. Slice them into rounds or batons for quick cooking and enjoy their tender texture.
Carrots: Slice carrots into thick coins or sticks to bring a touch of natural sweetness and a pop of color to your sheet pan dinner. Just be aware that the carrots may take longer to cook than some of the other ingredients.
Broccoli and Cauliflower Florets: Add some cruciferous goodness by incorporating broccoli and cauliflower florets into your sheet pan. They provide a delightful texture and absorb the flavors of the sausage and seasonings.
Asparagus: Roasted asparagus is a classic choice that pairs beautifully with sausage. Trim the woody ends and toss the tender spears onto the sheet pan for a deliciously crisp and flavorful addition.
Cherry Tomatoes: Bursting with juiciness, cherry tomatoes bring a burst of freshness to your sheet pan dinner. Roasting them alongside the sausage adds a delightful burst of flavor.
Green Beans: Snappy and vibrant green beans make a nutritious and tasty addition to your sheet pan dinner. Trim the ends and toss them with the other ingredients for a delightful crunch.
Baby Potatoes: These small, bite-sized potatoes are tender, creamy, and full of flavor. Use yellow or baby red potatoes. Cook until the potatoes are fork tender.
Remember to adjust the cooking time based on the density and thickness of the vegetables you choose. But honestly, you can use whatever vegetables you have on hand!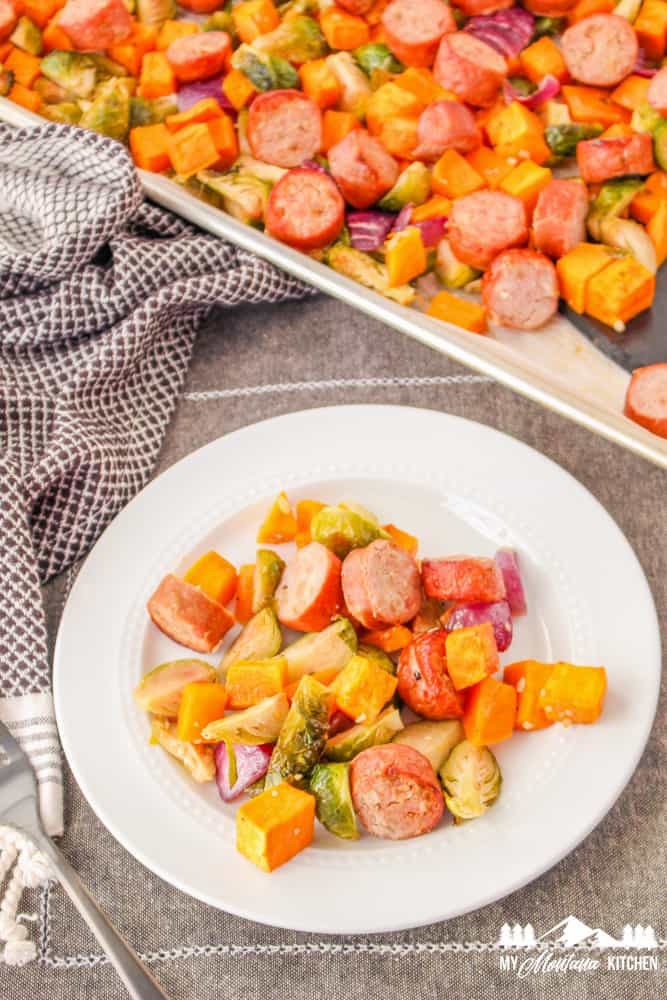 Tips for making Sheet Pan Sausage and Veggies
Here are three quick and simple tips for making a one-pan sausage and veggies dish:
Cut Evenly: Slice the sausage and chop the veggies into similar sizes. This ensures even cooking and a balanced dish.
Choose Quality Sausage: Opt for high-quality sausage like chicken apple or Italian sausage for a flavorful result.
Season Well: Don't be shy with the seasonings! Sprinkle your dish with Italian seasoning, garlic powder, smoked paprika, red pepper flakes, dried herbs, salt, and pepper to enhance the flavors.
What other sheet pan dinner can I make?
Sausage and Peppers Sheet Pan Dinner
Bacon Wrapped Chicken Sheet Pan Dinner
This sausage and veggies recipe offers a simple, flavorful, and convenient way to create a delicious one-pan meal.
With minimal prep and cleanup, you can enjoy a satisfying dinner that combines the savory goodness of sausage with the vibrant flavors of roasted vegetables.
Give it a try and let me know what you think!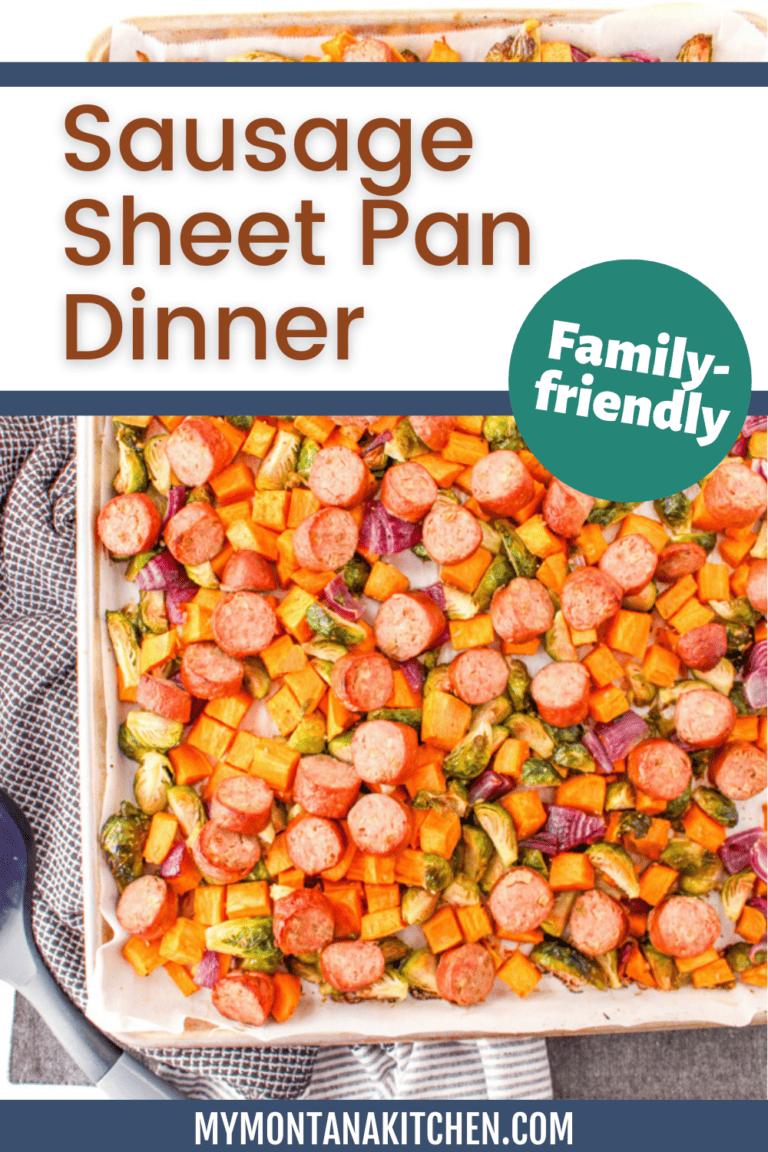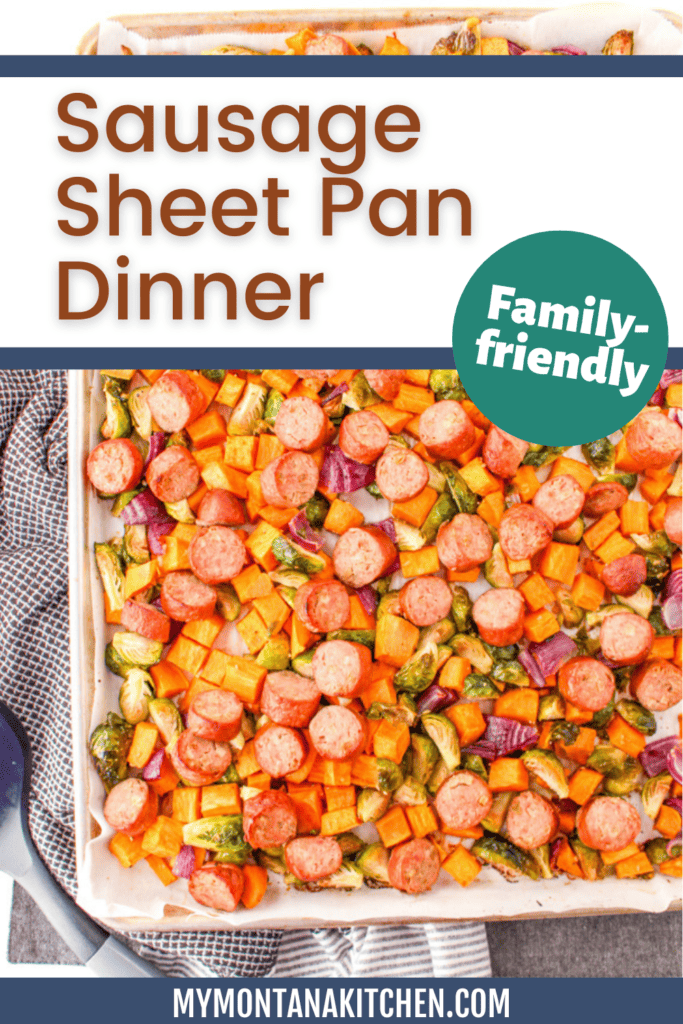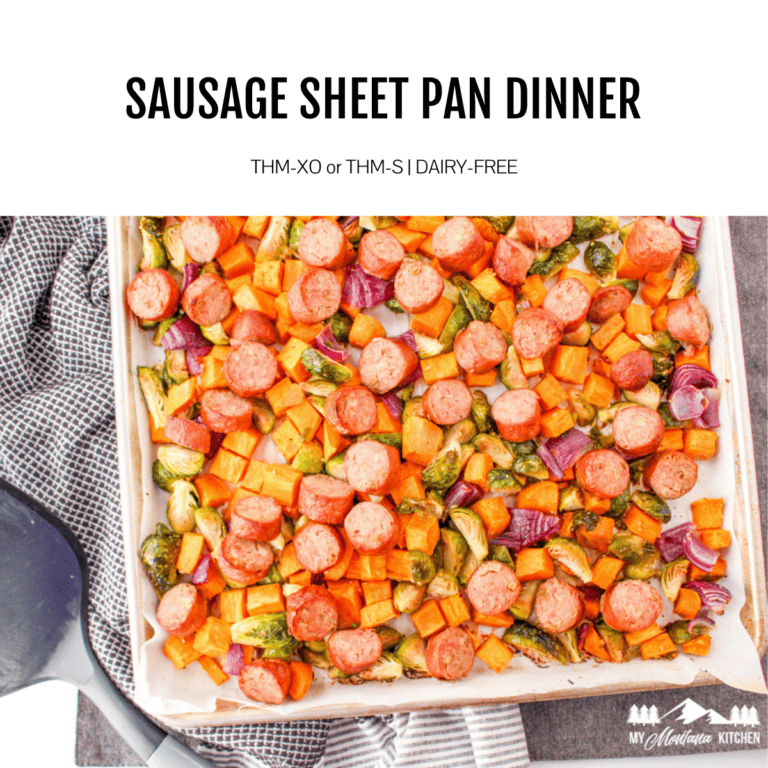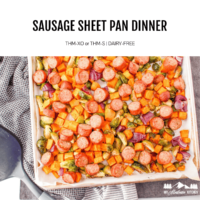 Sausage Sheet Pan Dinner
Looking for a hassle-free dinner option? Our sheet pan sausage and veggies makes an easy dinner recipe. With just one pan, you can enjoy the perfect blend of seasoned sausage and roasted vegetables for a satisfying meal.
Print
Pin
Rate
Ingredients
2

Pounds

Brussels Sprouts

trimmed and quartered

3

Sweet Potatoes

peeled and cut into 1-inch cubes

1

Red Onion

cut into wedges

2

Tablespoons

Olive Oil

1

Teaspoon

Minced Garlic

Salt and black pepper

to taste

6

Chicken Apple Sausages

sliced
Instructions
Preheat the oven to 400 degrees and line a large rimmed baking sheet with parchment paper.

In a bowl, mix the vegetables, olive oil, salt, and black pepper.

Transfer the seasoned vegetables to the prepared sheet pan.

Bake for 20 minutes, then flip the vegetables and add the sausage to the pan.

Return the sheet pan to the oven and bake for another 20 to 30 minutes until the vegetables are tender.
Nutrition
Serving:
1
/6th recipe
|
Calories:
313
kcal
|
Carbohydrates:
22
g
|
Protein:
16
g
|
Fat:
18
g
|
Fiber:
5
g