We may earn money from the products/companies mentioned in this post. As an Amazon Associate I earn from qualifying purchases.
This sweet and sour chicken is full of flavor and makes a filling meal. And the best part - it only has to cook for 20 minutes in your Instant Pot! This recipe is low fat, sugar free, and a Trim Healthy Mama E Fuel.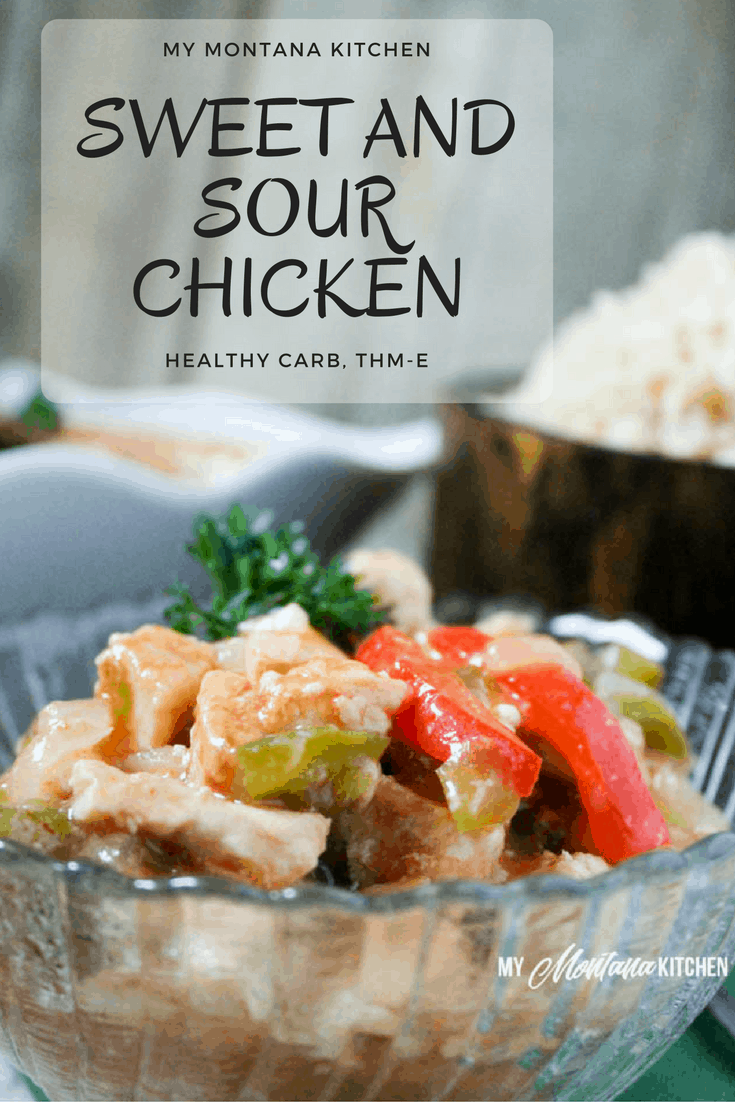 (This post contains affiliate links, which provide me with a small compensation when you purchase your products through my links. Thank you for your support!)
I have recently learned that my body responds much better when I eat more E meals. I often get stuck in an S rut, and I know for many of my fellow Trim Healthy Mama's the struggle is real. Sometimes I could (in the past) go for days without any E meals at all. Now, I try to have at least one (or more) every day.
Disclaimer: You must decide what is best for your body. There is no "magic formula" of "eat S this many times, then E this many times". It is different for everyone. The point is, don't forget those healthy carbs! They are important to your body in so many ways!
For those of you who have no idea what I am talking about, Trim Healthy Mama is a style of eating that separates fats and carbs, eliminates sugar, and focuses on a low glycemic lifestyle.
I would encourage you to find their books and read them! (The photos below are linked to Amazon.) It is safe to say that Trim Healthy Mama has changed my life!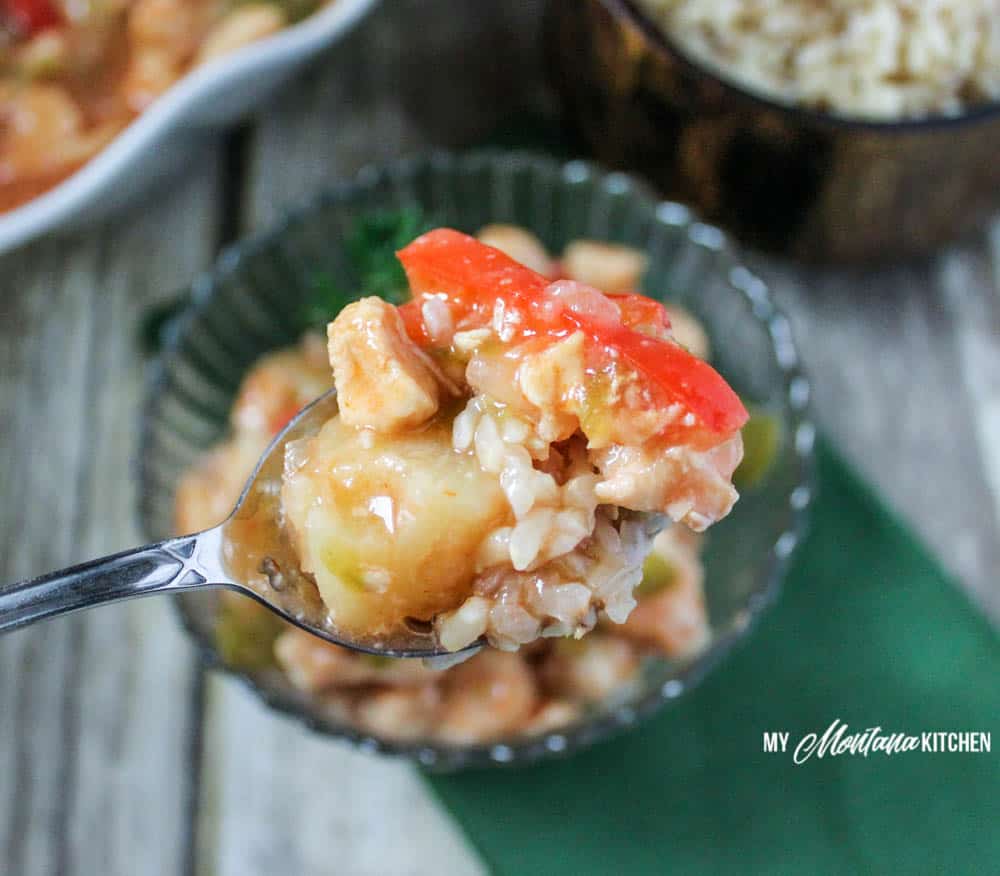 But back to healthy "E" meals. "E" meals are meals that have a good source of protein, and have a healthy carb source. In this recipe, the unsweetened pineapple and brown rice are the healthy carb sources.
I received an Instant Pot last year for Christmas. I will admit, it sat in my cabinet for quite a while before I mustered up the courage to use it. Now, I tell my husband multiple times a week how much I love my Instant Pot! I use it four or five times a week.
Here are some ways I use it:
Steam eggs (boiled eggs)
Cook brown rice
Cook beans and rice
Cook frozen chicken breasts
Cook whole spaghetti squash
Cook chicken wings
Make homemade yogurt
And there are so many more ways to use it - you can use it to cook oatmeal, and even to bake cheesecakes! There is a very helpful Facebook Group that has helped me so much. It is totally dedicated to Trim Healthy Mamas and their Instant Pots! Check out THM Instant Pot Mamas (Unofficial).

Instant Pot DUO60 6 Qt 7-in-1 Multi-Use Programmable Pressure Cooker, Slow Cooker, Rice Cooker, Steamer, Sauté, Yogurt Maker and Warmer
This Sweet and Sour Chicken is so easy to make. Throw all your ingredients in the Instant Pot liner, push a few buttons, and you're done! I love it!
So what do you need for this Sweet and Sour Chicken?
1.5 Pounds Boneless Skinless Chicken Breast, cut into bite-size pieces
1 20 Ounce Can Pineapple Chunks (in 100% juice), Drained
2 Tablespoons Tomato Paste
2 Tablespoons Gentle Sweet (or 1 Tablespoon Pyure)
1 Tablespoon Apple Cider Vinegar
1 Teaspoon Braggs Liquid Aminos
⅓ Cup Water
¼ Teaspoon Ginger Powder
1 Green Bell Pepper, Sliced
½ Sweet Red Pepper, Sliced
½ Medium Onion, Sliced
1 Teaspoon Glucomannan
 Be sure to sign up with your email address so you can receive all my new recipes delivered right to your inbox! (Look for the sign-up box at the top of this post.) Also, be sure to follow me on Facebook, Pinterest, Instagram, and Twitter!

Ingredients
1.5

Pounds

Boneless Skinless Chicken Breast

cut into bite-size pieces

1 20

Ounce

Can Pineapple Chunks

in 100% juice, Drained

2

Tablespoons

Tomato Paste

2

Tablespoon

Gentle Sweet

or 1 Tablespoon Pyure

1

Tablespoon

Apple Cider Vinegar

1

Teaspoon

Braggs Liquid Aminos

⅓

Cup

Water

¼

Teaspoon

GInger Powder

1

Green Bell Pepper

Sliced

½

Sweet Red Pepper

Sliced

½

Medium Onion

Sliced

1

Teaspoon

Glucomannan
Instructions
In a medium size bowl, mix drained pineapple, tomato paste, gentle sweet (or Pyure), apple cider vinegar, Braggs liquid aminos, water and ginger powder.

Place bite size chicken pieces into the Instant Pot liner.

Add green and red peppers and onions to the Instant Pot liner.

Pour pineapple mixture over all.

Place lid on Instant Pot, lock lid, and set valve to seal.

Set for 20 minutes manual pressure.

When finished, quick release the pressure.

Remove lid and sprinkle in the glucommanan. Stir well. (Sauce will continue to thicken as it stands.)

Serve over brown rice.
Nutrition
Nutrition Facts
Amount Per Serving
Calories 223
% Daily Value
Vitamin C undefined%
Calcium 1%
Iron undefined%