We may earn money from the products/companies mentioned in this post. As an Amazon Associate I earn from qualifying purchases.
30 Low Carb Pumpkin Recipes
A full roundup of 30 Pumpkin recipes that are all low carb and sugar free!
Pumpkin Spice Season is gearing up for this fall. In my kitchen it has been in progress for weeks, as I have been trying to perfect a few Pumpkin recipes that I have in the works. A few of those will be coming in the next weeks (so stay tuned).
This list is complied of my own pumpkin recipes, as well as recipes from my fellow bloggers! There is everything from pie, to cookies, cakes, lattes, pancakes, pretty much anything you could want for a Low Carb Pumpkin Recipe!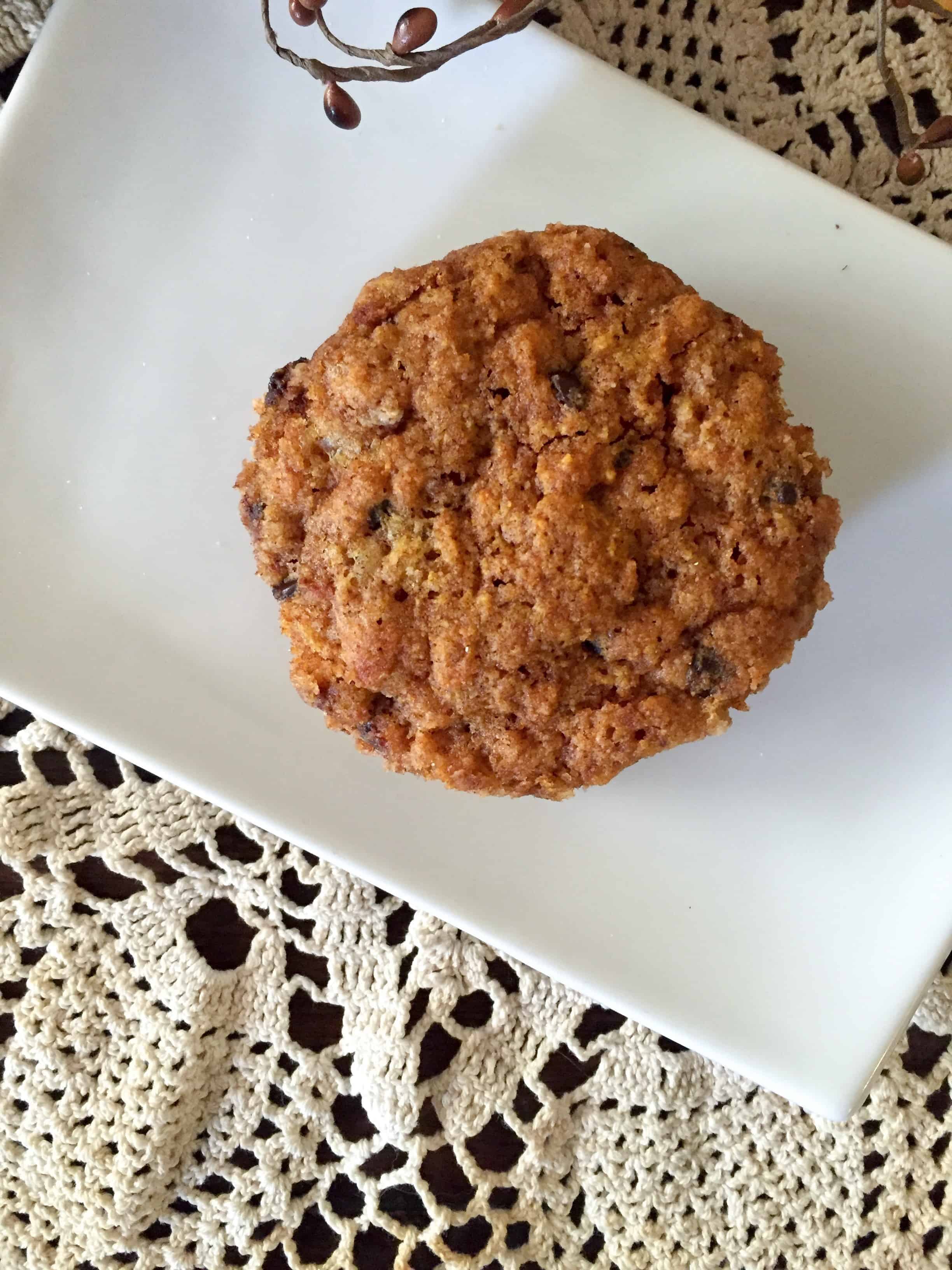 Pumpkin Chocolate Chip Muffin in a Mug
The perfect blend of pumpkin and spice with a liberal helping of warm, gooey chocolate chips – all ready in less than five minutes! (Includes an optional cream cheese frosting recipe!)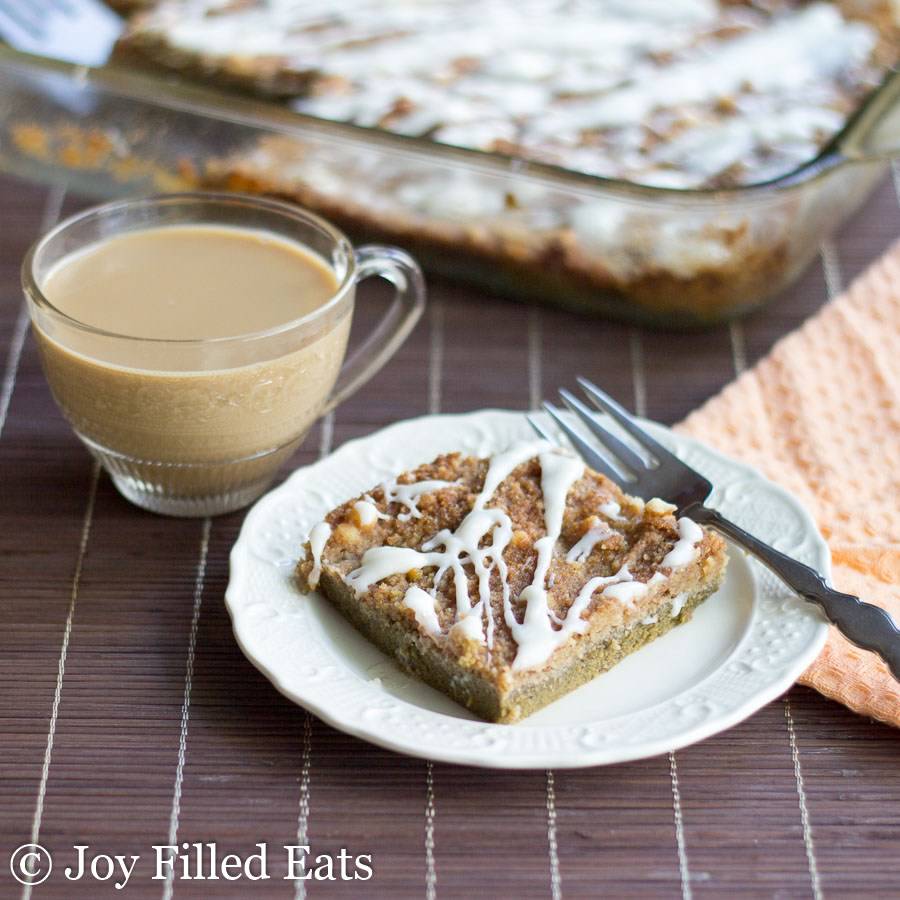 "My Pumpkin Dump Cake is like a pumpkin pie & a crumb cake got married & had a baby. It is cakier than a custard but more custardy than a cake."
These Chipolte Pumpkin Brownies pack just a bit of heat to help rev your metabolism and help you stay on plan!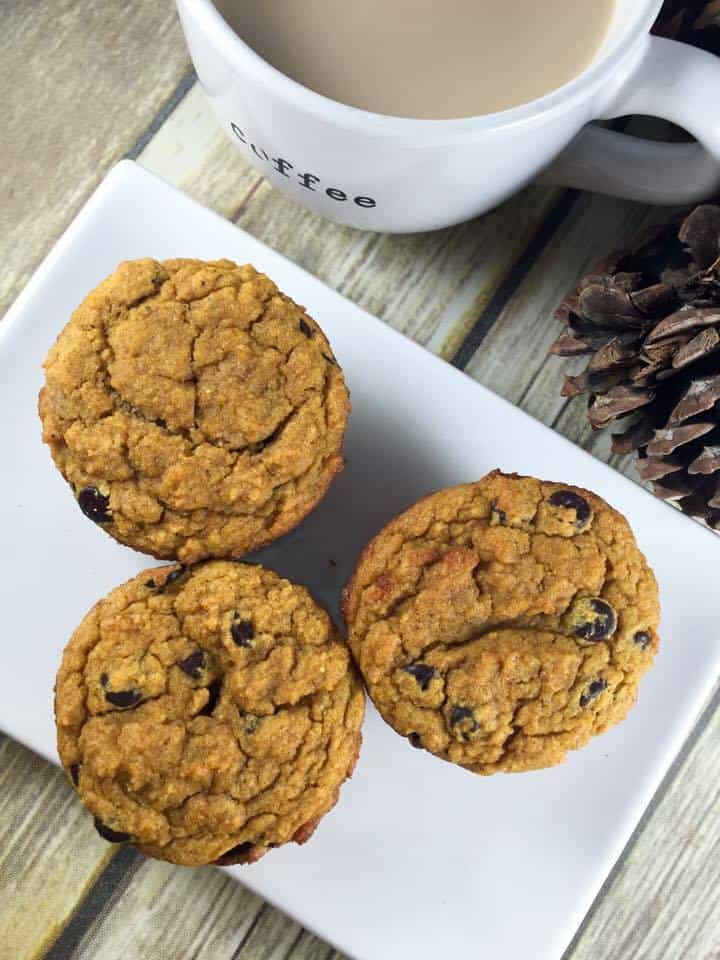 Pumpkin Chocolate Chip Muffins
Sweet pumpkin muffins studded with chocolate chips. This is a full family serve recipe similar to my Pumpkin Muffin in a Mug.
Enjoy the taste of delicious pumpkin pie without all the work. It takes less than five minutes to prepare gluten free low carb pumpkin pie chia pudding!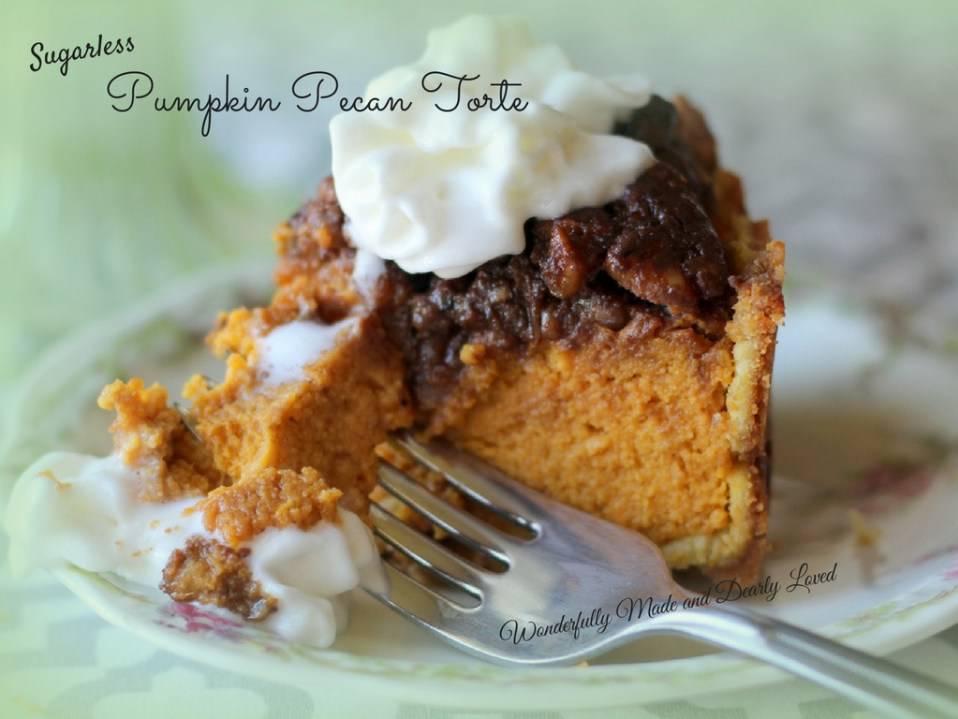 A delicious Sugar Free Pumpkin Pecan Torte that is topped with a delicious 5 minute caramel pecan sauce.
This Pumpkin Crumble Cereal is perfect with almond milk, or as a topping for yogurt.  It tastes like the crumble topping from a muffin – you will want to try this recipe!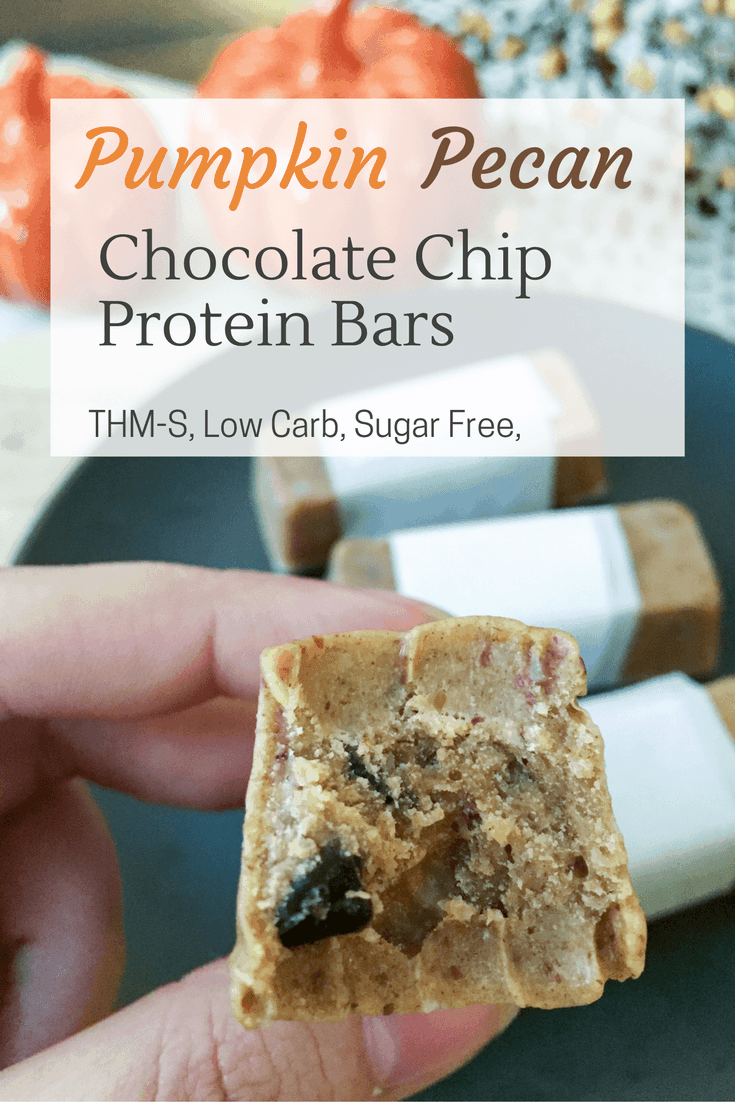 Pumpkin Pecan Chocolate Chip Protein Bars
Sweet and chewy spiced pumpkin protein bars studded with pecans and dark chocolate pieces.
Flaky pie crust filled with smooth, sweet, creamy low carb pumpkin pie filling. This Pumpkin Pie uses low carb sweetened condensed milk to make a perfect traditional pumpkin pie!
A sugar-free, gluten-free and low-carb pumpkin muffin to enjoy any time of the year. This muffin may be healthy, but it sure doesn't taste that way!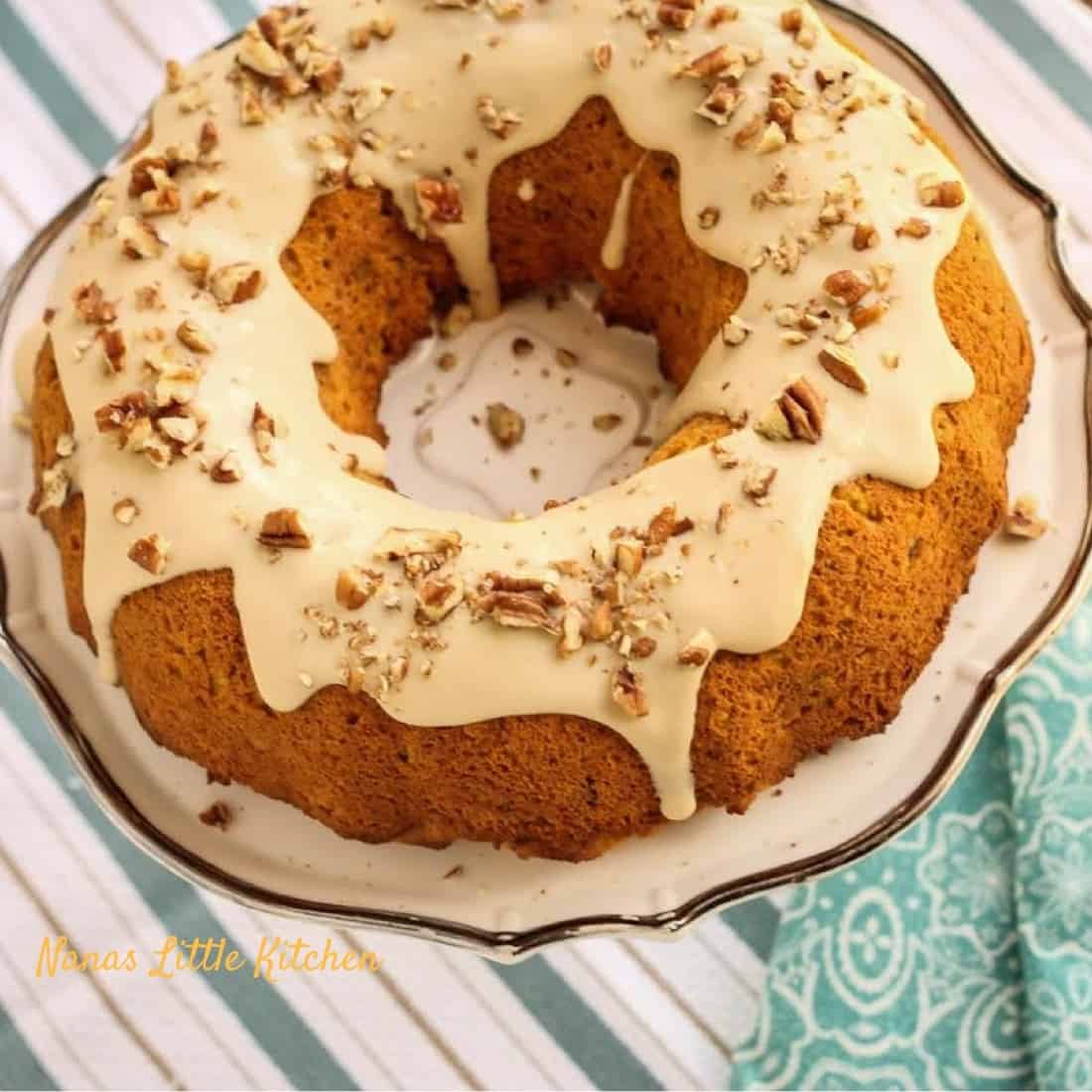 Everyone needs a good pumpkin spiced cake for this special season.  This one mixes in just one bowl and is so moist and sweet that you can also make it as a quick muffin recipe without icing.
Pumpkin Cream Cheese Coffee Cake
Pumpkin Cheesecake and Coffee Cake all rolled into one delectable dessert! I wouldn't even feel bad about eating this for breakfast!
Pumpkin Waffle for a nice fall, breakfast! Sugar free, low carb, Gluten free, and dairy free! THM friendly with instructions for any fuel type.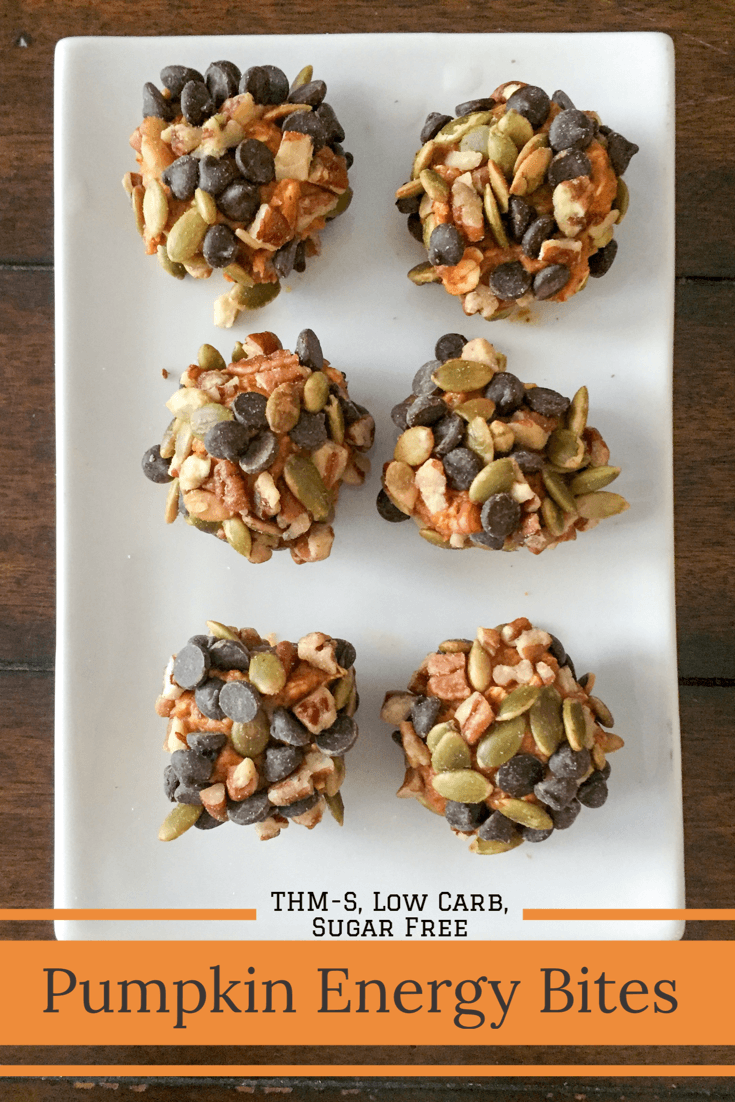 Perfect little balls of pumpkin spice covered with nuts, seeds, and chocolate chips. The perfect blend of sweet and salty.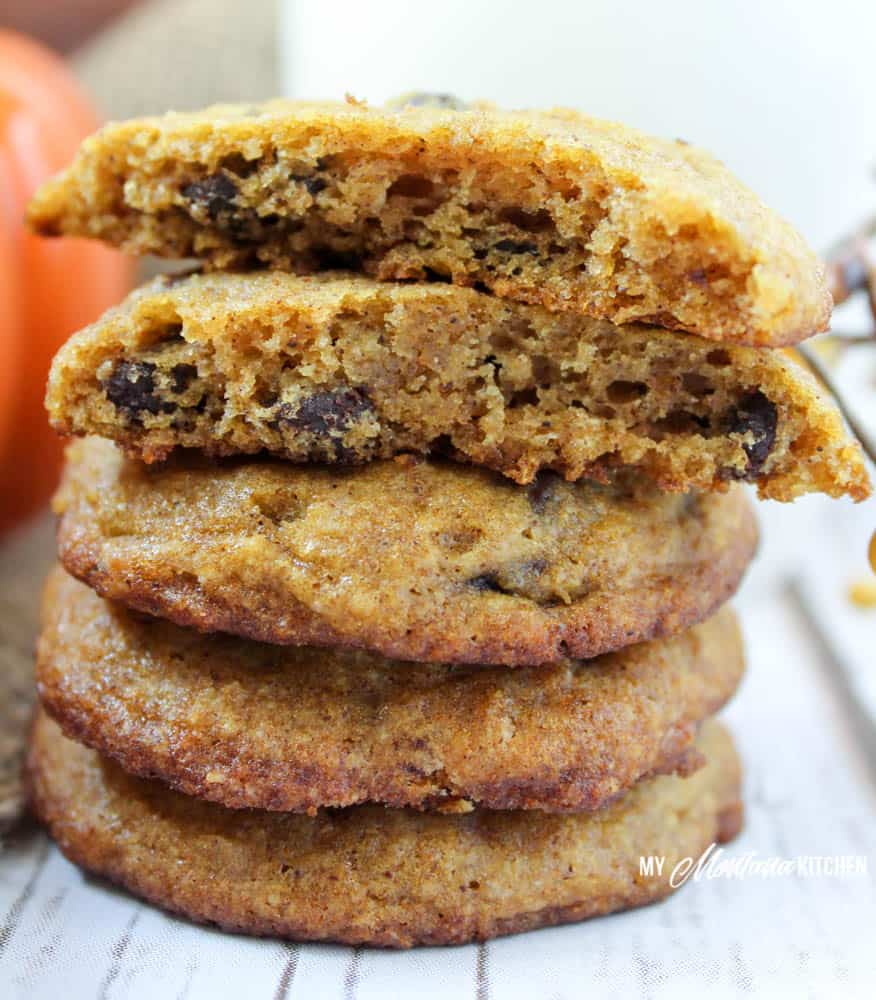 Pumpkin Chocolate Chip Cookies
Tender, cake-like chocolate chip cookies filled with delicious pumpkin and cinnamon. These pumpkin chocolate chip cookies are a perfect fall treat!
Sneaky No-Bake Low Carb Pumpkin Pie
Picky eater? Hide another vegetable in this sneaky no bake low carb pumpkin pie. This pie is also gluten free, and grain free.
A delicious pumpkin cake, using an entire can of pumpkin – plus an amazing cream cheese layer!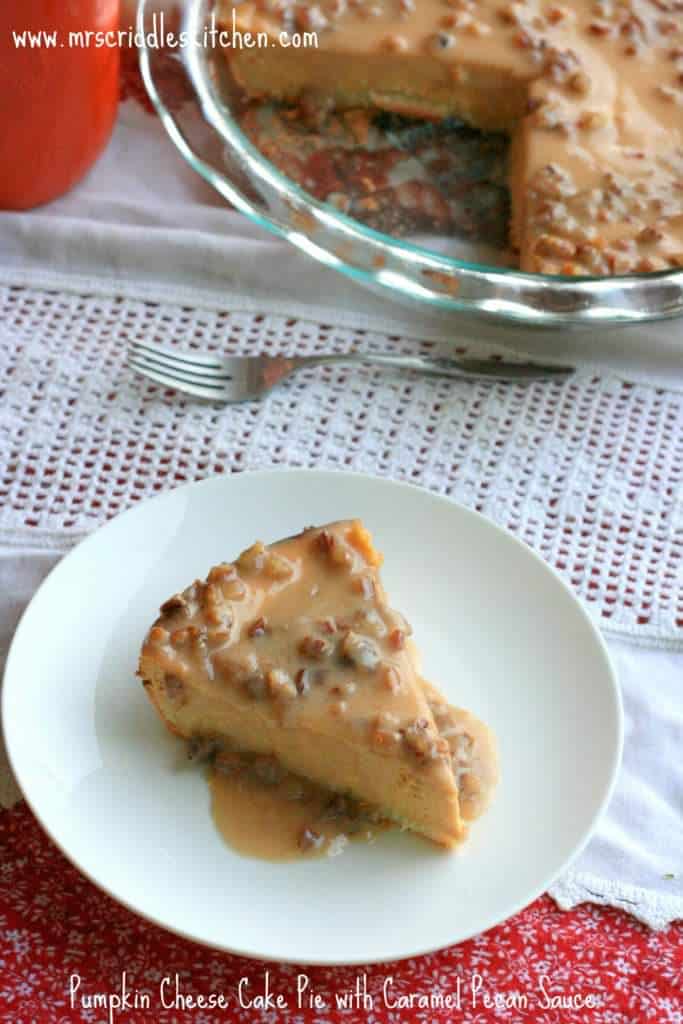 Pumpkin Cheesecake Pie with Caramel Pecan Sauce
This Pumpkin Cheesecake is a copycat version of the Olive Garden pumpkin cheesecake, which is traditionally served every fall.
Do you love Sweet Potato Casserole, but not all the carbs? Then give this Sweet Pumpkin Casserole a try – it tastes so much like the traditional Sweet Potato Casserole, that you may want to add it to your Thanksgiving menu!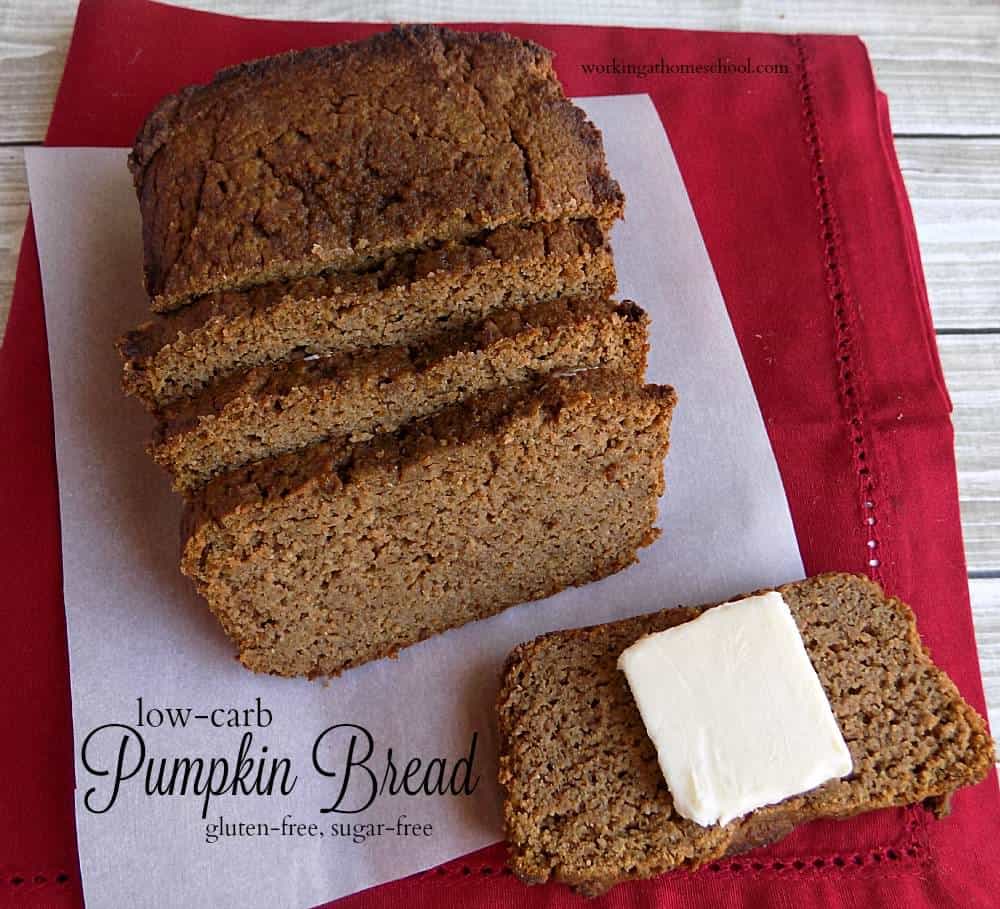 This is delicious with butter or cream cheese, but it's a rockstar by itself, too. You can eat this cold, but I really recommend it fresh and warm from the oven.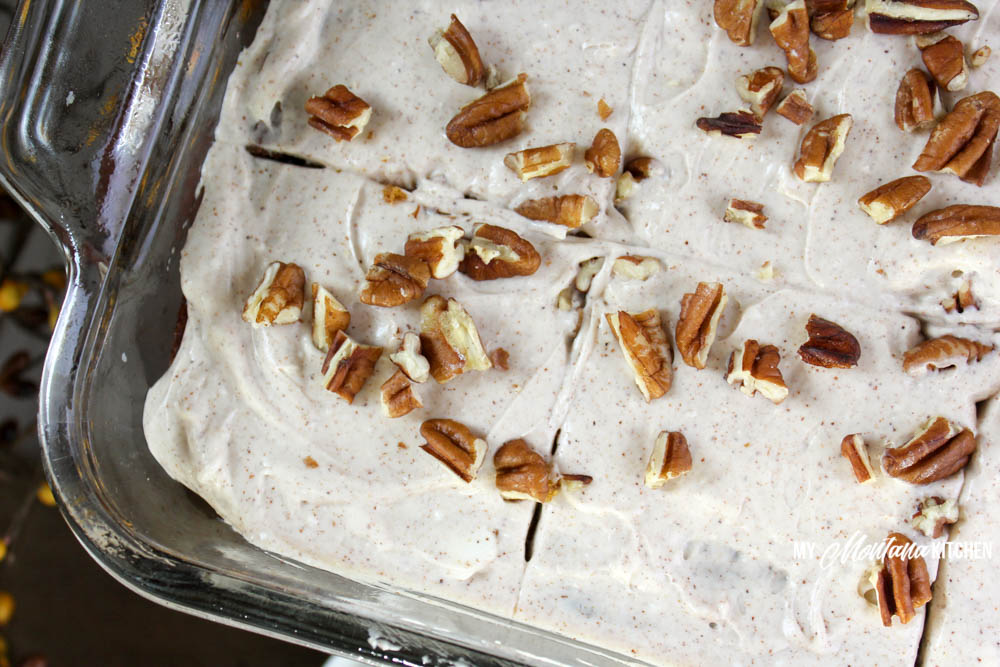 Pumpkin Pecan Cake – a lightly crumbed cake filled with the flavors of fall and topped with toasty pecans and a cinnamon cream cheese frosting.
A low carb pumpkin lasagna with spinach and "meatza" noodles. The pasta noodles in this dish have been replaced with pre-baked seasoned ground beef.
A delicious pumpkin spice latte filled to the brim with health-promoting benefits! A good dose of MCT oil and coconut oil, plus all the flavors of fall!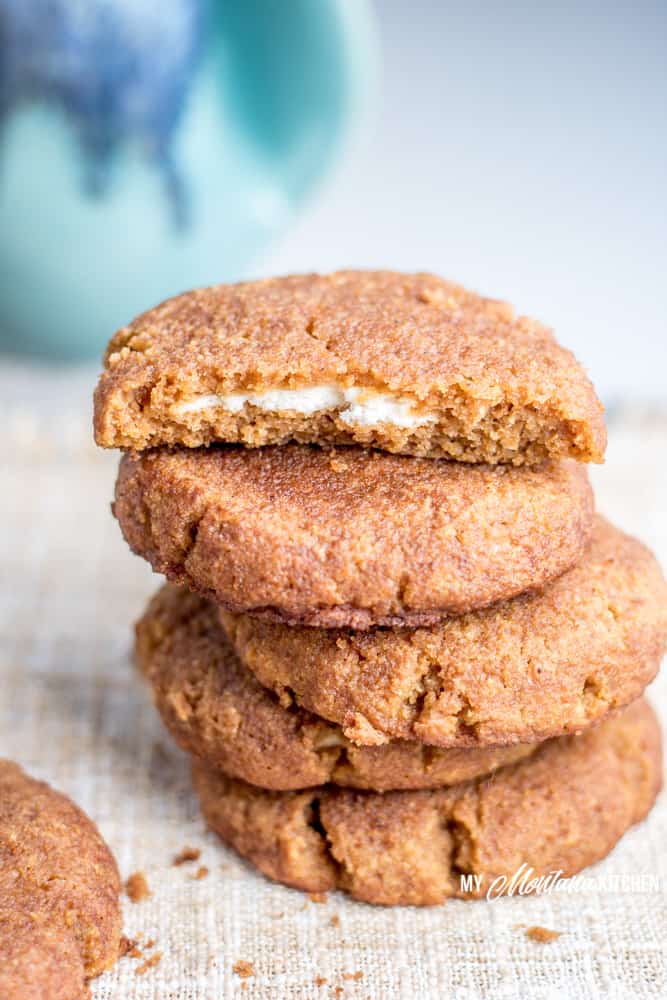 Pumpkin Snickerdoodles with Cream Cheese Filling
Sweet, dense pumpkin cookies filled with a rich layer of sweetened cream cheese. These low carb, sugar free Pumpkin Snickerdoodles are are the cookies of your low carb dreams!
Jumbo Pumpkin Pie Pancake for One
Combine pumpkin pie and pancakes into one dish and enjoy this Pumpkin Pie Pancake for breakfast!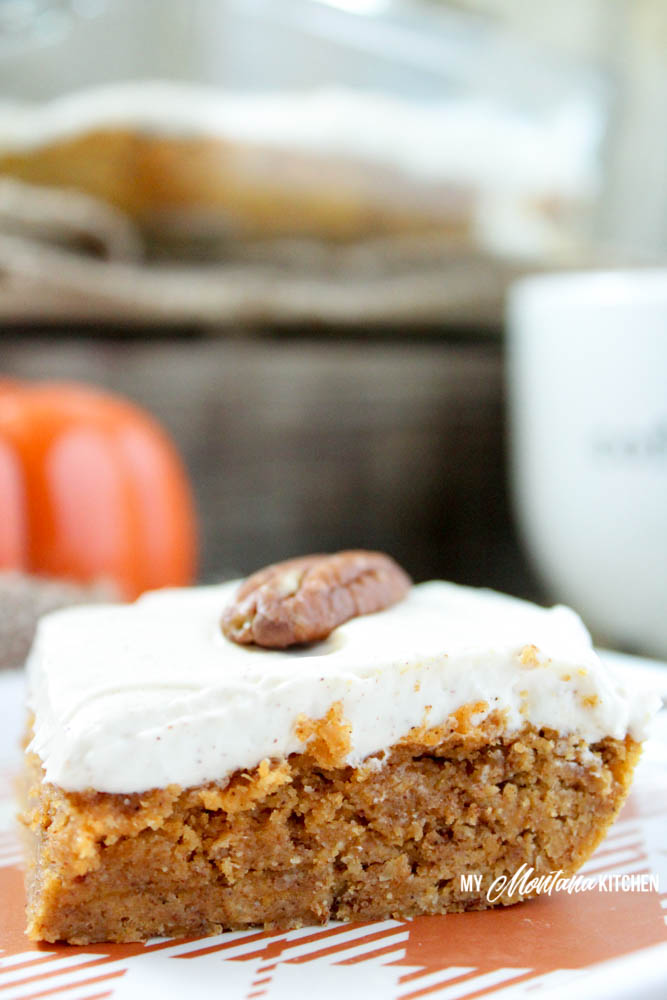 Sweet, dense pumpkin bars topped with a decadent cinnamon spiced cream cheese frosting. If nothing else, please make the Cinnamon Cream Cheese frosting – it is amazing on its own!
A Pumpkin Cheesecake Shake is perfect for those parts of the country where it is still hot! (Who am I kidding, I would drink this anytime of the year!)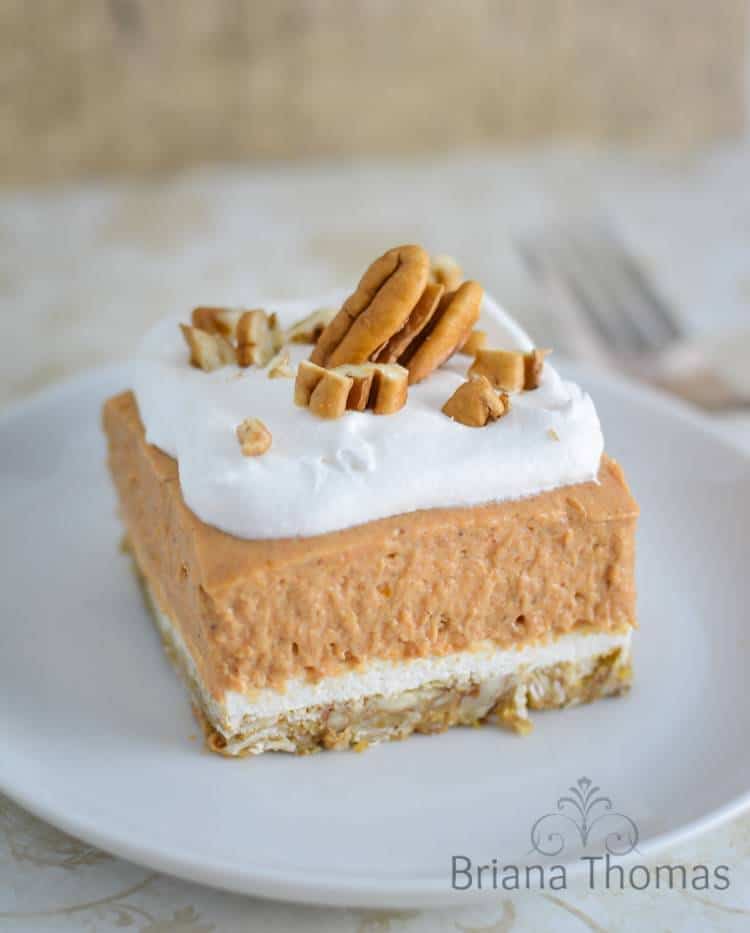 This pumpkin delight has a thick pecan crust, a cream cheese layer, and a layer of spiced pumpkin pudding.  Top it off with some sweetened whipped cream and a few pecans and you have a gorgeous fall dessert.
If you are a cheesecake fan, then you definitely need to try this Pumpkin Spice Cheesecake!
Paleo Pumpkin Pie Dessert Nachos
Paleo Pumpkin Pie Dessert Nachos are sweet cinnamon pie crust chips that are dipped into a creamy pumpkin pie dip. The dip is topped with caramel sauce and whipped cream, or coconut cream. These are easier to make than they look, so don't be intimidated.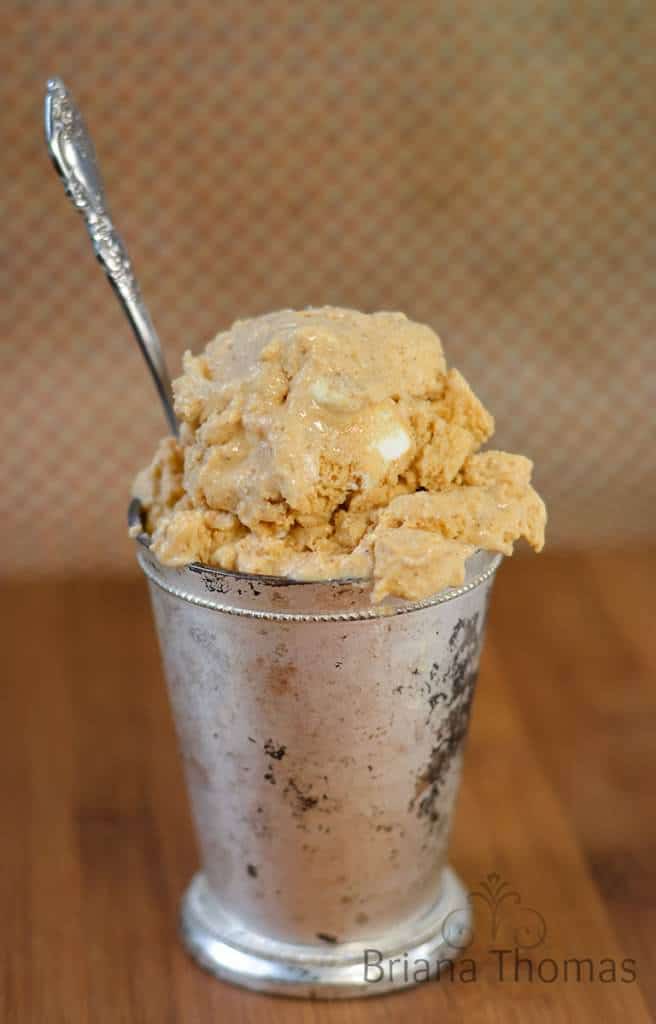 Pumpkin Spice Cheesecake Ice Cream
This Pumpkin Spice Cheesecake Ice Cream includes ideas for adding cheesecake crust crumbs.  You can even add some ginger to the crust crumbs so you have a gingersnap cookie crust. Yum!
Pumpkin Spice French Toast in a Bowl
Pumpkin Spice French Toast in a Bowl is a delicious twist on the original French Toast in a Bowl recipe. This is a single serve recipe, easy to make for breakfast or a quick snack!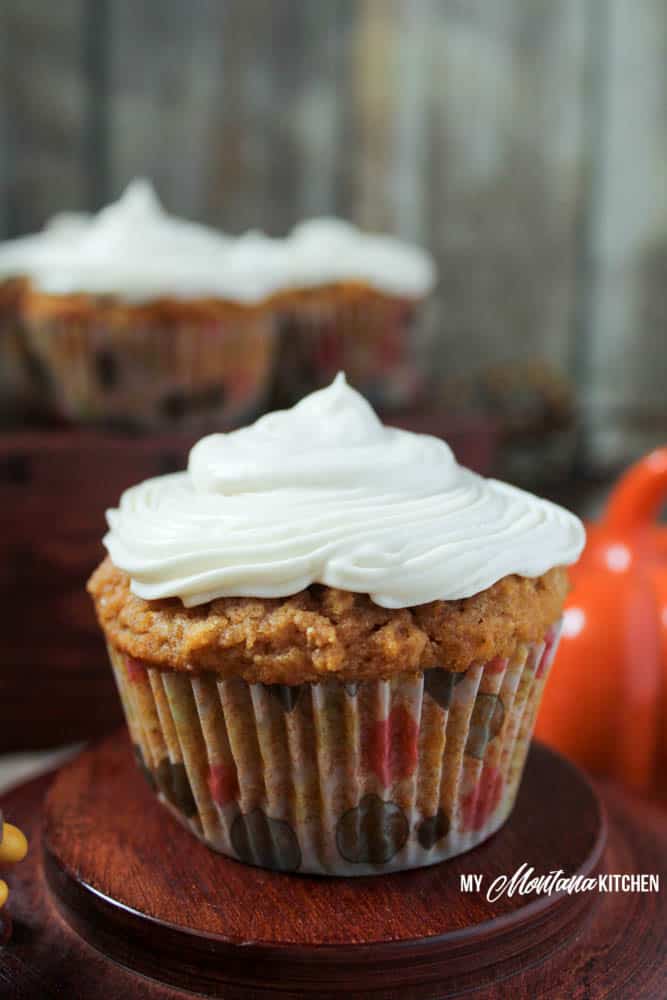 Pumpkin Spice Cupcakes with Maple Cream Cheese Frosting
These pumpkin spice cupcakes are a tender burst of flavor in your mouth! Perfect with a good cup of coffee for an afternoon treat. The Maple Cream Cheese Frosting really takes these pumpkin cupcakes to the next level!
Healthy Pumpkin Spice Breakfast Muffins
Made from wholesome ingredients like nuts, seeds, coconut, and eggs, these low carb Pumpkin Spice Muffins for breakfast keep me full for hours. They're gluten-free & dairy-free deliciousness!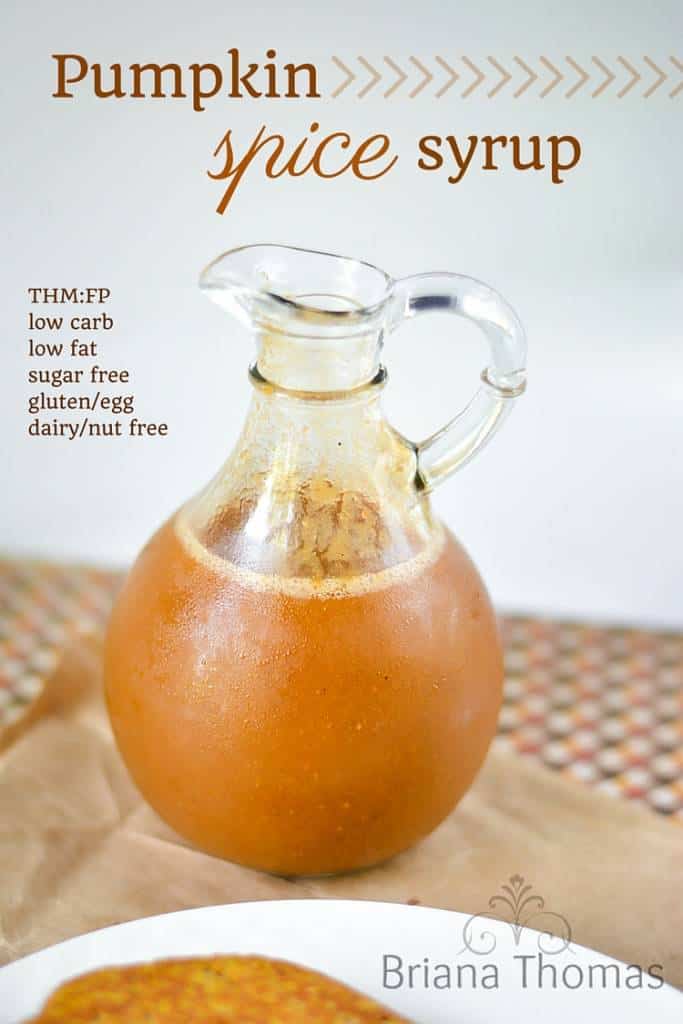 This Pumpkin Spice Syrup is delicious on just about anything!
If you are roasting a pumpkin, don't throw the seeds away! Save them to make these yummy Roasted BBQ Pumpkin Seeds!
Coconut Flour Paleo Pumpkin Mug Cake
A yummy coconut flour paleo pumpkin mug cake that whips up in less than 2 minutes. Just mix the ingredients together in a small cup and microwave!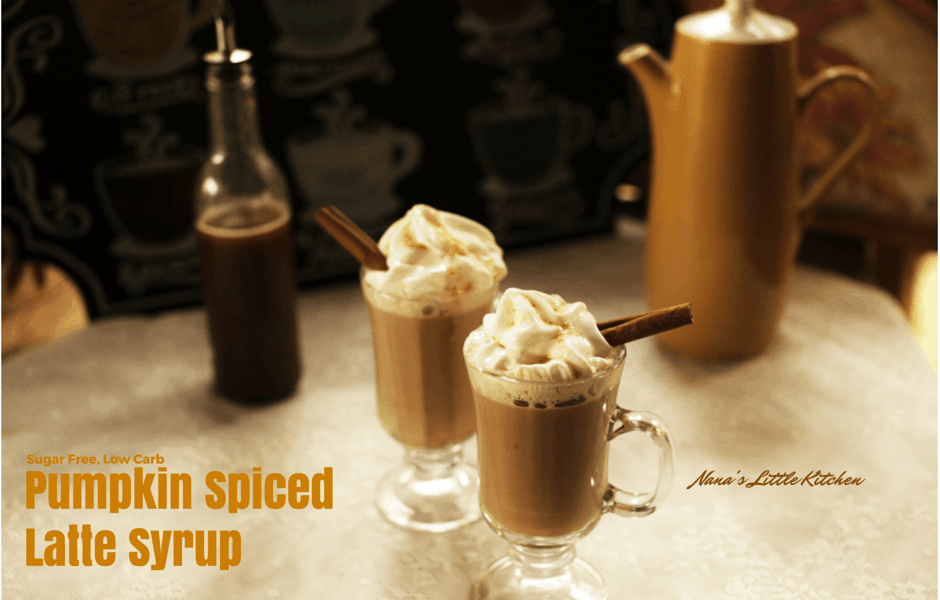 Sugar Free Pumpkin Spice Latte Syrup takes PSL's to a new level by making them a healthy tasty treat for fall or anytime!
Magical Paleo Pumpkin Crumble Bars
This recipe has a creamy pumpkin cake layer and a coffee cake crumble layer on top. These are grain free, gluten free with paleo, and low carb options. (Also includes dairy free options.)
No-Bake Pumpkin Cheesecake Bites
These No Bake Pumpkin Cheesecake Bites are very easy to make, little pumpkin cheesecakes rolled in a  sweet pecan cinnamon coating. There is no baking required, so you can have these treats ready in a short time. Simply mix the ingredients, freeze until semi firm, and roll in the coating. Tastes like a pumpkin cheesecake rolled in a pecan crust.
That's a beautiful list of delicious pumpkin recipes! Whether you are looking for breakfast, snack, or dessert ideas, you are sure to find something to please in the list above!
Interested in a FREE Dessert Ebook? Sign up now to get your free Top 10 Low Carb Desserts ebook!