We may earn money from the products/companies mentioned in this post. As an Amazon Associate I earn from qualifying purchases.
With just 5 ingredients, these sugar-free fudgy keto brownies are as rich and decadent as they are easy. These brownies are also a Trim Healthy Mama S Fuel!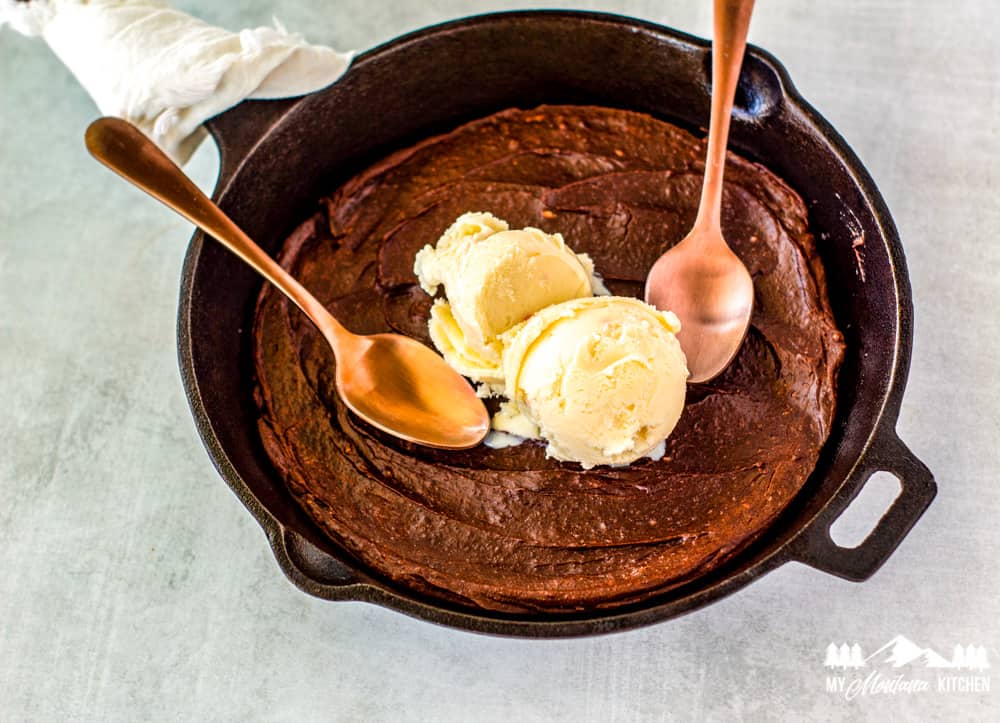 Who doesn't love brownies? Brownies are a gooey, fudgy treat that you might have thought should never grace your mouth again.
Wrong! Sometimes, we need a treat, and that's exactly why I'm bringing you these keto skillet brownies.
Keto brownies sound like they would be complicated and take hours. With just 5 ingredients, these sugar-free brownies are as rich and decadent as they are easy.
5 Ingredient Brownies
These flourless brownies simply need an egg, unsweetened cocoa powder, natural peanut butter (try Adams Natural Peanut Butter or substitute your own favorite natural peanut butter option), Gentle Sweet (seriously, the BEST sweetener), and water.
You may use another nut butter or sunbutter if you are allergic to nuts. You can also replace Gentle Sweet with sweetener of your choice, but the quantity will likely change.
Or, you can mix up a batch of my Low Carb Powdered Sugar, which measures 1:1 with Gentle Sweet!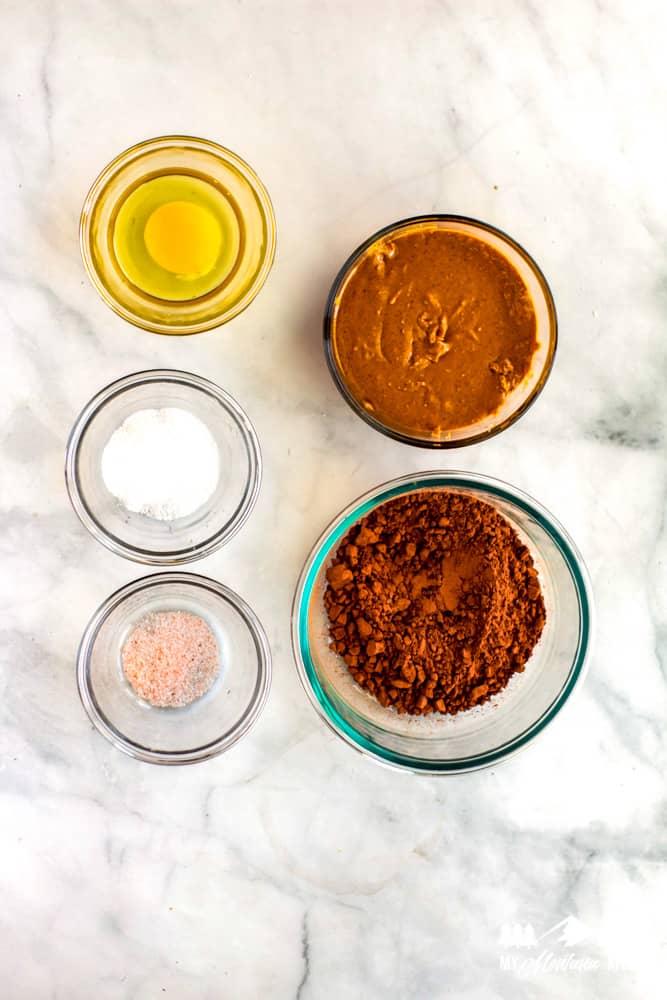 My brownie preference is…
You may have seen the pans like these that make every piece of brownie an edge piece. Edge pieces are preferred by many but probably equal to that are brownies that are soft with no edges. In our household, it's split. Are you an edge lover or a center lover?
How are fudgy and gooey brownies different?
Fudgy brownies are a little different from gooey brownies. Fudgy brownies will have a thicker, more dense texture while gooey brownies will have a thinner, more liquid texture.
No matter what density you prefer, you'll love these skillet brownies!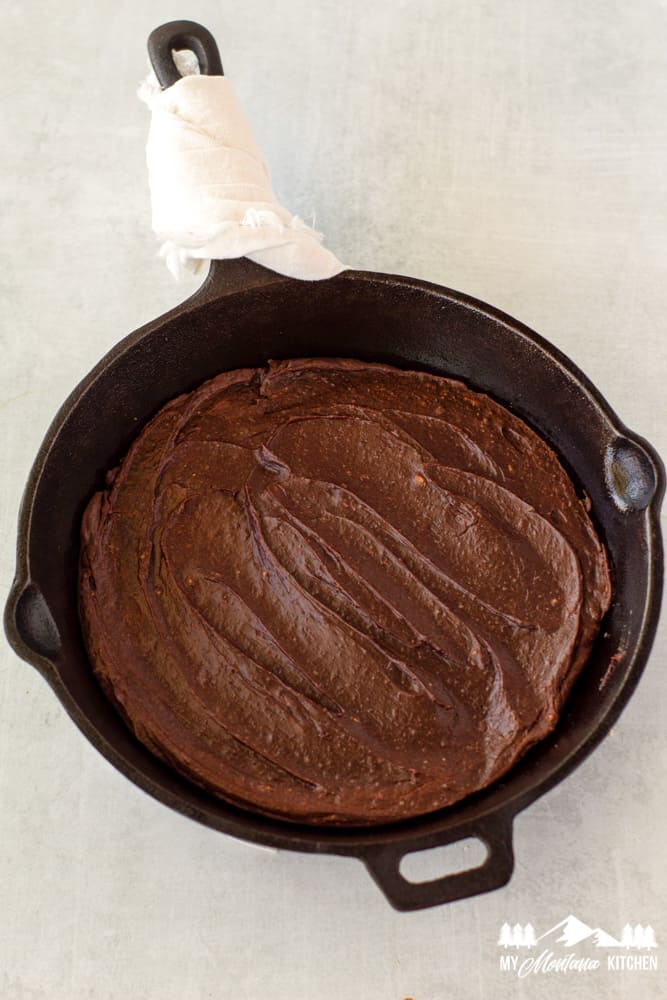 How can I tell if my brownies are done?
The tried and true method to figuring out if your brownies are done is to stick a toothpick down the center of the brownie.
If your toothpick comes out clean, your brownies are done. If your toothpick has brownie residue, they are not done.
The amount of residue equates to the additional time needed for your brownies to bake. More residue means more time.
What can I pair with a warm skillet brownie?
A skillet brownie pairs well with vanilla ice cream or vanilla frozen yogurt with cinnamon.
You can also add peppermint whipped cream or maple salted caramel sauce.
Prepare these for your entire family or as a couple's night indulgence.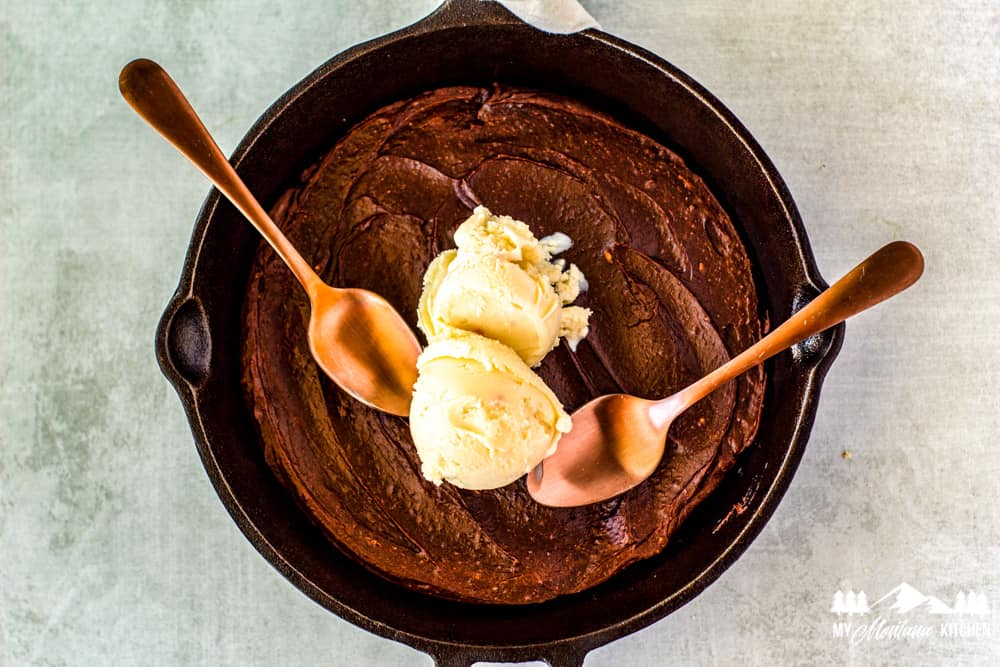 What can I add to my brownies?
Brownies are so versatile that you can add to them, and you'll still maintain that delicious brownie flavor. You can add almost any type of nut to your brownie, but you can also add fruits to your brownies to add a sweet or tart flavor. My favorite add-in would be strawberries, as they pair well with the richness of the brownies. (And I love chocolate/strawberry combos!)
If you're adding in fresh fruits, be sure to clean them and cut them before folding them into your brownies. If you don't fold them into your brownies, they will sink to the bottom.
You might even have your kids join you to push a few into the brownie mixture in the baking pan.
How do I make sugar-free brownies from scratch?
First, preheat your oven to 370 degrees, then prepare all of your ingredients. The full instructions are listed in the recipe card below!
More Keto Brownie Recipes to Try
Keto Pumpkin Brownies |The perfect fall dessert to make. A vegan pumpkin keto brownie that is super fudgy and drizzled with melted chocolate and sprinkled with pumpkin pie spice.
Low-Carb Peanut Butter Swirl Brownies |A rich and fudgy brownie topped with a swirl of peanut butter cheesecake.
Keto Peppermint Cheesecake Brownies | Dense, fudgy brownies topped with a creamy layer of peppermint cheesecake. This is the perfect marriage of chocolate and peppermint for a chocolate Christmas dessert (or anytime).
Keto No-Bake Chocolate Peanut Butter Brownie Bites | These are so good and simple to make. When you're craving something sweet that isn't going to wreck your healthy eating habits, this no bake dessert needs to be on your radar!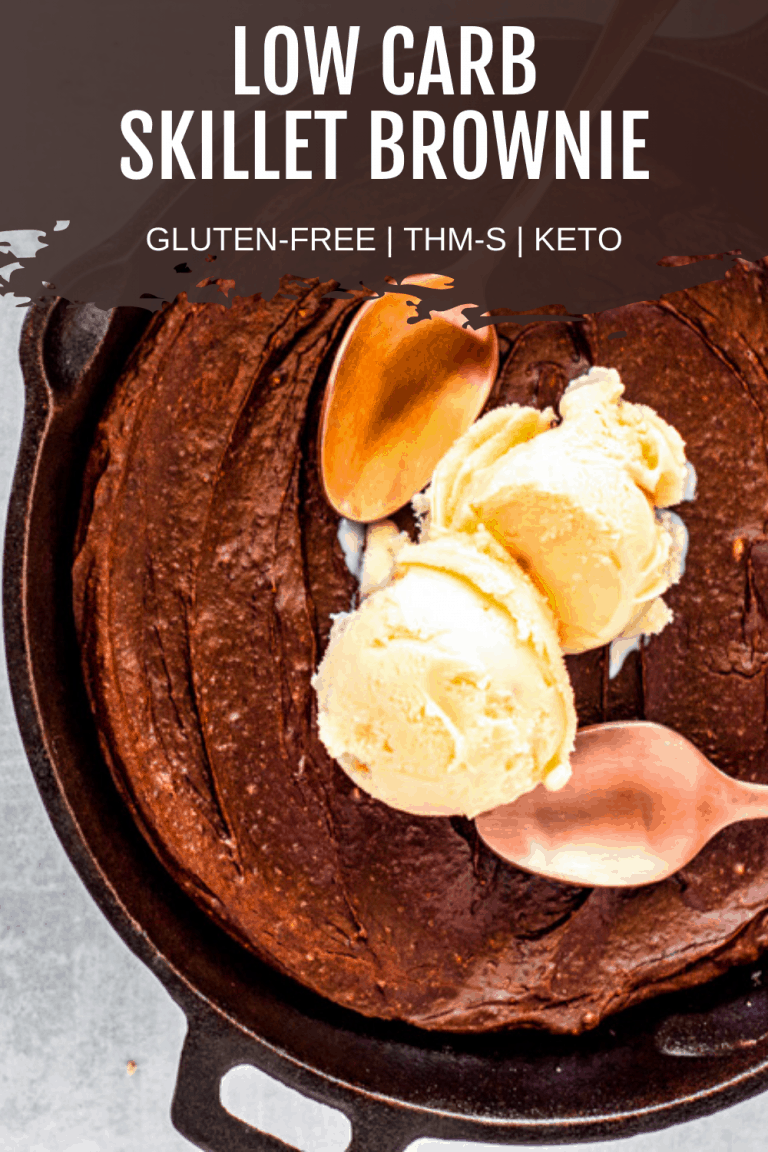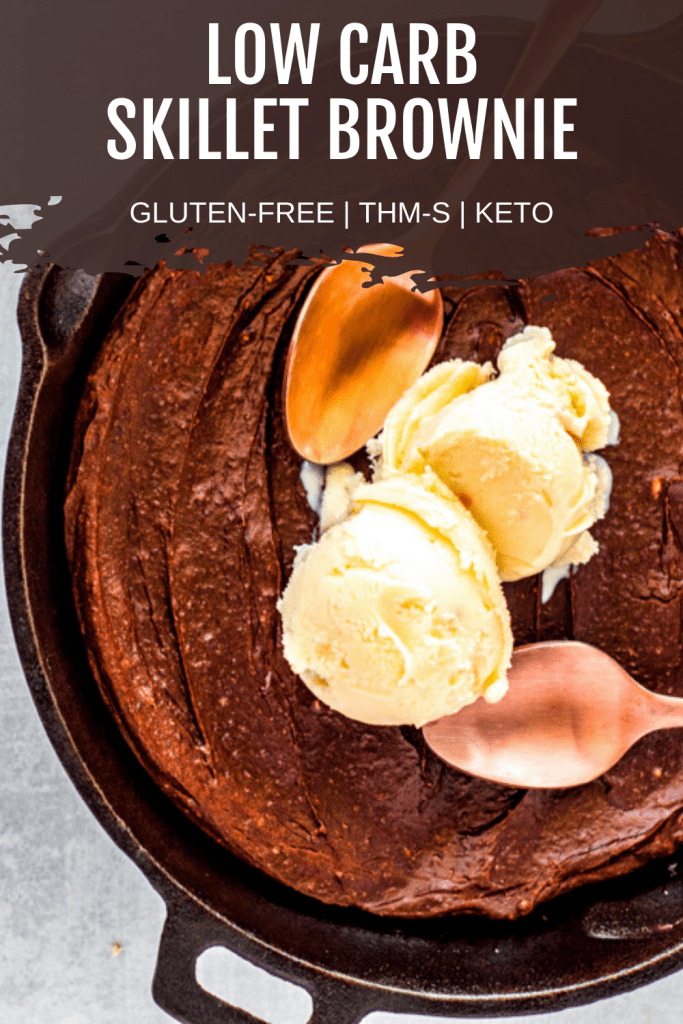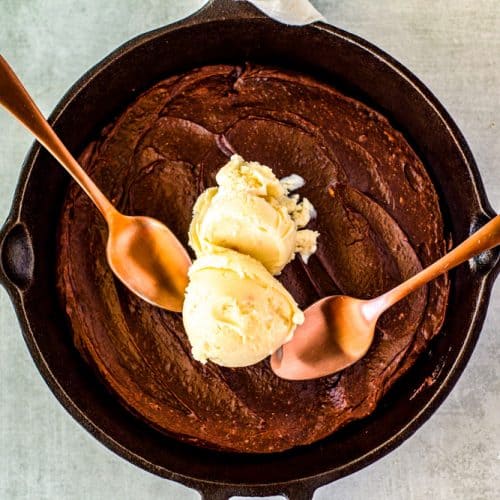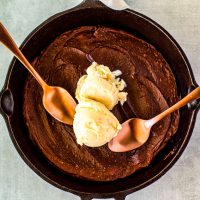 5 Ingredient Keto Skillet Fudgy Brownie
With just 5 ingredients, these sugar-free fudgy keto brownies are as rich and decadent as they are easy. These brownies are also a Trim Healthy Mama S Fuel!
Print
Pin
Rate
Instructions
In a medium bowl stir peanut butter and room-temperature egg with a rubber spatula.

Add dry ingredients, stirring until mixture is almost completely mixed (add water to help you get a smoother batter).

Stir until you have a creamy and thick batter.

Spray an 8" iron skillet with oil and add brownie batter.

Bake for 17 minutes or until it is no longer wet.

Remove from the oven and let it cool for 3 minutes.

Serve warm or cold depending on your preference.
Notes
Please note that the size of the skillet is 8".
Store in an airtight container in the fridge.
Serve with your favorite keto ice cream.
Egg and water should be room temperature for the best results.
You may use another nut butter or sunbutter if you are allergic to nuts.
You may replace Gentle Sweet with a sweetener of your choice, the quantity will likely change.
Nutrition
Serving:
10
g
|
Calories:
179
kcal
|
Carbohydrates:
6
g
|
Protein:
7
g
|
Fat:
14
g
|
Fiber:
2
g