We may earn money from the products/companies mentioned in this post. As an Amazon Associate I earn from qualifying purchases.
This homemade strawberry gelatin is a delicious dessert that combines the natural sweetness of strawberries with the fun texture of gelatin. By using real fruit, you can create a healthier and more flavorful version of this classic treat.
Whether you're making it for a special occasion or simply to satisfy your strawberry cravings, this homemade strawberry gelatin recipe is sure to please.
So why settle for the boxed stuff when you can indulge in a wholesome and delicious strawberry dessert that tastes like the real deal?
This homemade strawberry gelatin dessert is low-carb, keto-friendly, sugar-free, and a Trim Healthy Mama Fuel Pull!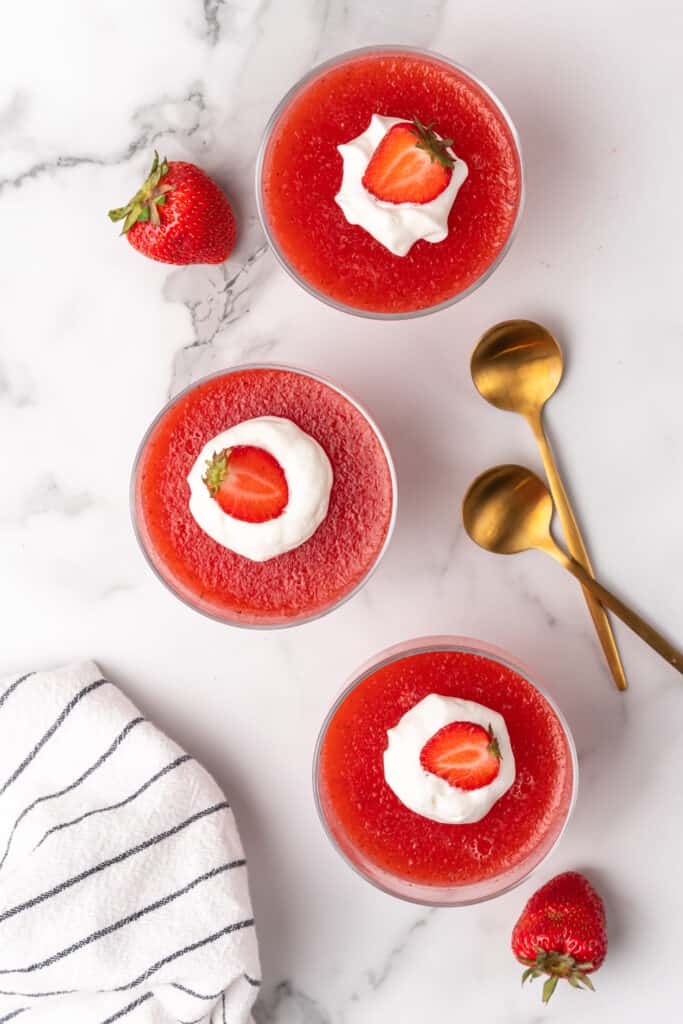 Homemade Strawberry Gelatin
If you're a fan of gelatin desserts and strawberries, you're in for a treat!
Homemade strawberry gelatin is a refreshing treat that combines the sweetness of strawberries with the fun and jiggly texture of gelatin.
Plus, it's super easy to make strawberry jello at home!
Unlike store-bought options that often contain artificial flavors and colors, this homemade version uses real fruit to create a wholesome and delicious treat.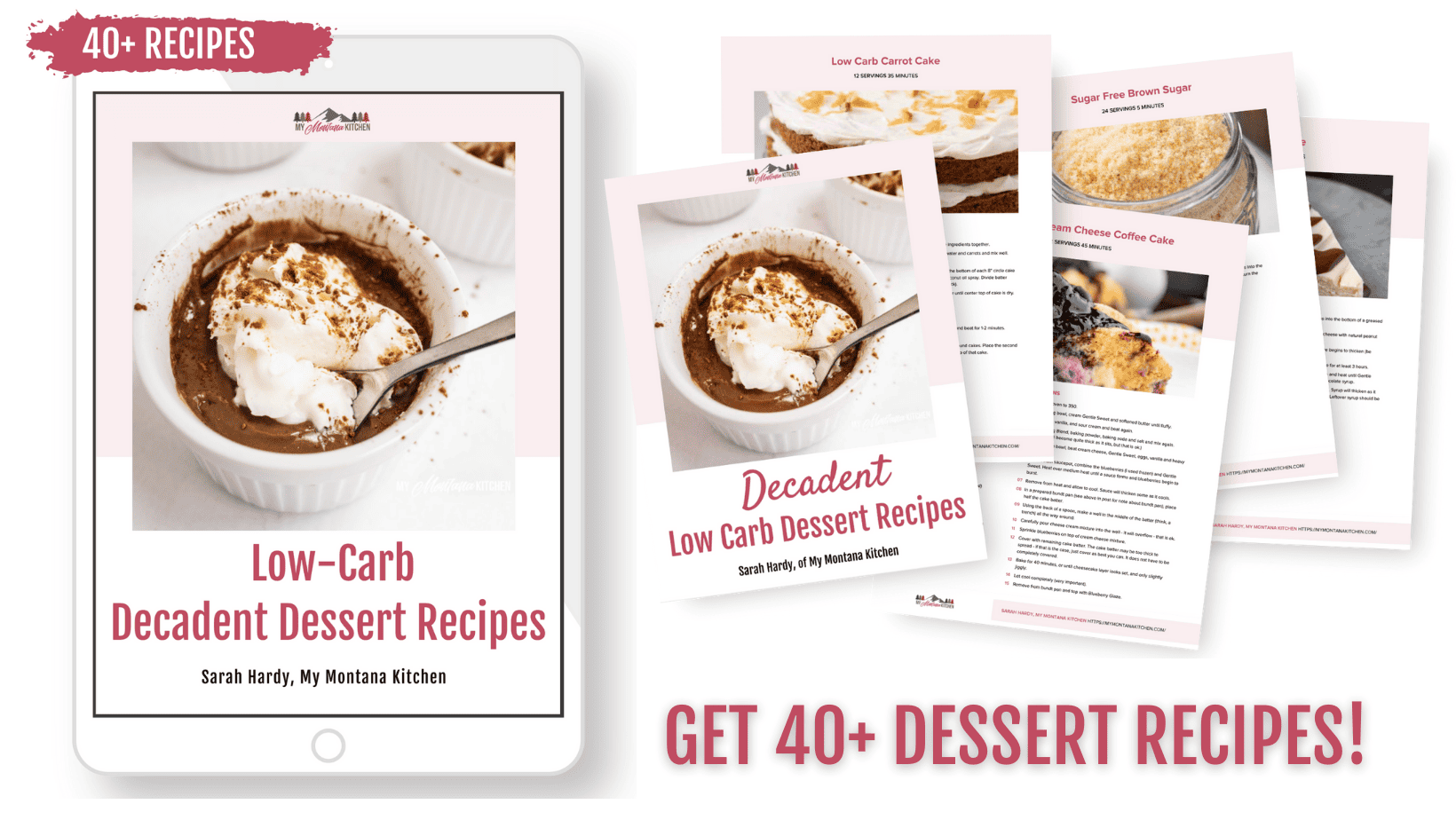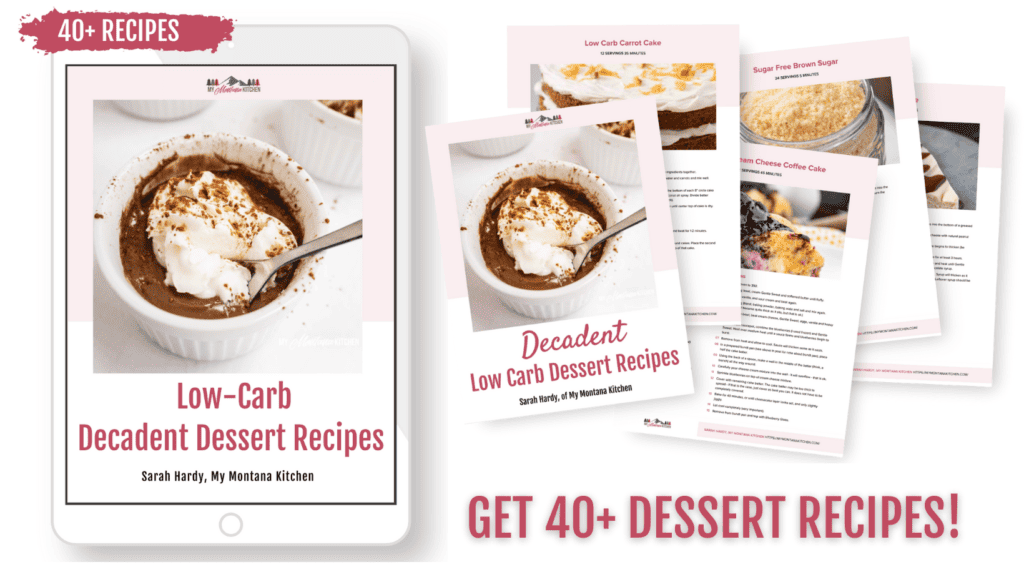 Ingredients for this Homemade Strawberry Jello Recipe
To make homemade strawberry gelatin, you will need the following ingredients:
Fresh Strawberries
Water
Unflavored Gelatin
Sugar-Free Sweetener (I used xylitol)
Homemade Whipped Cream (optional, for serving)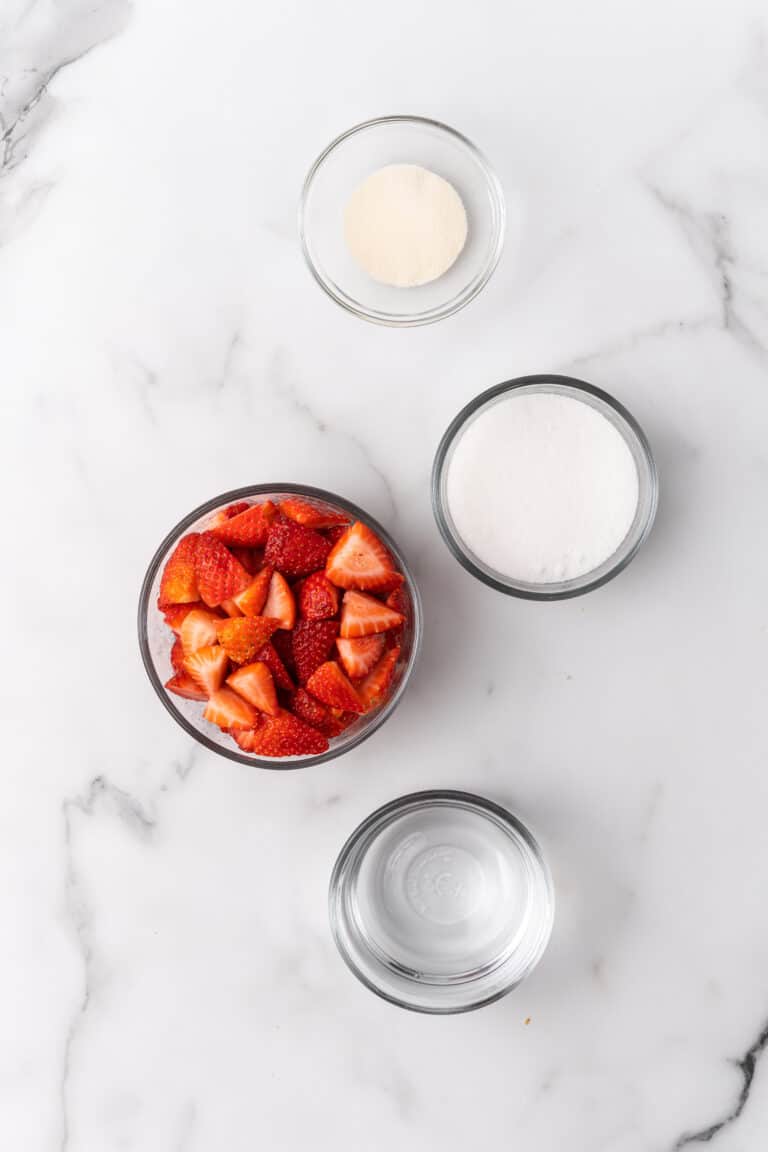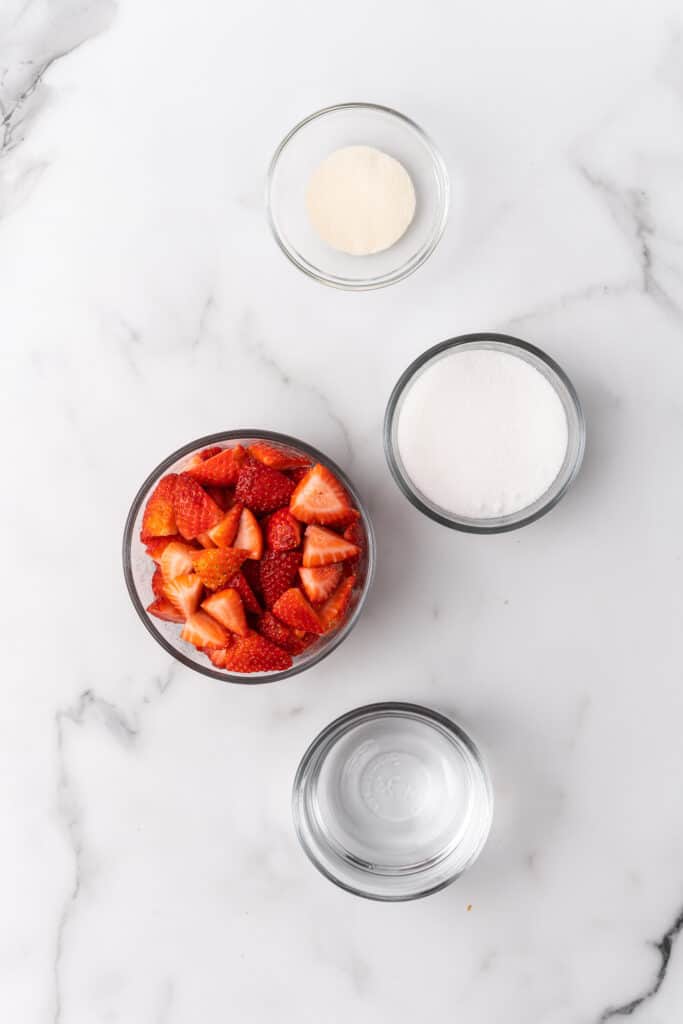 Steps to Make Strawberry Gelatin
Begin by giving 2 cups of fresh strawberries a gentle wash and remove the green tops. If you're planning to add a garnish later, set aside a few strawberries for that purpose.
Add the fresh strawberries to a blender or food processor. Blend them until they transform into a smooth and luscious puree.
Once you have your blended fruit, pour it into a saucepan and add ½ cup of water.
Place the saucepan over medium-high heat and let the mixture simmer until it reaches a gentle boil. Once it starts bubbling, remove the saucepan from the heat.
In a small bowl, sprinkle gelatin over ¼ cup of water, allowing it to "bloom." Gently mix the softened gelatin and water together.
Next, combine the gelatin mixture with the warm fruit mixture in the saucepan. Stir until the gelatin dissolves completely.
Add your preferred sugar-free sweetener to sweeten the mixture. Stir it well until the sweetener dissolves completely.
Next, it's time to transfer the strawberry mixture into 4 individual dishes, distributing it evenly.
Refrigerate the dishes, allowing the gelatin to set and firm up.
For an extra touch of indulgence, consider topping each dish with a dollop of whipped cream. It adds a delightful creaminess and complements the fruity flavors perfectly.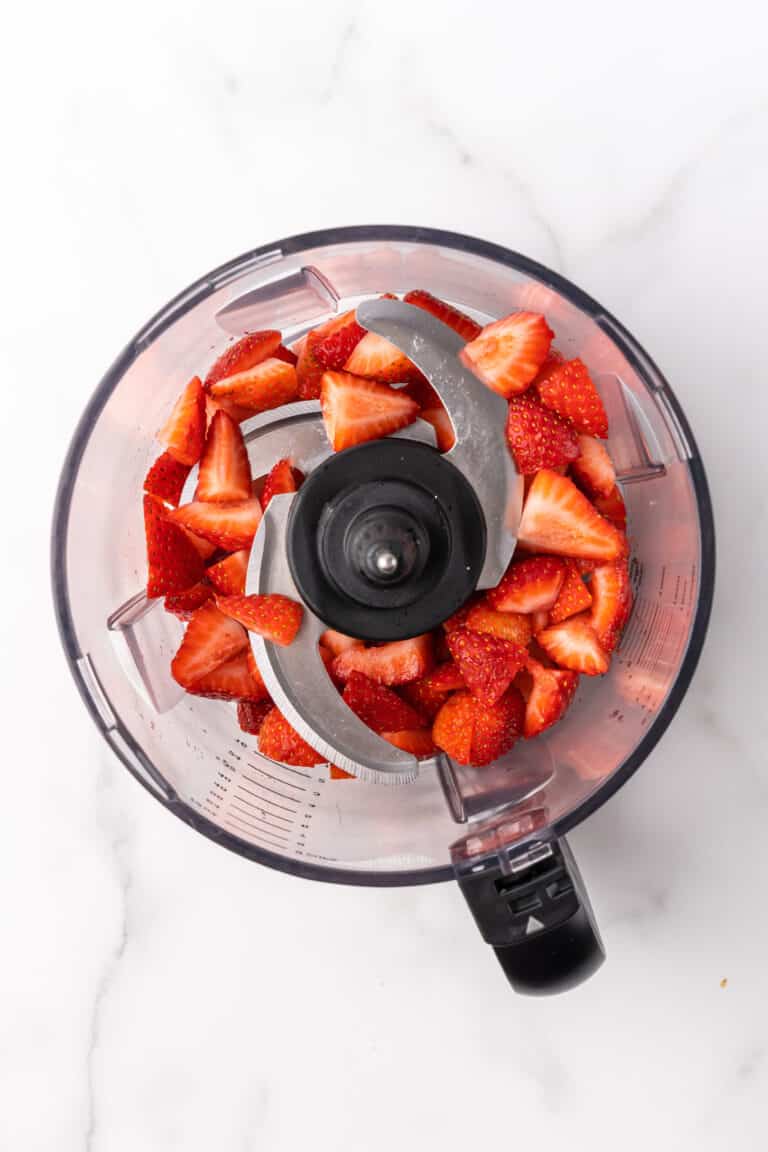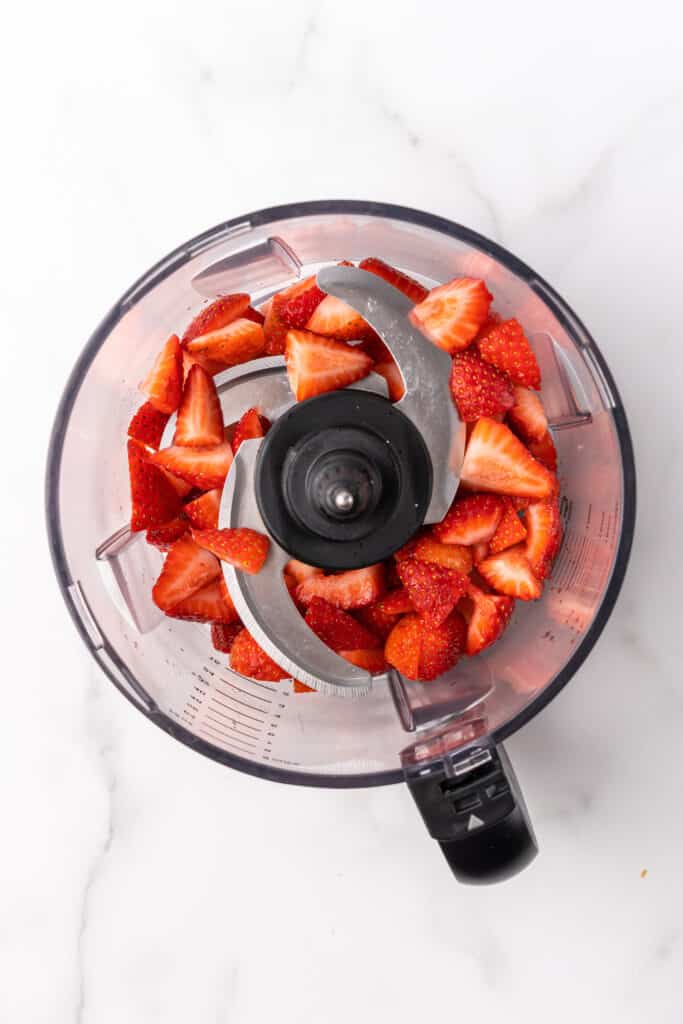 The Nutritional Benefits of Homemade Strawberry Gelatin
Homemade strawberry gelatin not only tastes delicious but also provides some nutritional benefits.
Strawberries are packed with antioxidants, vitamin C, and fiber, making them a healthy addition to your diet.
By using real fruit in your gelatin, you can enjoy the natural goodness of strawberries while still satisfying your sweet tooth.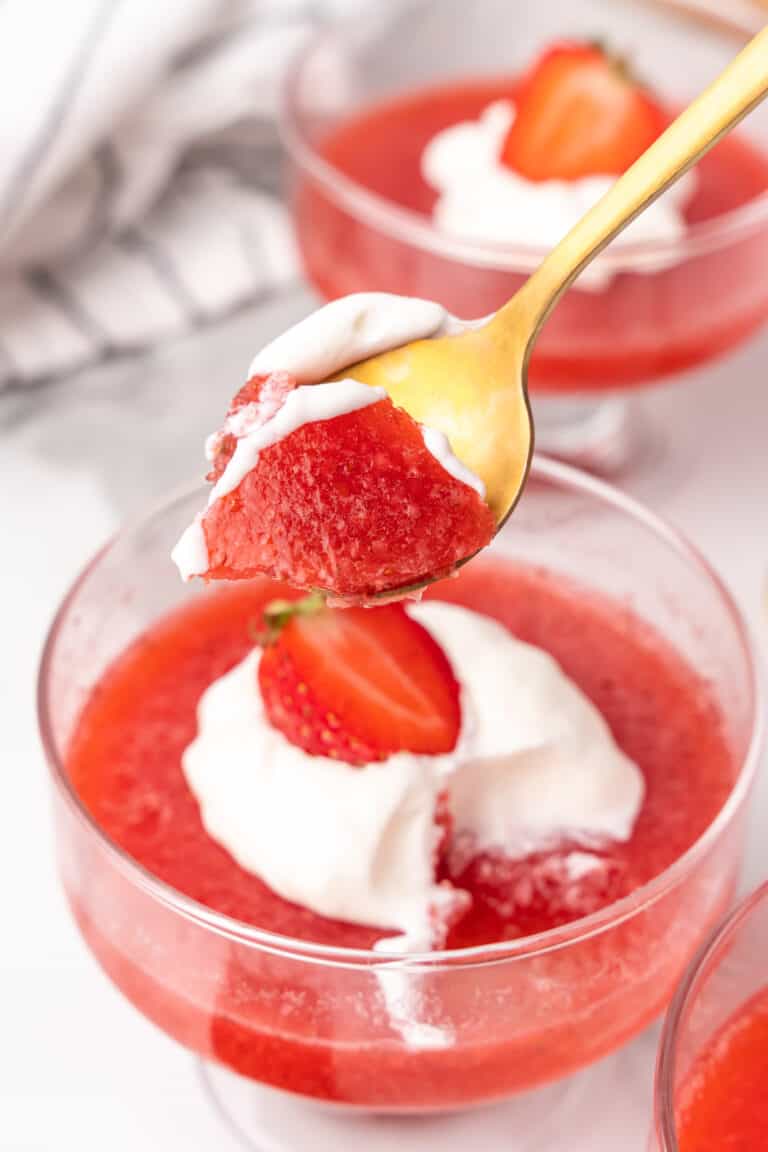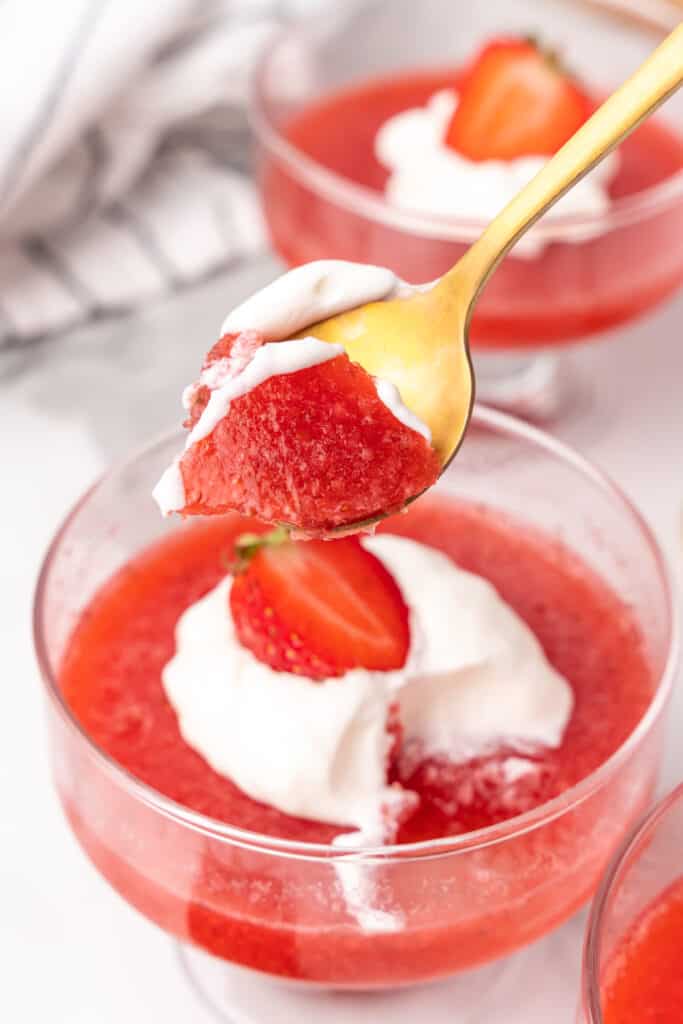 Tips and Variations for Homemade Strawberry Gelatin
Adjust the sweetness: Depending on the natural sweetness of your strawberries, you can adjust the amount of sugar or even omit it altogether.
Use gelatin alternatives: If you prefer a vegetarian or vegan option, you can explore alternative gelling agents like agar-agar or pectin, though I've not tried either of those and so I cannot say if they would work or not.
Get creative with molds: Use fun-shaped molds to make your homemade strawberry gelatin more appealing, especially for kids.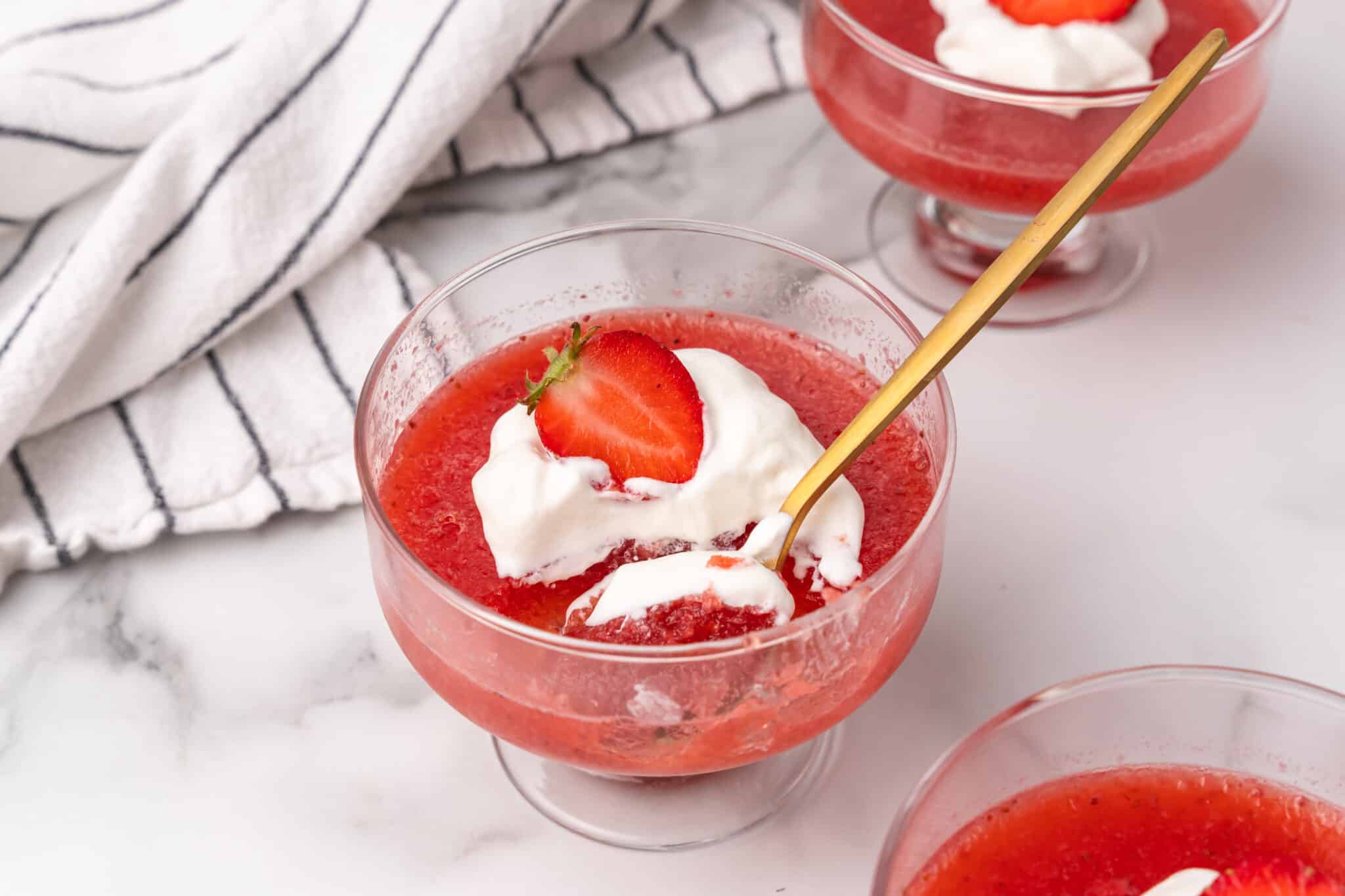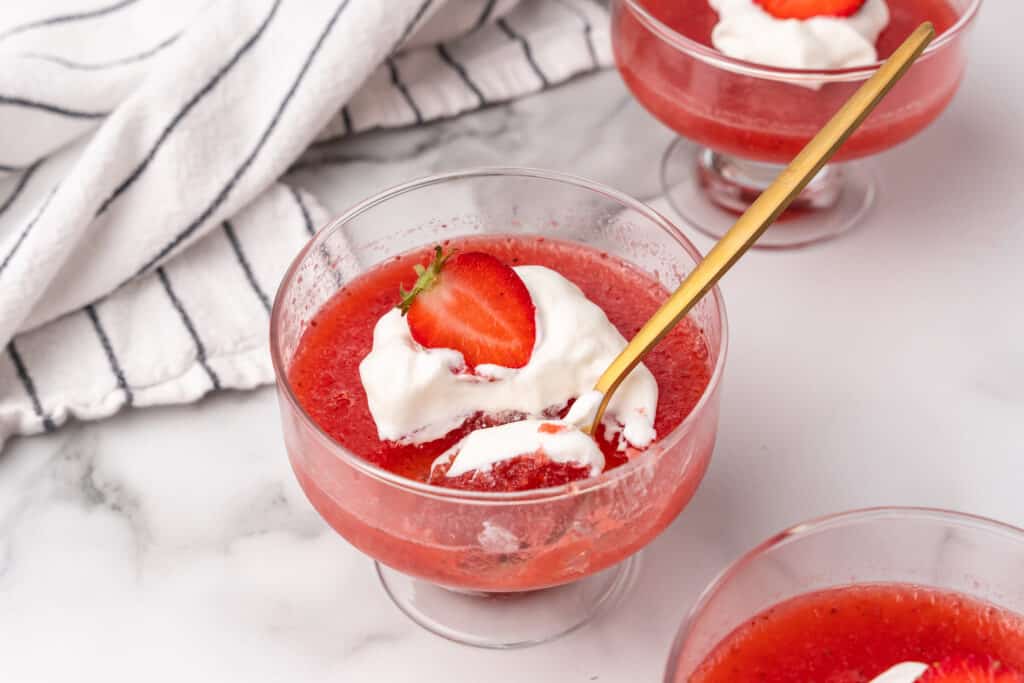 Frequently Asked Questions about Strawberry Gelatin
Can I use frozen strawberries instead of fresh ones?
I've never used frozen strawberries, but I believe you could use frozen strawberries if fresh ones are not available.
Just make sure to thaw and drain them before pureeing.
How long does homemade strawberry gelatin last?
Homemade strawberry gelatin can be stored in the refrigerator for up to 3-4 days.
Can I make a larger batch of strawberry gelatin?
Absolutely! Simply adjust the quantities of the ingredients according to your desired serving size.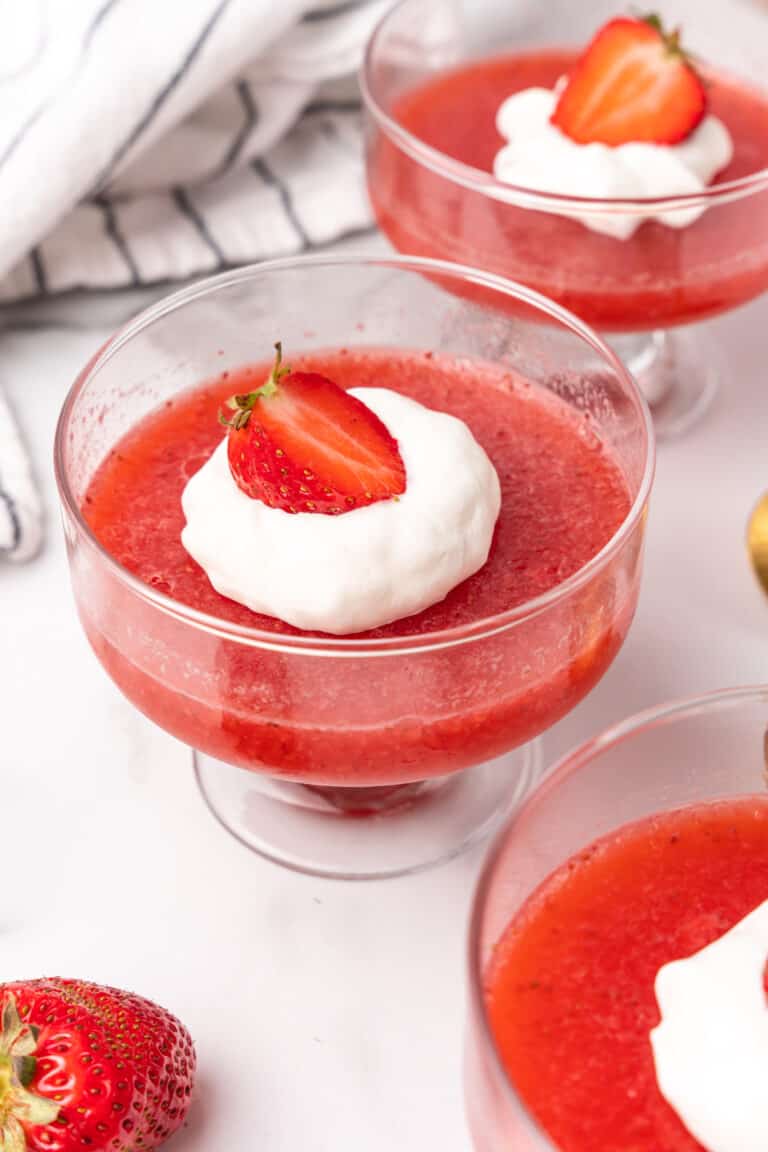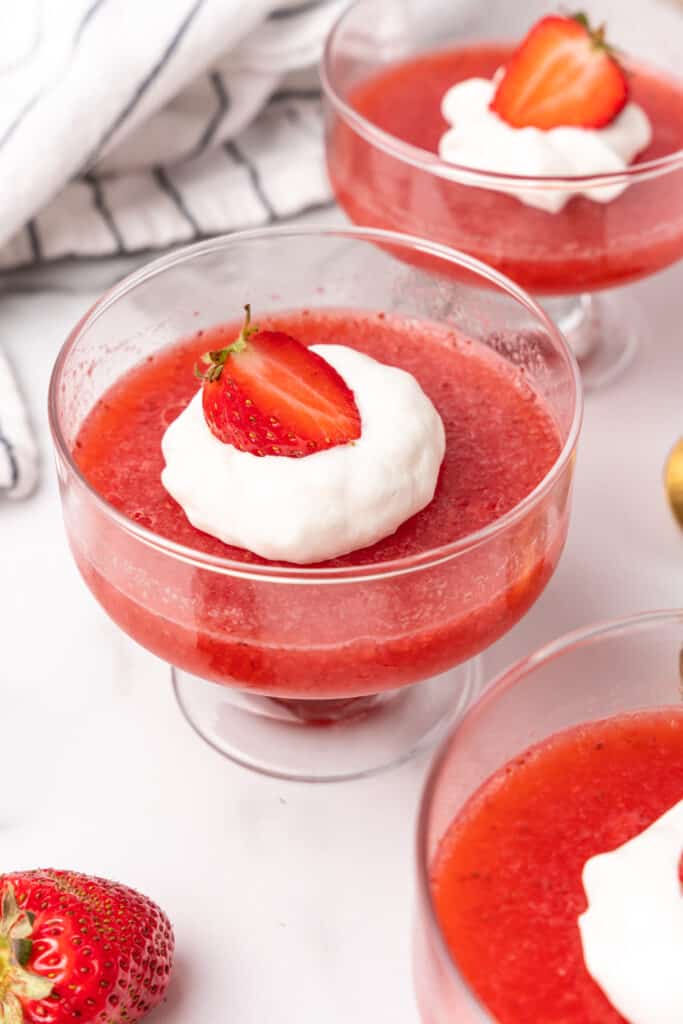 Do you have to strain the mixture, or would it set up if leaving in the pulp?
Straining the mixture is not necessary for the gelatin to set. The pulp from the strawberries will not affect the setting process.
However, some people prefer a smoother texture without any seeds or fruit bits, which is why they choose to strain the mixture. Use a fine mesh strainer if you'd like a smooth gelatin dessert.
It's purely a matter of personal preference.
What does gelatin taste like?
Gelatin itself has a neutral taste. It is derived from animal collagen and is typically flavorless.
When used in recipes, gelatin serves as a binder and thickener rather than adding a distinct flavor. It takes on the flavors of other ingredients it's combined with, such as fruit juices, sweeteners, different fruits, or flavor extracts. 
More Sugar-Free Strawberry Recipes
Sugar-Free Strawberry Lemonade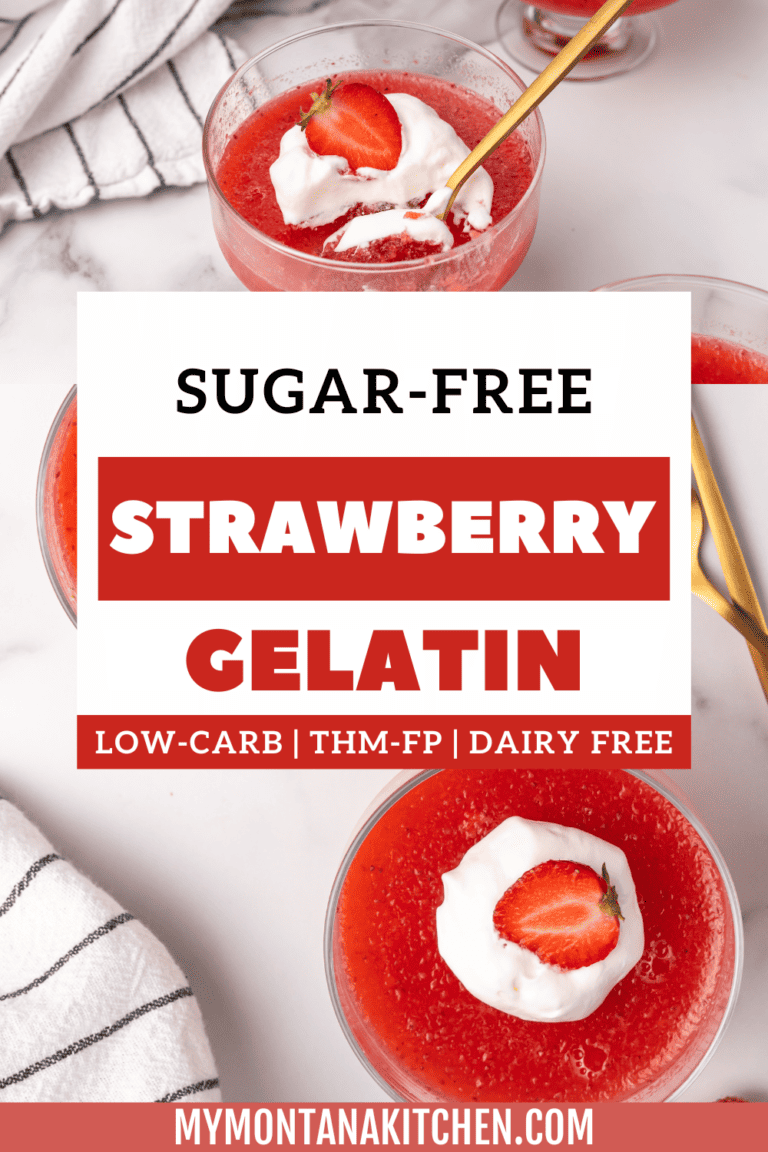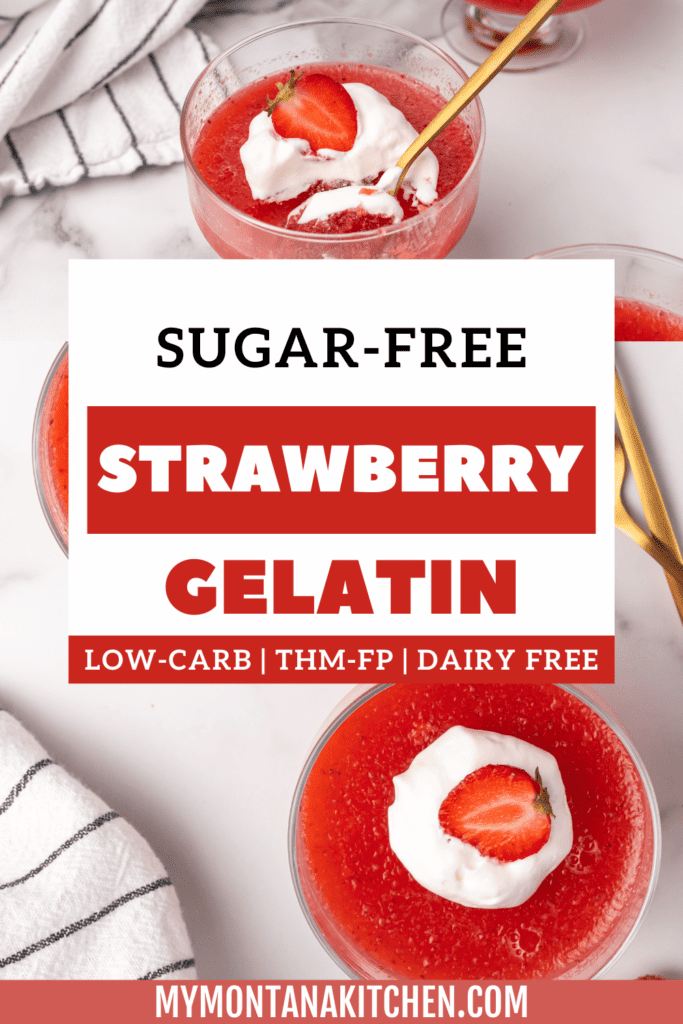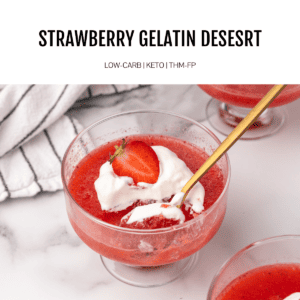 Ingredients
2

Cups

Strawberries

, chopped

½

Cup + ¼ Cup

Water

, divided

4

Teaspoons

Unflavored Gelatin

½

Cup

Sugar-Free Sweetener

such as monk fruit or xylitol
Instructions
Add the strawberries to a blender or food processor and blend until it is smooth.

Pour the blended fruit into a saucepan and add water ½ cup of water.

Heat the mixture over medium heat until it comes to a boil. Remove from heat.

In a small bowl, sprinkle the gelatin over ¼ cup of water, then mix gently and allow it to "bloom."

Add the gelatin to the warm fruit mixture. Stir until the gelatin is dissolved.

Add the sugar-free sweetener and stir until it is dissolved.

Pour the mixture into 4 individual dishes and refrigerate until it is set.

Top with sweetened homemade whipped cream if desired.
Notes
PLEASE NOTE: Xylitol is VERY dangerous to dogs (it is fatal). Please use extreme caution if you have pets, or consider using another sweetener. 
Nutrition
Serving:
1
/4th Recipe
|
Calories:
108
kcal
|
Carbohydrates:
7
g
|
Protein:
5
g
|
Fiber:
2
g