We may earn money from the products/companies mentioned in this post. As an Amazon Associate I earn from qualifying purchases.
These low carb blueberry pancakes are incredible! Studded with sweet blueberries, surrounded by a light and fluffy low carb pancake. The ultimate way to jump-start your morning.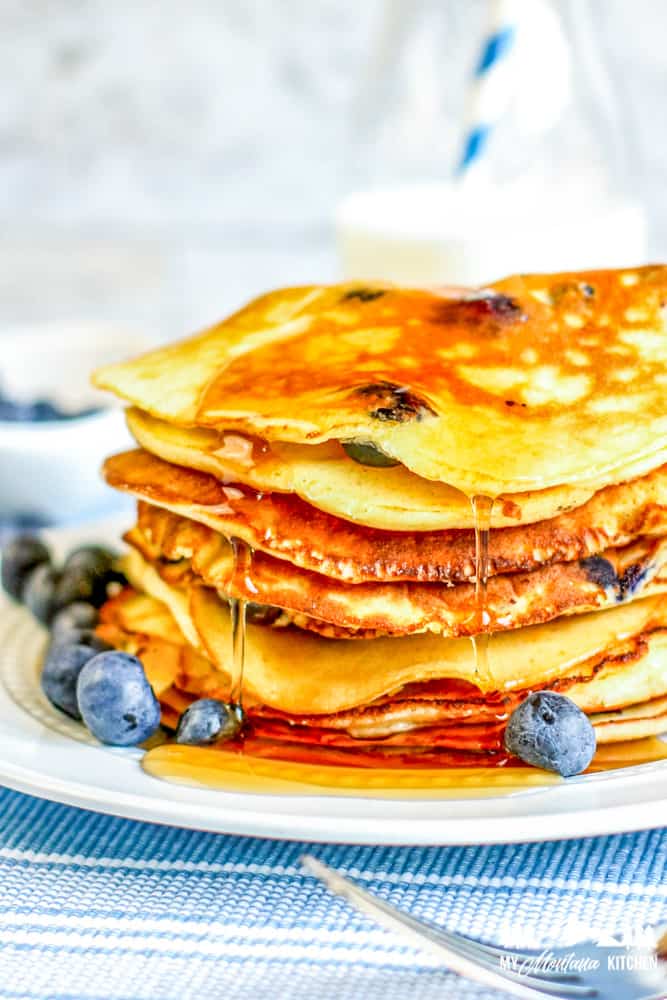 I am a firm believer that breakfast is the most important meal of the day. Consider trying my savory keto breakfast cookies, low carb breakfast pizza, or even my keto scones!
Low Carb Blueberry Pancakes
My low carb and keto blueberry pancakes look like pillows that will melt in your mouth. This is a go-to pancake recipe for the whole family. (My 13-year-old "accidentally" ate some of these instead of "regular" pancakes and he said he couldn't tell the difference!)
Serve up your stack of pancakes with fresh berries, a dollop of butter, or even a sugar-free syrup if you wish.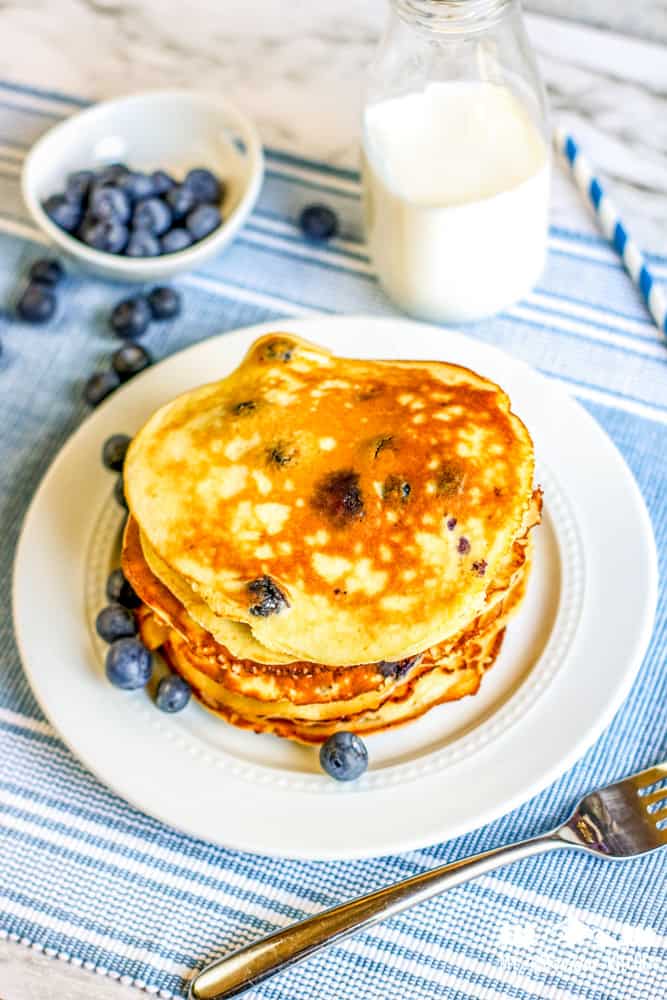 Why Use Almond Flour And Coconut Flour For Pancakes
You might be wondering why I didn't just use almond flour or straight coconut flour instead of mixing the two. I have found that when I use almond flour as well as coconut flour it produces the best texture of pancakes.
These pancakes are less dense when you use a mix of the two flours, instead of using just one. You will find the texture will result in a heavier pancake.
How To Make
Step 1: Start by setting your griddle to 325 degrees. It is always best to have a hot griddle when you work with pancake batter. Add some butter onto the griddle as well to help prevent pancakes from sticking.
Step 2: Grab your blender and mix up all the ingredients in your blender except the blueberries. Allow the mixture to rest while the griddle heats up.
Step 3: Pour your batter on the hot skillet and top with blueberries. Cook your pancakes until the bubbles begin to break on the surface. Then flip over your pancake and cook the other side.
Repeat until all your pancakes are done. Serve how you would like with your favorite toppings or sides.
Can I Eat Fruit On A Low Carb Diet
Many might think fruit is a no-no. But when you eat fruit in moderation you are 100% fine with eating fruit on a low carb or even keto diet. Just make sure to follow your diet or food restrictions.
Blueberries do have carbs, but the amount used in this recipe is within reason and no worries on your diet plan.
And for my Trim Healthy Mamas, YES, we enjoy fruit often! Just keep in mind that berries are a FP, but blueberries are best kept to ½ cup in a FP setting. Otherwise, it will move you towards an E. (But the amount of blueberries in this recipe is totally fine.)
Letting Pancake Batter Rest
You will see in the instructions that you let your pancake batter rest while the griddle warms up.
I have found that allowing the batter to rest a bit before you pour on the griddle really changes the fluffiness of the batter.
It will produce a lighter and fluffier texture to the pancake. So I do recommend letting the mixed batter rest for around 5 minutes before pouring onto your hot griddle.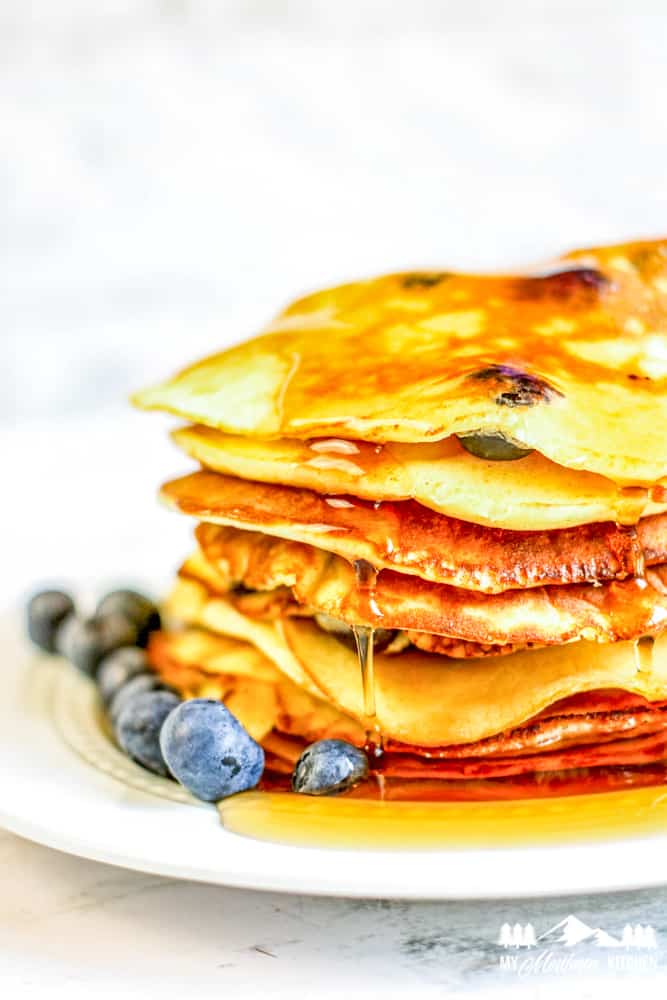 Variations To Low Carb Pancake Recipe
Feel free to swap blueberries out with sugar free chocolate chips for a different take.
Add in different fruit or do a mix of fruit for a variety of flavors.
Leave out fruit and make classic pancakes.
Storing Leftover Pancakes
Fridge
You can store leftover pancakes in the refrigerator for a few days. You will find pancakes are best when served fresh. As they will dry out a bit in the fridge. But reheat in the microwave for a quick reheat.
Freezer
Feel free to use any leftover pancakes to meal prep for later down the line. Place your cooled pancakes on a cookie sheet and toss them straight in the freezer.
Flash freeze your pancakes until they are frozen. Then transfer to a freezer bag or container. Then take frozen pancakes and thaw in the fridge overnight, or toss right in the microwave or toaster frozen.
It is a great way to have an easy grab and go breakfast any day of the week.
Looking for More Low Carb Recipes
Low Carb Zucchini Bread | If you have zucchini from your garden grab a few and whip up this easy and delicious homemade bread.
23 Low Carb Soups | I love soup! If you are a fan of soups, here is a nice size list of hearty soups that are low in carbs.
Low Carb Tortillas | Skip the store and make low carb tortillas at home. Flavorful, filling, and low on carb count!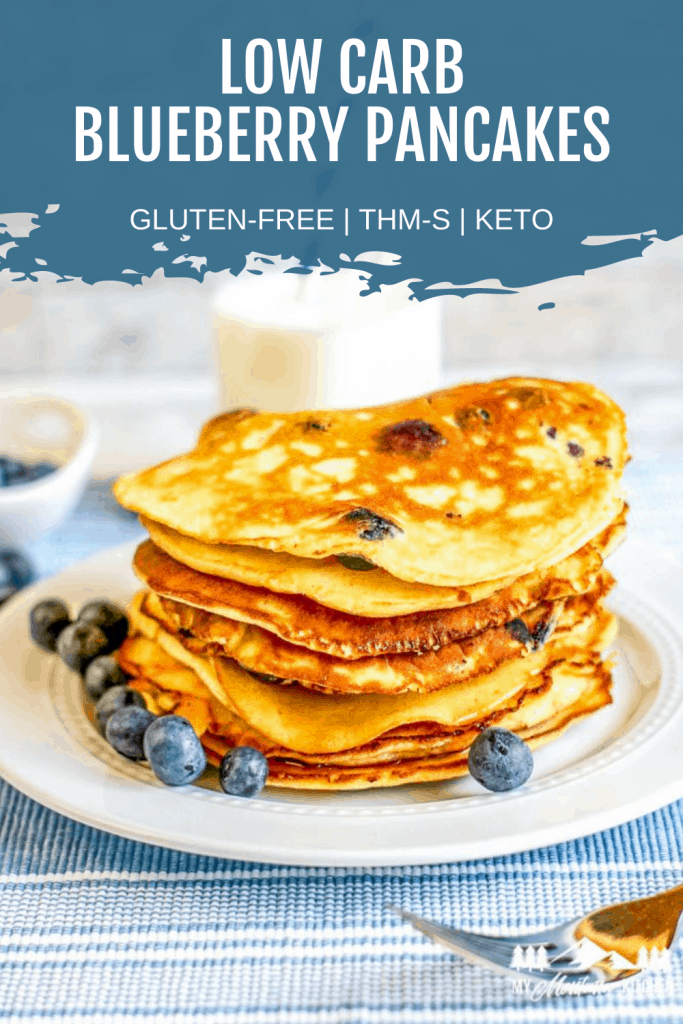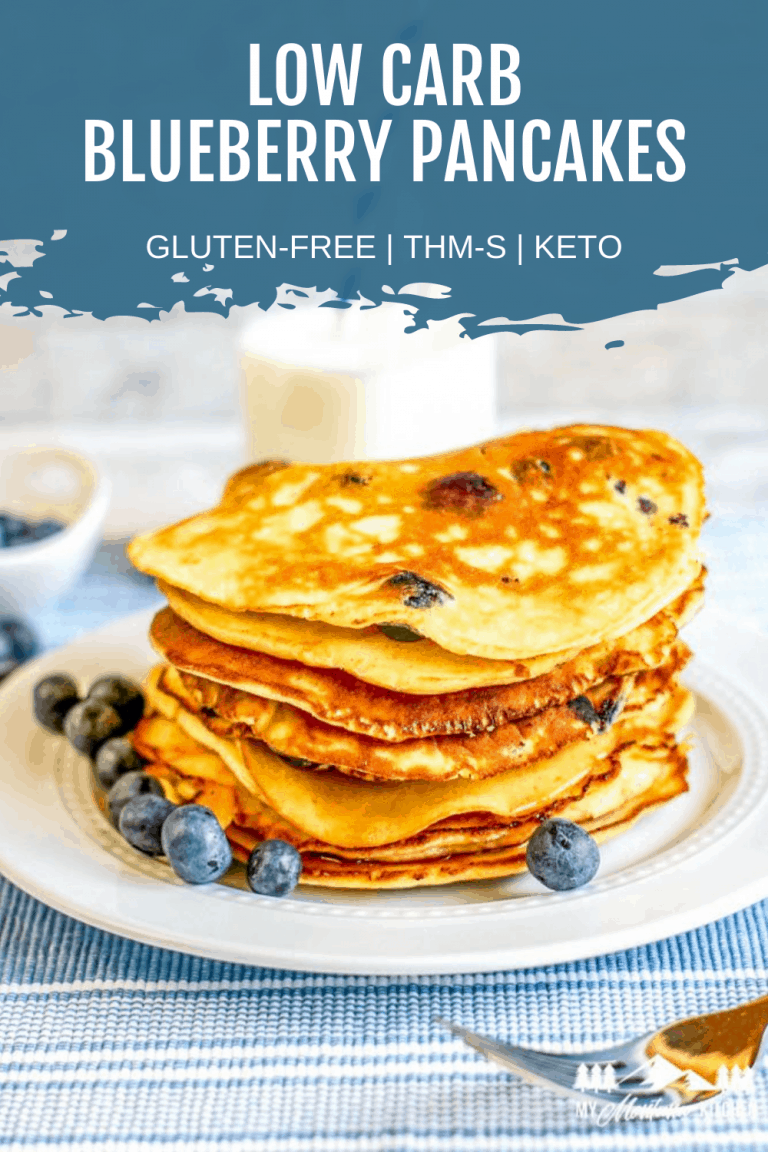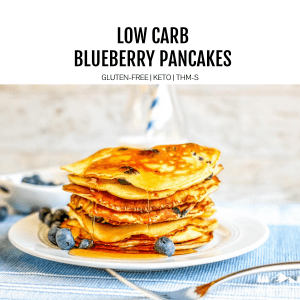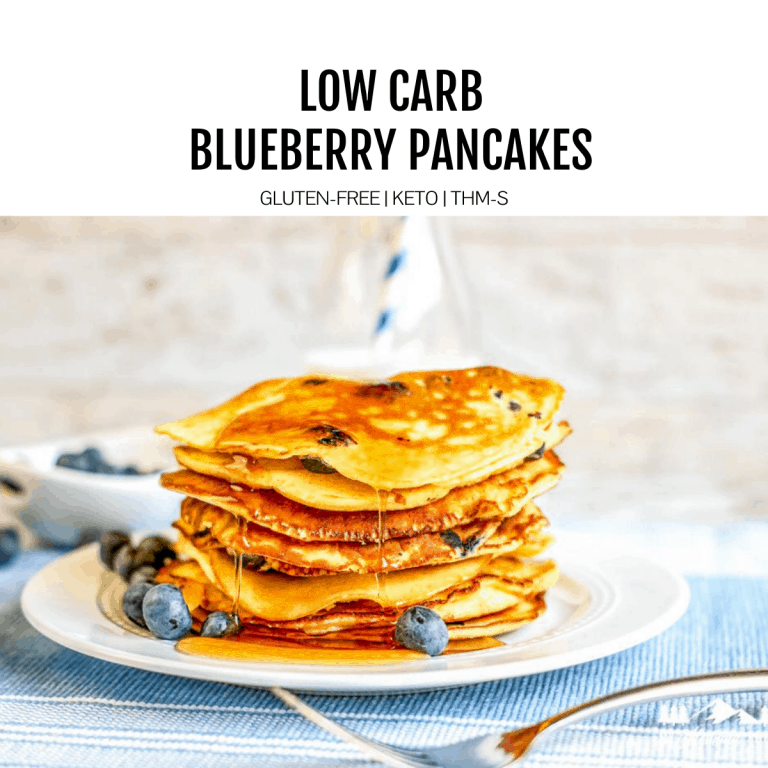 Low Carb Blueberry Pancakes
These easy keto blueberry pancakes are made with almond flour, coconut flour, and cream cheese for the best low carb pancake recipe!
Print
Pin
Rate
Instructions
Preheat griddle to 325 degrees. Spray with nonstick cooking spray or treat with melted butter before putting batter on the griddle.

Blend all ingredients in a blender until light and frothy. Allow to rest as the griddle heats.

Pour about ¼ cup of the pancake batter onto the griddle. Immediately drop blueberries onto the pancakes.

Allow the pancakes to cook undisturbed until bubbles begin to break the surface. Carefully flip the pancakes and allow to continue cooking, about 1 to 2 minutes.
Notes
Serve with fresh fruit, butter, and/or sugar-free syrup.
If you do not have Gentle Sweet, you can use my Low Carb Powdered Sugar in equal amounts.
Nutrition
Serving:
1
Pancake
|
Calories:
172
kcal
|
Carbohydrates:
4
g
|
Protein:
6
g
|
Fat:
15
g
|
Fiber:
1
g