We may earn money from the products/companies mentioned in this post. As an Amazon Associate I earn from qualifying purchases.
If you like okra, try making this air fryer recipe! And if you've never tried okra, this is a great place to start!
Making okra in the air fryer is one of the best ways to cook this delicious vegetable.
In this article, we'll cover the benefits of using an air fryer for okra, how to make crispy air fryer roasted okra with or without breading, serving and reheating tips, troubleshooting tips, and some tricks for making the perfect batch of air fryer okra.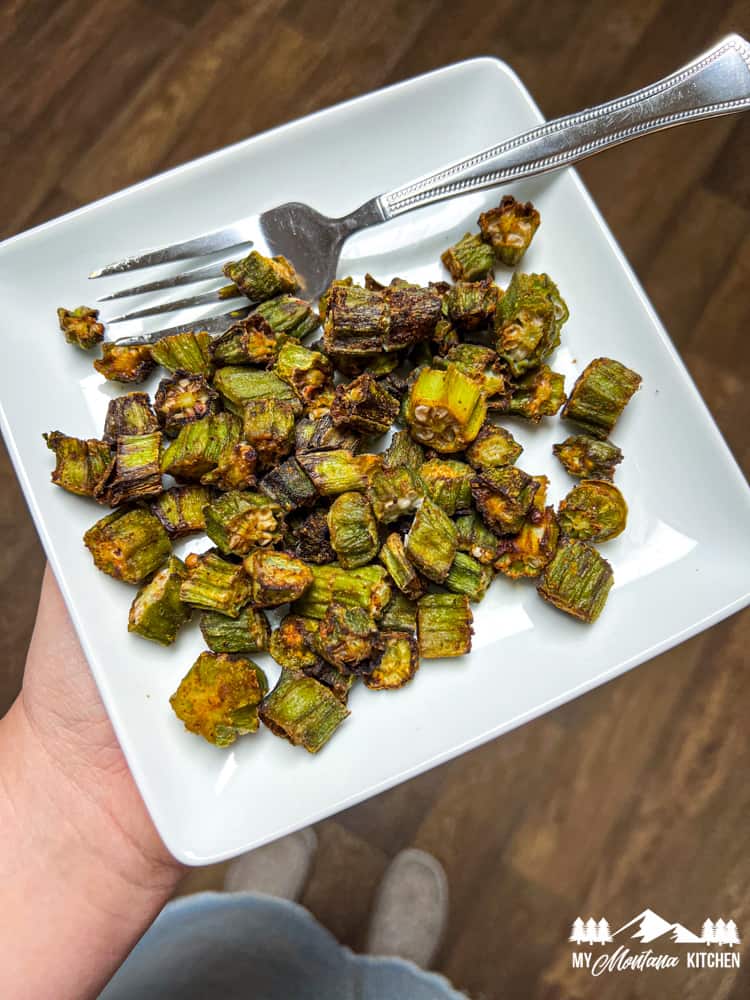 What is Air Fried Okra?
Air fried okra is simply okra that's cooked in an air fryer. It's a way to enjoy this vegetable without the use of a lot of oil. This results in okra with a crispy outer layer and a moist and tender inside. (And for Trim Healthy Mamas, this is a Deep S recipe!)
Is it Healthier to use an air fryer to fry okra?
Using an air fryer to fry okra is definitely a healthier option compared to traditional deep-frying. It uses less oil, which also results in a lower calorie count.
What Does Air Fried Okra Taste Like?
This okra has a crispy outer layer and a tender inside. The texture is similar to fried okra but without the greasiness.
It's seasoned with flavorful spices like onion and garlic powder, smoked paprika, salt, and pepper which gives it a slightly spicy and savory taste. 
How to make okra in the air fryer
Watch the air fryer okra video!
Here's what you'll need:
Okra (fresh or frozen)
Seasonings of choice
Oil or cooking spray
Steps to make this crispy air fryer okra recipe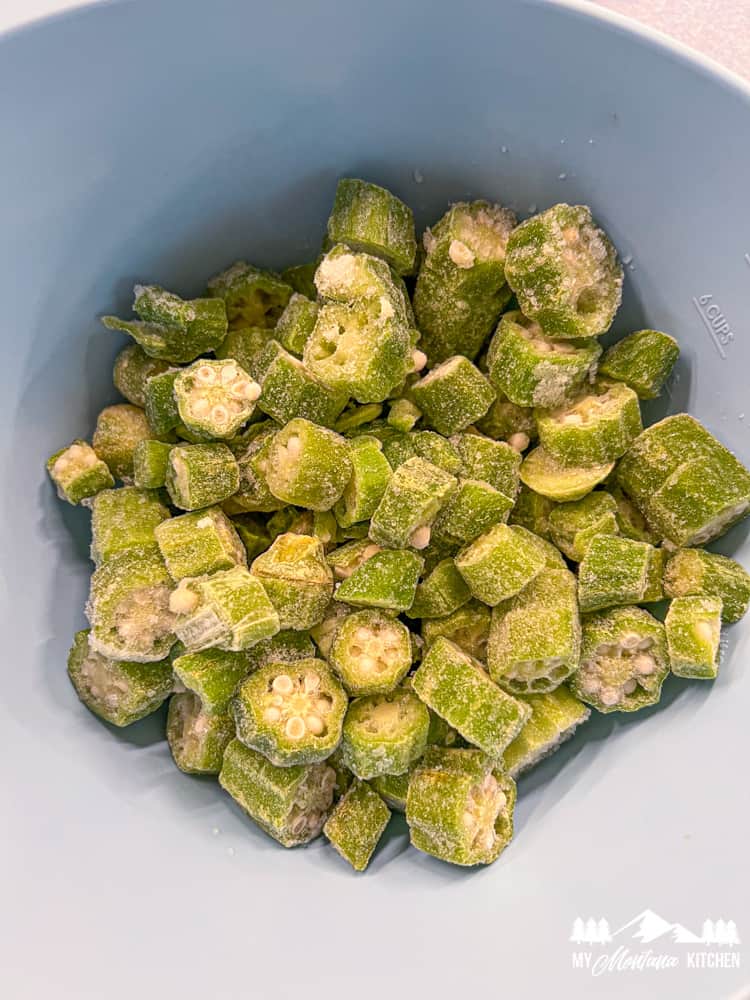 How to make crispy air fryer okra
There are two easy methods:
Toss the okra in a bowl or large bag with the oil and seasonings, then transfer the okra into the air fryer basket.
Place the okra in a single layer in the air fryer basket, then drizzle the oil over the okra, sprinkle with the seasoning, and give the basket a good shake. (This is the method I prefer!)
After the okra pieces are in the basket, cook at 400 until golden brown and crispy. The okra will shrivel up as it cooks, but this is normal!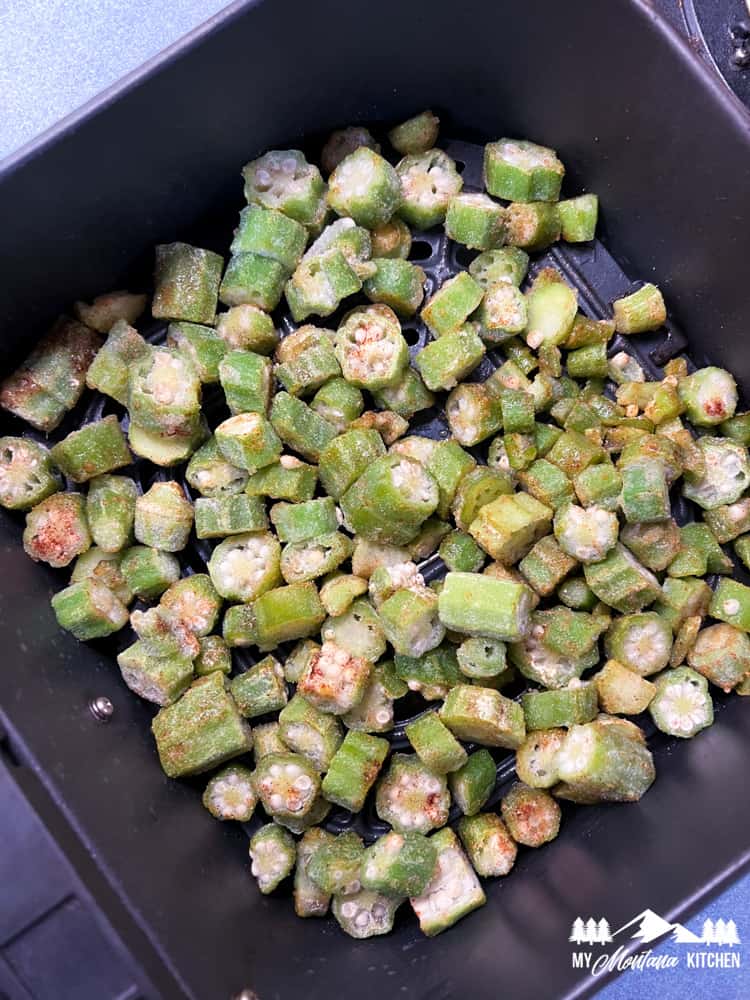 How long to cook okra in the air fryer?
It takes about 25 minutes to cook delicious okra in the air fryer (if you want it perfectly crispy), plus a few minutes of prep time.
Keep in mind that cook time may vary depending on the size of your air fryer and the amount of okra you are cooking.
I especially love using the air fryer for my okra because it doesn't heat up my kitchen! (Perfect for summer meals!)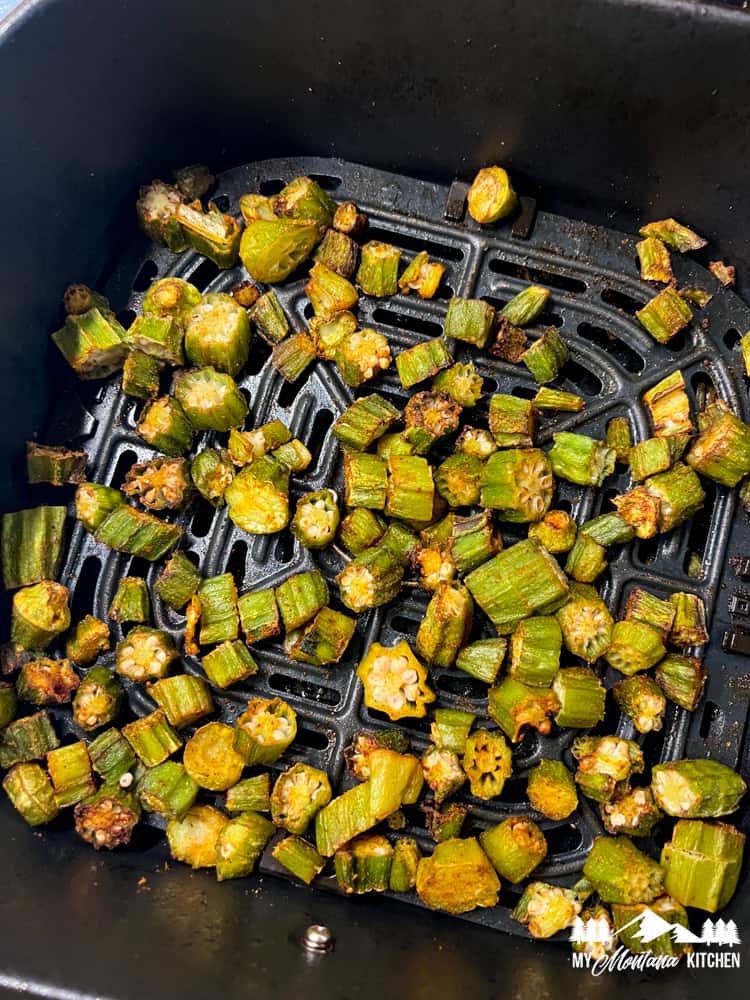 What temperature should you air fry okra?
I always air fry the okra at 400°f in my air fryer. You can do it at a lower temperature, but you'll likely need to cook it a little longer.
Can you air fry frozen okra?
Yes, I have always used frozen okra in all of my recipes!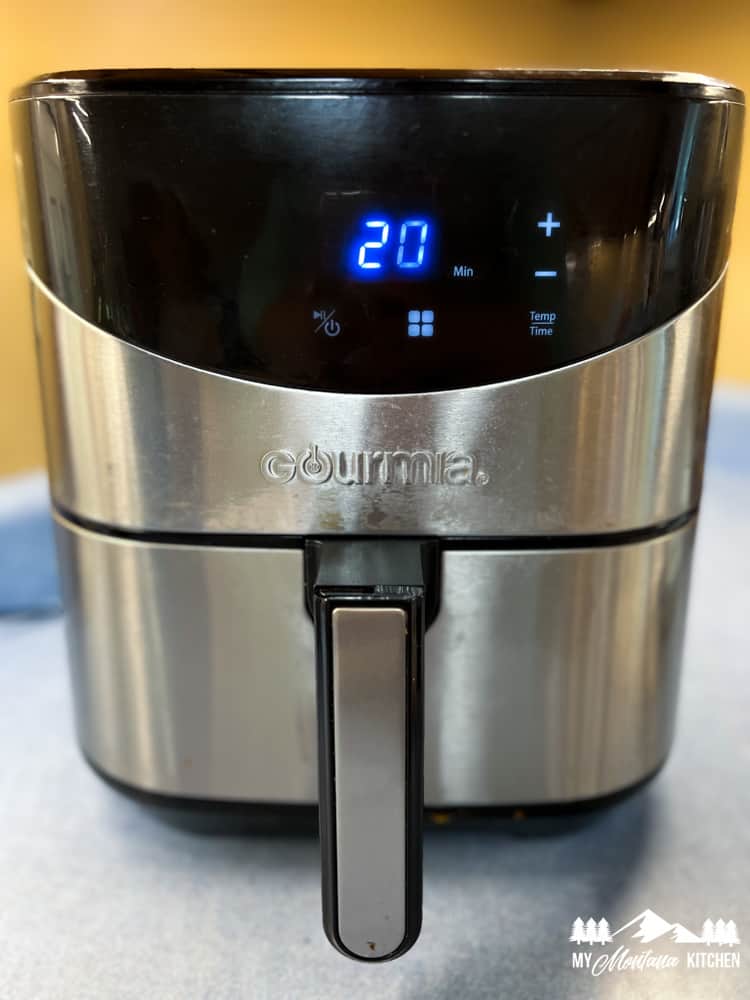 Here is the current (updated) version of the air fryer I own.
How to serve air fryer okra?  
Personally, I like to eat the entire bag of okra for my breakfast! (Nope, I'm not kidding!)
But no worries, I know okra for breakfast is a bit unusual - but truly, crispy okra makes a great side dish for any meal.
You may like to try it with Grilled Sesame Chicken Thighs, Porcupine Meatballs, or crispy and golden Fried Chicken Tenders.
Frequently asked questions about air fryer roasted okra
Can I use fresh okra?
You can definitely use fresh okra - in fact, it may be even more crispy because it doesn't have the icy pieces that melt like frozen okra.
Can I use different seasonings?
Absolutely! Feel free to experiment with different seasonings to suit your taste preferences. You may like cayenne pepper, lemon pepper seasoning, or any other of your favorite seasonings.
I often use Tony's Creole Seasoning - it will add a flavorful kick to your air fryer okra.
Start with ¼ to ½ teaspoon of Tony's Seasoning and adjust according to your desired level of spiciness.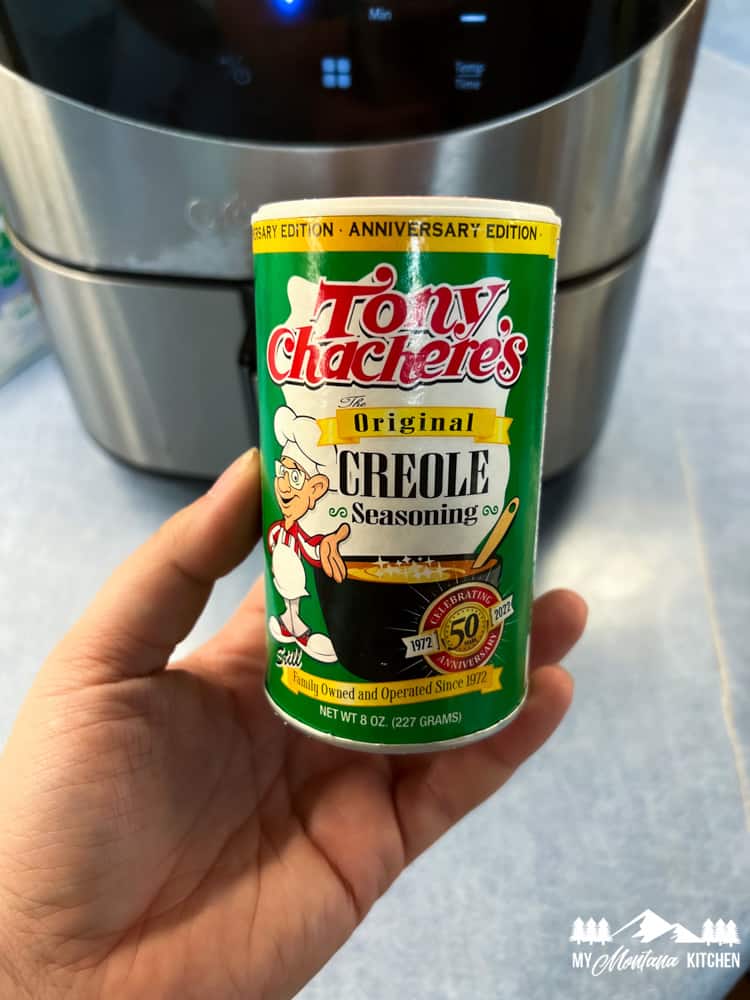 How to make breading for okra without cornmeal
To make breaded okra, use the breading in this gluten-free fried okra recipe instead of the traditional cornmeal.
Follow the steps for breading the okra, then fry as directed in the recipe card below!
Tips and Tricks for Making Air Fryer Okra
How to avoid Slime in okra?
I'll preface this by saying I absolutely love okra, and I nearly always have okra in my freezer!
BUT, the key to avoiding slimy okra is to make sure it's completely dry before cooking. After washing fresh okra, pat each piece dry with a paper towel. This will help prevent the slimy texture that many people find unpleasant about okra.
If using frozen okra follow the steps below:
Thaw Completely: Thaw frozen okra completely before cooking. Place it in the refrigerator overnight or use the defrost function on your microwave.
Drain Excess Moisture: After thawing, drain any excess moisture from the okra. Pat it dry with a paper towel to remove any water.
But honestly, I do not usually follow those steps - I prefer to cook the okra until it is golden brown and crunchy, which naturally lessens the slime!
How to Reheat Leftover Air Fried Okra?
To reheat leftover okra, set your air fryer to 400°F, add the okra and cook for 5-7 minutes until the okra is heated through and crispy again.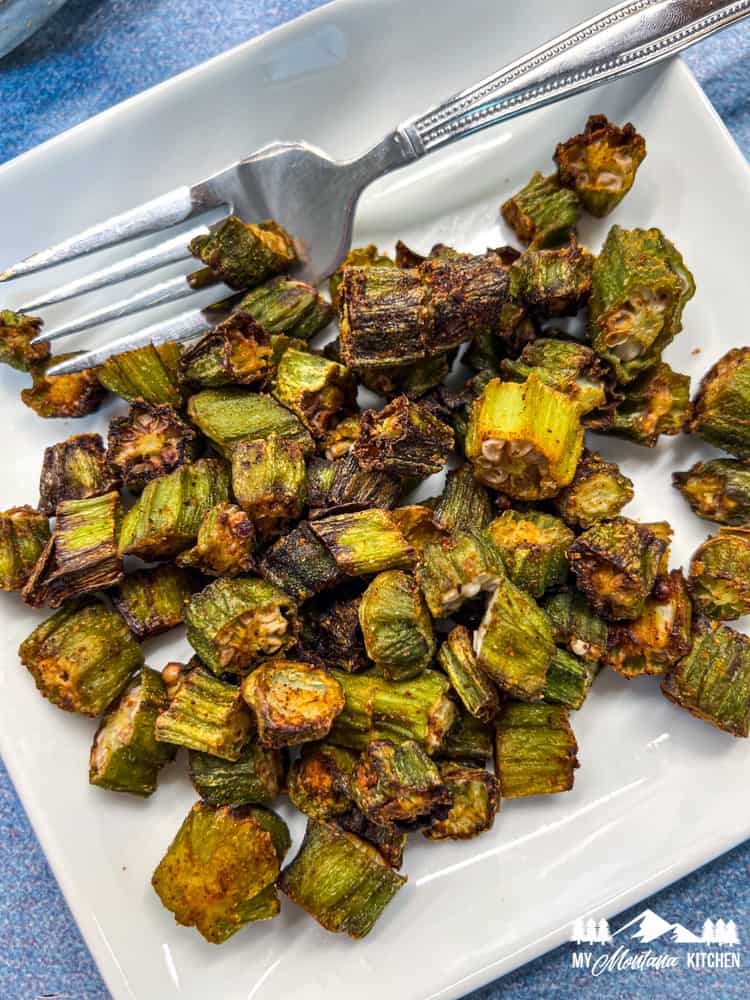 Can I use a different temperature setting if my air fryer doesn't go up to 400°F?
Yes, if your air fryer doesn't reach 400°F, you can still cook air fryer okra at a lower temperature. Adjust the cooking time accordingly and monitor the okra for desired crispiness.
Experiment to find the best temperature and cooking time for your specific air fryer model.
Can I use cooking spray instead of oil?
Yes, you can use cooking spray instead of oil to coat the okra before air frying. It helps to promote browning and crispiness while using less fat. Make sure to spray the okra evenly for good coverage.
How do I know when the okra is cooked and crispy?
To check if the okra is cooked and crispy in the air fryer, look for a golden brown color, a firm texture, and a satisfying crunch when you bite into it.
Can I cook whole okra pods?
Yes, you can cook whole okra pods in the air fryer. However, keep in mind that whole pods may take longer to cook and may not become as crispy as sliced okra.
It's recommended to cut the okra pods lengthwise to ensure even cooking and achieve a crispy texture. 
More air fryer recipes
Air Fryer Chicken Chimichangas
More side dish vegetable recipes
Instant Pot Green Beans with Bacon
More delicious okra recipes
Crispy Roasted Okra with Bacon
Secret Ingredient Chocolate Peanut Butter Milkshake (Yes, it has okra and it's delicious!)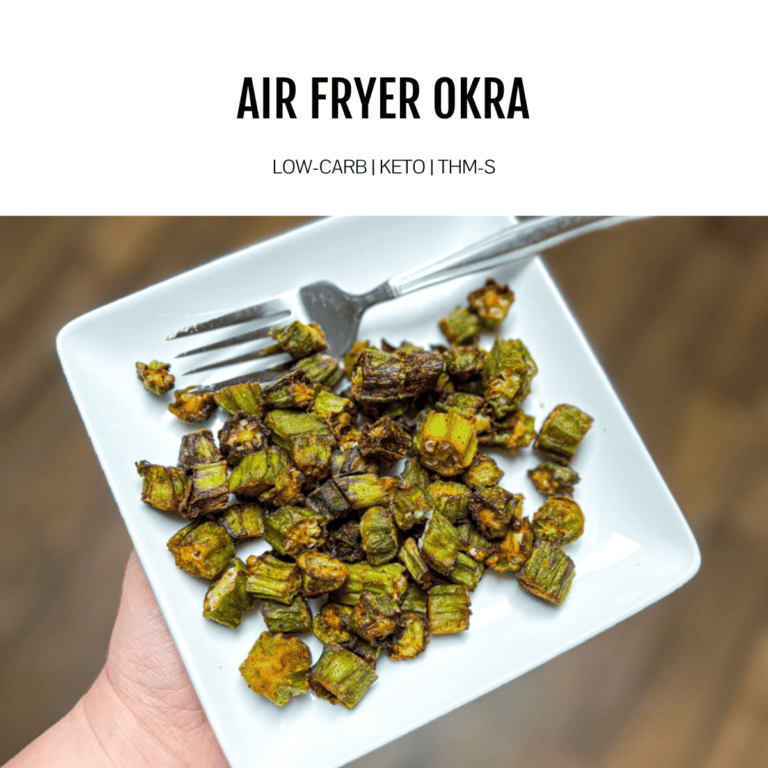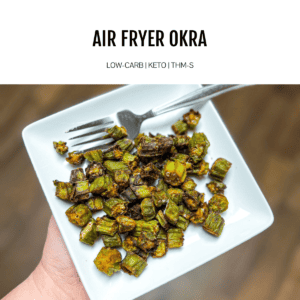 Instructions
Set your air fryer temperature to 400°F.

In a mixing bowl, combine the frozen cut okra, avocado oil, garlic salt, onion powder, nutritional yeast, and smoked paprika.

Toss well to evenly coat the okra.

Transfer the seasoned okra into the air fryer basket, spreading it out in a single layer.

Place the basket in the air fryer and cook for approximately 25 minutes, or until the okra is crispy and golden brown. You may need to shake the basket or stir the okra halfway through the cooking time for even browning.

Once cooked to your desired crispiness, carefully remove the basket from the air fryer and serve!
Video
Nutrition
Serving:
1
/2 Cup
|
Calories:
56
kcal
|
Carbohydrates:
6
g
|
Protein:
1
g
|
Fat:
4
g
|
Fiber:
2
g