We may earn money from the products/companies mentioned in this post. As an Amazon Associate I earn from qualifying purchases.
This easy chicken casserole with green chiles is perfect for those times you need an easy dinner recipe and are craving some comfort food, too. This low carb chicken casserole will be a hit with the whole family, and it is also a Trim Healthy Mama S Fuel!
One of my favorite dinner memories is mom putting together comfort in casserole form: creamy chicken casserole topped with Stovetop stuffing! It was always one of dad's favorites (and mine) and our family still enjoys easy homemade chicken casseroles frequently.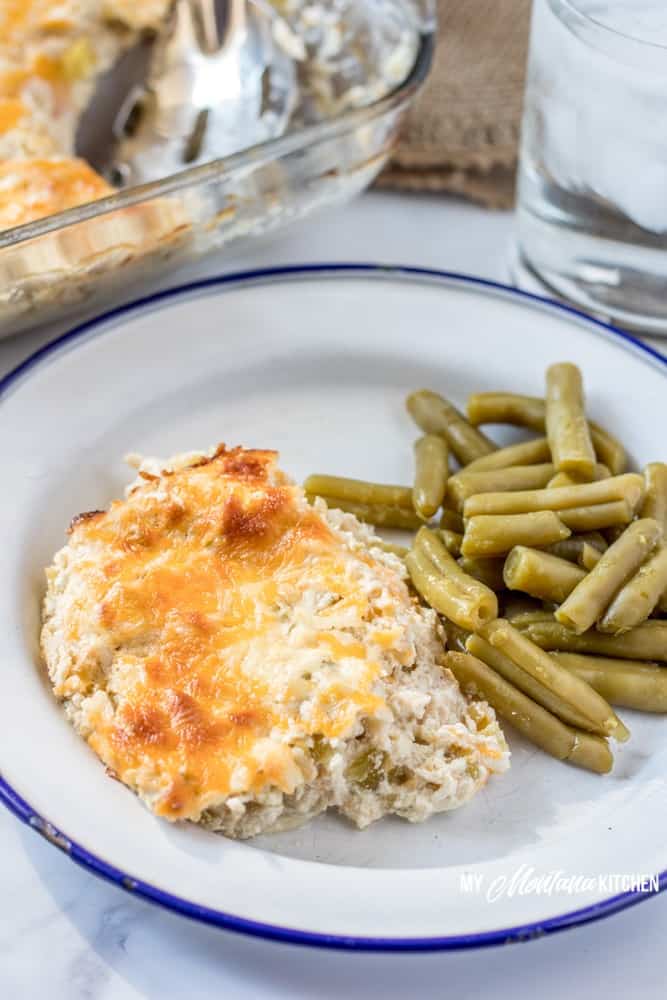 With a few simple tweaks to that family favorite classic dinner, we will enjoy this creamy low carb Mexican-style chicken casserole regularly now, too…and I bet your family will, too!
Easy Chicken Casserole With Green Chiles
One of the reasons that chicken casseroles are a classic family staple is because they are easy to make and delicious to eat. That's a win/win right there!
You make them in one dish, they satisfy everyone in the family because of how rich and savory they are, and you don't need to slave over them. Leftovers will reheat well (if there are any!), too.
And this new twist on the classic favorite takes the flavor up to a whole new level. We love Mexican flair in our home, so some cumin and green chiles were an obvious choice.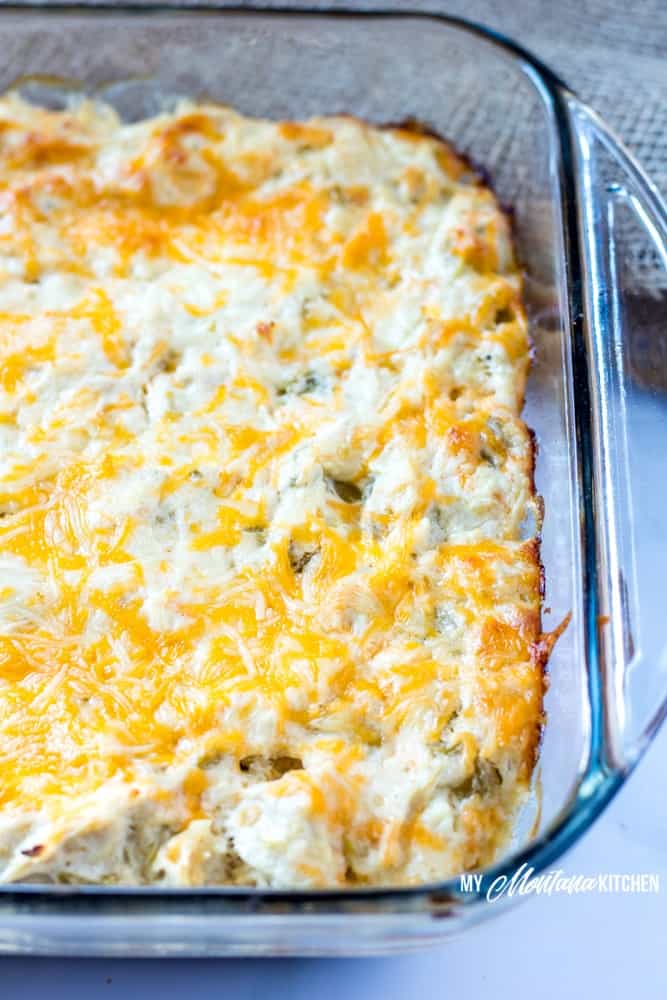 You get that south of the border flavor in a hot, bubbly casserole that comes together in minutes! What's not to love about this easy chicken casserole with green chiles?
This low carb Mexican-style chicken casserole becomes even easier if you've got your ingredients ready to go. One of my favorite time-saving tips is to have shredded chicken already made and ready to use.
How To Make Shredded Chicken
It's super easy to make shredded chicken. Consider making up a big batch and portioning it out into freezer bags for future use.
I like to have some in my fridge and freezer at all times to make easy dinners (like this one!) even easier.
If you have an Instant Pot, just cook your chicken breasts in it. If not, boiling on the stove is very easy, too.
When your chicken is cooked, put it in your stand mixer and use the paddle attachment to shred it quickly.

But if you don't have a stand mixer, don't despair! You can always use a hand mixer or forks to pull it apart. Your chicken will be so tender that it just falls apart.
Prepping shredded chicken ahead of time makes dinner time much easier. You can use it to make chicken bundles, chicken casseroles, healthy chicken salad, and even chicken pizzas with it. It's a kitchen staple around here!
How To Make Low Carb Mexican Chicken Casserole
This healthy chicken casserole with green chiles is a low carb Mexican-style casserole that comes together with just a few simple ingredients…and three steps. We're talking mere minutes here, folks. Mere minutes. How exciting is that?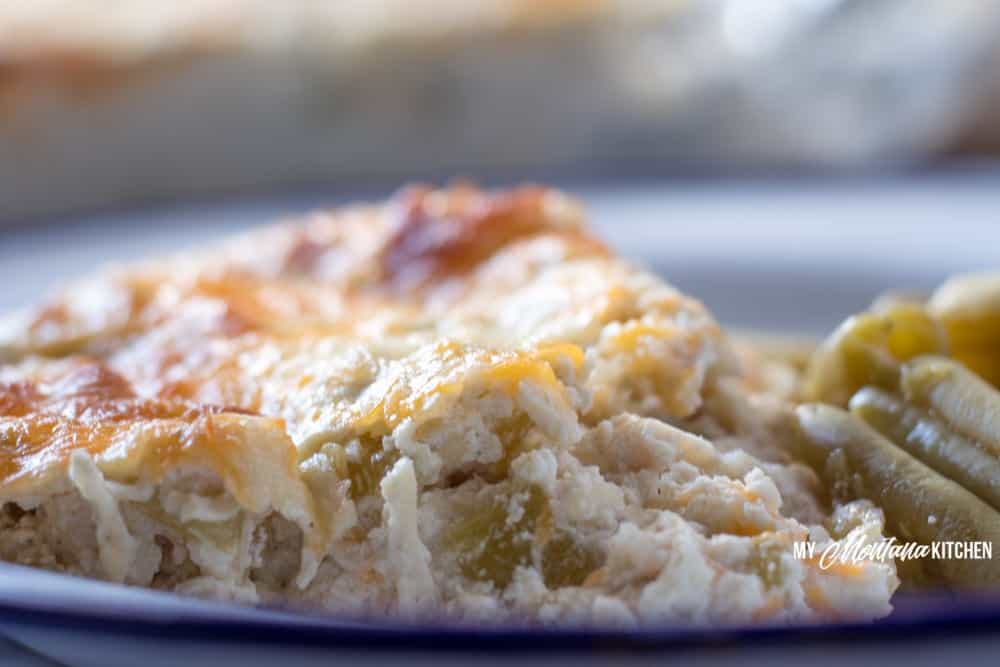 Ingredients In This Healthy Chicken Casserole
To make this easy chicken casserole you'll need:
Shredded chicken (see above!)
Cream cheese (softened)
Sour cream
Diced green chiles (from a can)
Shredded cheese (you can buy it already shredded if you prefer!)
Cumin
Salt
You can choose whichever kind of cheese you have on hand or whichever sounds the yummiest to you. A bag of shredded Mexican blend cheese would work well here, as would Monterrey jack, or even mozzarella. You can use cheddar, too.
If you use a soft white cheese it will have more of a creamy flavor and texture, whereas the cheddar or cheddar blends will make the cheese flavor more sharp and the texture more gooey. (My favorite!)

How To Make Low Carb Mexican Chicken Casserole
You're not going to believe how easy this casserole is to make!
Put all your ingredients together in a bowl and stir. Then put them into an 8×8 casserole dish, sprinkle with a little extra cheese, and bake until the cheese is golden and your casserole is bubbly. It's literally as simple as 1-2-3!
That's it. Crazy easy. And sooooo delicious…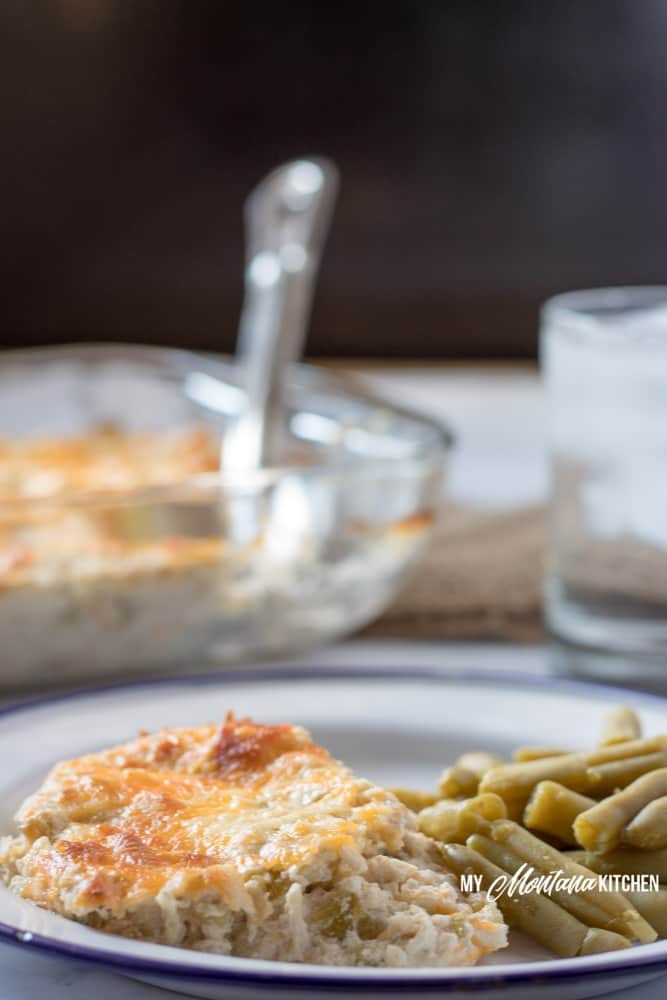 How To Store Chicken Casserole With Green Chiles
One fabulous thing about low carb chicken casseroles is that you can make them up ahead of time and the leftovers store well.

This makes them fantastic for those times when you need an easy family dinner or just don't feel like slaving over the stove to eat something utterly delicious.
Make Ahead Easy Chicken Casserole With Green Chiles
To make up your casserole ahead of time, just assemble all the ingredients in your favorite casserole pan or even disposable foil pans. Cover tightly with plastic wrap or foil.
You can store the assembled casserole in the fridge until you're ready to cook it (it will keep for several days).
You can also assemble your easy chicken casserole and freeze it for an unknown night when life gets too crazy to make dinner, and you need to grab something delicious and simple.
This is a great meal to bring to a busy family or a family with a new baby.
Stop by with a healthy chicken casserole and a tossed salad for an easy dinner for them, as well as one that was easy for you to put together.
It's also nice to have in the freezer for when your life is busy and you just need a ready-to-go dinner.
It's a great idea to make one to eat and one to freeze, just because it's so simple and you will enjoy it so much!
How To Keep Leftover Chicken Casserole
And if you have leftovers? No problem! This easy chicken casserole with green chiles will re-heat in the microwave or oven beautifully. Just store your leftovers in the fridge (or freezer) in an air-tight container. They'll keep for several days that way and will make a great lunch or dinner one day soon.
Check out these other easy to make low carb chicken casserole recipes for the family: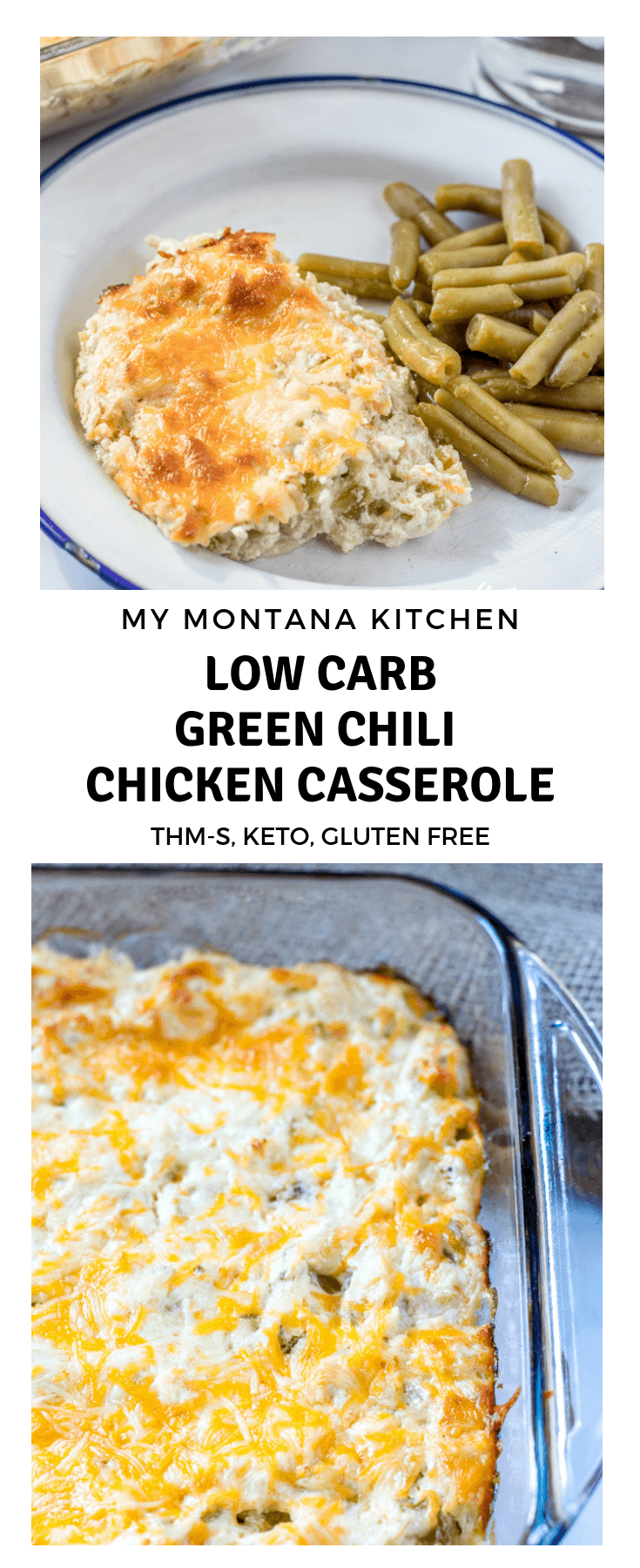 Easy Chicken Casserole with Green Chiles
This easy chicken casserole with green chiles is perfect for those times you need an easy dinner recipe and are craving some comfort food, too. This low carb chicken casserole will be a hit with the whole family!
Print
Rate
Ingredients
8

Ounces

Cream Cheese,

Softened

¾

Cup

Sour Cream

1 7

Ounce

Can Diced Green Chiles

½

Teaspoon

Cumin

¼

Teaspoon

Salt

3

Cups

Diced or Shredded Chicken

1 ¼

Cups

Shredded Cheese of choice,

Divided
Instructions
Preheat oven to 350.

In a large bowl, mix all ingredients together, reserving ¼ cup shredded cheese.

Spread mixture into an 8x8 glass dish.

Sprinkle reserved ¼ cup of cheese over top of casserole.

Bake for 35-40 minutes, or until cheese is golden, and casserole is bubbly.
Nutrition
Serving:
1
Serving
|
Calories:
417
kcal
|
Carbohydrates:
6
g
|
Protein:
32
g
|
Fat:
30
g
|
Fiber:
1
g
Tried this recipe?
Mention @my_montana_kitchen_thm