We may earn money from the products/companies mentioned in this post. As an Amazon Associate I earn from qualifying purchases.
January is here - a brand new slate, a fresh start! If you need a little help and accountability to stick with your healthy habits, then join us for a 2 Week January Reset Challenge!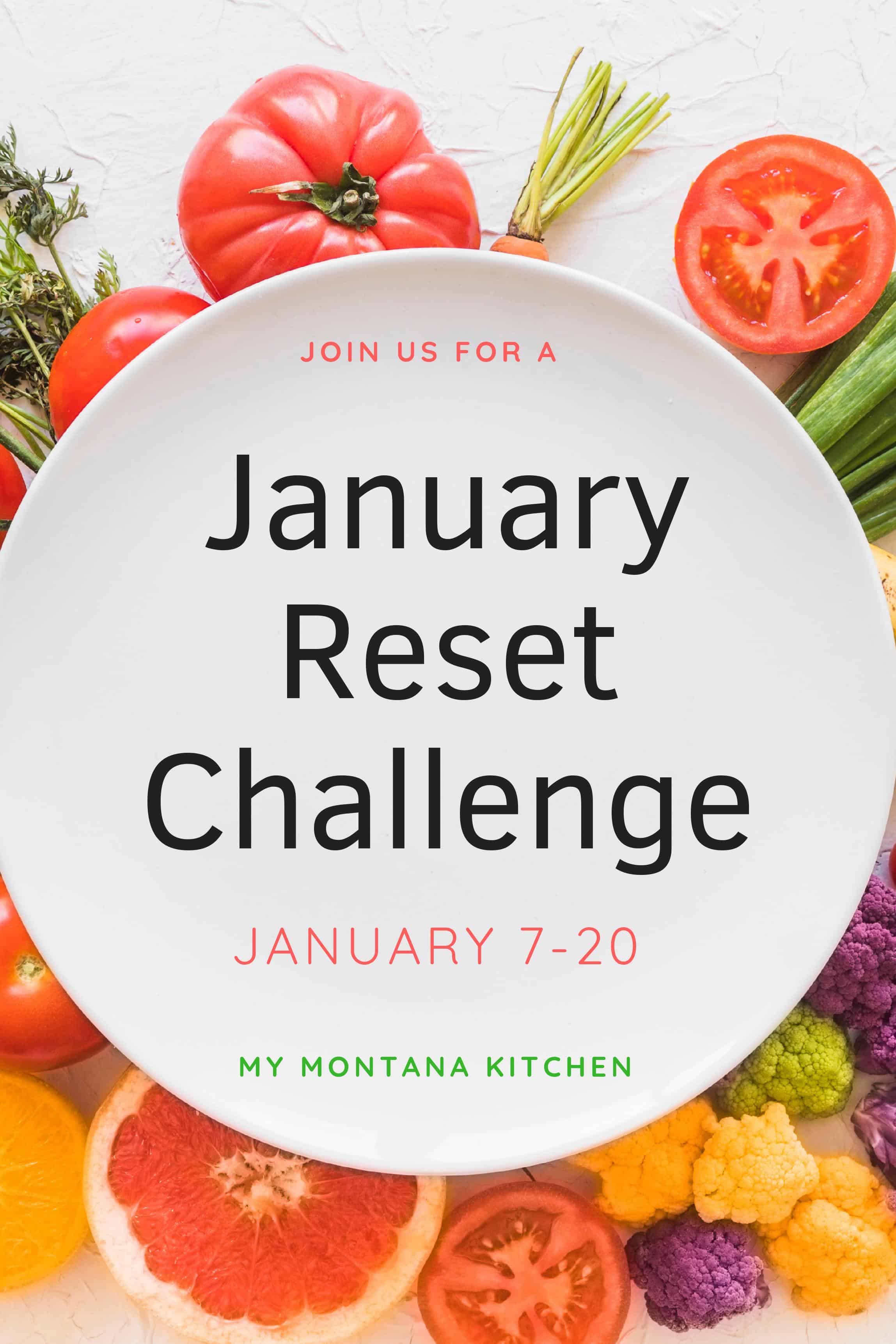 2 WEEK CHALLENGE GUIDELINES
What are the guidelines of this challenge?
No sugar – using natural alternatives to sugar are ok. I will be using xylitol, erythritol, and stevia. Monkfruit is also acceptable.
No eating off plan. I follow the Trim Healthy Mama Style of eating, but if you follow something different, that is ok too. For the two weeks of this challenge, just stick with your program.
(Trim Healthy Mamas, XO's are ok!)
The challenge will begin on Monday, January 7, and run for two weeks, ending on Sunday, January 20.
I plan to run this challenge through Facebook Messenger. You can sign up through the Messenger for below. I will be in touch via Messenger, sending you recipes every couple of days, and maybe even a few surprises!
I also have a My Montana Kitchen Challenge FB group, and the members there are super active and very helpful when there is a challenge going on - post your meals for accountability, or if you are struggling, tell us so we can encourage you!
You will find a group of ladies that are all striving towards the same purpose – staying on plan!
I have been encouraged by them SO many times.
I have menus planned out for anyone who is interested in it, (but you do not have to follow my menu).
If you want to make up your own, that is ok. If you want to fly by the seat of your pants, that is ok, too!
If you just want to pick and choose which recipes you use from my menu, no problem. YOU are in charge of what you eat.
I have listed out the menu below, with clickable links.
To ensure your success, I've put together a challenge guide:
A complete 2 Week printable menu


Printable shopping lists for each week

Every Single Recipe in the Challenge

Printable water tracker

Measurement tracker

Exercise tracker

A bookmark for each day with your daily goals and places to keep track of your meals!

Printable calendar Menus

A free BONUS blank grocery shopping list
This is a 62 Page Digital Download!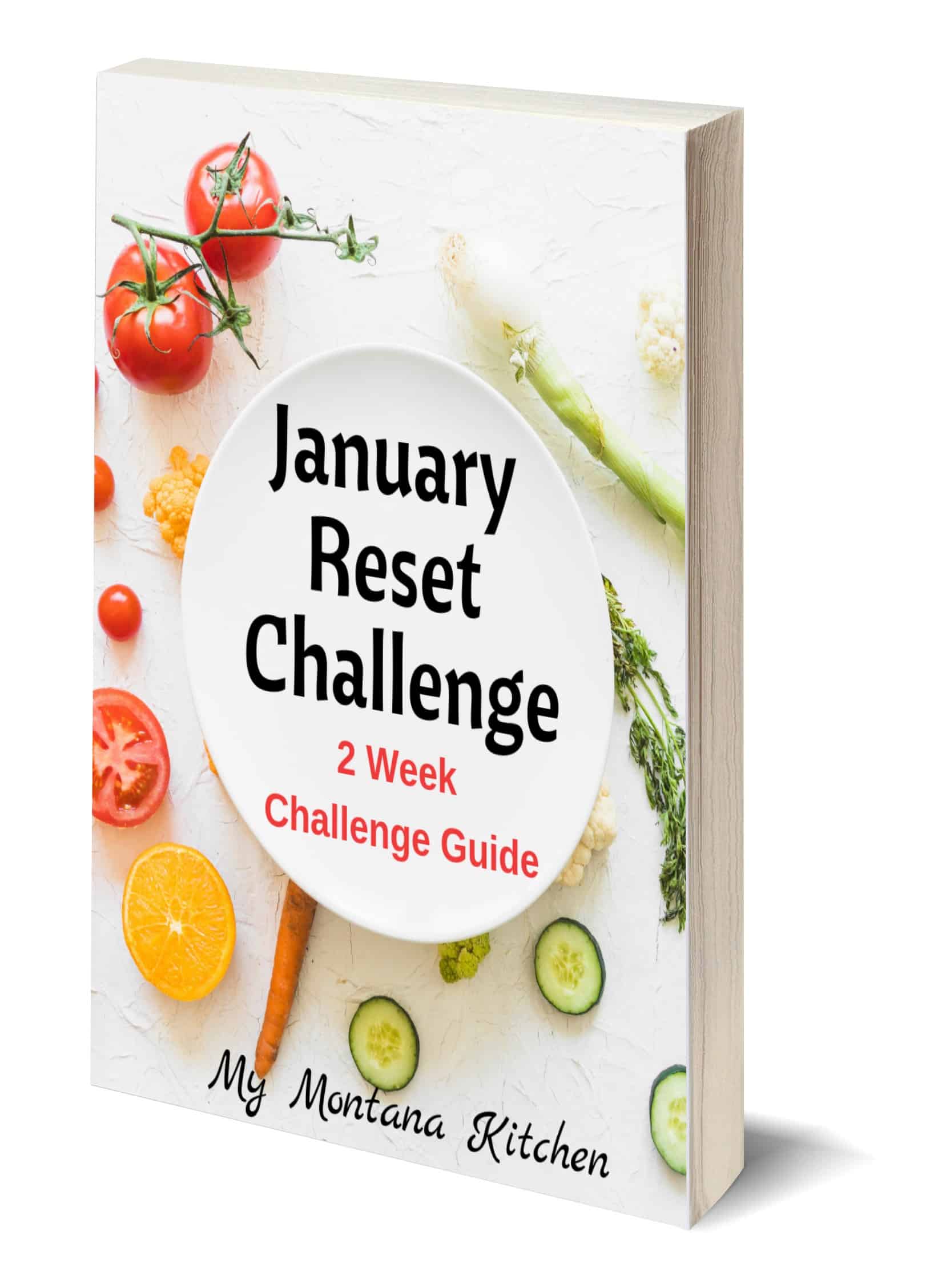 You can get the challenge guide here, but if you are a My Montana Kitchen Table member, it is free - and can be found under the "Challenges" tab of your member dashboard!
Don't know what the My Montana Kitchen Table is? It is a members-only section of the blog, filled with weekly menu plans, weekly grocery shopping lists, videos, monthly challenges, and an exclusive Community to help you achieve your goals!
It's like having a kitchen fairy to do all the planning work for you - so you can focus on succeeding and crushing those goals!
New content is added weekly, so it is always fresh, and something new!
So how about the menu for this challenge? You can find it below for free (challenges are always FREE), but if you want all the recipes in a printable format, grocery shopping lists, and more, you can grab your guide here, or become a My Montana Kitchen Table Member here!
You will notice that there are some repeats in the menu - this is to streamline and make things a bit simpler. If you do not want to repeat, just choose a different recipe. 😊
And finally, it is ALWAYS in order to add non-starchy vegetables or salads to any meal. I didn't add a lot of those to the actual menu, because I'm supposing you will add your favorites. Please be sure to eat lots of leafy greens and non-starchy vegetables!
January Reset Challenge Menu
Day #1
Breakfast: Maple Apple Oatmeal (E)
Lunch: Easy Crispy Quesadilla (S)
Supper: Restaurant Style Breaded Chicken Tenders, Chick-fil-A Sauce, Roasted Okra (S)
Snack: Cinnamon Roll Protein Smoothie (E)
Day #2
Breakfast: Double Chocolate Low Carb Granola w/Almond Milk (S)
Lunch: Sprouted Sandwich (E)
– Two pieces of toasted sprouted bread spread with 1 LLCC (Light Laughing Cow Cheese), lean ham or turkey breast, mustard, lettuce and pickles. Serve with crudités.
Supper: Low Carb Cheeseburger Salad (S)
Snack: Wrap Lean Deli Meat in Lettuce with Cucumbers and Peppers (can add a Light Laughing Cow Cheese and Mustard) (FP)
Day #3
Breakfast: Upside Down Pineapple Oatmeal with Greek Yogurt (E)
Lunch: Leftovers
Supper: Sweet & Sour Chicken with Brown Rice (E)
Snack: Pickles and Cheese Sticks wrapped in Deli Meat (S)
Day #4
Breakfast: Pizza Omelette (S)
Lunch: Chef's Salad (S) – chopped lettuce/greens with vegetables, deli meat (or leftover chicken or steak) and dressing of choice.
Supper: Low Carb Cheeseburger Buns, Tossed Salad, Roasted Cauliflower, (S)
Snack: Sweetened Greek Yogurt with Berries (FP)
Day #5
Breakfast: Upside Down Pineapple Oatmeal (leftovers), with Greek Yogurt (E)
Lunch: Pizza Muffin in a Mug (S)
Supper: Green Chili Chicken Enchiladas, Tossed Salad (S)
Snack: Greek Yogurt with Sweetener, Caramel Extract, and a dash of Peanut Flour, Chopped Apple (E)
Day #6
Breakfast: Low Carb Biscuits and Sausage Gravy (S)
Lunch: Leftovers
Supper: Pizza Meatball Casserole, Sliced Cucumbers, Roasted Broccoli (S)
Snack: Secret Ingredient Chocolate Peanut Butter Milkshake (FP)
Day #7
Breakfast: Peanut Butter Cookie Dough Greek Yogurt (FP)
Lunch: Chef's Salad (S) – see above for idea
Supper: Spaghetti Squash Chicken Tetrazzini, Tossed Salad, Green Beans (S)
Snack: ½ Cup Cottage Cheese with Diced Apples and Sprinkle of Sweetener & Cinnamon (E)
Day #8
Breakfast – Bacon and Eggs Cottage Casserole (S)
Lunch – Healthy Chicken Salad in Lettuce Wraps (FP)
Supper – Taco Salads (S)
Snack – 2 Minute Truffles (S)
Day #9
Breakfast – Cinnamon Roll Protein Smoothie (E)
Lunch – Pizza in a Bowl (S)
Supper – Sweet and Sour Chicken (E)
Snack – Loaded Peanut Butter Protein Bars (S)
Day #10
Breakfast – Bacon and Eggs Cottage Casserole (S)
Lunch – Leftover
Supper – Salsa Verde Chicken (add green beans and salad with FP dressing) (FP)
Snack – Apple with Chocolate Peanut Butter (E)
Day #11
Breakfast – Peanut Butter Oatmeal (E)
Lunch – Healthy Chicken Salad in Lettuce Wraps (FP)
Supper – Biscuits and Gravy, Scrambled Eggs (S)
Snack – Low Fat Cottage Cheese with berries (keep blueberries to less than 1/2 cup) (FP)
Day #12
Breakfast – Maple Apple Oatmeal (E)
Lunch – Leftovers
Supper – Sausage and Cheese Calzones, Roasted Broccoli (S)
Snack – Loaded Peanut Butter Protein Bars (S)
Day #13
Breakfast – Apple Pie Pancakes (E)
Lunch – Chef Salad with Rohnda's Ranch Dressing (S)
Supper – Bunless Hamburgers, Cucumber & Tomato Salad, Green Beans (S)
Snack – Peanut Butter Milkshake (FP)
Day #14
Breakfast – Orange Creamsicle Smoothie (E)
Lunch – Speedy Zucchini Bacon Alfredo (S)
Supper – Cheeseburger Pizza, Salad (S)
Snack – Low Fat Cottage Cheese with and orange (E) or berries (FP)